video game
Meet retroch, the best retro game emulator for windows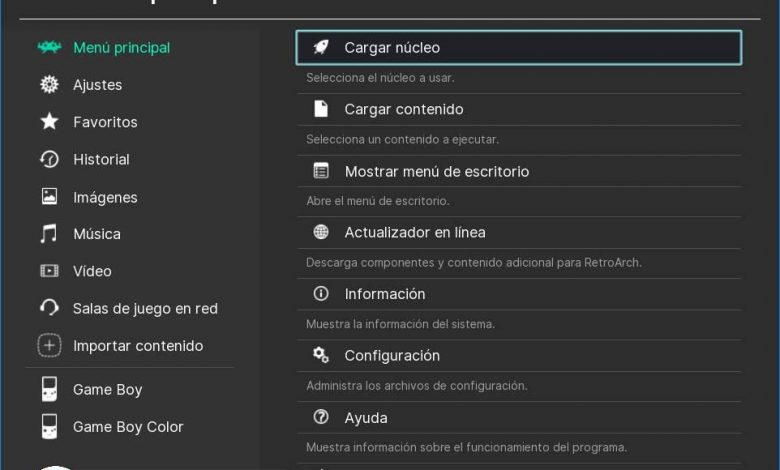 Although it is becoming easier to create a game and put it on sale through the different platforms, the games of the past continue to have their magic touch. Nowadays it is almost impossible to go back to playing the games of 30 or 40 years ago, both because we cannot find platforms that allow us to do so and because we cannot find the games themselves. However, if we feel nostalgic for these games, we can always turn to the famous "emulators" that allow us to run these classic games on our computer. And one of the best (if not the best) that we can find is RetroArch.
RetroArch is a program designed to function as a frontend for the Libretro libraries . In other words, this program works as an interface between us and all Libretro libraries so that we can access all Libretro emulators from a single program. Both RetroArch and Libretro are developed by the same group of developers, and all of this is completely free and open source.
RetroArch Features
On the Internet we can find a large number of emulators for practically all types of platforms. Even for the latest generation consoles, like the Nintendo Switch. So what makes RetroArch unique?
The main feature of this browser is that everything is completely free and open source . From the cores to the frontend. Everything. In this way, we will be able to download the program and install it without having to pay anything or put our PC in danger.
In addition, instead of having to download a different emulator for each console (one for NES, one for GameBoy, etc), RetroArch will allow us to emulate all these consoles from the same place . No need to download and install different programs. Each emulator is a "core" that we can download from the frontend itself to prepare it to run the games on that console.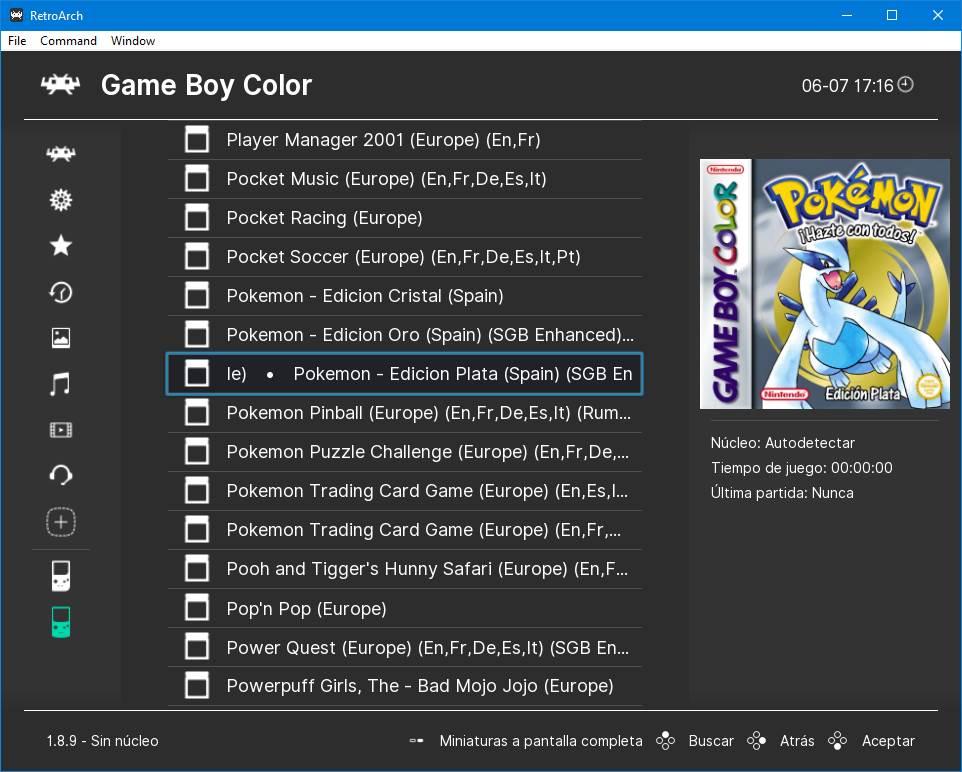 Each console has several cores, so each user can choose the one they want to use. In addition, something that many are unaware of is that many of the cores are open source emulators that we can use independently, since the developers have asked their original creators for permission to convert them into libraries and add them to the program.
The compatibility goes far beyond the classic consoles, which is capable of emulating almost all of them. RetroArch is available for almost any platform, from PC (Windows, Linux and macOS) to smartphones (Android and iOS), consoles (PSP, PSVita, PS2, PS3, Wii, WiiU, Nintendo DS, 3DS, Switch), even for devices like the Steam Link and the Raspberry Pi. For the latter we can even find specialized distros, such as Lakka (RetroArch's official distro for retrogaming) or RetroPie.
This program is also compatible with practically any game controller that we can connect to the computer. Many of them will be recognized and configured automatically, and if not, we can always map the controls ourselves.
Other important features that make this software stand out are:
It allows you to save games at any time and resume them from there.
It offers a large number of video and audio settings to optimize emulation.
Supports multiplayer game over LAN.
Compatible with own trophies.
Allows you to save games without the need for additional software.
It has a powerful library and cataloging system for games.
Supports cheats.
Allows you to automatically download game covers for libraries.
Available emulators
As we have already explained, the main advantage of RetroArch is the possibility of having emulators for all old consoles at our fingertips from a single program. As standard, this emulator comes without the cores installed, but we can download the ones we need from the download manager that is included in the program. Even the program can recognize the rom that we are trying to open and download the necessary core automatically.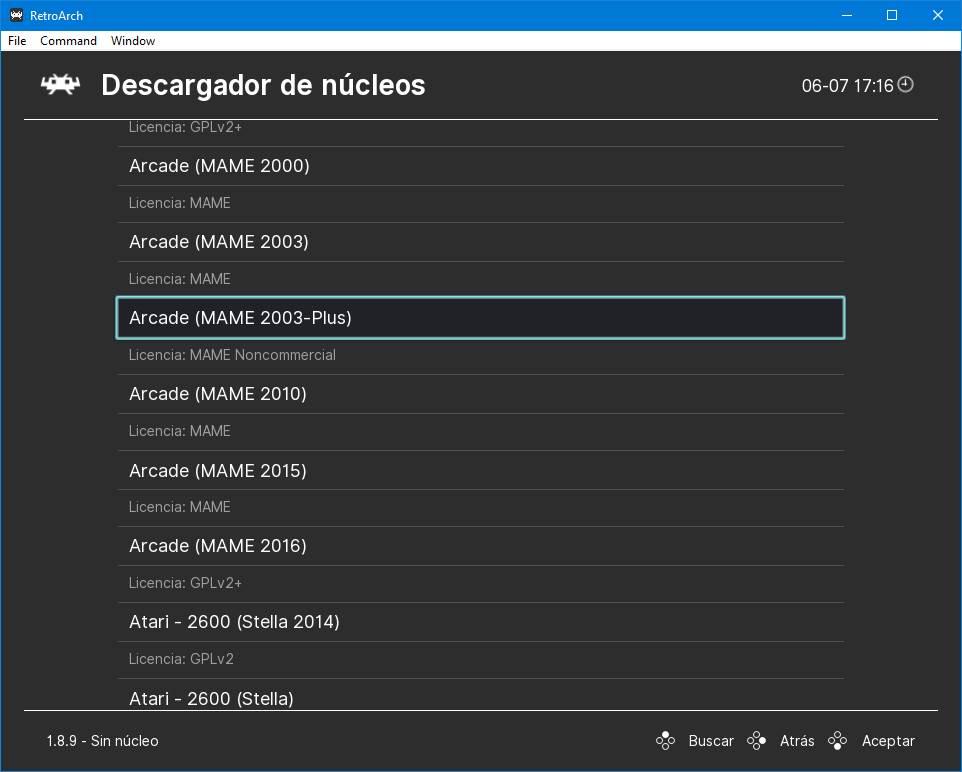 The emulators that we can find within this program are:
Console
Emulator / Core
3DO
4th
Arcadian
MAME
mess
FinalBurnAlpha
Atari 2600
Stella
Atari 5200
Atari800
Atari 7800
ProSystem
Atari Jaguar
Virtual jaguar
Atari Lynx
Mednafen
Handy
Atari Falcon
Hatari
Cave story
NXEngine
Bomberman
Mr boom
CHIP-8
Emux
ColecoVision
blueMSX
Commodore 64
Vice
Doom
PrBoom
Dreamcast
Redream
Reicast
Famicom Disk System
Nestopia
Higan
FFmpeg
FFmpeg
Game Boy / Gameboy color
Emux
Gambatte
SameBoy
TGB Dual
Higan
Game Boy Advance
Mednafen
gpSP
Meteor
mGBA
VisualBoyAdvance
GameCube / Wii
Dolphin
Game gear
Genesis plus GX
MSX
fMSX
blueMSX
Neo Geo Pocket Neo Geo Color
Mednafen
NEC PC-98
Neko Project II
Nintendo 64
Mupen64Plus
Nintendo Entertainment System
higan
Emux
FCEUmm
Nestopia UE
QuickNES
Nintendo DS
DeSmuME
MelonDS
Nintendo 3DS
Citra
Odyssey
O2EM
PC-FX
Mednafen
32X
Picodrive
Mega CD / Sega CD
Genesis plus GX
Mega drive
Genesis plus GX
Master System
PicoDrive
Genesis plus GX
PlayStation Portable
PPSSPP
PlayStation
Mednafen
PCSX ReARmed
Pokémon Mini
Pokemini
Quake 1
TyrQuake
Sega saturn
Yabause
Mednafen
Super NES
Bsnes
Higan
Snes9x
tomb Raider
OpenLara
TurboGrafx-16 / SuperGrafx
Mednafen
TurboGrafx-CD
Mednafen
Vectrex
VecXGL
Virtual boy
Mednafen
WonderSwan
Mednafen
ZX spectrum
Fuse
ZX81
EightyOne
The last cores that have been added to this emulator have been Dophin, the emulator for GameCube and Wii, Citra, the core to run 3DS games, MelonDS, for Nintendo DS games, and SameBoy, a new emulator for GameBoy and GameBoy Very accurate color for perfect emulation. Very curious projects have also recently been introduced, such as OpenLara, a free recreation of the Tomb Raider engine, PX-68K, an emulator for the Sharp X68000 team, and Redream, an emulator project for the Sega Dreamcast.
Download and install
This emulator is totally free for all users. In order to use it, all we have to do is access the following link, and from there download the version that corresponds to our operating system. The web will automatically detect the type of OS we are using, but it will also allow us to download the installer for other platforms.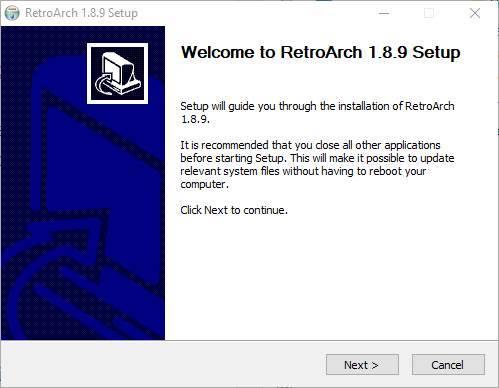 In the case of Windows, for example, we can download an installable version, which we can install on our PC following the steps indicated by the installer itself (totally free of unwanted software), or download a portable version that we can always carry with us . We even have a UWP version, with a certificate, that we can install on Windows 10.
First use
The first time we open this emulator, the first thing we will see will be a message that will indicate that a default configuration has been generated and saved. And behind it, the main interface of this emulator.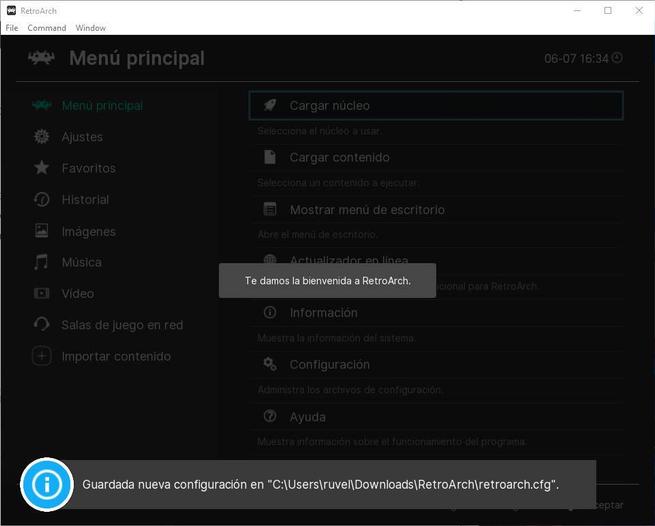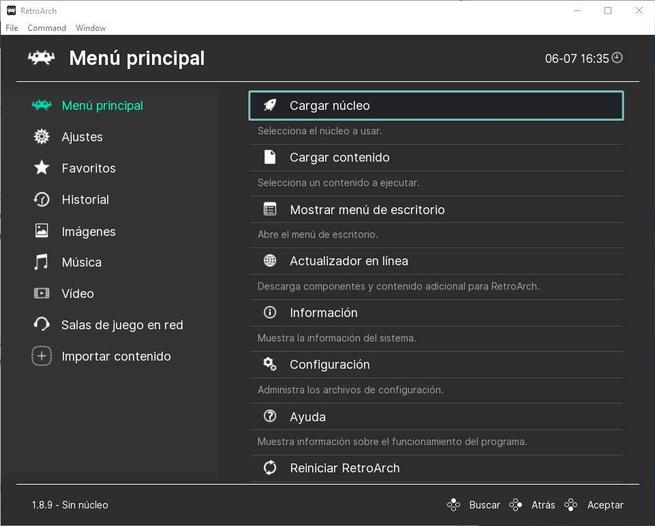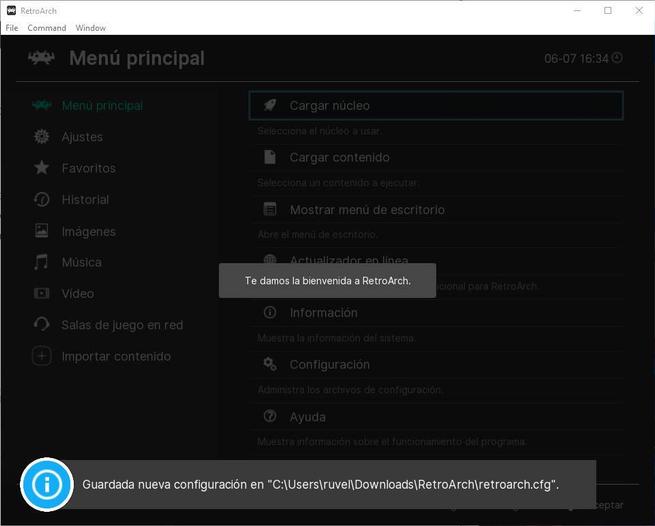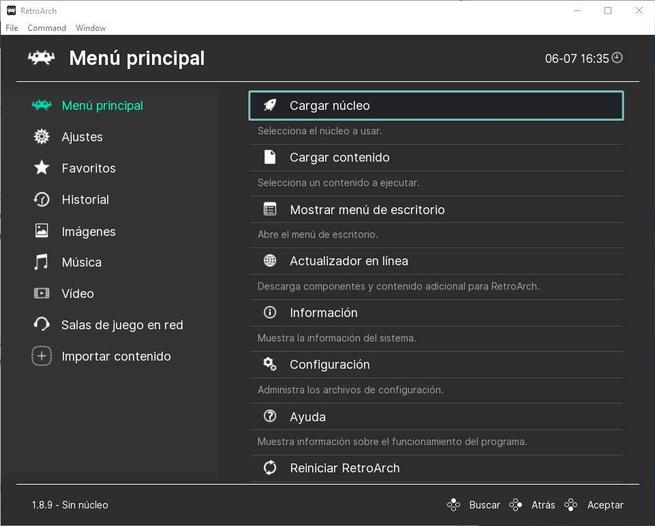 This interface may catch our attention. And, if we have used this retro emulator for a long time, we would probably expect an interface inspired by the PlayStation XMB. However, in just a few minutes we can see that this interface is much more intuitive and organized.
Download cores
The first thing we are going to talk about is the online updater. This component is the one that will allow us to download all kinds of content for this emulator. For example, from here we will be able to download the cores that we want to use, as well as thumbnails and all kinds of content.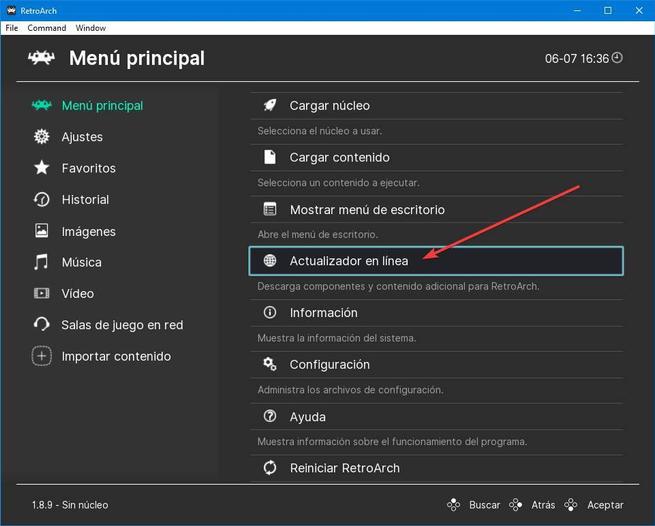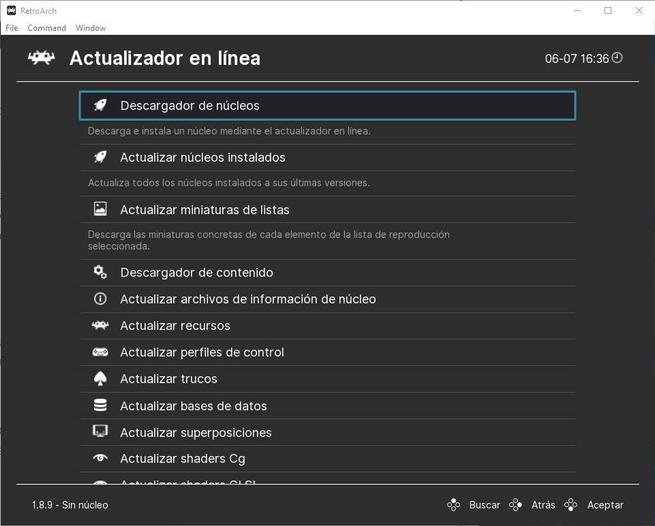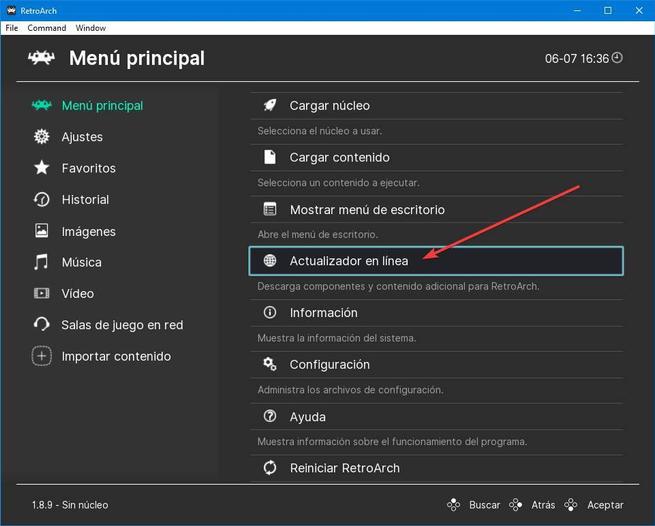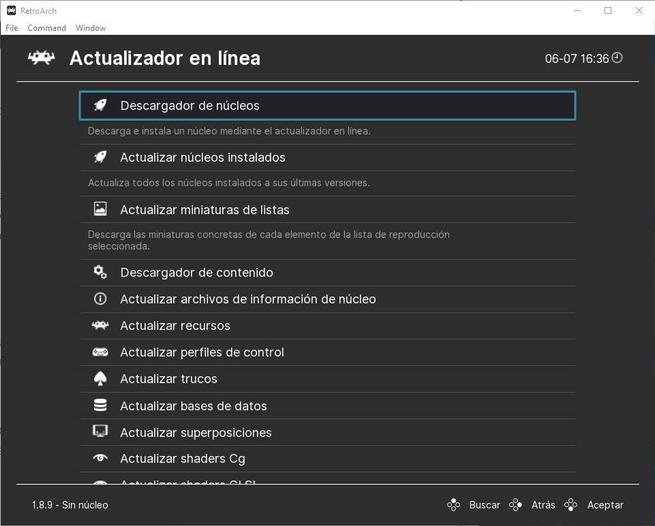 If we have in mind which consoles we are going to emulate, we can lower the cores to have them already at hand. If not, we can let the program download them as they are needed.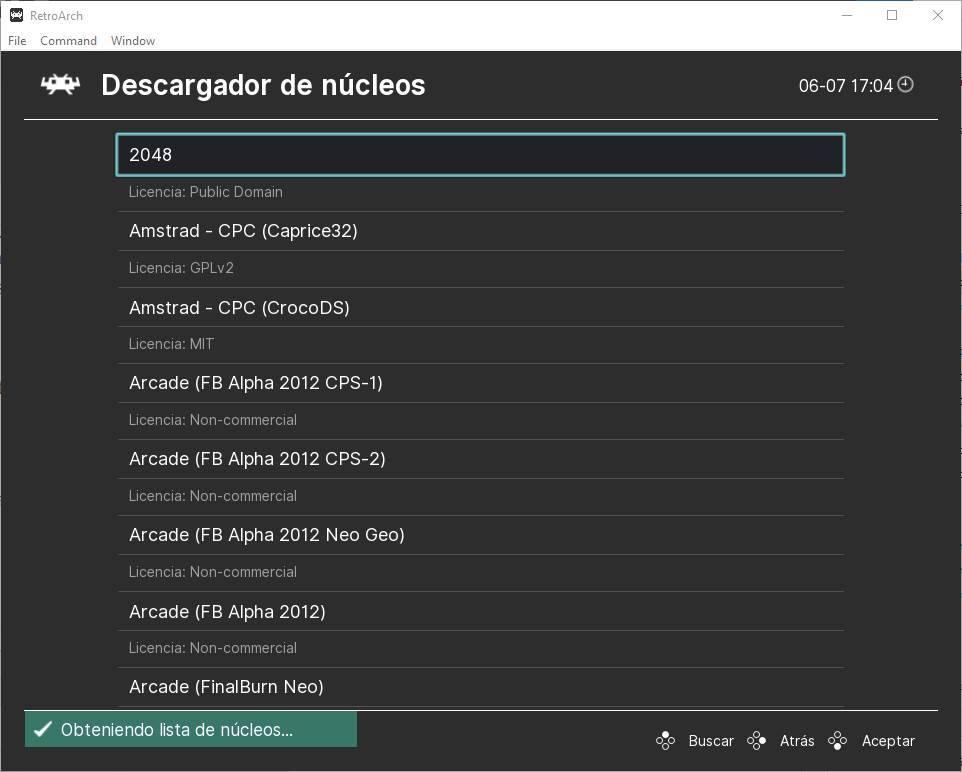 Configure controls
Within «Settings» we will find a large number of options that we can configure. In order not to complicate the first use of the emulator, what interests us the most is the "Controls" section. From here we will be able to change the mapping of the controls and assign new controls to the keyboard and mouse. An important step to be able to adjust the control of the games to our liking.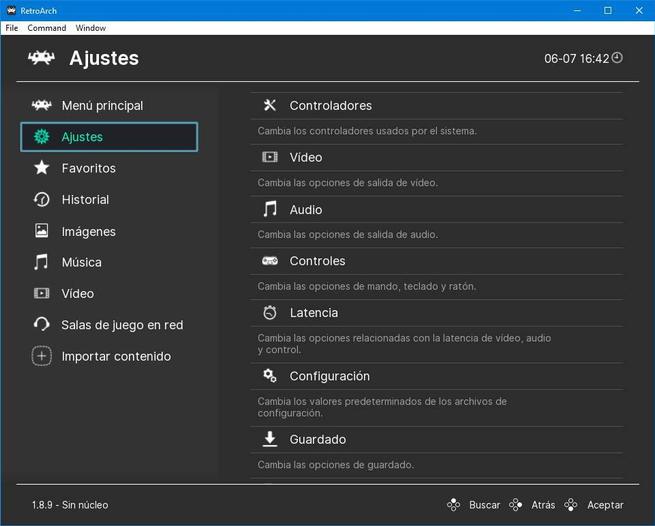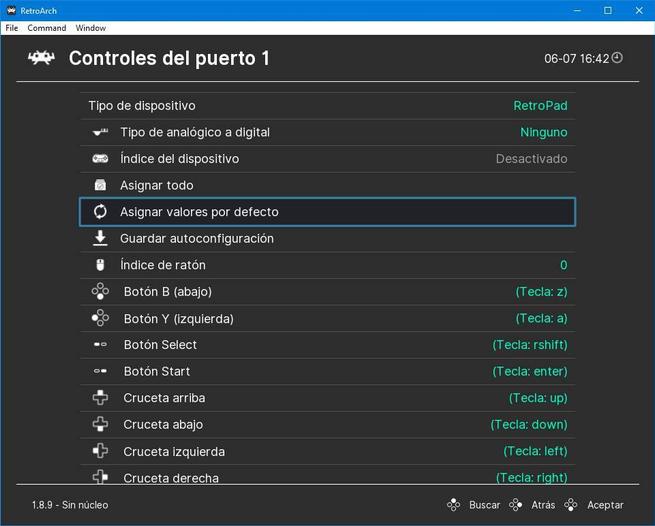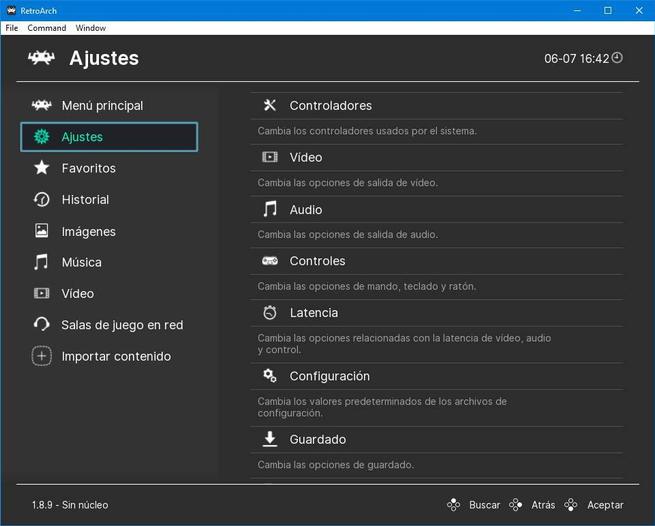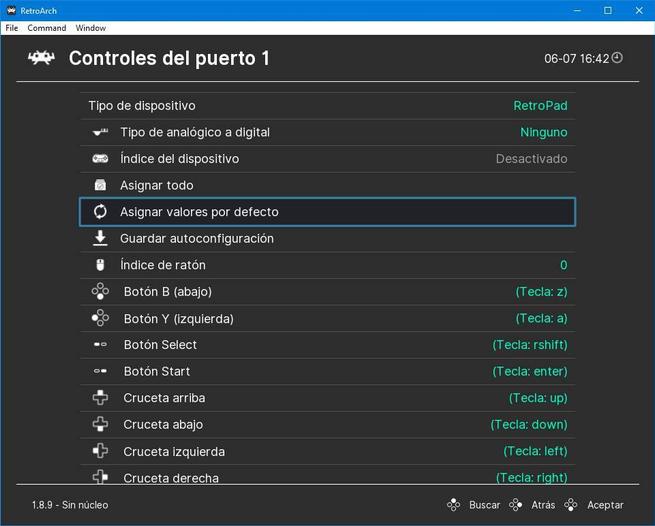 Load games
There are two ways to load games into RetroArch. The first one is from the main menu. We can use the option to load content to load any rom that we have on the computer and thus be able to start playing it directly, without complications.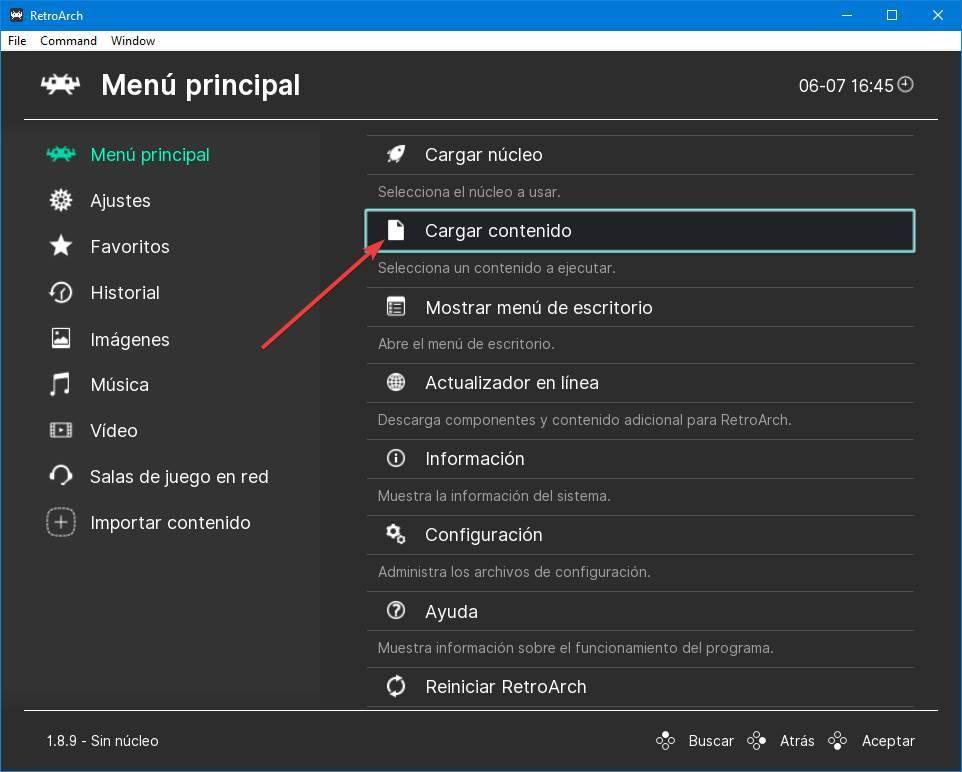 But the ideal, and where this software gains power, is by creating libraries. In the "Import content" section we will find the option to analyze any folder and add all the games that are found to the database.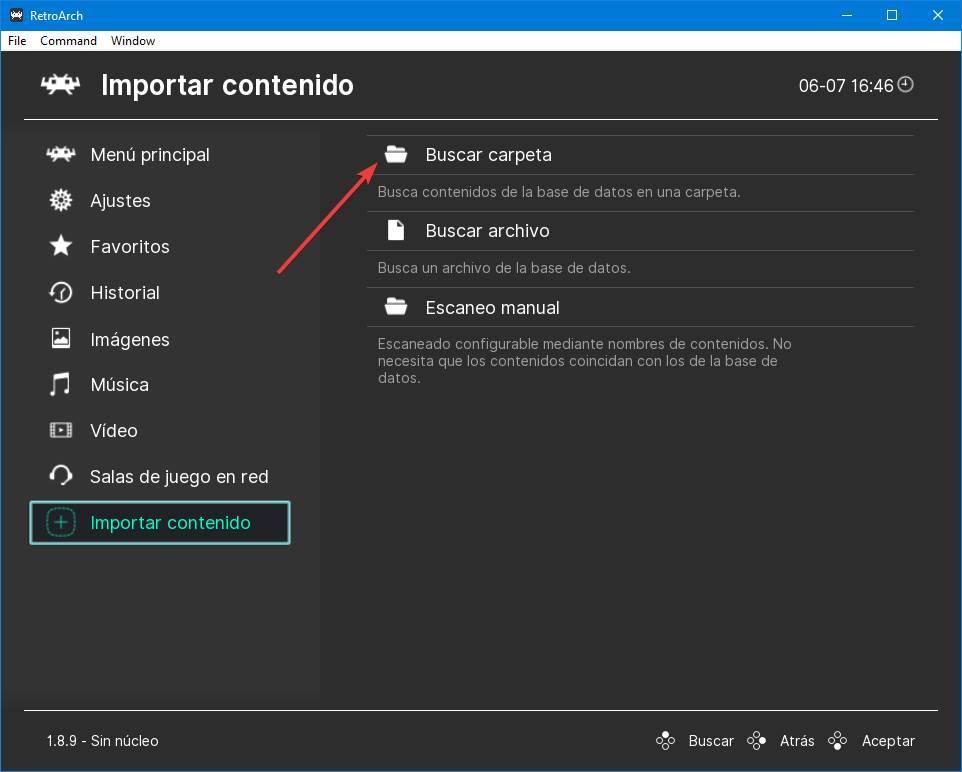 A new category will be created from which we can access all the games we have, and each game will also have its cover or a screenshot of the game itself.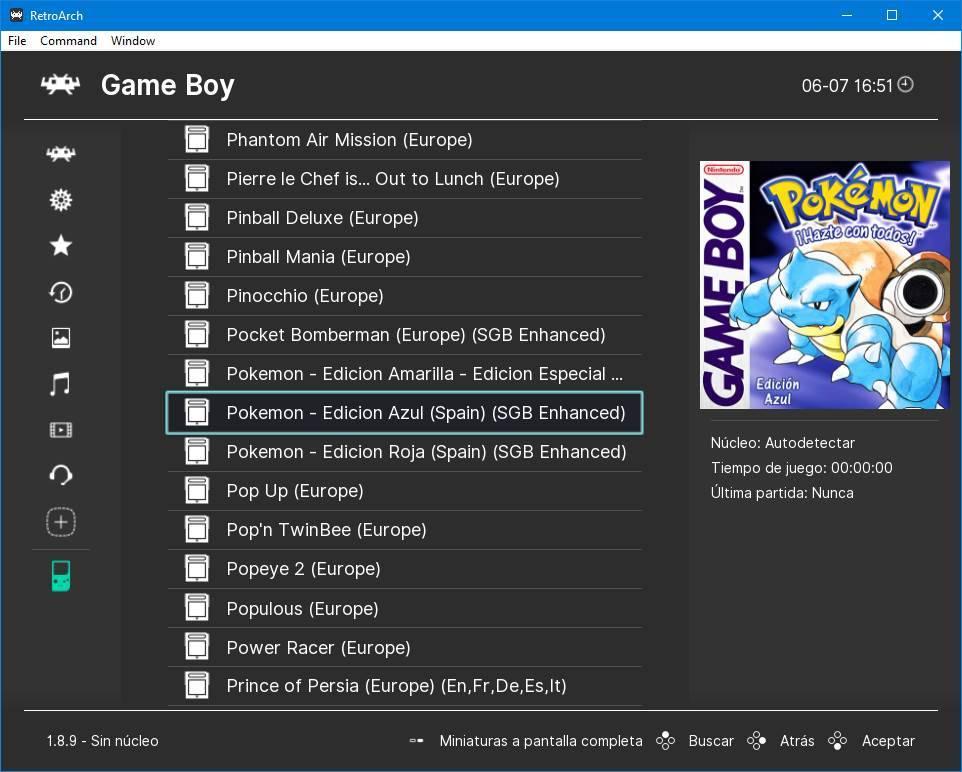 Load a game
Once we have the game selected, all we have to do is press "Enter" to open the rom. Here we will be able to see the specific options menu for each emulator. Even when launching it, we will be able to choose with which core we are going to execute it.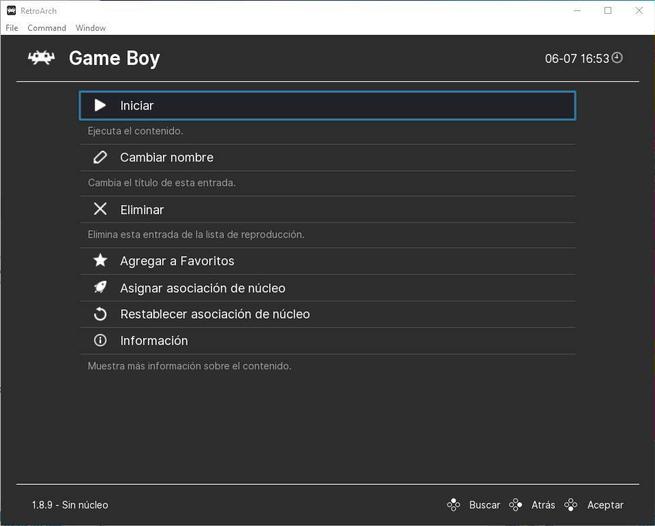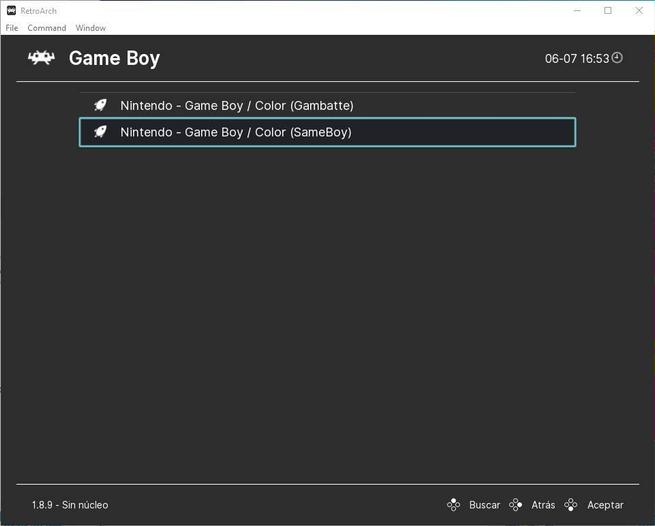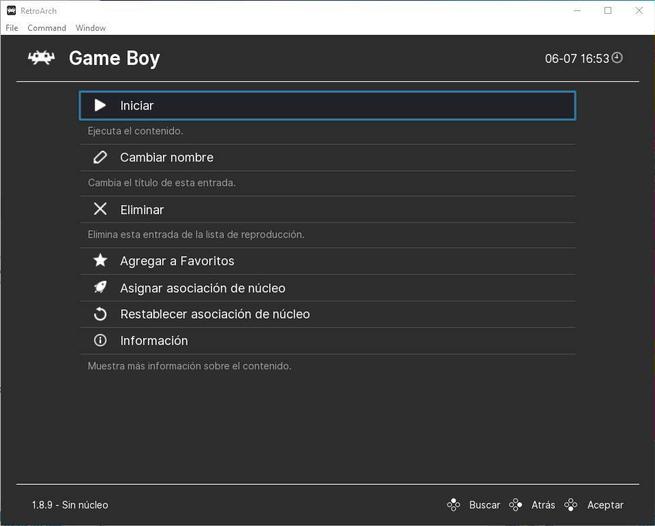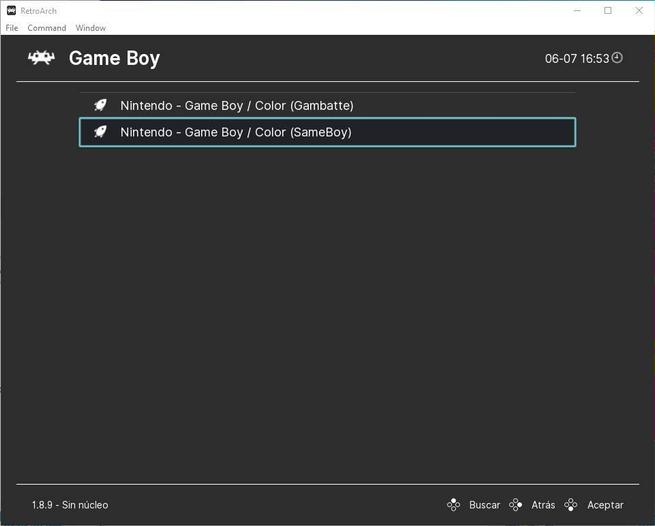 Now we just have to enjoy the classic games.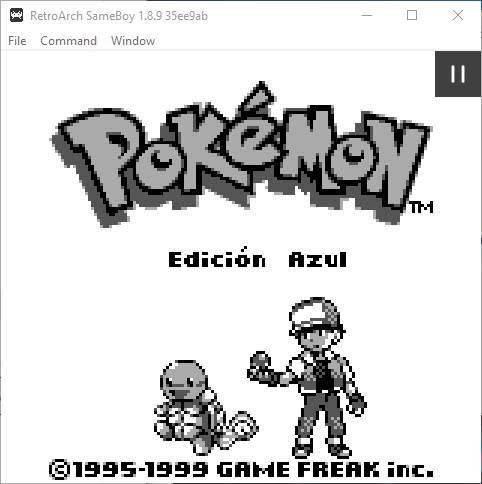 Close RetroArch
When we get tired, to exit RetroArch we just have to press the Esc key twice and RetroArch will close.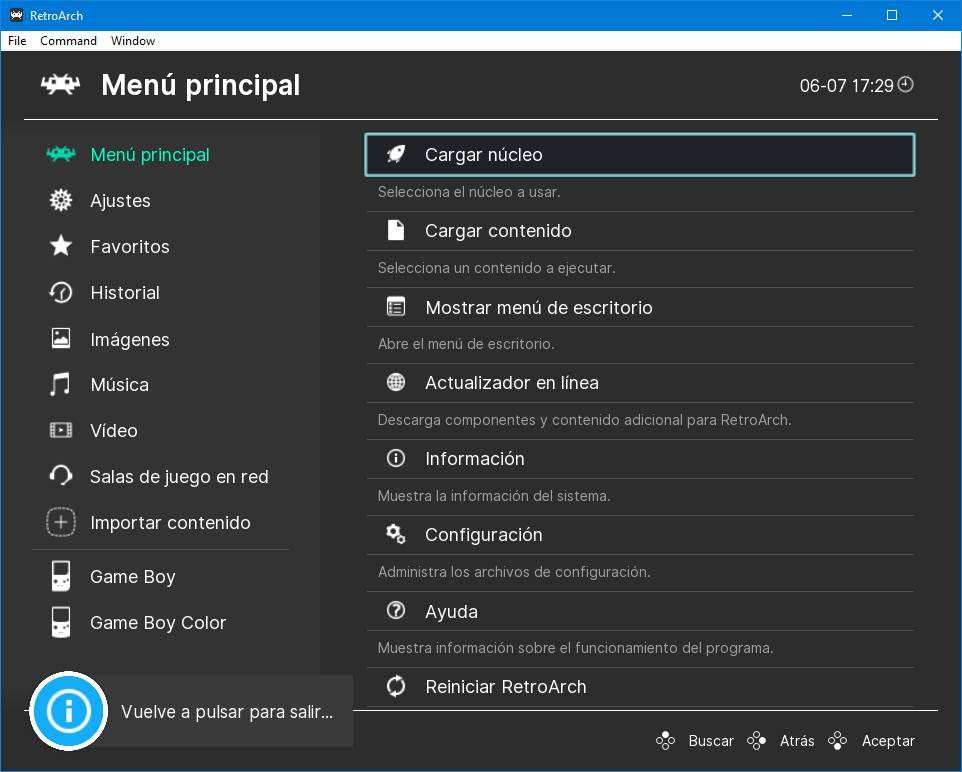 Update RetroArch
The cores themselves, and other additional content of the emulator, can be updated directly from the program. However, from time to time new versions of this program are published, versions that bring a great variety of functions and characteristics.
If we want to put our RetroArch to the last, and not lose the data and settings that we have in the emulator, we can do it in several ways:
Use RetroArch Desktop, pressing F5, and choosing the online update option.
Download the new version of the program and unzip it in the same directory where we have it installed.
Resorting to the use of additional software, such as Stellar, which allows us to update RetroArch and save the configurations with a couple of clicks.
The simplest and fastest option is the latter, Stellar . This simple OpenSource program is in charge of verifying the version of RetroArch that we have installed on the PC and, if it is outdated, downloading the latest version. In addition, it also allows us to download new versions of the program's cores. An all-in-one essential to update our emulator.
Alternatives to RetroArch
If we are looking for an emulation of old consoles, we are going to propose some alternatives to RetroArch that we should know:
Mednafen
We are talking about a multi-system emulator that works under OpenGL and SDL licenses, running and configuring itself on the command line. With it, we can once again enjoy epic titles from the old 8, 16 and 32-bit game consoles on our PC from consoles such as the NES, Super Nintendo, Sega Mega Drive, Sony Play Station or Game Boy, among others. It incorporates the ability to reassign hotkey functions and virtual system inputs to a keyboard, joystick, or both simultaneously. Medgnafe is completely free and we can access it through its website.
MAME
It is a popular free, open source and free arcade machine emulator that will replicate the hardware of these computers so that they can be executed on our Windows computer. This emulator has its own executable and currently has more than 35 thousand arcade machine games in different compilations. It has a simple, organized interface, as well as search and game classification functions. In addition, it is highly maintained by the community so there are usually updates very often. Downloading and using MAME is completely legal and free, and we can access all its content from this link .