video game
How to make or craft a fence gate in Minecraft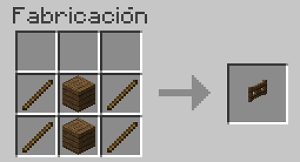 Fences and fence gates are an important part of any player's inventory in Minecraft. It does not matter if you think about making a fence for your farm or home, they allow you to give a more attractive finish to your creations and, in addition , they offer the function of opening and closing through interaction. Thanks to this, fence gates can be used to keep your horses or farm animals in a stable for as long as you like.
That said, even if you think that having fences and fence doors can be complicated, the truth is that there is nothing easier than crafting a fence door in Minecraft, since you need materials that are very easy to get and a few seconds at the table. of creation. If you want to know how to make fences and fence gates, then you have the steps you must follow to obtain them.
Fences
Fences in Minecraft can be made very easily, so you only need to collect wood and sticks. Once this is done, follow the instructions below:
Collect wooden blocks and sticks. For each fence you will need 4 blocks and 2 sticks.
Go to the crafting table and access the creation interface.
Once there, you must arrange the materials in such a way that the 2 sticks are located in the two squares in the center (center and bottom), while the blocks must be on each side of the sticks. Look at the following image:

Once this is done, you will get 3 fences.
Fence gates
First of all, you should know that fence gates use the same materials as normal fences, where the only difference is the arrangement of each element at the time of construction. To make a fence gate, this is what you should do:
On the construction table, you will only have to use 2 wooden blocks and 4 sticks, being necessary that you place them on the construction panel in the same way as seen in this illustration:

Once you do, you are going to receive 3 fence gates.
Like normal fences, you can use any of the six types of wood found in the game and get different colors. In this regard, you can make fences from birch, fir, acacia, jungle tree, oak, and dark oak.