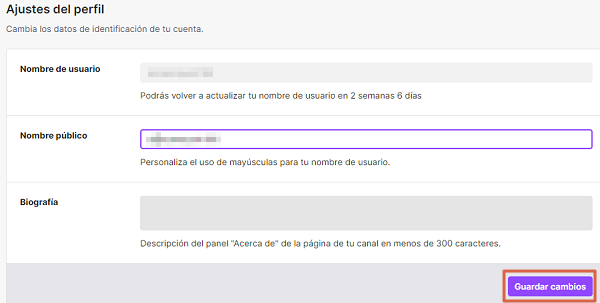 There are different reasons why you may want to change your username on Twitch. One of the main ones is that you have created it a long time ago and you no longer like it, or perhaps you will start broadcasting live instead of limiting yourself to just watching, that is why you need a new name that identifies you. Whatever the reason, in this guide you will learn how to change the username on your Twitch account step by step.
To change your username and get a new one, it will be necessary to meet certain requirements. However, the procedure is extremely simple and you can do it very quickly from the configuration of your profile. On the other hand, it is important to take into account certain warnings before performing the procedure. So, don't forget to read to the end to find out how this change can affect your data.
Previous requirements
There are a couple of requirements that should be considered to know if you can change your username on Twitch or if you will have to perform any procedure beforehand. Among the requirements to be met are:
Have the email address associated with Twitch verified. The steps to verify the account are very simple. If you have not verified your email address, simply click on the notice that appears in your profile and a security message will arrive in your email. Follow the steps indicated, which can be to write a code or simply click on a button or verification link.
More than 60 days have passed since you last changed your username. This is a very important requirement, since unlike the previous one, the only thing you can do if you do not comply is to wait.
Procedure to follow
Once you have verified that you meet the basic requirements, you can change your username on Twitch, following the steps shown below:
Enter your profile on Twitch by following this link:https://www.twitch.tv/. If you are not logged in, you will need to do so at this time.
Click on your profile picture and click on " Settings " to access your account settings.
Scroll down until you find the option " Profile settings ".
You will see that in this section are the text boxes corresponding to the edition of the " User name " and " Public name ". Since these must coincide, you must edit both and click on " Save changes ".
Note: The user name and the public differ in that it is not possible to use capital letters in the former, while in the latter, it is the one that is shown to the other users and if possible the use of capital letters. Outside of this detail, the name cannot be different, since it serves to identify the user on the platform.
Warnings to keep in mind
The username is extremely important on Twitch. Therefore, it is necessary to take into account certain warnings of how changing it can affect it, you will learn from this, below:
It is not possible to redirect the old link to the new user : The link linked to your Twitch account will be unusable, since it is associated with the username. Therefore, it will also be necessary to modify the links and these will be the ones that you will use from now on to redirect other people to your account.
Streaming statistics will be reset : The statistics of saved transmissions are also associated with the username. To prevent them from being lost, you will have the option to export them before making the modification.
Your old name will not be available for 6 months. In case someone else wants to use it or even if its former owner wants to get it back, they must wait a period of 6 months for the name to be available for use on the platform again.
These are extremely important aspects that you should take into account if for any reason you want to change your username on Twitch.
Additional Information
If you are among the users who live stream and generate income using this platform, you are considered a Twitch partner. If this is your case, you should take into consideration some additional information that will be mentioned below:
First of all, your username will not be made available again, even after the statutory 6 months have passed. There are few exceptional cases in which this general rule can be broken, but it is not common.
On the other hand, the income on the platform is linked to the account and not to the name, so they will not be affected. That is, Twitch's policies guarantee that your income will not be lost for making such a modification. However, some delays are possible.
In conclusion, it is extremely easy to change your username on Twitch. But when modifying it, you should be aware of the complications that could arise if you do not take into account the prerequisites or the warnings. Therefore, it is very important to choose a username that can be used for a long period, so you can avoid having to go through all this process.