video game
How and where to find the streaming key on Twitch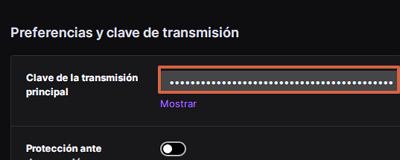 Getting the Twitch transmission code is the main requirement to be able to share your video game games with other players on this platform. However, how or where to get it is something that is difficult for many users, because they do not know how to do it. That is why, in this post, the different alternatives you have to get this code that is so important for those who enjoy the site are explained .
Now, you should know that you require streaming software, such as Twitch Studio or OBS, that allows you to connect your Twitch channel and copy the transmission key once you obtain it. In this way you can start broadcasting and monetizing with your profile within this platform. In this sense, throughout this text you will find the step by step to obtain your security code from the user control panel.
Steps to follow
The first step in finding the Twitch streaming key isenter your account within the platform. Once inside your profile, follow the instructions mentioned below to obtain your code:
Click on your profile icon (the man in the upper right corner of the page).
Select " Creator Control Panel."
Once there, click on " Settings " on the left side panel.
This will display a submenu, click on " Transmission " or " Stream ".
In the next window, the transmission key will appear in a hidden way. You can click " Show " if you want to see it or " Copy " directly to start the transmission in the Streaming program.
Note : do not share or send your password to any other user, remember that this is confidential information that should only be used by you.
In this simple way you will be able to obtain your Twitch transmission key from the user control panel of your account.
What do you need to transmit
Streaming your games live on your Twitch channel is very easy. However, in the case of computers you require certain elements, such as: a microphone, a camera (optional) and a streaming program. The latter allows you to connect your player profile to the team and thus start the transmission of your games live.
How to start streaming
Once you obtain the transmission key, you can start streaming your games live from any video game you want, such as Call Of Duty or Free Fire. For this you will need a software like Twitch Studio u OBS, the former is available for free on the official Twitch website. To obtain it, simply log into your account's control panel and click the " Download Twitch Studio " button.
OBS, meanwhile, is open source cross-platform software. That is, it is available for Windows, Mac and Linux for free and has functions or features that will help you broadcast your games live from your channel on Twitch. Once you have either of these two programs on your computer, you will be able to synchronize your profile on the computer and broadcast your video game rounds live.
This will allow you to attract the attention of other subscribers on Twitch and, in turn, will help you to easily generate income by doing what you like the most. It should be noted that, in the case of OBS, the process to start the transmission is a bit more complicated. Therefore, it is recommended to use Twitch Studio, because, in addition to being the official program of this platform, it is also much easier to use.
As you can see, the procedure to find your Twitch transmission key is very simple, all you will have to do is enter your account and follow the steps described in this text. Now, it is necessary to mention that, when transmitting, it is good to have enough RAM to avoid LAG failures (frozen screen) or slowdown of the equipment.