video game
Download your drm-free games from gog and control their installation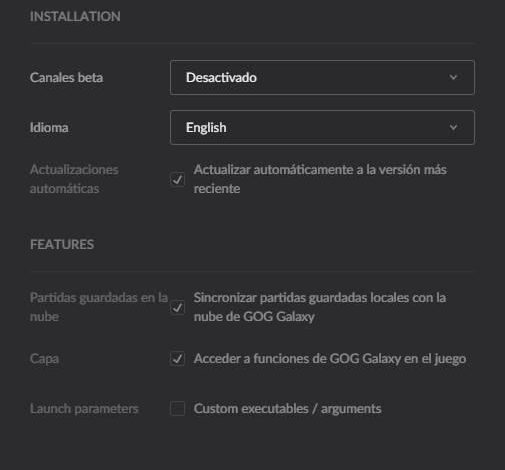 One of the main drawbacks that we find when we buy games in different online stores is DRM. Anti-copy systems have become so abusive that they cause games to lose FPS, experience problems and even, in some cases, not work. Therefore, having a store that allows us to buy only DRM-free games is excellent news for those seeking freedom. And this store is GOG.
GOG, also known as Good Old Games, is the online video game store created by CD Projekt (The Witcher, Cyberpunk 2077, etc) in which we will be able to buy a large number of games, most of them titles with several years behind them. (although we can also find new games) with one characteristic in common: that the games do not have any type of DRM.
This store works in a similar way to Steam, or the Epic Store. We can buy the games from it, but to download them and be able to play them we will need to use its own game client: GOG Galaxy .
GOG Galaxy – all in one client
GOG Galaxy is the official GOG program that allows us to download and run the digital games that we buy on this platform. In addition, GOG Galaxy 2.0 is not only the official client of this platform, but it allows us to log in to other stores (such as Steam, uPlay, Origin, Epic Games Store, etc.) so that we can centralize all our games within a single program instead of having many independent clients.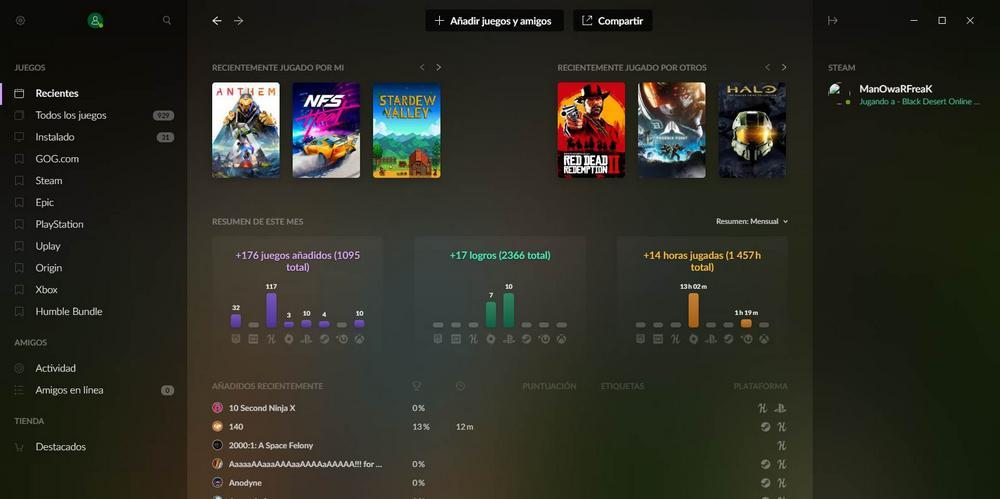 Although each game depends on its own platform, we can use GOG both to download them and to play them (after launching their corresponding client) and even to see all the statistics and trophies. Below we explain how this is done and how we can control all aspects of downloading the games from this platform.
If you haven't downloaded GOG yet, you can download it from here .
Control GOG game downloads
GOG game download and installation options are found within its Settings menu . To get to it, what we must do is click on the gear icon, in the upper left part of the program window.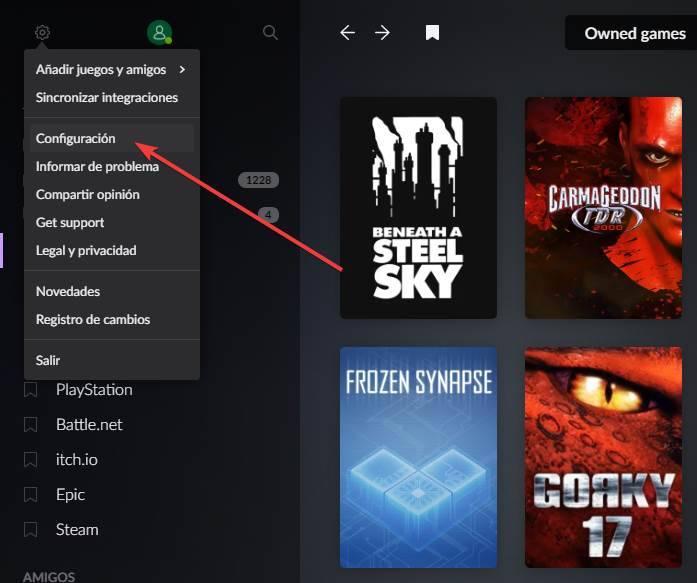 In the program configuration window, what we must do is select the " Installing, updating " section to see the different customization options for this process.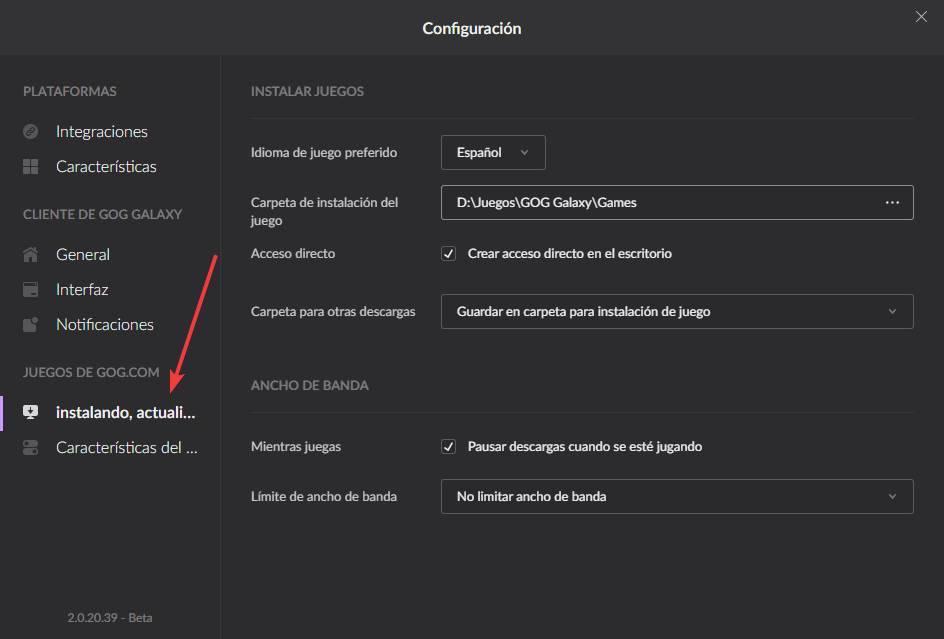 Choose where to install the games
The " Install games " section is the one that will allow us to choose where we want the games we download from GOG to be installed and how we want to do it.

The first thing we are going to be able to do is choose the language we want by default for the games. This language will be the one that is downloaded and activated by default in all games, whenever it is available. If the game is not translated into our language, then by default it will appear in English.
We are also going to find a section where we can choose the games installation folder. By default, they will all be downloaded and installed in a folder, called Games, in the directory where we have the client installed. In addition, we can also choose if we want the games to create their own shortcuts on the desktop or not.
Finally, we will also be able to choose where to save the other downloads that may be related to games (for example, manuals or art books). By default, they will be saved inside the game's own folder, but, if we want, we can change the path.
Adjust download speed of GOG games
The speed and download options that we can configure can be found in the " Bandwidth " section at the bottom.
The GOG Galaxy client will allow us to choose the download speed that we want to limit in the program. If we activate it, we will be able to establish the limit we want, in the units we want. For example, we can limit it to 10 MB / s (100 Mbps) to prevent both downloads and game updates from using more than this speed limit.
We will also be able to choose if we want to program that limit to a specific range of hours. This is useful, for example, if we want the limit to only apply to our working hours, but the rest of the time we do not want the program to be limited.
Of course, like other clients, we will also find an option that will allow us to pause downloads while we are playing. In this way we can save bandwidth and disk to get more FPS.
Download a GOG game
To download a game from this platform, all we have to do is look for it within the GOG library . Once we locate the game, at the top of its file we will see a button called «Install». If we click on it we will be able to see a series of options and parameters related to the installation. For example, we will be able, for example, to choose where to install this specific game, and the language in which we want to download it. We can also choose if we want a direct access to it, and if we want to keep the game always updated.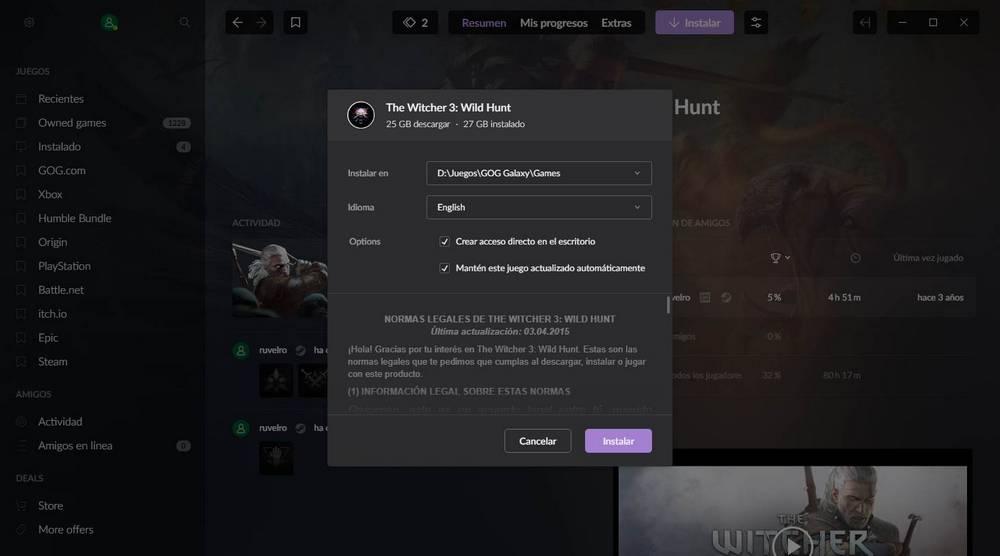 In addition, next to the install button of the game, we will find a button «Extras». From it we will be able to access the individual downloads of each of the elements of the game. For example, we can download the base game, updates and even each of the game's resources or languages ​​separately.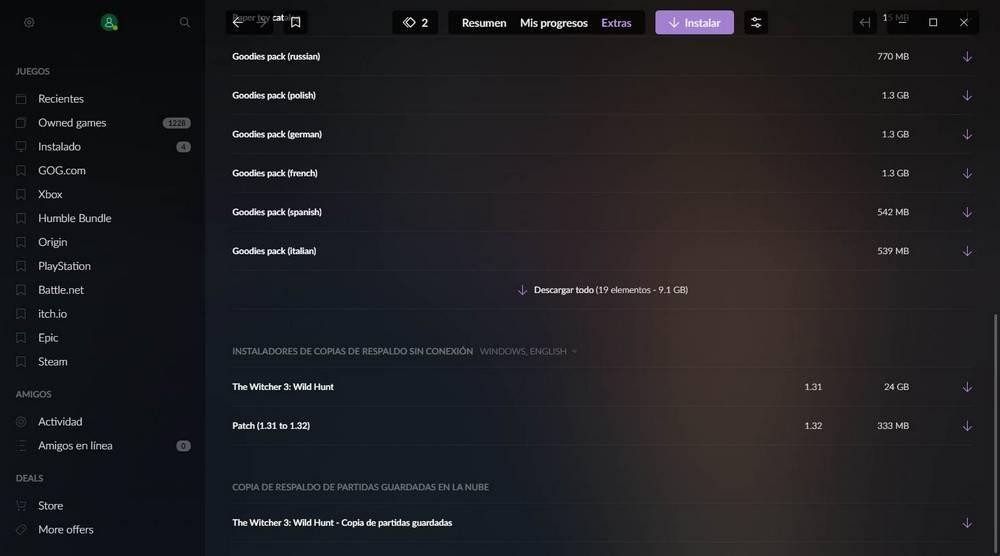 Once the game is installed, from GOG we will be able to configure and manage the installation. For example, we can change the language, sign up for a beta of the game, and even activate special features such as the synchronization of saved games or the Galaxy overlay panel.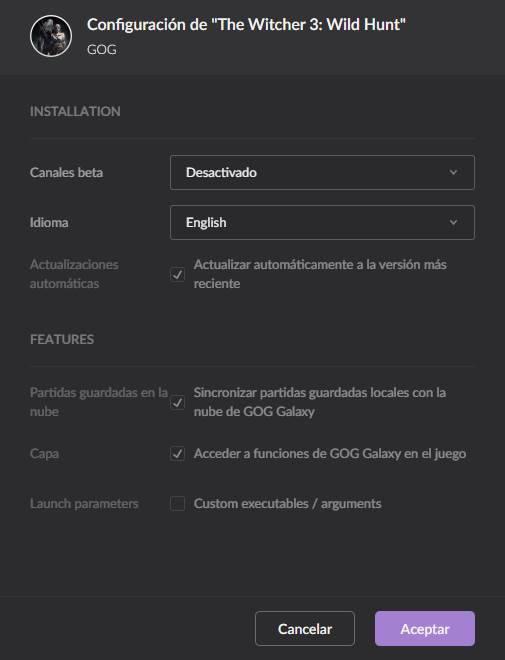 Uninstall game
When we get tired of the game, we can uninstall it to free up space. If we have activated the synchronization of saved games in the cloud, these will be stored to be able to use them later if we decide to reinstall the game.
To uninstall a game, we must follow the same steps as to uninstall any program. That is, we will go to the Settings> Windows 10 Applications section and look for the game in the list of applications installed on the PC. From there, we will follow the usual steps to uninstall the game and free up space.