video game
Customize the download and installation of your games at amazon games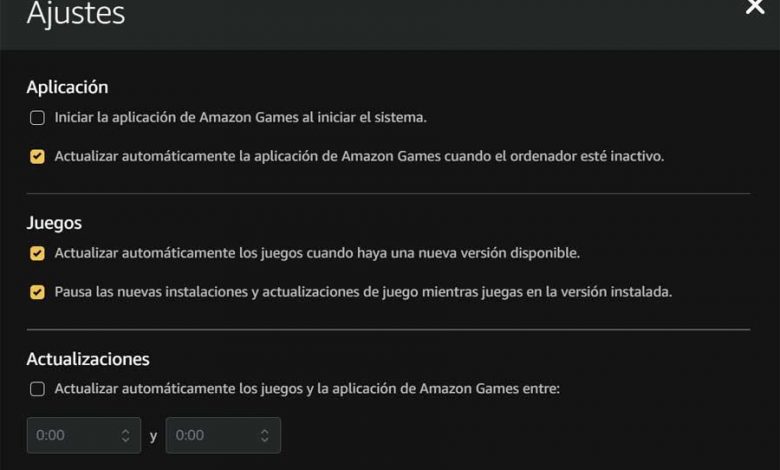 In these times, the PC platform has become basic for many when it comes to enjoying their favorite games. In this way, the power of the current teams, sometimes offers us everything we need to play the most current titles on the market.
Due to all this, many users around the world choose to have their own equipment configured to suit their needs. It must be borne in mind, as surely many of you already know, that the requirements of certain titles of this type are very high. But with everything and with it, they are increasingly those who prefer to use the PC for all this, instead of, for example, a console. But not only the hardware available today has a lot to do with this success, but other elements come into play.
Here, for example, we can mention the good developments that are carried out in this same sense. But neither can we ignore the stores and platforms that present us with all the facilities to get hold of these software solutions. Specifically with this we refer to platforms such as Steam, Origin, Epics Games, etc. They offer millions of users multiple functions that make it easy to play these games.
Amazon Games offers games of all kinds, many free
These platforms to which we refer, first of all they give us facilities when buying the titles we want to use. Then, in one way or another, they present us with a perfect environment for its management, download and installation on our computers. Hence, users can control their library of games, install or uninstall games, play games or talk with friends, from a single window. Of course, all this says a lot in favor of the developers who present us with all these facilities in the video game sector.
Well, there are many alternatives of this type that we can use at this time. But along these lines we are going to focus on one of these proposals that does not stop growing, we refer to Amazon Games . In fact, this proposal that we mention gives away titles every month to its users who subscribe to the firm's Prime program. Therefore and due to this constant growth, below we will see how to manage, download and install games from the Amazon Games client.
How to download the Amazon Games client and its games
First of all, the first thing we should know is that we can download the commented client from this link . Then we just have to enter our Amazon account credentials to access our personal username. Thus, once we start the software, we find a section called Free games with Prime. Here we can click on Claim so that those titles that are given away, become part of our library .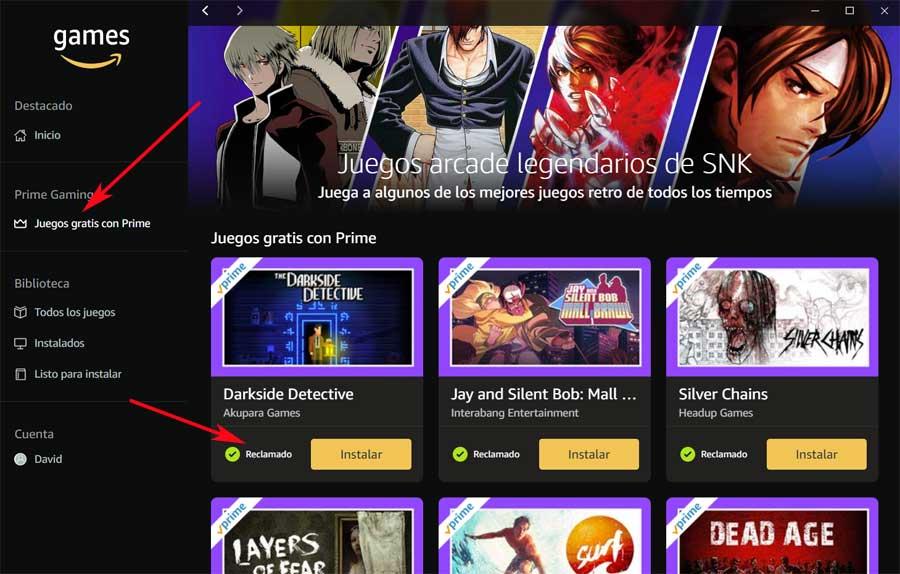 On the other hand, a little further down, we find a section called Library. From here we will have the possibility to manage all the titles that we have added to it over time. So we can independently take a look at those that are already installed, those ready to do it, or the entire list. In this way, from a simple as well as intuitive user interface, we will have the possibility of managing Amazon Games' own titles .
How to customize game downloads on Amazon Games
It is true that this client is not comparable in terms of functionality or complexity to others, such as the one we find on Steam. However, it is suitable for those who do not seek more complications than purchasing, downloading and playing their favorite titles. With the passage of time, between gifts and purchases, there are many games that we can accumulate here. That is why we could use it to customize its installation on the PC .
In this way we will be able to manage much better the space that these occupy in our disk drives for the future. Well, to say that for this, at first we only have to click on the Install button of the corresponding title for which we have opted.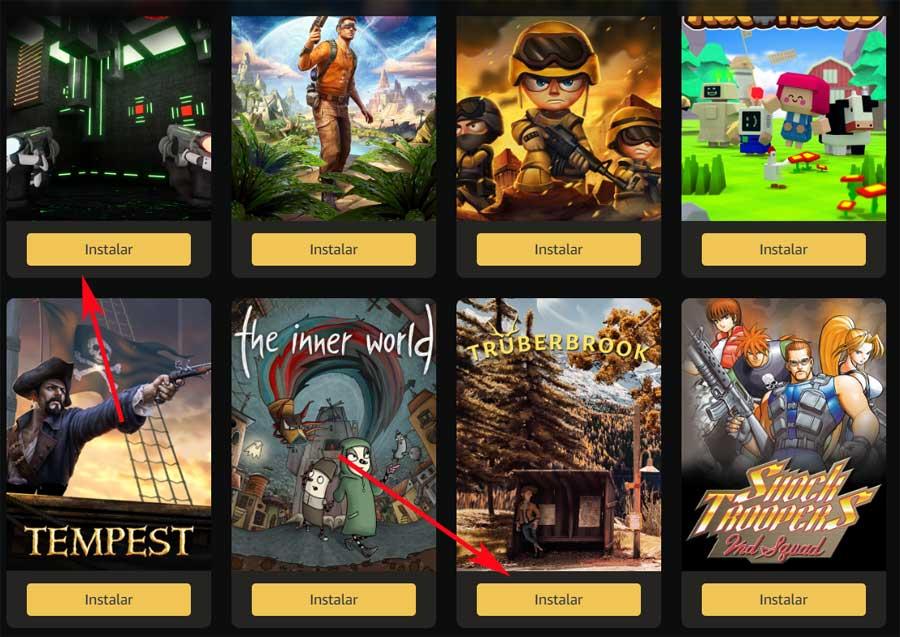 Then we find a new window that indicates the size of the game as such, as well as the space available in the selected unit. However, in it we have the possibility to change this installation path , which is what interests us here. By default this will be done in a folder that the client creates on the main unit, called Amazon Games. However, we only have to click on the button with two arrows located on the right, to select any other disk unit that we have connected to the PC .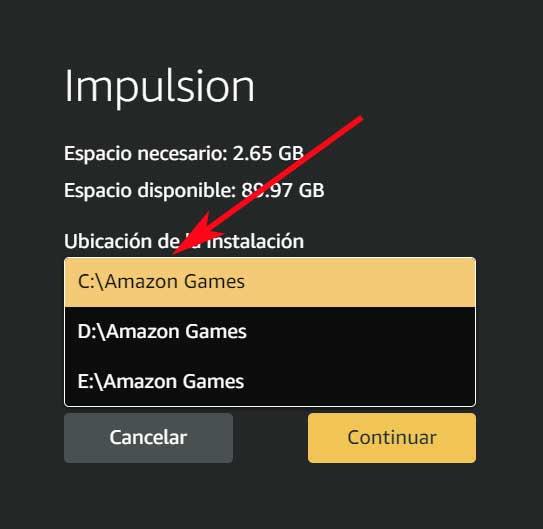 At the same time, just below this drop-down list that appears, we will have the possibility to create, or not, a shortcut to the game in question on the Windows desktop .
Adjust game updates in Amazon Games
On the other hand, these titles that we add to our library need to install updates from time to time. This is something that usually increases in size, so we can customize this too. To do this, in the lower left part of the client interface, we find the name of the user account. By clicking on it, we will have the possibility to access the Settings section.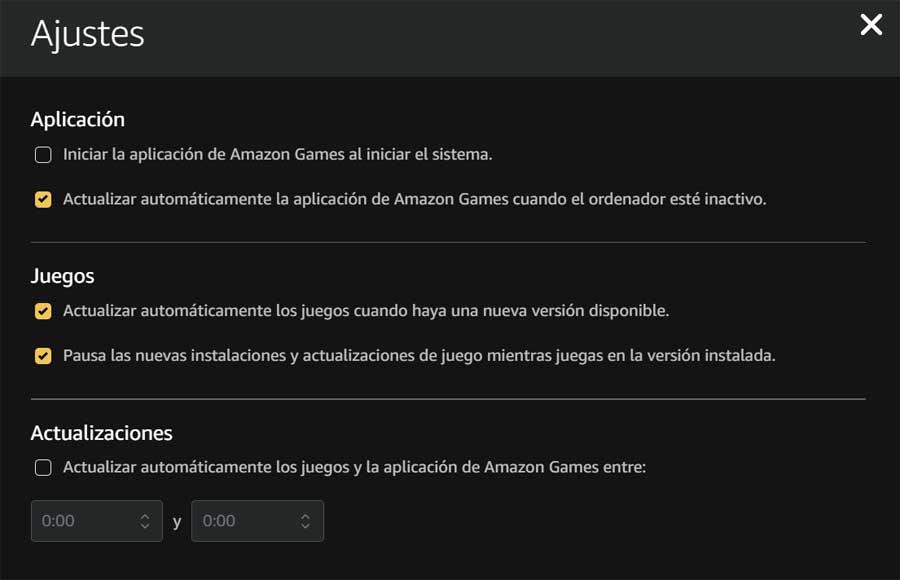 In this specific section, we will see that the client proposes several parameters that we can adjust to our needs. Thus, we can indicate if we want the games to update automatically, or not, specify a range of hours for it, or start the client together with Windows itself. It is not that there are many customization functions that we can use from here, but they will be more than enough for many users who do not want complications when playing on the PC.