software
Windows running slow? Tron will help you clean and optimize your pc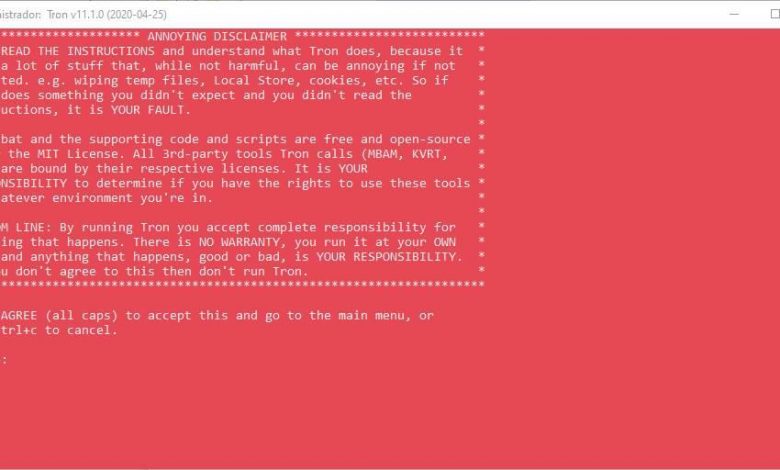 As time goes by, we surely begin to notice that our computer begins to slow down than at the beginning. And this is totally normal. Little by little, junk and temporary files accumulate on our PC that weigh down its performance. This without taking into account possible malware or unwanted software that may remain on our PC and impact its performance. There are many tools to clean and optimize Windows to make it work like the first day, but if we want something simple and effective, we should definitely think about Tron.
Tron is a program, or rather, a script that automates the operation of other programs, designed to maximize cleaning of our computer. This script is totally free and open source, so, thanks to it, we will be able to know at all times what it does on our computer, contrary to what happens with other similar software.
The 10 phases of Tron
The complete operation of this program is divided mainly into 10 phases, each of which is focused on a specific task.
Phase 1 – check the system
This is the first phase that appears when you run the program. It detects if the program is running in a temporary folder (and if so, prevents its execution), analyzes the versions of Windows and Internet Explorer to ensure compatibility, and detects the general configuration of the PC to adjust its operation. For example, if we have an SSD disable defragmentation, check if it is possible to restart the PC, if Safe Mode works, if it has administrator permissions and if the network works. It also records the available space on the hard drive to compare it with the available space at the end.
Phase 2 – prepare the system
During this second phase, it executes a series of programs and tools in charge of preparing our system for cleaning. He is also in charge of preparing the environment so that Tron can co-complete his tasks. Among others, the tools and tasks that are executed are:
Create a RunOnce entry.
Checking the SMART of the hard drives.
Create restore point.
Rkill
ProcessKiller
Set the time via NTP.
Check and repair WMI.
McAfee Stinger
TDSS Killer
Windows registry backup.
VSS cleanup.
Reduce the reserved space.
Disable sleep.
Phase 3 – clean all temporary files on the PC
The next step will be to start by cleaning all the temporary files on our computer. To do this, Tron makes use of the following tools:
CCLeaner
Bleachbit
TempFileCleanup.bat
USB Device Cleanup
It also takes care of cleaning Internet Explorer, duplicate downloads, Windows logs, and the Windows Update cache.
Phase 4 – uninstall bloatware, heavy applications and unwanted software
Once Windows is cleaned, the next step is to lighten it up. And what better way to do it than by eliminating all kinds of unwanted software, and bloatware, that may be on our PC. To do this, the following applications are run:
OEM de-bloat
Toolbar & BHO
Metro de-bloat
And the OneDrive integration with Windows is also removed.
Phase 5 – remove the malware
Our computer may be running slow because it has malware installed doing its thing. At this point, Tron will analyze our system and clean it using the following tools:
Malwarebytes Anti-Malware
KVRT: Kaspersky Virus Removal Tool.
Sophos Virus Removal Tool
Phase 6 – repair Windows
We already have our computer clean and disinfected. Therefore, the next step will be to solve the possible problems that may have appeared. And for this, this program performs the following tasks:
Run DISM to check and repair Windows.
Reset Windows registry permissions.
Reset the file system permissions.
Check the status of the file system.
Run CHKDSK.
Remove telemetry from Windows.
Repair the network.
Repair the association of file extensions.
Phase 7 – patch and update the software
With Windows already repaired, the next step will be to update the most common applications to ensure that they work correctly at all times:
7-Zip
Adobe Flash Player
Adobe reader
Java Runtime Environment
Windows updates will also be downloaded and installed, and DISM settings will be reset.
Phase 8 – optimize the system
It will also be in charge of optimizing various parameters of our operating system. For example, paging is restarted and the "Defraggler" tool is run to defragment the hard disk.
Phase 9 – get the results
At this point, the program will have finished its work. Now what remains is to generate a report of everything you have done so that we can analyze it carefully and make sure that nothing has gone wrong.
In this phase, programs (such as Malwarebytes) that have been previously installed are also removed.
Phase 10 – manual tasks
Finally, when finished, this program allows us to run a series of tools that have to be run manually on our computer. We should only use them if we need them, but these tools are:
ADSSpy
Adwcleaner
aswMBR
autoruns
ComboFix
PCHunter
Junkware Removal Tool
Net Adapter Repair
Remote Support Reboot Config
Safe Mode Boot Selector.bat
ServicesRepair.exe
Tron Reset Tool
VirusTotal uploader tool
How to clean and optimize your computer with Tron
The first thing to do is download the latest version of this program to clean Windows and get the best result. The latest version can always be found at the following link . Of course, we must bear in mind that, although the program as such is a simple script, it occupies more than 500 MB. Once downloaded, we must execute the ".exe" that we have downloaded, which will be in charge of extracting all the parts of the program, together with the "tron.bat" script that will allow us to execute the program.

Once everything is extracted, we will copy the script and the «resources» folder to the desktop. So we can have everything much more at hand. Of course, before executing the script we must make sure that we do not have pending updates on our computer. And it is also advisable to restart the computer before starting. If the computer works correctly we can run the program in normal mode. If we have a virus and Windows does not work, it will also work in Safe Mode, although it is not mandatory.
Once we have everything ready, we will execute "tron.bat" as administrator, and we will wait for it to finish its work. It may take between 3 and 10 hours, it depends on the power of the computer. And it is better not to use the computer while it is running to avoid problems.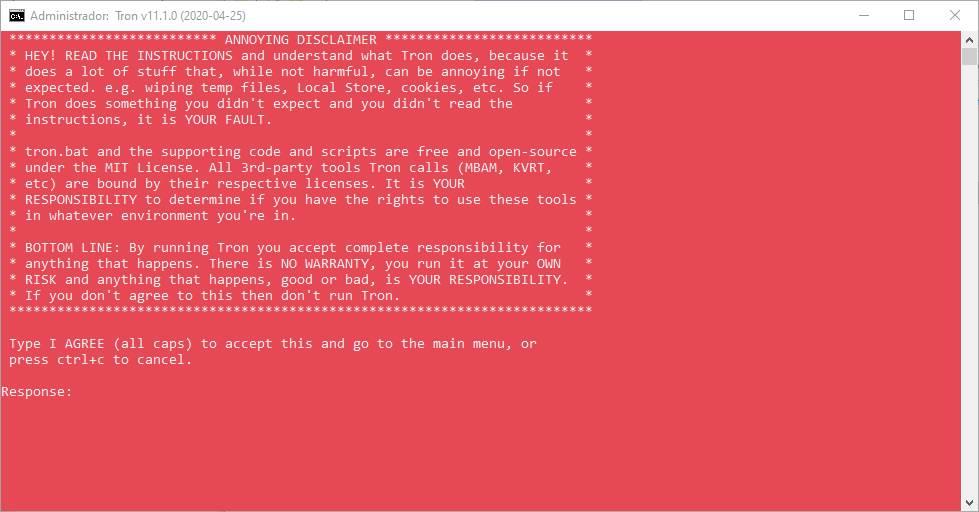 We must also bear in mind that some of the tasks performed by this program (for example, Malwarebytes analysis) require interaction on our part.
When the script finishes running, the only thing left to do is restart our computer. We must restart it completely before doing anything with it, to ensure that the cleaning is completely complete.
If we do not want to execute the complete script, but rather want to execute a specific phase, we can do it without problems. Each phase has its own script (for example, "stage_2_de-bloat.bat"), which can be found in the "resources" folder.
However, for a complete cleanup, it is advisable to run Tron completely.
We must be careful to use Tron
Tron is one of the most complete tools to clean, optimize and disinfect Windows that we can find. But also one of the most dangerous. We must always use it carefully and comply with the instructions, since when performing so many tasks there are things that can go wrong and leave our computer worse than at the beginning.
Also, although the script is open source, some of the tools it uses (Defraggler, CCleaner, Malwarebytes, etc.) are proprietary, so we cannot say that the entire process is transparent.
If we follow the instructions, we do not use the computer while the script is running, and we restart once the entire task is finished, we should not have any problem.
Alternatives to Tron
If we want to clean and optimize our computer, we propose some alternatives to Tron that we must take into account:
Glary Utilities
It is a very popular free program to clean Windows since it has many options to analyze and optimize the PC. It allows us to clean the computer category by category. It also has an automatic mode that allows us to do the job with one click. Although it can be somewhat complicated for some users, the automatic mode makes the process quite simple. We can download this program from its website .
Wise Disk Cleaner
It is a free application that will allow us to clean and optimize our computer very quickly and easily, being able to safely remove all unnecessary files from the PC. It is also responsible for protecting our privacy, as it is responsible for analyzing the history and all cookies, as well as destroying any traces that may be used to identify us. We can download this program from this link .