software
Windows running slow? These programs will help you clean it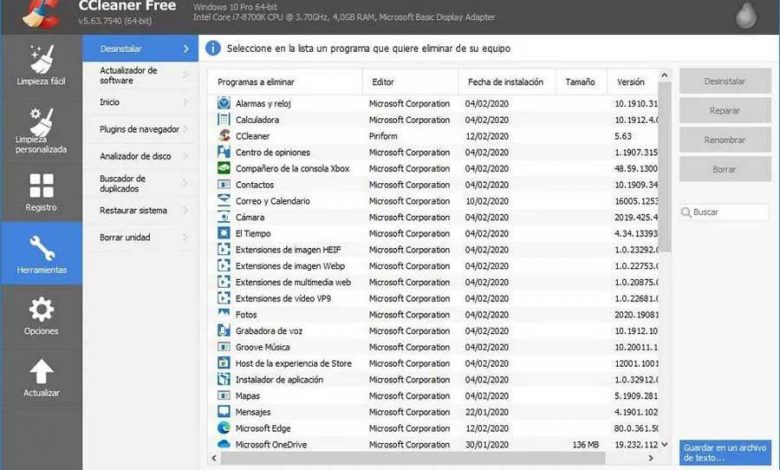 Over time, Windows generates a series of junk and unnecessary files, files that all they do is that, little by little, the PC slows down. In addition, these files may even pose a danger to our security and privacy due to the information they contain, as is the case with cookies. As part of the mandatory maintenance for any PC, it is necessary to use a series of tools that allow us to clean Windows and update it to avoid errors, free up space on the hard disk and, of course, optimize its operation.
We can find many programs and tools to clean Windows . The operating system itself includes several tools, totally free, that will allow us to perform basic PC maintenance. We can even schedule them to run automatically and we don't have to do anything ourselves. In addition, if we want to carry out a more thorough cleaning, we can also resort to a series of third-party programs, free and paid, that will help us get the most out of our computer.
Windows tools to clean your PC
Windows 10 comes standard with a series of programs that will allow us to clean and optimize our computer .
Storage sensor
The first one, introduced in the latest versions of Windows 10, is the storage sensor . This tool allows us to analyze our hard drive, see how the used space is distributed, and detect all those files that are unnecessary to allow us to delete them.
This tool can be found in the Settings menu, in the System > Storage section. Here we can see a summary of our C drive, and a series of options to clean the PC storage.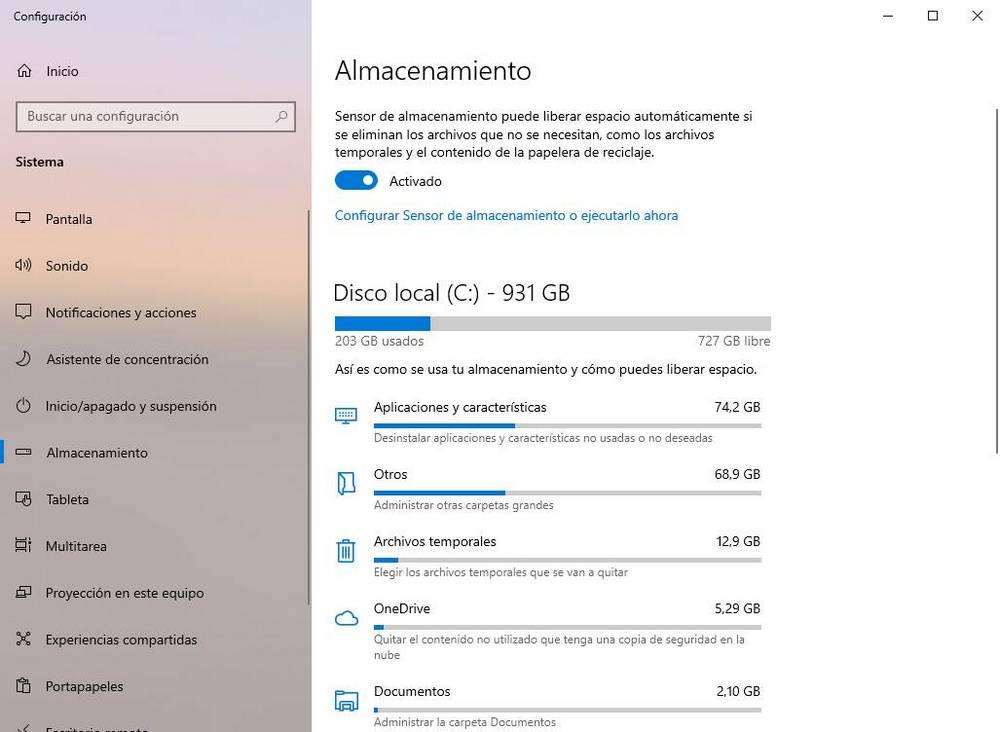 We will be able to see how all the space used on the hard disk is distributed to detect the elements that are occupying the most. We can see, for example, how much the programs occupy, the largest folders, the space used by OneDrive and much more. In addition, we will also be able to see here all the temporary files, the files that Microsoft considers unnecessary, and it will help us delete them.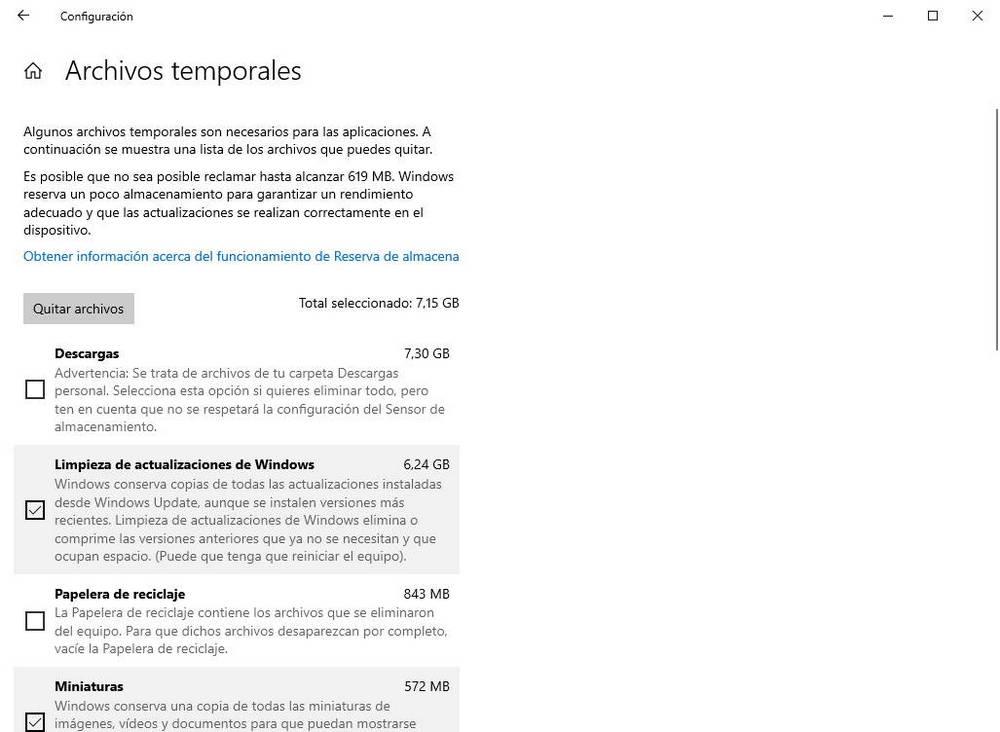 We will also be able to configure this storage sensor so that it runs automatically every several days and thus can clean our PC.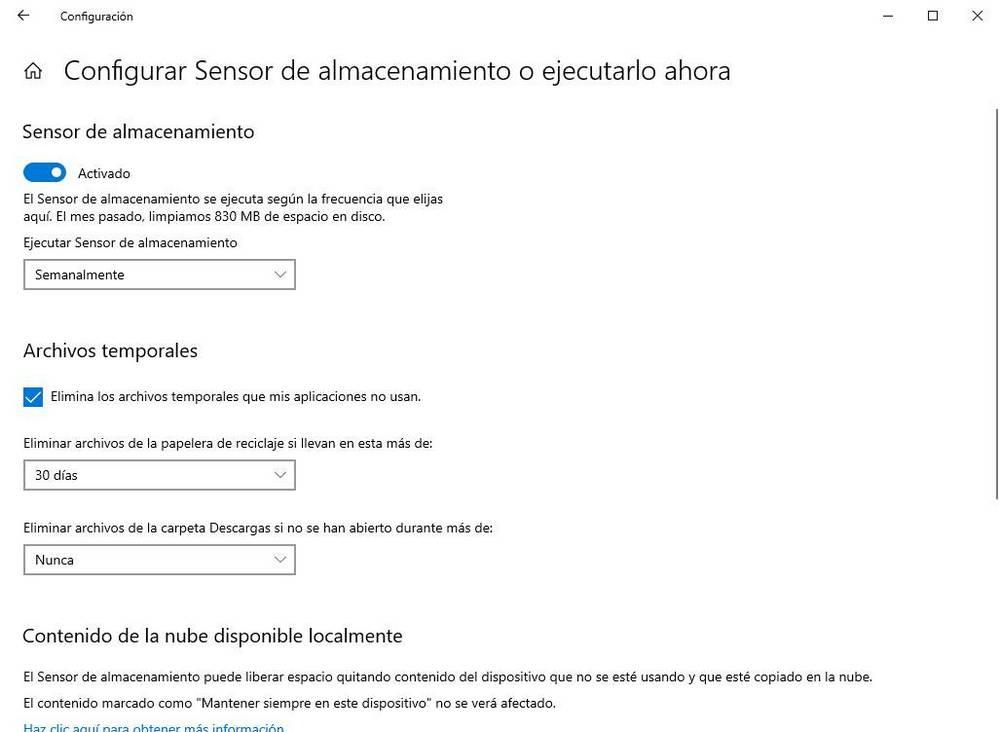 Optimize drives
From the " Storage sensor " section we can also reach a section called " Optimize drives ".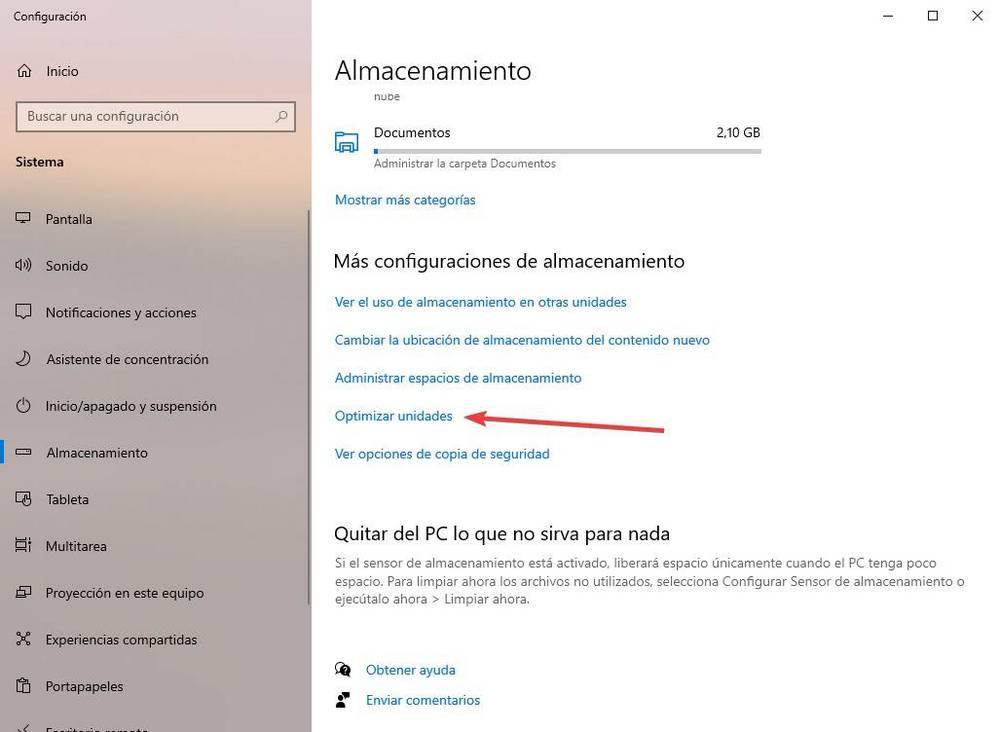 This tool will allow us to defragment our hard drives and optimize the SSD units connected to the PC. In this way, we will always have the units running at full capacity.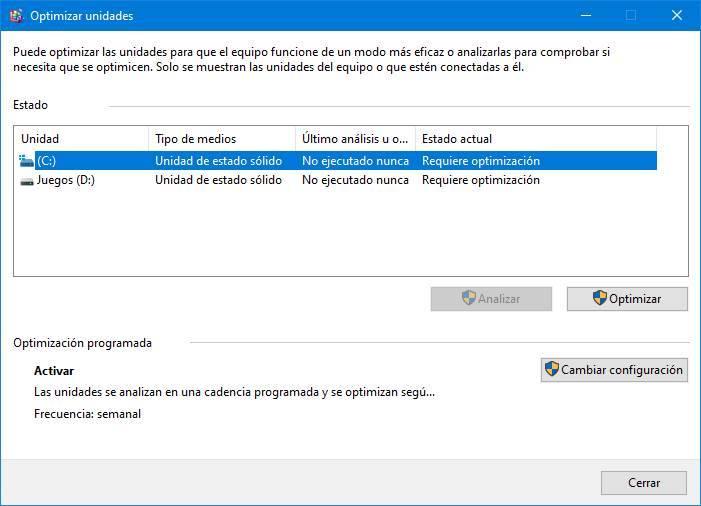 Use the classic space cleaner
In addition to all of the above, Windows 10 still hides the classic space freeing tool that has been accompanying the operating system for decades. This tool, known as the space cleaner, can be found by right-clicking on one of the PC's hard drives and opening the "properties" window.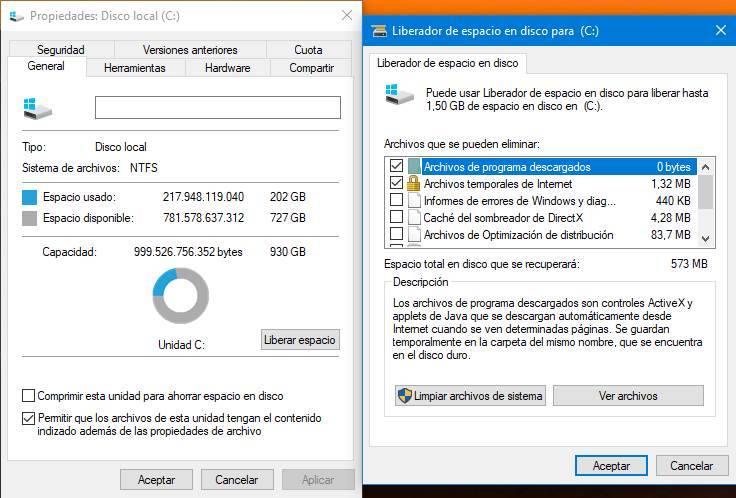 From it we will be able to see all the elements, considered garbage or unnecessary, that are taking up space on our computer. And we will be able to choose everything we want to eliminate.
Programs to clean Windows
Windows tools to clean your PC are fine, but they are not the best or the most comprehensive. On the Internet we can find a large number of programs specially designed to clean and optimize the computer that will allow us to carry out a much more exhaustive cleaning of the PC data.
The best free optimizers
When cleaning Windows we can choose various optimizers that we can use without having to pay a euro and that can perfectly fulfill their task.
BleachBit, the OpenSource alternative to CCleaner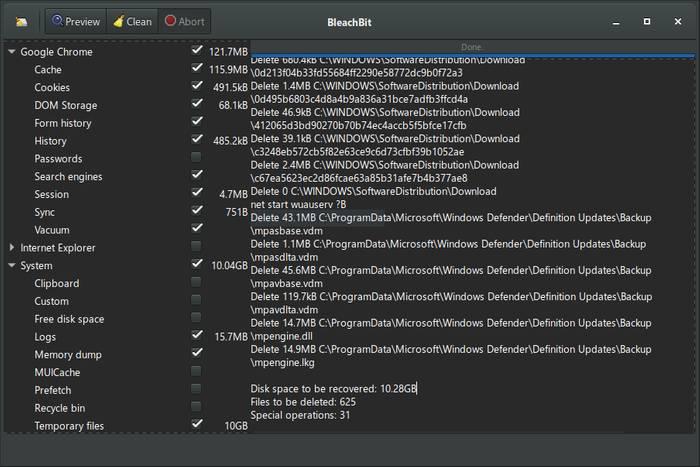 One of the best programs that we can find to clean and optimize Windows is BleachBit. This program is completely free and open source, and it is capable of detecting all junk files of the most popular programs. In addition, it is compatible with the Winapp2.ini libraries, allowing you to add support for more than 2,500 popular programs, and growing thanks to the community, so that you can clean them too.
This software is available for Windows and Linux, and we can download it from this link .
Glary Utilities, clean Windows with one click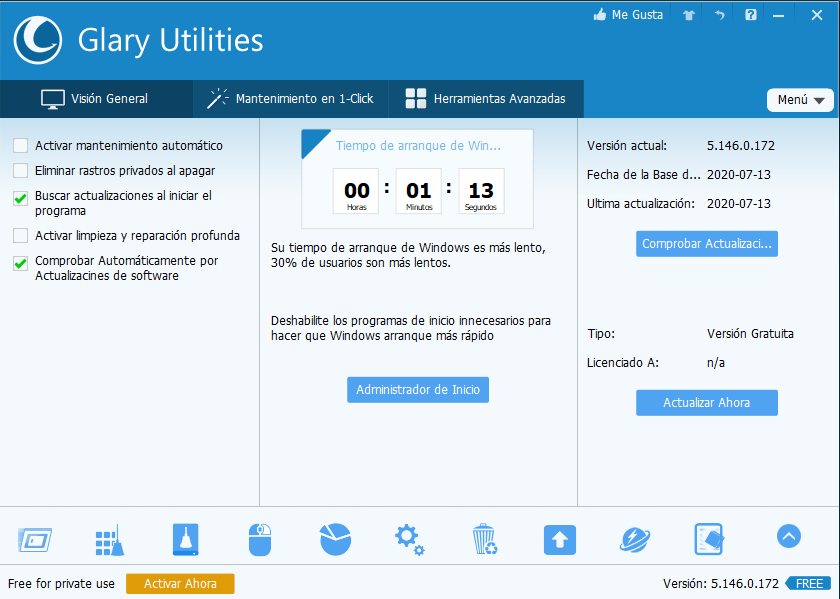 Glary Utilities is another of the most popular free programs to clean Windows that we can find all over the net. This software is very similar to CCleaner, but it has many more options to analyze and optimize the PC. It allows us to clean the computer category by category or rely on one-click cleaning that does everything automatically. It can be somewhat complicated for some users, but if one-click maintenance is enough for us, it is undoubtedly a great option to consider.
We can download this program from its website . It has a Free version, fully functional, and a Pro with more functions, such as the possibility of automating cleaning or scheduling them.
PrivaZer: clean Windows and protect privacy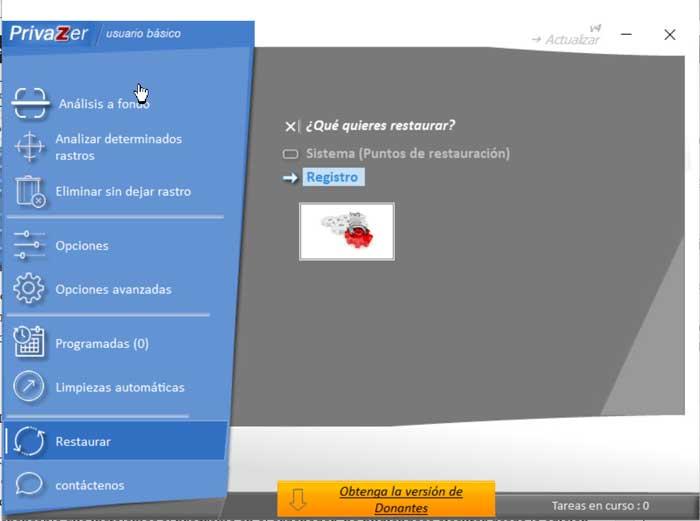 This program, also free, is another excellent option to clean and optimize our computer. Especially when we think about erasing all traces of the PC and improving privacy. It has a one-click cleaning system that allows us to destroy identifying data to free up space and, incidentally, prevent it from being recovered. In addition, it allows us to see where the hard disk space is being used and use a smart cleaning system to free up the space.
We can download PrivaZer for free from its website .
Wise Disk Cleaner, delete all types of files safely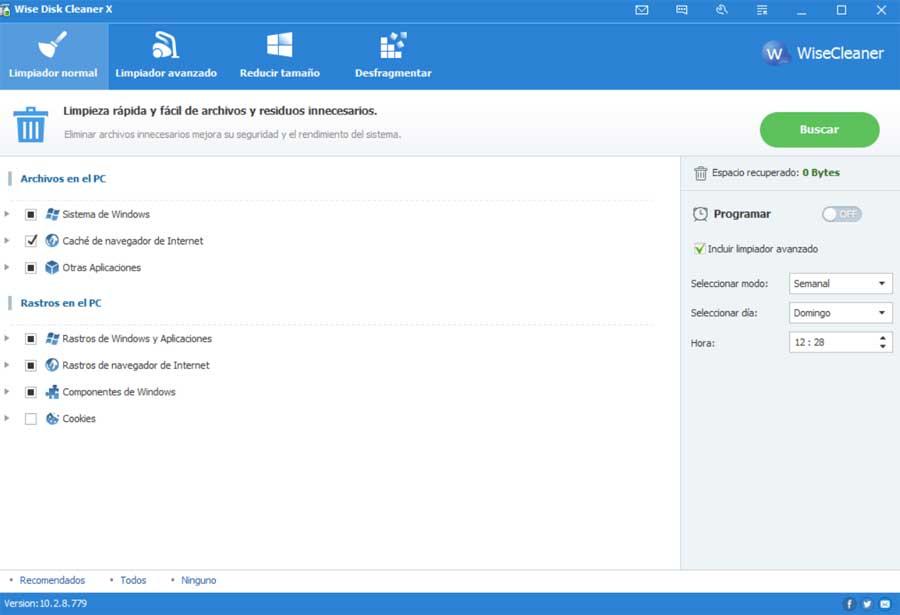 One more alternative, totally free, that will allow us to clean and optimize our computer very quickly and easily is Wise Disk Cleaner . This program allows us to safely remove all unnecessary files from the PC. In addition, it protects our privacy, since it is responsible for analyzing our history and all cookies and destroying all traces that can be used to identify us. It also has different optimization functions
We can download this program from this link .
Ashampoo WinOptimizer, speed up and clean any Windows-based computer
At the same time, one of the software developers who over the years has gained the trust of many users, such as Ashampoo, could not be absent here. For this, he proposes his solution called Ashampoo WinOptimizer, a powerful solution that gives us the possibility to speed up and clean the computer based on a Windows system. For all this, it offers us a series of functions both for cleaning and for maintenance and performance improvement. In order to take a look at what we are talking about, you can do it from this link .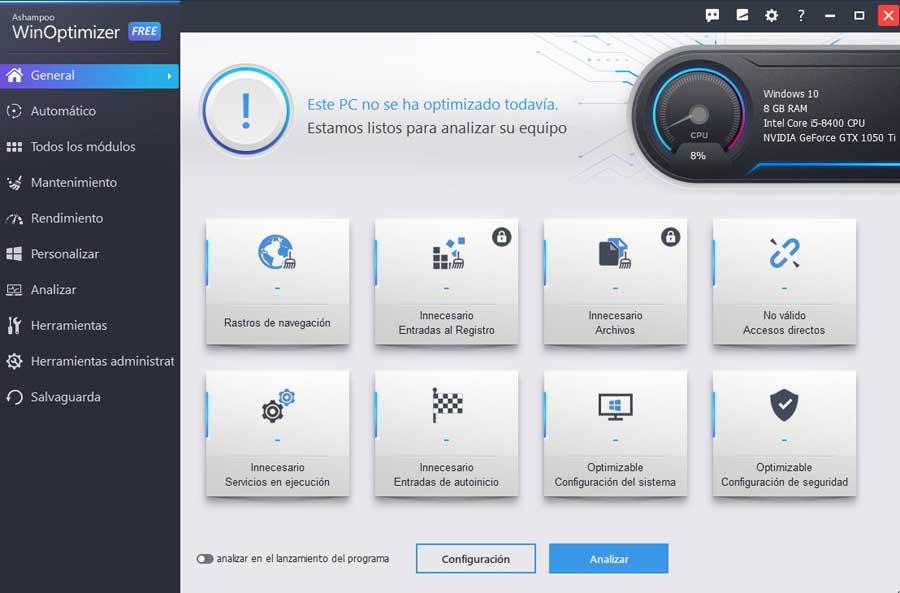 Win Utilities, cleans and speeds up the PC to the maximum
And to finish with this selection, we will talk about the program called Win Utilities. As its name suggests, this is a solution that will be very helpful when cleaning and optimizing Microsoft's operating system. It offers us various functions for all this, in addition to accelerating the computer in general PC and eliminating possible errors that appear. It also has some tools related to privacy. All this available on the official website of its developers .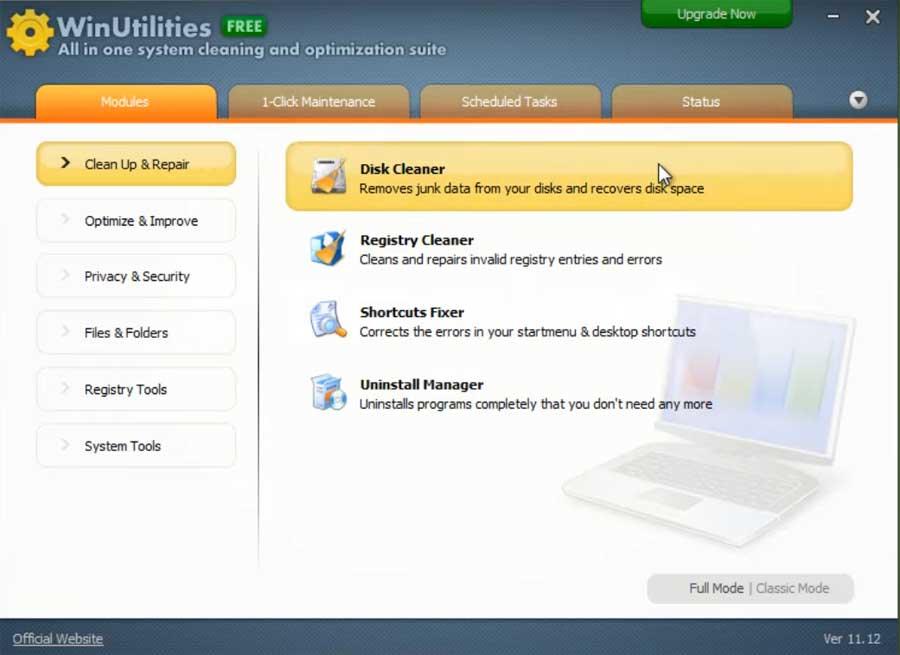 System Ninja, complete cleaning and optimization tool
It is a program developed exclusively for cleaning and maintenance of Windows. With it we can eliminate all kinds of junk files that are responsible for slowing down our PC, so we will achieve a better optimization for better computer performance. Thanks to its search engine, we can search for junk files throughout the hard drive and delete all those that we do not need. In addition, it includes other series of possibilities such as a startup program manager, a process manager and a file scanner. It is a fairly complete application that is worth trying.
System Ninja is a free application that we can download from this link.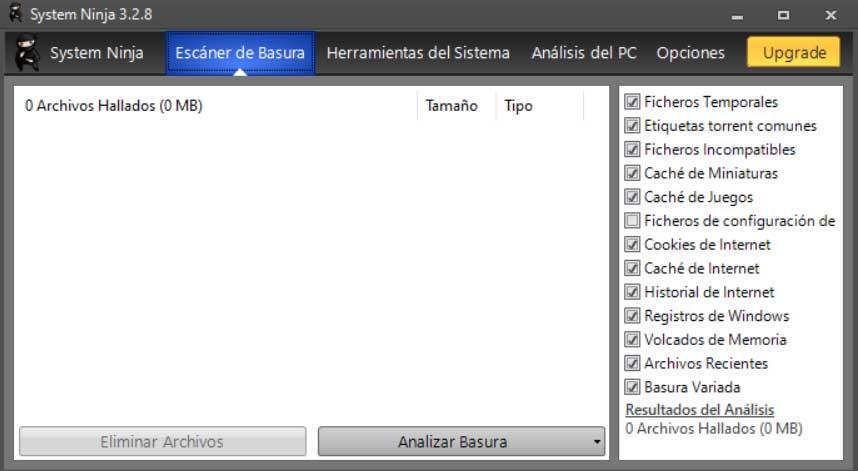 Paid programs to optimize Windows
If free programs are not enough for us, we can also opt for certain paid programs, with features and tools to leave Windows as fresh as new.
AVG PC TuneUp, one of the oldest optimizers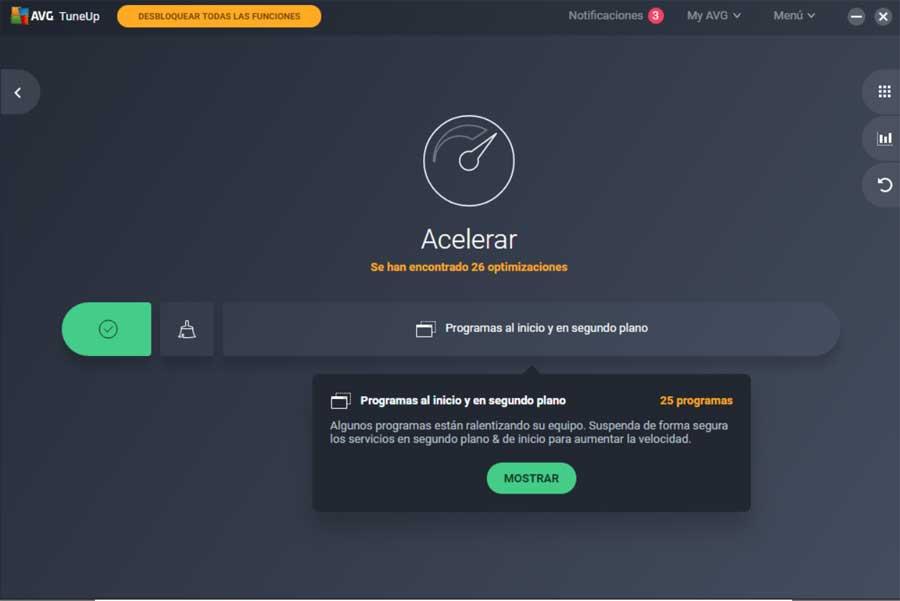 TuneUp is one of the oldest PC optimizers. This software will allow us to carry out a complete automatic maintenance of our computer. In addition to allowing us to eliminate all junk and unwanted files from the PC, it will also help us with Windows updates, and programs, and with the deletion of programs that we do not use. So we can have our operating system as clean and optimized as possible, without complications, defragmenting the hard drives and optimizing the registry.
We can download this program from its website . Your license has a cost of 45 euros per year.
System Mechanic, removes all kinds of junk files from the PC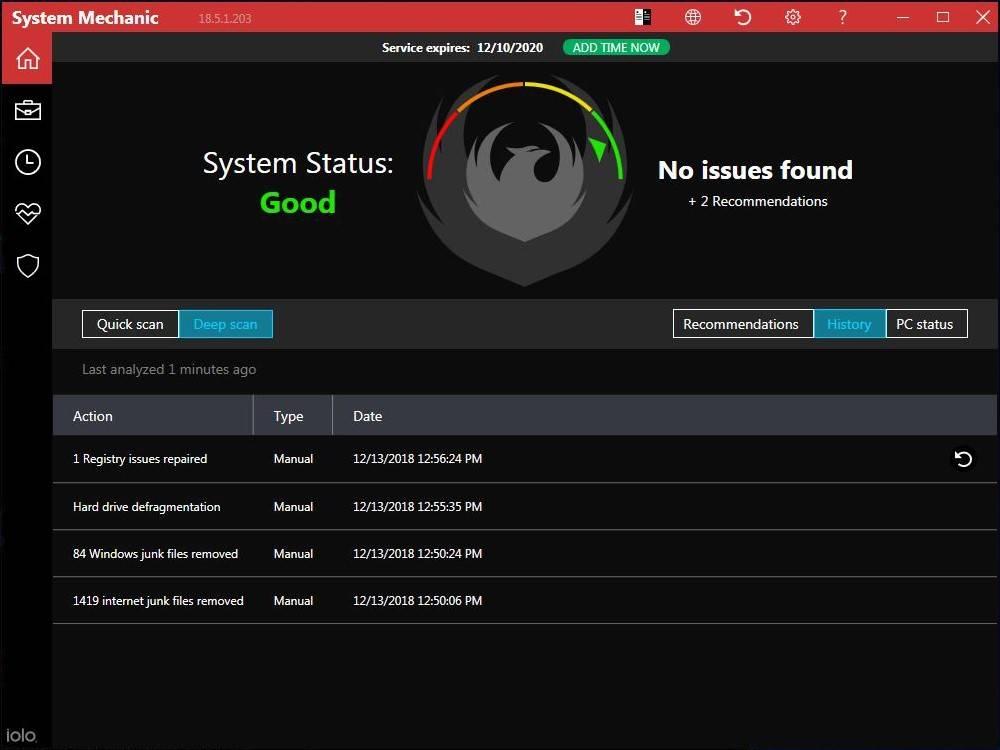 Although it is not one of the best known programs for cleaning and optimizing Windows, System Mechanic is also an excellent alternative that perfectly fulfills its function. This program allows us to automate the maintenance of the computer by delegating all these tasks to it. It allows us to analyze our PC in search of all kinds of junk files and eliminate them at once. In addition, it also allows us to speed up hard drives, RAM and programs, optimize Windows startup and clean the registry. An all-in-one for PC maintenance.
We can buy this program from here . Your license has a cost of $ 49.95, one-time payment.
IObit SystemCare, developed by and for Windows cleaning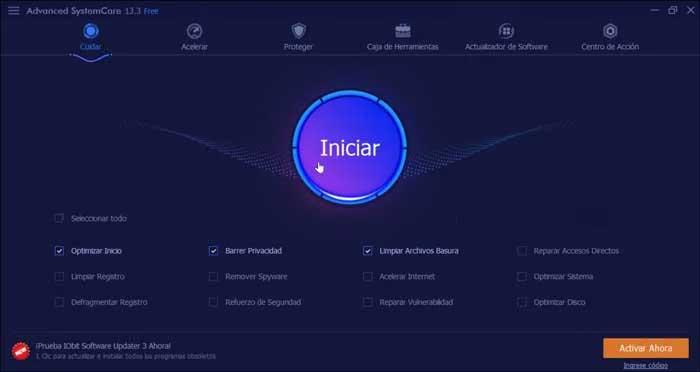 IObit also has its own software to optimize its users' computers. This program has a patented Windows cleaning and optimization system that allows us to detect all unnecessary files and delete them automatically without endangering users' personal data. It has a system to defragment drives, optimize RAM, accelerate startup and is responsible for protecting our privacy both by controlling the files that are generated on the PC and protecting us from spyware.
We can download this program from its website . The full version license has a cost of 18 euros, one-time payment.
Clean Master, recognized cleaning program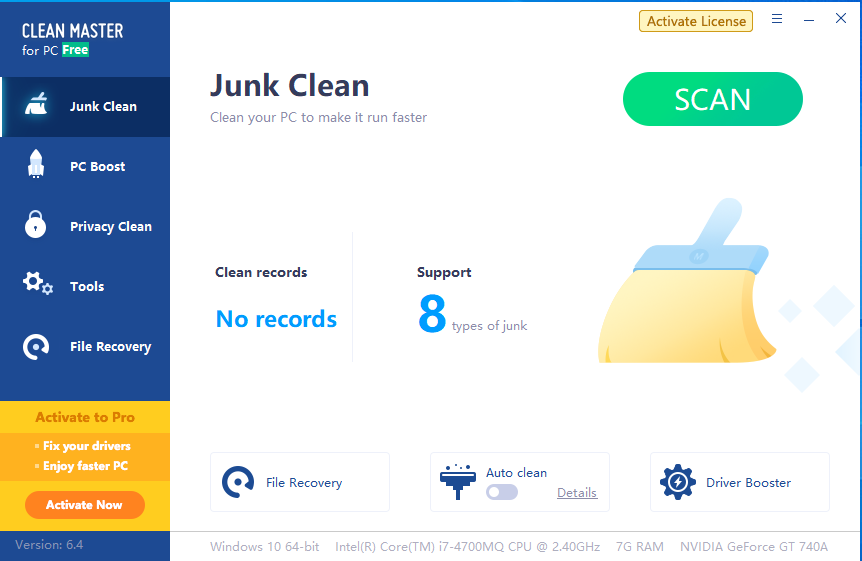 This cleaning software is well known for cleaning and optimizing mobile devices. But it also has a PC edition. With Clean Master we will be able to detect cache files of more than 1000 popular programs and clean them with one click to free up space and optimize PC performance. In addition, it allows us to better protect our privacy and has a driver optimization system that gives us access to a database with 5 million updated drivers to update our PC without headaches.
We can download this program here . It has a free version, very limited, and a paid version that we can buy for $ 30 a year.
And what about Avast CCleaner?
Obviously, in an article about cleaning and optimizing Windows we were not going to forget about CCleaner . This is one of the most popular programs for cleaning computers. Years ago he was one of the best. However, today we can only advise against its use. Since Avast bought this program, the cleaning software has gone from bad to worse. Many of its functions, which were previously free, have become paid. It has also started to collect data from users, data that is used for commercial purposes. And the program's installer has started to include bloatware that installs deceptively on the PC.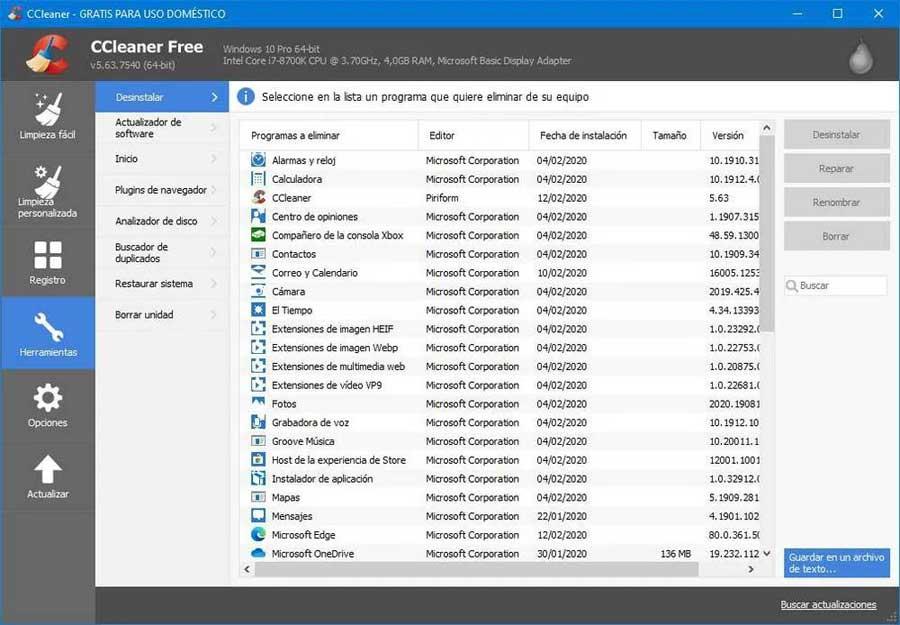 Even Windows Defender has started to consider this program as potentially unwanted software. Therefore, whenever we can, we should avoid installing CCleaner on the computer. The above alternatives are much better.