software
Windows 8 what is it, what is it forms and what are the benefits of using this?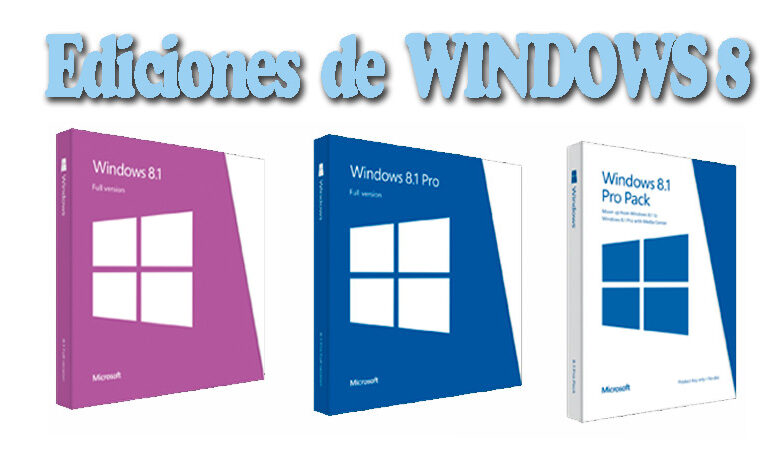 Microsoft's OS, Windows 8, is one of the most recent versions that the company has released, although it is not the most up-to-date. This edition brought big changes with respect to its predecessor W7.
Then it will be convenient to analyze what is W8 and what are the ideal features that a computer should have to install it. Due to this we have prepared the following article for you to read the aspects related to this OS.
But this is not all, you will also know the features that Windows 8 and all its editions have. Finally, you will know which is the best option between W8 and Windows 10.
What is Windows 8 and what is this Microsoft operating system for?
Windows 8 is a set of folders and files used to manage the structures of programs and hardware installed on a computer. Thanks to this Microsoft tool it is possible to access a graphical interface and interact with the device to deliver orders and receive information requested by the user.
You can use this program on desktop computers, laptops, tablets, and servers. This version replaces Windows 7, but it is not the most up-to-date, since from 2015 Microsoft released its most recent OS, W10. Windows 8 licenses are all paid and you can access versions for home, business and server use.
If you want to buy the 25-digit code to activate the license, you can do it in the official Microsoft store or get it through authorized resellers and distributors. Although there are important technical changes with its predecessor, the most questionable of this version of Windows was the elimination of the start menu, used since the beginning of this operating system. This error was recognized by Microsoft and after a while it was modified, as we know it now.
System requirements What are the ideal features that my PC should have to install Windows 8?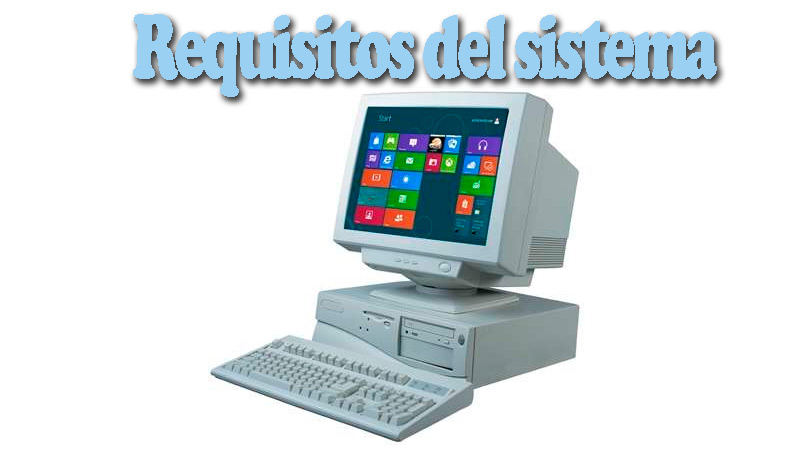 Like any operating system, Windows 8 occupies a physical place in the hard disk storage . But this is not all, it is also necessary to have certain technical requirements for the program to work correctly.
For this reason, we will show you below what are the hardware requirements that you must have if you are thinking of installing Windows 8 on your computer:
Minima
As for the minimum requirements, you will have to think that the processor must work at a frequency of 1.5 to 2.7 GHz ; while the RAM memory will have to be between 1 and 2 GB for a 32-bit or 64-bit architecture, respectively.
In addition, you must have a graphics card that is compatible with DirectX 9 and that supports WDDM 1.0 drivers . But this is not all, you will also need a hard disk space of between 16 and 20 GB for 32 and 64 bits . Lastly, the screen resolution should be 1024 x 768p for an acceptable user experience.
Recommended
To use the Windows 8 operating system and for it to work correctly (with all its functions and tools fully) it is necessary that you have a RAM memory of at least 4 GB on your computer . While the screen resolution is recommended to be  1366 x 768p and have DirectX 10 for video games, this way you will get a better experience.
But this is not all, if you want to use the Microsoft store you will need a registered account on this platform. You can also use it for some of the specific functions of this operating system. On the other hand, you will need an additional software for DVD playback and if you are looking for a safe start, you must have a compatible controller with the BIOS interface 2.3.1 Errata B .
Windows 8 Features What can we do from this operating system?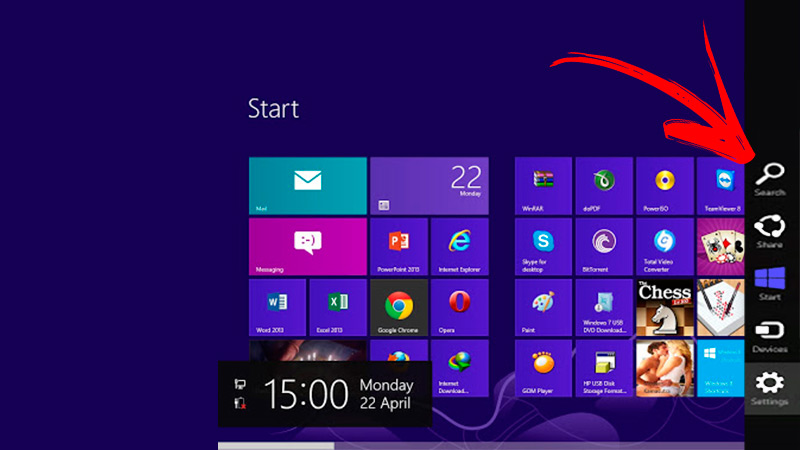 Among the most outstanding features found in Windows 8 we want to point out the following:
We have already mentioned one before, although later in the Windows 8.1 version it was modified, and it is the elimination of the start menu. In this operating system this tool is called Metro UI or Start Screen, which can be started from the properties of the task bar.
Allows you to use the same wallpaper as the desktop wallpaper that is applied to the start screen, while the window occupies the entire monitor, this being a big difference with respect to its predecessor and Windows 10 (in which the start menu is located on the left side of the monitor).
Applications on the home screen can be closed directly with an X located at the top right of the box or automatically after being inactive for a while. Also, the icons can have different sizes and shapes. You can change the colors of the startup screen using the PC Settings tool.
Charm, this bar located on the right of the screen and has 5 commands (it supplies to some extent the conventional start menu along with the Start Screen). Which are, from top to bottom, Search, Share, Start, Devices and Settings Menu.
The Skydrive cloud storage is eliminated and in its place appears another tool from Microsoft, OneDrive with which you can access the files quickly.
The lock screen supports notifications, thus protecting unauthorized access. That is, in addition to the date and time that can be seen, it is also possible to know the alerts sent by the operating system.
The native and default browser for Windows 8 is Internet Explorer version 10 . Being in this way compatible with graphic design languages ​​and the World Wide Web (CSS3 and HTML5, respectively).
Another great modification that occurred in this version of Windows is the elimination of gadgets or small programs that were installed on the desktop. The same thing happened with Windows Media Center, which became a paid player.
The Windows Explorer has new tabs that let you use functions via an interface folder.
By using a Microsoft account it is possible to synchronize with all the devices of the same user, that is, where they log in.
As of this version of Windows, there is support for update 0 of USB technology, which allows data to be transferred much faster.
Windows 8 Editions What are they and what are all of them?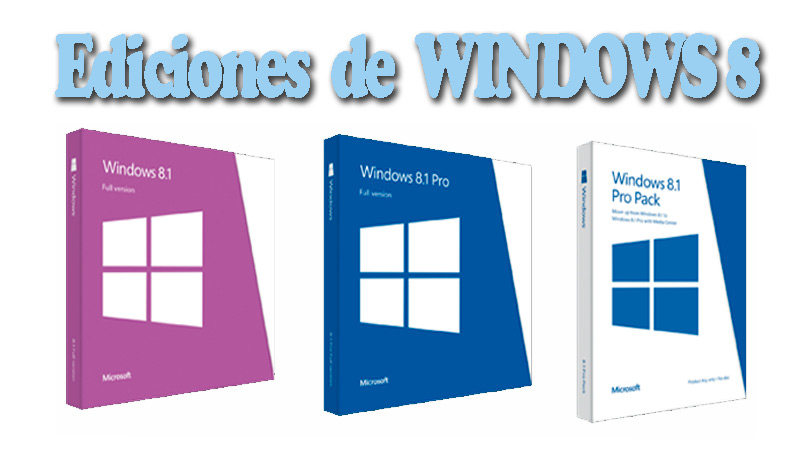 When Windows 8 was released, the company announced the following editions: 
Single Language: this version is aimed at emerging countries in which it is not possible to change the language added by the manufacturer.
Windows 8 Core: This is the standard feature edition of the operating system. It is intended to be used in the domestic environment.
Windows 8 Pro: is intended for professional use, so small businesses and people with advanced technology knowledge can get more out of this edition.
Pro With Media Center: as its name implies, it adds the Windows Media Center application to the Pro version to be able to watch movies anywhere.
Enterprise: As with the previous version, this edition introduces the same tools as Windows 8 Pro, but adds features for technology development companies.
Windows RISC Technology or RT: this version is pre-installed on devices that are based on ARM processors, so it can be used on mobiles. The Office office suite is pre-installed.
Edition N: Windows 8 N versions allow the user to choose the type of player and add other operating system features to it. There are three editions called W8 N, Windows 8 Pro N, and Windows 8 Pro PackN.
Windows 8 vs Windows 10 Which is the best option for my PC?
Although it is true that the graphical environment that Windows 8 introduced has significantly changed the user experience in handling Microsoft operating systems, this has not finished convincing users for different reasons. Some of them we explained to you before, for example, the elimination of the start menu.
But if we take into account the support offered by the provider, it is logical that Windows 10 continue with the updates and that within a short time W8 will stop receiving the security patches. In addition, the graphic quality offered by version 10 is much better than that of its predecessor, but for this you will need to have more technical resources on your computer. Therefore, it is recommended that you install Windows 10 although this will depend on your tastes and needs.