software
Use vmware and virtualbox with hyper-v and wsl seamlessly on windows 10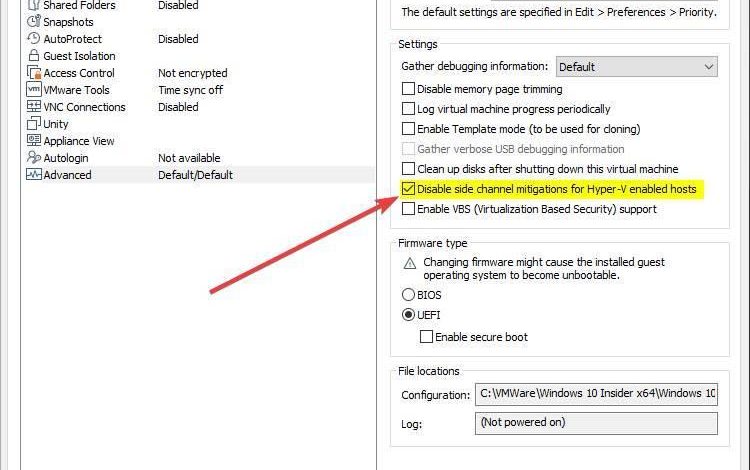 Virtual machines allow us to virtualize all kinds of operating systems on our computer without the need to physically install them. Thanks to them we can test other versions of Windows, any Linux distro and even macOS. For this, we can turn to specialized virtualization software, such as VMware or VirtualBox. Windows 10 also brings its own hypervisor, Hyper-V, which allows us to virtualize and use other tools such as WSL or Sandbox. However, activating the Windows hypervisor prevented the use of the previous programs. Up to now.
Hyper-V is the hypervisor for Windows 10 . With it we will be able to take full advantage of the virtualization functions that the processor offers us, in addition to mounting our own virtual machines. Other tools, such as the Windows Subsystem for Linux, Docker or Sandbox, also depend on this hypervisor.
Enabling the Windows 10 hypervisor disabled the hypervisors of the other virtualization programs. The only way to be able to use these two hypervisors was to disable Hyper-V when we wanted to use other programs (and restart, which is what took the longest), and re-enable it to use Microsoft functions.
Fortunately, Microsoft has worked with the other virtualization companies to eliminate this limitation. And, since the release of the 2004 version of Windows 10, it is possible for all programs to coexist and function in peace and harmony.
Requirements required to use Microsoft virtualization
In order to use two or more hypervisors at the same time in Windows, the first thing to do is have the latest version of Windows 10 installed. Support for multiple hypervisors has been activated since May 2020 Update, the 2004 version of the operating system. Therefore, installing this version, or any later, is the first thing we must do. In addition, we remember that Hyper-V is an exclusive feature of Windows 10 Pro, so if we have the Home edition we will not be able to use it.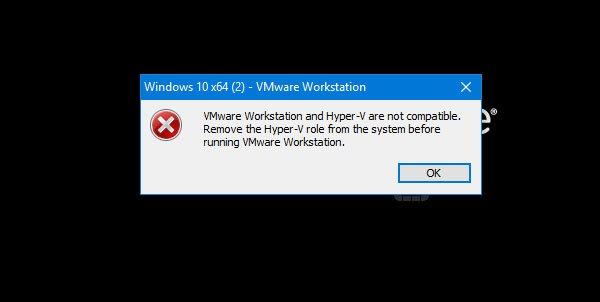 You also need to make sure you have the latest versions of both VirtualBox and VMware installed. Support for nested paging and VT-x along with Hyper-V is available from VirtualBox version 6.0, and from VMware Workstation version 15.5.5. However, we recommend using at least more advanced versions such as VirtualBox 6.1 or VMware Workstation 16, as stability and performance are improved (and greatly) with this feature.
If we already have the latest versions of the virtualization software installed on our computer, now we are going to see how to activate everything.
Enable Hyper-V Shared Virtualization in Windows
The first thing to keep in mind is that Hyper-V is only available to Windows 10 Pro users. The Home editions of the operating system do not have this feature, so we will not be able to use it.
After verifying that, indeed, we have the professional version of the operating system, what we must do is follow the following steps to enable this functionality.
Enable virtualization in BIOS
The first thing we are going to have to do is activate virtualization support in the BIOS of our computer. By default, BIOS / UEFI disables processor virtualization as it is not a feature commonly required by users. Therefore, if we are going to use it, we will have to activate it manually.
Intel processors carry VT-x, while AMD processors carry AMD-V technology . Each BIOS is different, but the most common is to find these options in the CPU section of the advanced configuration.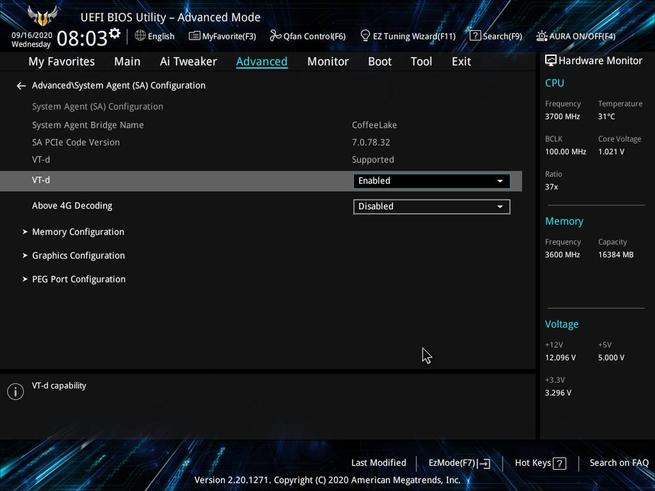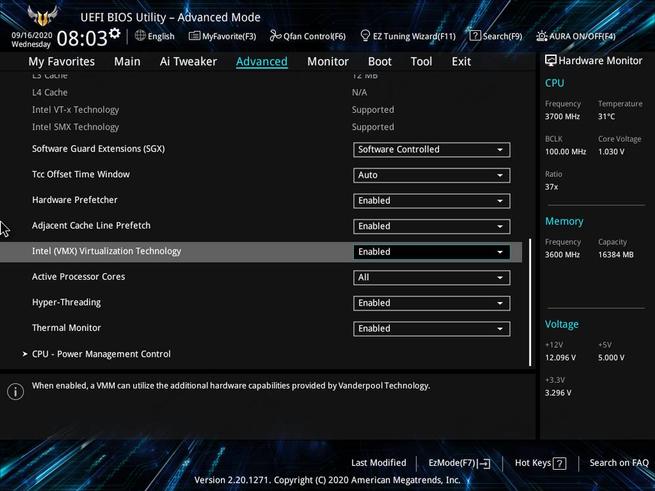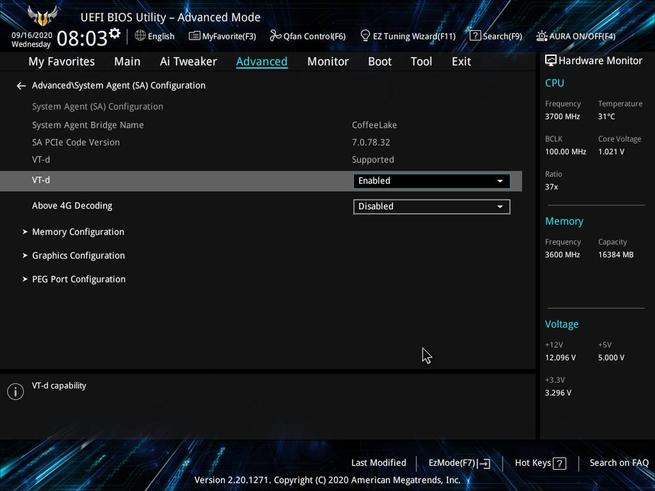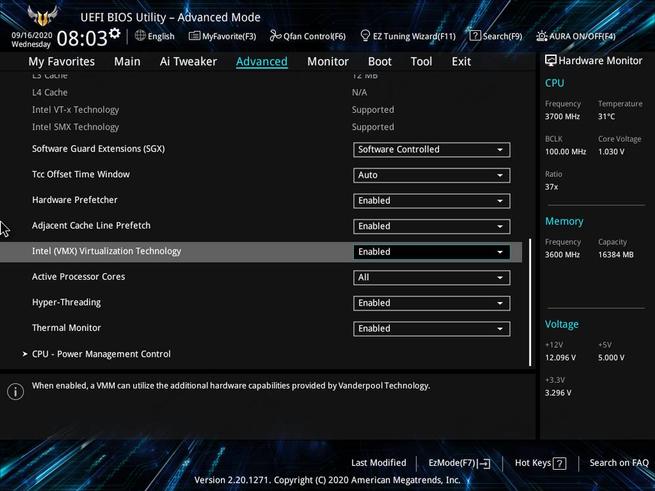 Once these two features are activated, we can enter Windows. Although before being able to use these systems at the same time we will have to do some configuration also in the operating system.
Enable Hyper-V, WSL, and other features in Windows 10
Hyper-V is disabled by default in Windows. Therefore, unless we have activated it manually at some point, it will not be available.
This component, like others, is part of the Windows features. Therefore, to enable it, we will have to type in the Windows 10 search bar " Windows Features " to open this configuration window.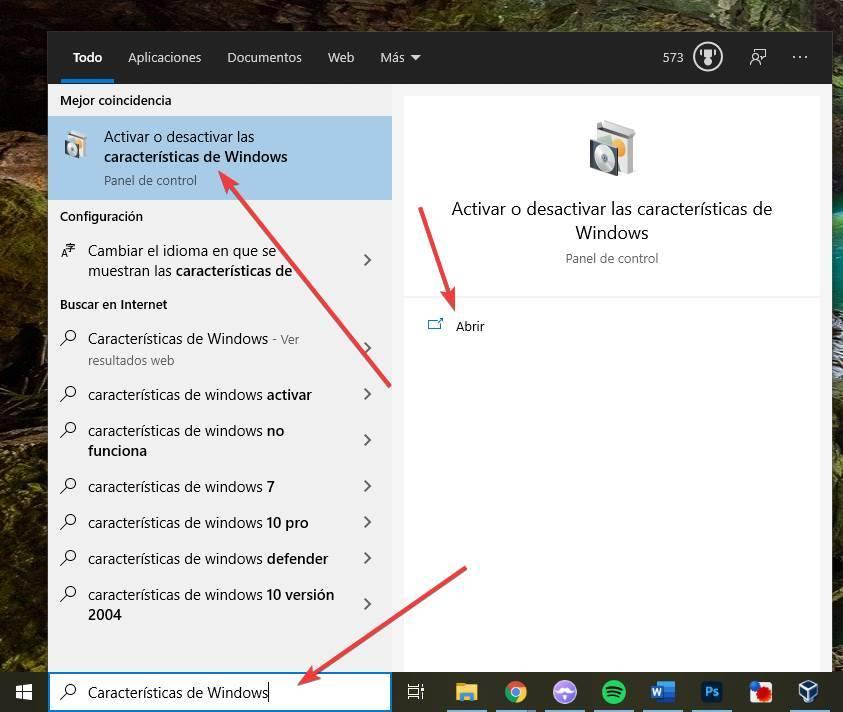 Now we can see the window to enable or disable Windows features. Here are the features we are interested in with Hyper-V and " Windows Hypervisor Platform ".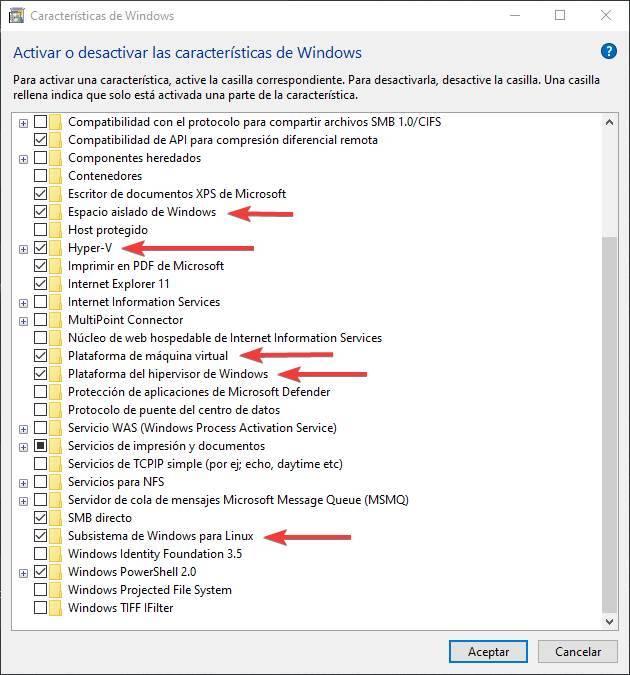 But we can also take advantage of and enable other features that we can use in Hyper-V, such as the Windows Subsystem for Linux or Sandbox, also known as Windows Sandbox.
Once these options are activated, we only have to restart the PC for Windows to apply the changes and that's it.
Use VMware and VirtualBox with HyperV
After performing the previous steps, and restarting Windows, we will have everything ready. From now on, the virtual machine programs will work for us at the same time as the Windows features that depend on Hyper-V. For example, we can have a Windows 10 virtual machine while we update the Linux repositories in WSL.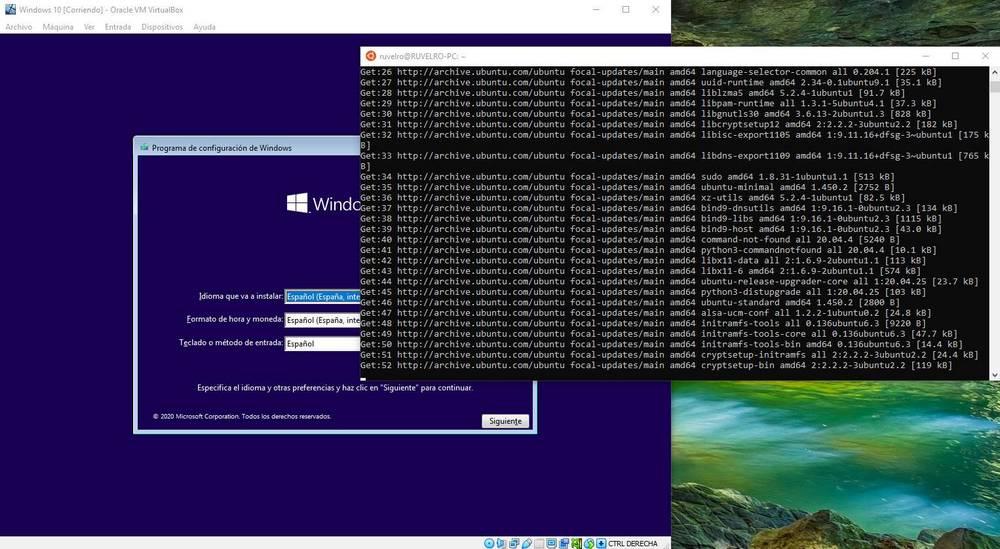 In VirtualBox, for example, we will be able to know that we are using this compatibility method because we will see a turtle icon in the lower right part.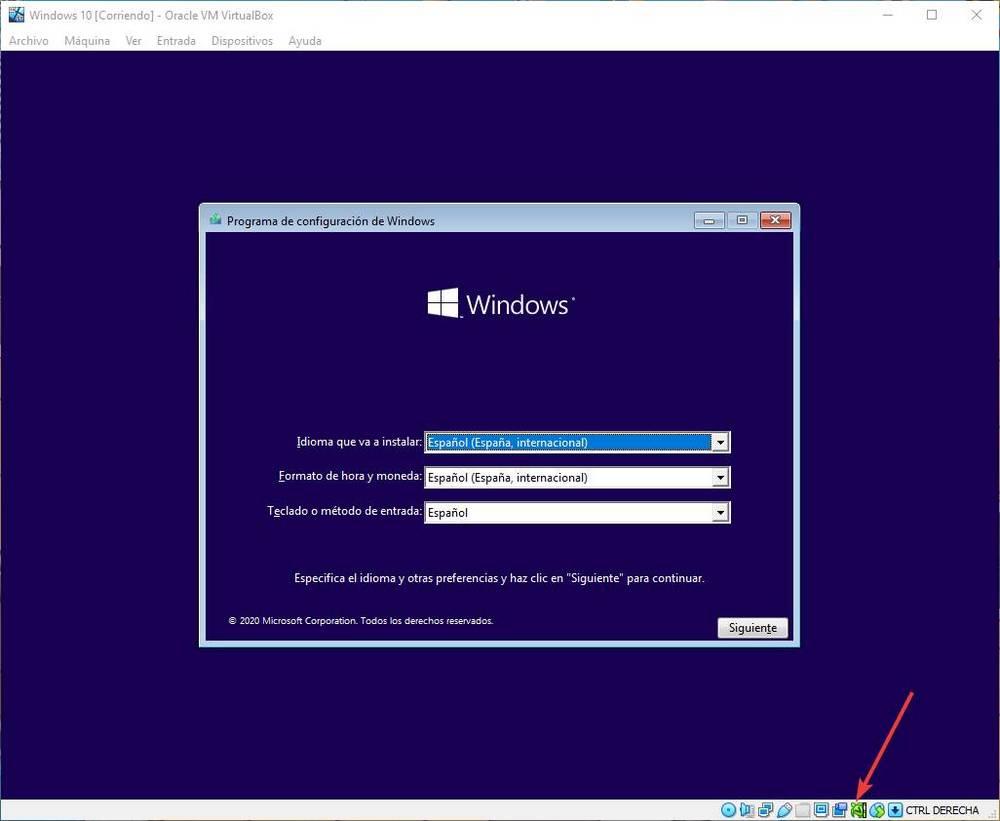 In both VMware and VirtualBox it is necessary to install the latest drivers (Guest Addition or Tools) for everything to work properly. Otherwise, until we do, we will have performance issues due to this compatibility layer.
Improve VMware performance with Hyper-V
While VirtualBox does not give us problems, VMware can show performance problems . This is due to a security measure that this software brings that allows us to mitigate the Meltdown and Specter vulnerabilities of the processors. This feature provides us with greater security, but at the same time implies a significant loss of performance. When we start a VM with this feature enabled we can see a message like the following.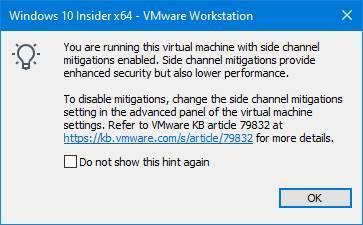 Luckily, we can disable this security measure easily from the program settings. To do this, we simply have to open the virtual machine settings, go to the options tab, and the "Advanced" section. Here we will find the option to enable or disable this security measure.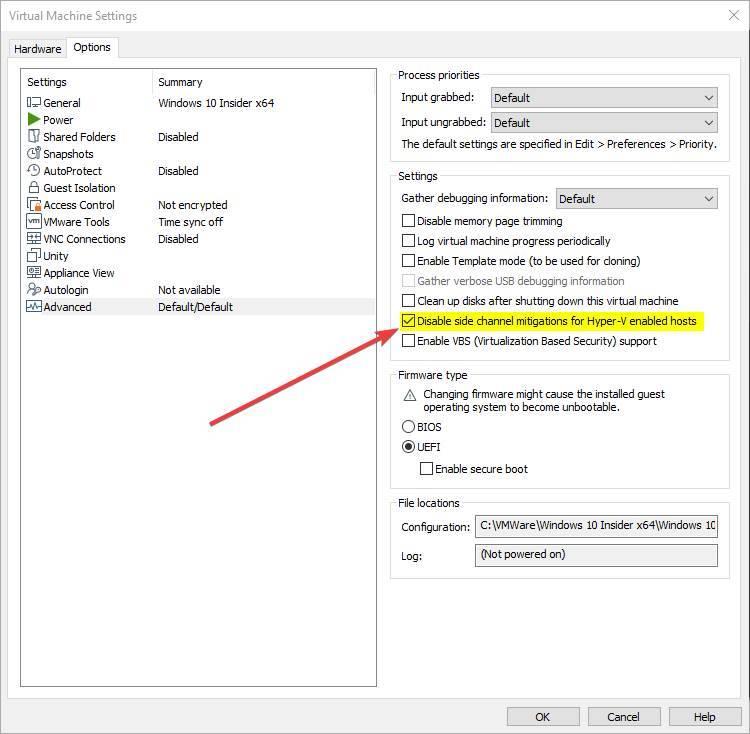 If we deactivate it, we can significantly improve the performance of the virtual machine. Although we may be in danger from these vulnerabilities. We must always use it carefully.
If you don't use WSL, Sandbox or Docker, better disable Hyper-V
This hypervisor compatibility mode is something that many of us have been waiting for a long time. Especially considering the new features Microsoft is working on, such as WSL2. Now we no longer have to decide between using one type of virtualization or another, since we can have it all without compatibility problems.
However, if we are not going to use these features, it is unnecessary to have Hyper-V enabled, as it will consume resources that could perfectly be used by other programs. Additionally, the Hyper-V compatibility layer can detract some performance from virtual machines. Therefore, if we are not going to use these features, the best we can do is disable the options that we have explained how to activate in the previous steps.
We have also been able to notice that there are some operating systems, such as macOS, the Insider versions of Windows 10, or some Linux distros, that work poorly when having Windows 10 virtualization activated . Therefore, if we are going to use these operating systems, it is best to disable Hyper-V to use the hypervisor of each program and improve general performance.
Of course, if we need it again tomorrow we can reactivate it.