software
Update and repair your pc drivers with avast driver updater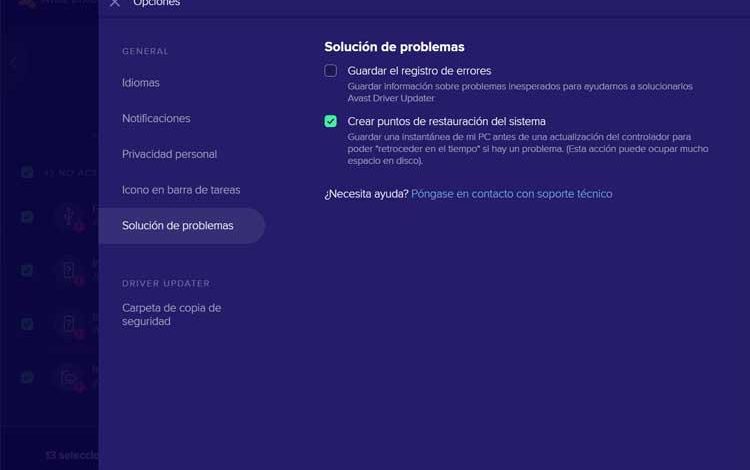 If we want to help our computer to function correctly it is important to take care of it as much as possible. One of the ways we have to do this is to keep the drivers updated to the latest version released by the manufacturer. We can do this manually, looking one by one for possible updates to the components of our equipment (graphics card, bluetooth, sound card, webcam, etc.) or choose to use a program such as Avast Driver Updater, on which you we will talk next.
It is true that with Windows 10 it is possible to automatically download the most updated drivers for the PC hardware. Although this function is far from perfect, and it is not always able to locate or recognize them. In that case, we will have to be the ones looking for the drivers on our own. This is something that can become tedious and boring, as well as requiring an important period of time that we will not always be willing to grant.
Avast Driver Updater our perfect ally against outdated drivers
Driver Updater is a software developed by Avast to analyze, update and repair all the drivers on our PC, so that our equipment and its different components and accessories can function without problems. To do this, it automatically analyzes more than 5 million drivers, being able to detect both old, damaged or outdated drivers. In addition, it allows us to correct both errors and possible vulnerabilities, as well as make backup copies and restore current drivers.
With this program we will be able to install drivers from more than 1300 well-known brands such as AMD, ASUS, ATI, Canon, Dell, HP, Intel, Microsoft, among others. It will be enough with a single click to search for the necessary drivers for the operation of our printer, keyboard, router, camera, etc., helping to optimize its performance, always having the latest version available. Keep in mind that faulty or outdated drivers are the main cause of crashes and blue screens in Windows.
Keep your drivers always up to date with a single click
Once we have run the application, a window appears asking us if we have updated the drivers for our computer. It also informs us that keeping the drivers updated helps us avoid errors and maintain optimal operation.
Scans the system for outdated drivers
At the bottom we find the "Analyze drivers" button, which we must press for the program to start the search. Of course, we should not fear for any change without our consent, because no change will be made without asking us beforehand.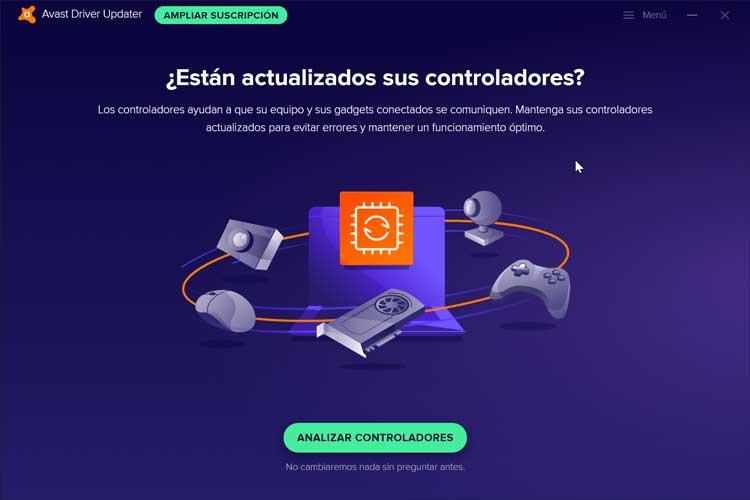 Decide which drivers you want to update
Once the program has been in charge of analyzing all the drivers on our computer, it will inform us of how many of them are not updated. It also shows us a list with each type of plugin, the update we have available and the date it was published. Now it is possible both to update all the drivers and to select only those that we want to update. To do this, just uncheck the box corresponding to each driver that we do not want to update. Finally, we can click on the green button at the bottom where the message "Update all" or "Update selected as appropriate" will appear.. If we do not want to make any updates at the moment, we can click on the "Skip now" button, located in the lower left part.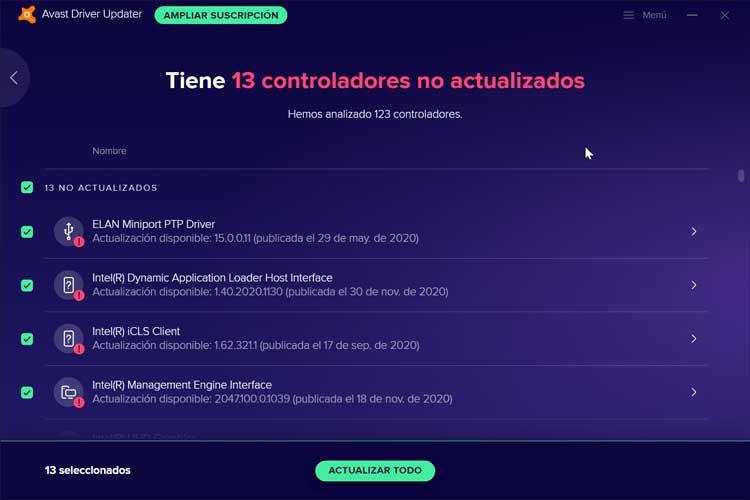 Create restore points to avoid mishaps during update
At the top right we also find a "Menu" section, from where we can manage our subscription and enter the program Settings. Here we find as highlights, the "Troubleshooting" tab . In it we find the option to create system restore points instantly before installing any drivers. Thus, in case of any problem with the update, it will be possible to go back and leave it as it was.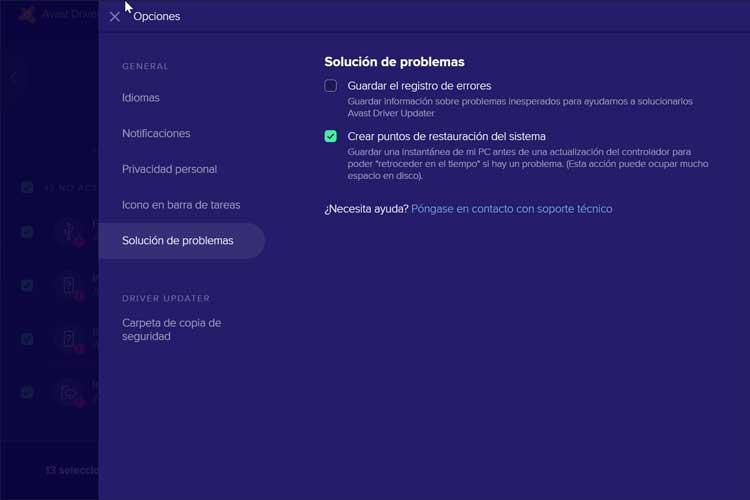 Last conclusions
As we have seen, Avast Driver Updater is a tool that aims to help us keep all the drivers on our computer up to date and updated. Its biggest drawback is that it does not have a free version, but if we want to use it permanently it will be necessary to pay its annual subscription, as well as the problems of this company in relation to the privacy of its users' data .
And it is necessary to mention the continuous problems in terms of the security and privacy of our data for which this company has always been characterized, which means that many users prefer to focus on other options from the competition, given the insecurity generated by this brand. Proof of this was an investigation that discovered that Avast collects browsing data from its users when using its free antivirus, which they use to sell to third parties.via Jumpshot. In addition, this data is not anonymous but can be used to identify a specific user who uses the antivirus. This, together with the price of the product, means that we cannot recommend its use, and that we must focus our objectives on other competitive products.
Download Avast Driver Updater
If we want to use Avast Driver Updater to keep our computer's drivers updated, we must know that we are facing a paid application, so we will have to go through the box to be able to take advantage of all its functions. But if we want to try it, we can do it for 15 days and without having to leave our credit card, downloading a trial version from its website. Once the trial period is over, if we want to continue using it, we must pay 39.99 euros for an annual subscription, which is valid for use on a computer. The application is compatible with Windows 7, Windows 8 and 8.1 and Windows 10, both in 32-bit and 64-bit versions.
Different alternatives to keep the drivers updated
If we are looking for a tool with which to keep our computer's drivers updated, we suggest some alternatives to Avast Driver Updater, which has never had a good reputation in the eyes of users regarding their problems with security and privacy.
Driver Genius Professional
This software allows us to download all the necessary drivers to keep our PC up to date, as well as to carry out diagnostics of our hardware and to make backup copies of them. It is capable of recognizing more than 80,000 devices. Its price is 24.77 euros, and includes an annual subscription that we can install on up to 3 different computers. It also allows us to download a free trial version from its website.
Double Driver
This simple application will allow us to keep all the drivers updated, being able to make backup copies and restore them when necessary. All the drivers that Double Driver finds can be easily backed up from the application itself, as well as restored later. This application is completely free and we can download it from its website .
SamDrivers
This application is a complete collection of drivers for all Windows operating systems. We can use it from Windows 2000 to Windows 10. It is capable of automatically detecting all the necessary drivers for our computer, which we can install quickly and without having to be connected to the Internet. We can download SamDrivers from this link.