software
Save all windows drivers safely with free driver backup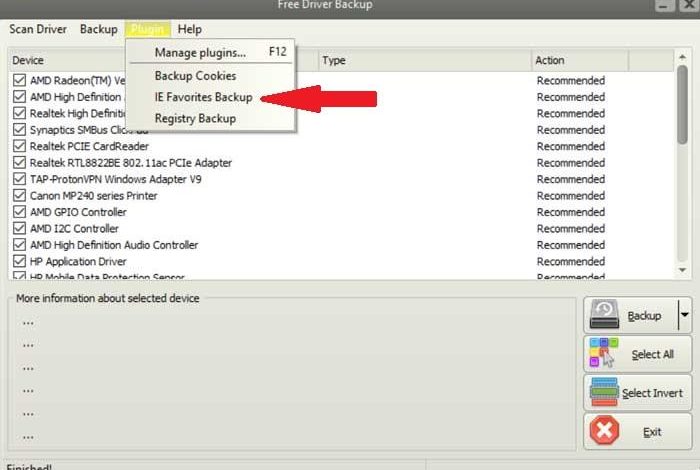 Sometimes it can be useful to have a backup copy of our Windows drivers on hand, especially in case a mishap occurs while we try to update the drivers of our computer or because we need to reinstall the operating system. So that we do not have this problem, we have a program like Free Driver Backup, with which we can always have a backup of the Windows drivers safely in order to restore them if necessary.
We must always bear in mind that our computer is still an electronic device, which is not exempt from possible failures. Whether due to human error, infection by a virus or a hardware failure, the data on our computer is always at risk. In the event that we have to restore our equipment, going back to look for the different drivers one by one can be quite tedious. That is why nothing better than to be cautious and have a backup of all the drivers that we may have available in any situation.
What is Free Driver Backup
Free Driver Backup is a free program with which we can make backup copies of all Windows drivers . In case we have a problem with the drivers, we can reinstall them without having to download them again, thanks to the backup made. Likewise, in case we have to reinstall Windows, we can rest assured that we have all the drivers that we had installed safe.
This useful tool has the capacity to create backup copies of all the main Windows drivers, such as the audio, video, network, mouse, keyboard, and Bluetooth drivers, among others. By making a backup we can avoid system problems derived from sound card failures or problems with the graphics card.
The use of this application is quite simple. The backup is done with a single click so it can be used by any type of user, without having to have too much knowledge on the subject. It will be enough to scan the contents of the system to show all the important drivers and make a backup copy of them. In addition, it is also possible to back up cookies, Microsoft Edge bookmarks, and the registry.
Create a backup of your drivers quickly
Free Driver Backup is a very simple program to use, so it can be used by both the most advanced users and those who are more inexperienced, who are looking for a program that is easy to understand. With this program we can quickly make our backups either the computer drivers or Internet Explorer cookies and favorites. As we will see below, we will only need a couple of steps to carry them out.
Create a backup of your drivers
When we start Free Driver Backup for the first time, a window will appear that contains all the drivers for our computer. From them we can select all the available drivers to make the backup. All these drivers are recommended by the application, so it is convenient to click on Select All, to select them all. If we want to find all the system drivers, we can do a total scan from Scan Drivers and Scan all drivers, located in the upper left part of the menu.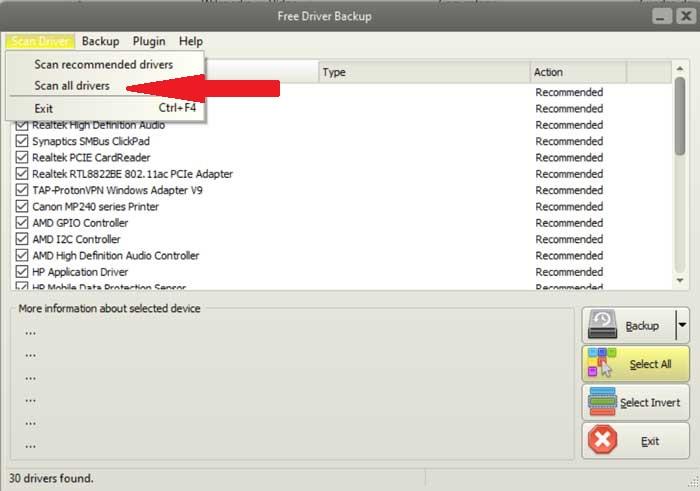 Once all the drivers with which we can make a backup have been selected, we will proceed to press the Backup key . In this way, in a matter of a few seconds the copy will be made and will stay in the same folder where the program was installed. As we can see, the process is very simple and despite the fact that the application is only shown in English, the backup process is quite simple and intuitive.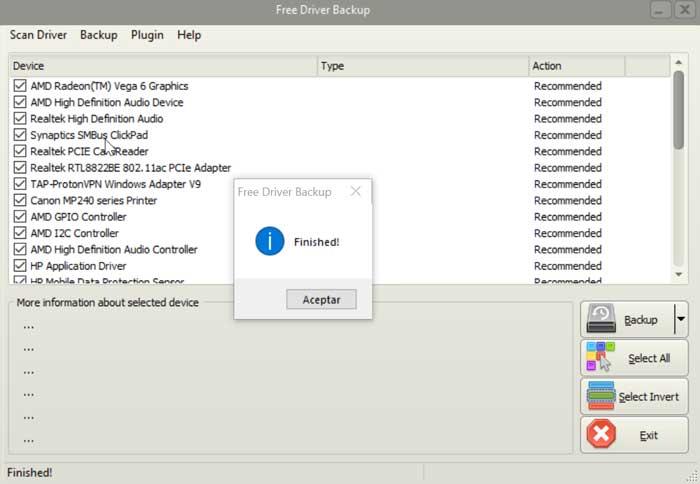 Create a backup of Microsoft Edge cookies and favorites
Another option that Free Driver Backup offers us is the possibility of making a backup of Microsoft Edge cookies and favorites. For this it will be necessary to access the Plugin tab . Here we must click on IE Favorite Backup . When pressing, a box will appear with the stored addresses on which we can make a backup, by clicking on the Backup button. Again the process remains fast and reliable suitable for all types of users.
Download Free Driver Backup
Free Driver Backup is a free tool , completely free, without time or registry limitations and without malware. We can download it from this link . It is compatible with all versions of Windows, from XP to Windows 10. Although it should be noted that, although it is free, it does have advertising and tries to get us to install other unwanted third-party programs, which although they can be uninstalled later , they are still quite annoying.
Alternatives to Free Driver Backup
If we are looking for a program with which to keep our drivers updated and make backup copies of them, we present some alternatives to Free Driver Backup that we can take into account.
IObit Driver Booster
With this simple application we will be able to keep the drivers of our equipment updated, since we will be able to replace those older drivers with their most current versions. In this way we achieve a more optimal performance of our system. In addition, to be cautious against any mishap, we can make a backup copy of the drivers, being able to restore them at any time. If we want to try IObit Driver Booster, we must know that it has a free version that we can download from here .
Driver Genius Professional
This program is capable of recognizing more than 80,000 devices, locating and downloading the most updated drivers to always obtain the best performance on our equipment. In addition, it allows us to make backup copies of all the drivers and compress them in a single ZIP file or in a separate executable file. In this way we make sure we can install all the drivers again with a single click. Driver Genius Professional is a paid application, but it does offer us the possibility of downloading a free trial version from its website .