software
Remove drivers and save space in windows with driver cleaner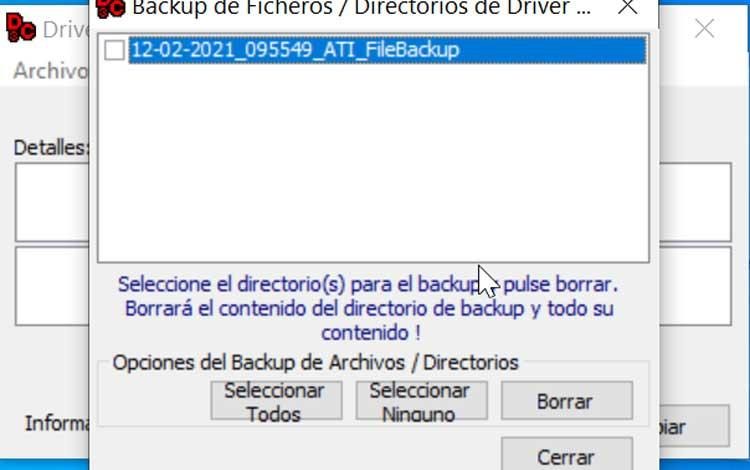 Our computer is made up of different hardware elements that together and with the help of the operating system, give life to our PC. In order to keep these elements working correctly, they must be updated by means of drivers, which over time are saved and occupying space on our hard drive. Therefore, if we want to clean and eliminate the rest of unnecessary drivers, we can opt for a program like Driver Cleaner .
Drivers are nothing more than necessary applications so that the different components connected to our computer can work. By default, Windows has its own database with a large number of drivers. In the same way, the manufacturers themselves also launch their own drivers to use them in case Windows cannot install them automatically.
The problem we run into is that, over time, old drivers like backups have to accumulate unnecessarily. This can be a problem both in terms of storage, since they end up occupying valuable space, and to avoid conflicts with new updates that arise, or that end up slowing down or damaging our system.
Driver Cleaner is an application developed by Driver Heaven Ltd . It is simple, practical and reliable, which will help us to clean and eliminate the parts of the drivers that remain stored in our system after uninstalling the old drivers. In this way, it helps us avoid conflicts with drivers, keeping the system safe and stable. This software offers support for ATI, nVidia, Creative, Realtek, SIS, 3Dfx, S3 graphics cards among others.
Delete drivers and avoid conflicts with Windows drivers
When installing the program we must make sure that we select Spanish in the language section. In this way, although the program comes by default in English, we can change the language directly from its interface.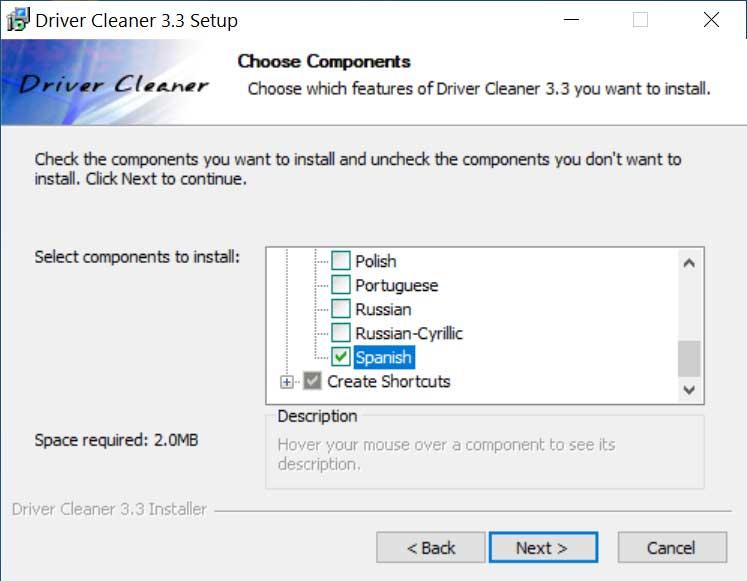 Delete leftover drivers with a couple of clicks
Once we start the application we find a classic interface, extremely simple and easy to use. We can start by changing the language through the "Options" and "Language" section. Here we select «Spanish» and click on «Save», so that the translation is carried out. It is important that during the installation we have selected that the translation be installed so that we can change it later.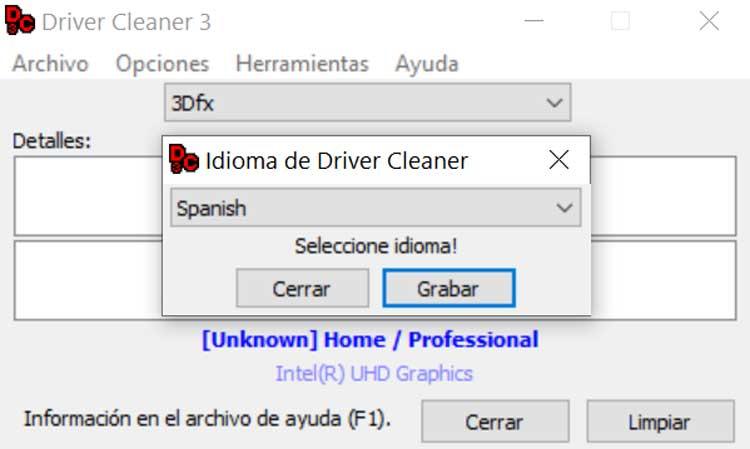 Once we have it in Spanish, we can start the cleaning process. To do this, we click on the tab to open a drop-down list, from where we must choose the driver that we want to remove / eliminate the remains that cause us problems, errors and finally click on «Clean». In some cases, it may be necessary to reboot the system to ensure that the traces are completely erased.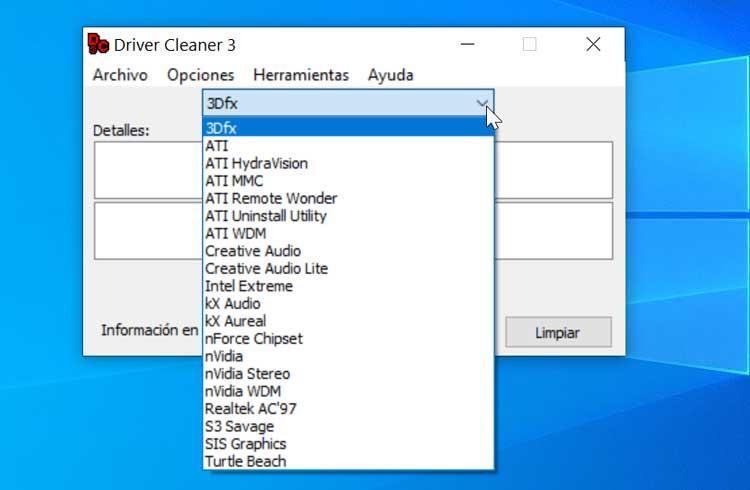 Create backups for peace of mind
Perform backup file is possible, so that if something went wrong, we have the ability to restore the system as well as the exclusion of certain locations. The program also has a utility that checks for driver updates (ATI and nVidia) and warns us when a new version is available.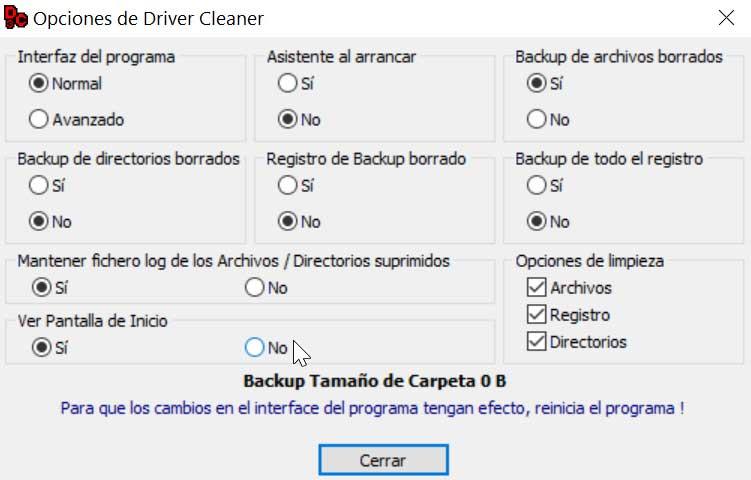 To tell the program that we want it to make a backup copy of the drivers that we are going to remove, we must access the "Options" tab and then click on the "Options" tab. Here we will find different Bakcup boxes that we must activate if we want them to take effect. Once finished, we must restart the program for the changes to take effect.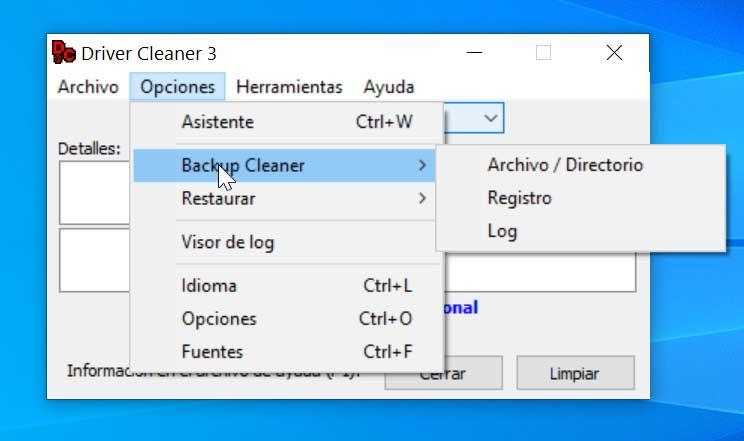 In this way, every time we clean the drivers, the program will take care of making a backup copy of them. If we want to restore it, we must go to the "Options" menu and click on "Backup Cleaner" to select if we want to restore a "File / Directory", "Registry" or "Log".
Conclusions
When it comes to eliminating remains of drivers from our computer to avoid conflicts or eliminate space on our hard disk, Driver Clenaer can be very useful. Of course, it goes without saying that using this type of program carries its risks and we should not delete any driver that we are not totally sure is useless. In case of doing so, it is always recommended that we activate the backup option, so that in case of any inconvenience we can reverse any erroneous decision.
Download Driver Cleaner
Driver Cleaner can be downloaded for free, although it must be taken into account that its website downloads are suspended for update reasons. On the Internet we can find some pages where you can download it, such as from here . Keep in mind that the program is not currently supported, but this does not prevent it from being fully functional. It is compatible with different versions of Windows from XP to Windows 10.
Alternatives to Driver Clenaer
If we are looking for a program with which to erase remnants of drivers, so we leave you some alternatives to consider:
Driver Fusion
With this complete application for PC drivers, we can manage the devices that compose it, allowing us to install and uninstall drivers in a simple way. In this way we can eliminate remnants of drivers that all it does is hinder the drivers that really help us. We can download it from this link .
Magician Driver
This program also allows us to carry out a good number of tasks with the drivers, including their elimination. We can also create a backup copy of them to avoid having to search for all those drivers that we have lost or that we download from the Internet. We can download Driver Magician from here .
Driver Sweeper
This application takes care of the elimination of the drivers, deleting all the leftover files of this type, as well as making a backup copy of them. Its operation is very simple, although you have to be careful with the risks involved in deleting drivers. We can download it from the official website .