software
Recover any deleted files with wondershare data recovery

Currently our computer contains a large number of files that can be of great importance, either for professional or personal reasons that we cannot afford to lose or delete. That is why, if we ever accidentally delete files from our computer, we must have a good file recovery tool to solve it and this is where a very effective tool such as Wondershare Data Recovery comes into play . It is true that in most cases this accidental deletion may seem like irreparable damage, but in reality it is not like that, at least in some cases.
We tell you this because when working on computers based on Microsoft's Windows operating system, we still have some paths to take and solve the problem. And it is that we must bear in mind that in current computers we are increasingly working with a greater number of files, some of them sensitive and important. Thus, in the case of losing them due to some type of accident, this can become a serious problem.
For those of you who do not know, in the aforementioned operating system there are applications that will help us in many cases. In fact, these are focused on helping us recover those files that we have accidentally deleted and that we want to be available again. This is precisely the case that we are going to talk about in these same lines. In particular we refer to the software called Wondershare Data Recovery.
What is Wondershare Data Recovery for
Moving on to what really interests us, in the beginning we will tell you that Wondershare Data Recovery is a recovery of all types of files. Files such as documents, photos, videos or music come into play here. In this way, the software solution is capable of rescuing more than 500 different formats and resuscitating entire disk partitions. In addition to point out that this is a program very easy to use suitable for all types of users. It is enough to only specify in it the type of file that we want to recover, the disk path and the scanning mode, to find our file deleted by accident.
At the same time it is important to know that it is compatible with all types of storage devices. This is what we mean by being effective with items such as memory cards, USB sticks, hard drives, removable drives or with a digital camera, among others.
The searches carried out by this tool are quite meticulous and we can perform them in a normal or deep way, for a more precise scan. Of course, everything will depend on the amount of files that we have lost, in addition to the time we have for their recovery. And it is that the deep scan in this type of applications, can take a long time. In addition, this is something that is especially evident in somewhat older equipment .
It also has a preview option to identify the deleted file more conveniently. For extreme cases, you have more advanced options such as partition recovery and raw data search. This will be of enormous use to us, as you imagine, in the event of major computer disasters where huge amounts of files and folders have been requested.
Supported formats and files of Wondershare Data Recovery
Some of the types of files that we can recover with this application are:
Documents: DOC / DOCX, XLS / XLSX, PPT / PPTX, PDF, CWK, HTML / HTM, INDD, EPS, etc.
Photos: JPG, TIFF / TIF, PNG, BMP, GIF, PSD, CRW, CR2, NEF, ORF, RAF, SR2, MRW, DCR, WMF, DNG, ERF, RAW, etc.
Videos: AVI, MOV, MP4, M4V, 3GP, 3G2, WMV, ASF, FLV, SWF, MPG, RM / RMVB, etc.
Audio: AIF / AIFF, M4A, MP3, WAV, WMA, MID / MIDI, OGG, AAC, etc.
Wondershare Data Recovery is suitable for file recovery in all kinds of scenarios. We can recover our files, even if they have been accidentally deleted, even by emptying the recycle bin. It is also possible to recover it after formatting the storage system or in case of a problem with a virus, because a partition has been damaged or in the event of an unexpected shutdown of our computer.
How to recover deleted files
Once we have downloaded and launched the Wondershare Data Recovery application, the main menu will appear where we can select where we want to search. We can choose a complete hard drive, select an external storage disk or a specific location such as a folder or the recycle bin.
Once we have selected, we must double click and the program will start scanning.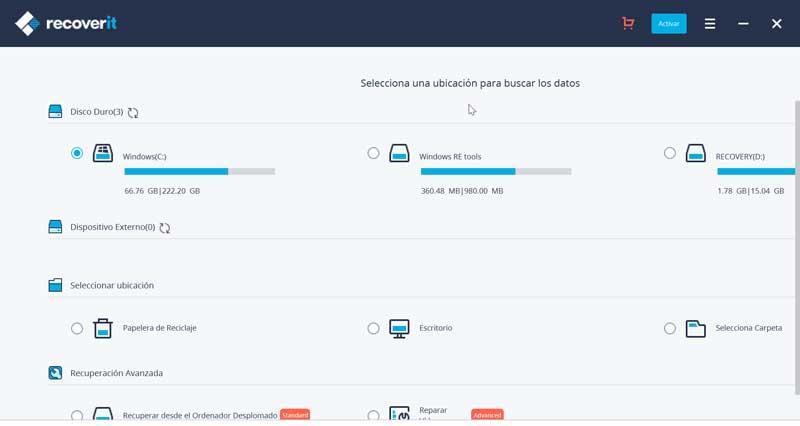 Once the scan is finished, we can filter the results by File Path or File Type . If we choose the second option, we can choose what type of file we are looking for (images, sounds, videos, database, web files, etc). From these folders we can easily find the file by its name and if we click on Preview it will show it to us. Once selected, we will only have to click on Recover  and the file will be available again.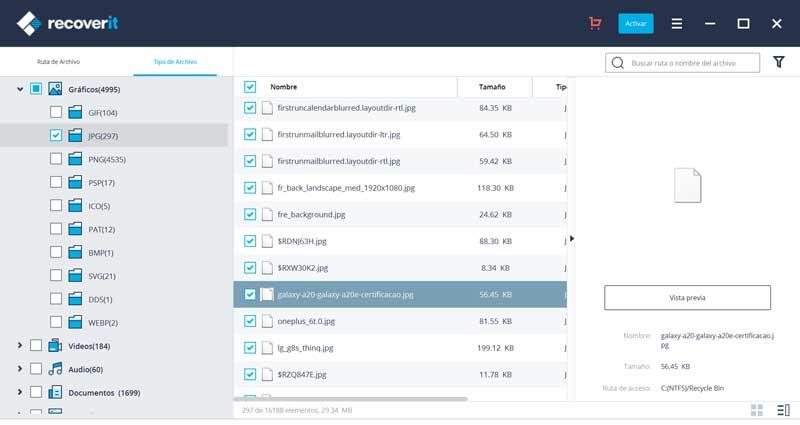 Download Wondershare Data Recovery
Wondershare Data Recovery is a paid and multilanguage application, compatible with both Windows and Mac OS computers. We can also download a free trial version of this link, which will help us to recover those most urgent files immediately.

If we want to buy the application we have it available as an annual subscription for $ 49.95 or as a permanent license for $ 59.95 .
System Requirements
The truth is that in order to get the most out of this program, we are not going to need a PC that is too powerful. That is why below we show you the necessary system requirements for Wondershare Data Recovery.
Operating system : Windows 10 / 8.1 / 8/7 / Vista / 2000 / XP / Mac OS X 10
File system : FAT16, FAT32, exFAT, HFS +, HFSX, NTFS
CPU : 1 GHz (32-bit or 64-bit)
RAM : 256 MB or more of RAM (1028 MB recommended)
Disk space : 50 MB free space