software
Recover all windows and office keys for free with produkey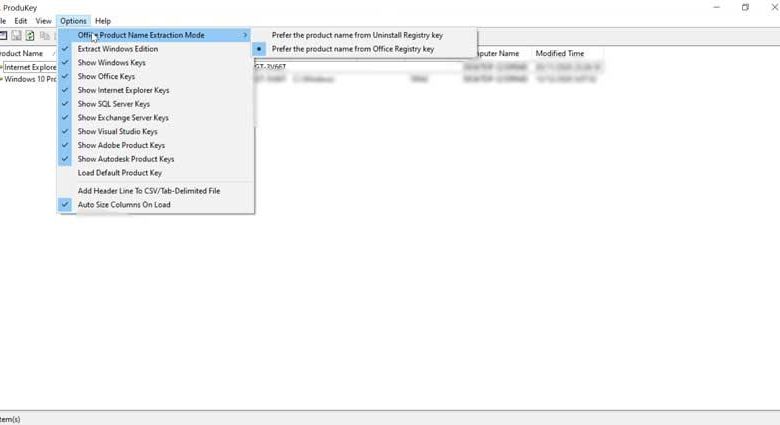 There are several reasons why at some point we have to reinstall Windows 10 on our computer. Either, because it needs a thorough cleaning, or due to some system error that is not completely solved or we have acquired a hardware component, the truth is that when we reinstall Windows we can find that we will need to use the activation key operating system. As surely we will not know them by heart and in case we do not know where we have it pointed, we can use a program like ProduKey that will help us to solve it.
In general, all users with a genuine Windows license must have the original code . This code is found on a label inside the box or inside the operating system. If we have lost the box, we will have to resort to looking for it within the system itself. For this, nothing more useful than the simple tool that we are going to talk about below.
ProduKey is a very simple software solution with a clear objective, to show all the activation keys of Microsoft products, such as our Windows operating system or the Office suite. In this way we can always have these activation passwords at hand, without having to have them written down and get lost. It is also capable of obtaining the licenses of the computers on a network with Exchange Server and SQL Server, by using / remoteall commands, so if we are administrators of a network it can also save us from any trouble.
How to use ProduKey to remember our Microsoft keys
Once we run the application, it works very fast and its main menu appears with a clear and simple interface . Although it is completely in English, it should not pose any obstacle for even the most inexperienced users. The program automatically scans the installed Microsoft applications, with all the entries and product keys displayed in a matter of seconds.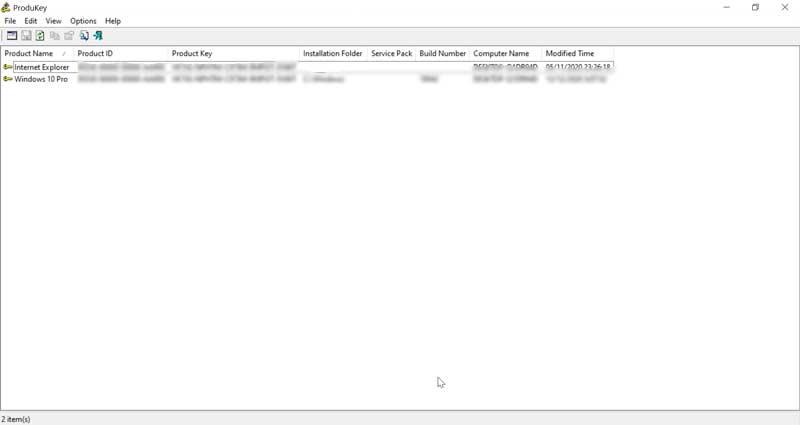 The main window is responsible for housing all the necessary details for each application. It includes the product name, identification, key, installation folder, installation folder, service pack, computer name, and modification date.
At the top we find the classic toolbar organized by tab. Within the "File" option, if we click on "Select Source", we can configure a multitude of sources that the application supports to read the product keys. In this way, the software can load information from our computer locally, from an external Windows directory, from the Registry of an external software, from a remote computer, from all computers connected to a specific domain, from all the computers on a local network or from all computers in a specified IP address range.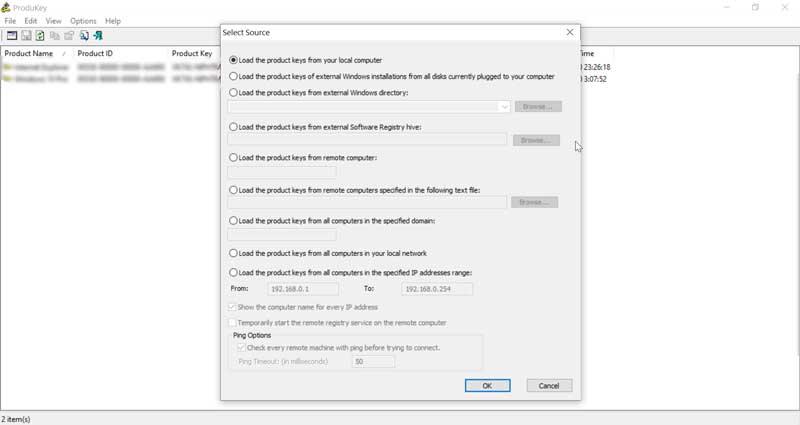 ProduKey also has an Options menu from which we can select which Microsoft applications we want the program to extract the keys from. Thus, we can select it to be Windows, Office, Internet Explorer, SQL Server keys and Exchange Server keys.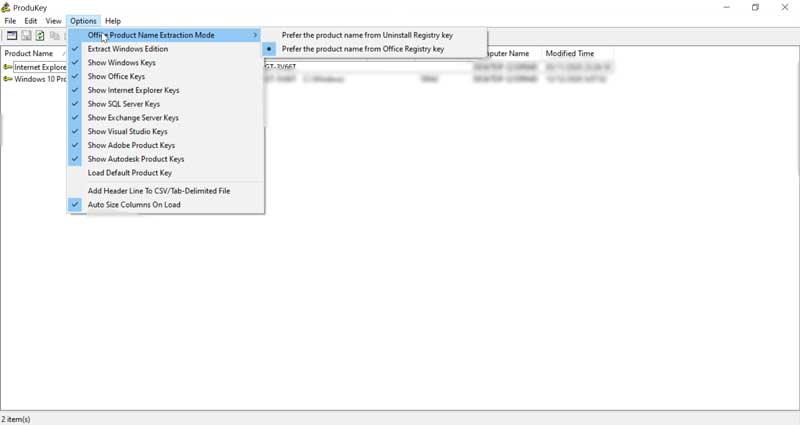 Conclusions
ProdKey is one of the best tools in its range and it works very fast. As it is designed to perform such a simple task, it hardly consumes resources from our system, so it can be used by all types of computers. But not everything is as perfect as we would like. And, although it is compatible with all versions of Windows that we can currently find on the market, it is not the same with other Microsoft products. For example, Office only supports versions up to 2010, so the new versions of 2016 and 2019 do not recognize them, so we have to take that into account when using it.
Free Download ProduKey
ProduKey is a program with a Freeware license so its use is completely free and can be downloaded from the developer's website . It is compatible with all Windows operating systems from XP to Windows 10, as well as 32-bit and 64-bit systems .
It is portable software, so it does not require any type of installation, just unzip the downloaded zip file. This will allow us to transport it and use it from any external storage device such as a pendrive, a hard drive or a memory card. It is also important to note that the Windows Logs area does not receive input updates or leave files on the hard drive after deletion.
List of compatible products
Microsoft Windows 98 / ME
Microsoft Windows 2000
Microsoft Windows NT
Microsoft Windows XP
Microsoft Windows Vista
Microsoft Windows Server 2003
Microsoft Windows 7 (does not work with Microsoft Volume Licensing)
Microsoft Windows 8 (does not work with Microsoft Volume Licensing)
Microsoft Windows 10 (does not work with all types of licenses)
Microsoft Office 2000 (Only ProductID is displayed)
Microsoft Office 2003
Microsoft Office 2007
Microsoft Office 2010
Microsoft SQL Server 2000
Microsoft SQL Server 2005
Microsoft Exchange Server 2000
Microsoft Exchange Server 2003
Visual study
Some of the Adobe and Autodesk products.
Alternatives to ProduKey
If we are looking for a program to help us recover our Windows password, we propose a couple of alternatives to ProduKey to consider.
ShowKeyPlus
It is a program that will allow us to recover the Windows backup key saved on our system. Its operation is very simple because once executed it will show us in a window the name of the Windows product, the installed key, both the original one and its OEM key, edition and ID. We can download it for free from GitHub .
Magical Jelly Bean Keyfinder
This application will allow us to obtain the Windows 10 key extremely quickly. To do this, it will only be necessary to install and run the application and immediately a window will open where the version of Windows installed, the system key, the name of the computer, etc. will be displayed. We can download the application for free from its website .