software
Recover accidentally deleted files on windows with recuva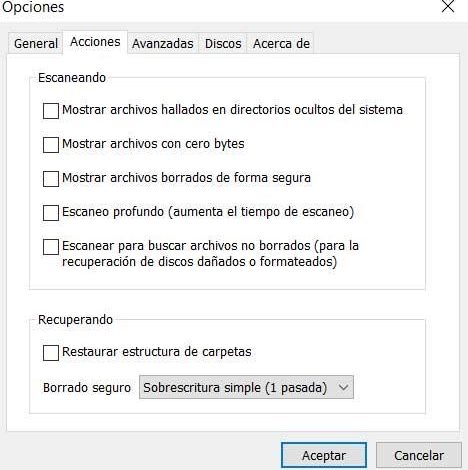 In these times we work with huge amounts of files and folders that we use almost constantly on the PC. That is why it may be the case that we accidentally delete some of these elements. In case, certain software titles can be very helpful, as with the Recuva program .
Whether they are personal, belonging to others, or used by applications, deleting most of the files and folders that we see in Windows is very easy. It is for all this that on certain occasions it may be the case that we accidentally delete some of these, for example from the File Explorer. If this happens, we can sometimes use the Recycle Bin, but not always.
Not everyone has an active element in Windows, or simply deletes by holding down the Shift key to delete files directly. Therefore, if at any given moment we get confused, we may find ourselves facing a serious problem. But like almost everything, this is something that we will be able to solve quickly and easily. And it is that in some circumstances we delete files on our computer and we regret it, or we have simply deleted them by accident. When this happens, not everything is lost, since this data can be recovered with programs like the one that we will talk about next.
There are many data recovery programs on the market, most of them paid, but there are also free programs like Recuva. This is a free data recovery software capable of recovering deleted data (documents, video, photos, music, etc.) from hard drives, memory cards, pendrive or any removable media
Don't lose important files or folders thanks to Recuva
We tell you all this because we are going to have the opportunity to make use of certain specific programs, as is the case that we are going to talk about. Specifically, we refer to the Piriform software called Recuva. For those of you who have never heard of this program, say that it is basically a software that helps us recover files . Thus, in the event that we have deleted some of these elements without realizing it, this solution can be very helpful.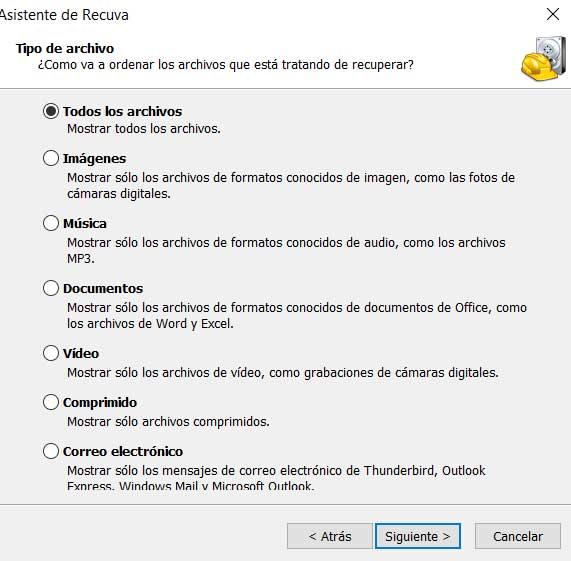 But that's not all, but also the program as such is able to work with other storage devices, not just the PC's hard drive . In this way we can also recover deleted files from memory cards, Pendrives or external drives. To all this we must add that although its task may be somewhat complex, that does not happen with its mode of operation. In fact, it is extremely easy to use software, even for novice users.
Recuva start-up
We must bear in mind that most of its actions are carried out through an intuitive assistant that we must follow. This appears once we have downloaded and installed the program as such on our Windows PC . Thus, after its installation in the system, we execute it and first of all the software launches the aforementioned wizard. From this mode we can customize the previous scan that Recuva performs on the main disk drive of the PC.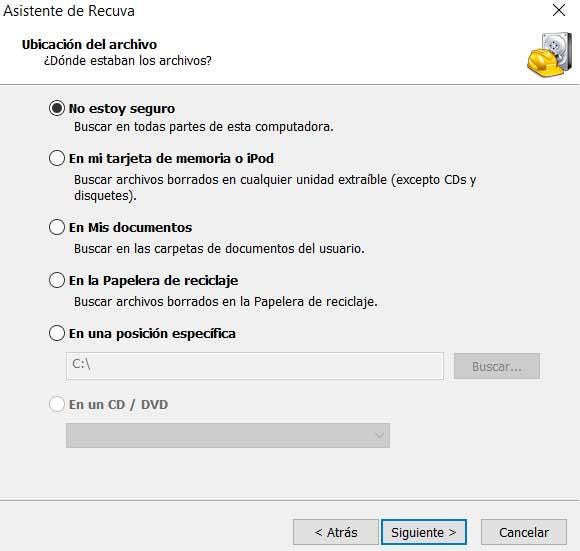 Thus, in the two windows that it shows us, we can specifically specify the type of files that we want to locate, as well as specify disk locations. In this way and as we can see first-hand, the program starts up from its start . Saying that the speed of the aforementioned scan will depend on many factors. That time taken will depend on the size of the drives, their format, the locations chosen, the file types, or the power of the PC.
Therefore, the process can last from a few seconds to several minutes, after which we will find the real interface of the program. In the first instance and once the localization process has finished, we find a wide list.
Recover your deleted files easily
In it we will find all the files that were deleted by us in the past, where we see files of all kinds. However, we must bear in mind that we have not yet recovered anything, since Recuva only shows the localized entries. That is why the most advisable thing to do at this point is that we scroll through the mentioned list to find what we are really interested in recovering.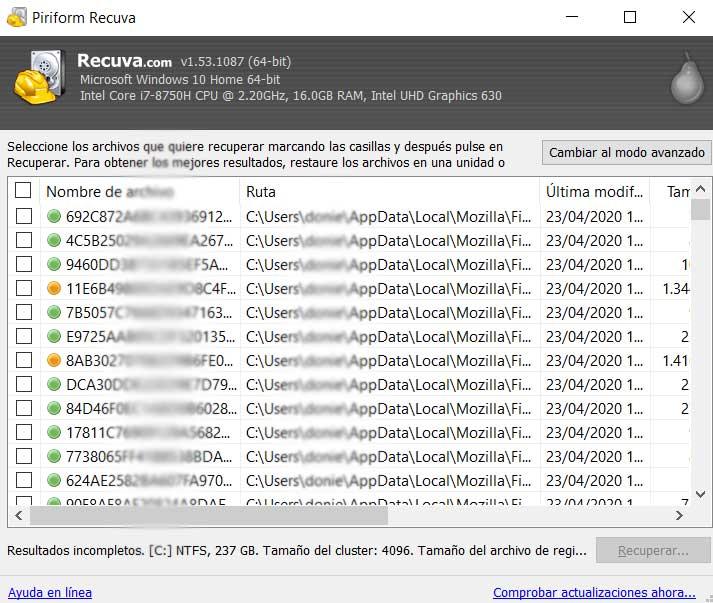 Next to each of the entries we will see that there is a marker where we can click in the event that this is what we need to recover. That's it, but yes, perhaps one of the most annoying tasks is locating what we need to recover . Hence precisely the importance of setting certain filters in the initial wizard of the program. In this way we can save a lot of time later.
With everything and with this, later and from the program's own interface, we will be able to redefine those filters and carry out more searches to find accidentally deleted content. In addition, from the program options , although we do not have many parameters, we can establish what units to see, the language, or the types of files to be searched.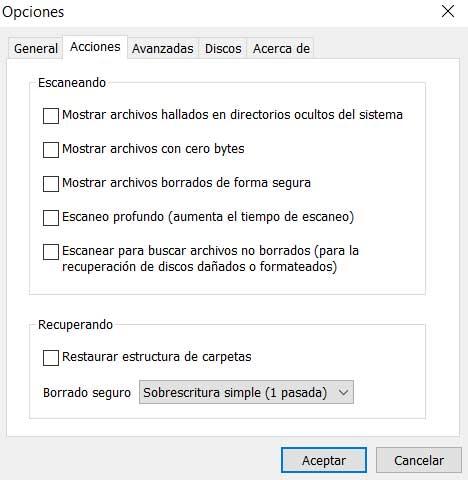 Other similar file recovery proposals
But of course, as you can imagine, this is not the only solution of this type that we can find, although it is one of the most popular. But in the same way, if we want to try other proposals of this same type, we can also opt for Recoverit, a program that we can download from its official website .
At the same time, another solution of these characteristics, also with a free version, and also well known, is the EaseUS Data Recovery Wizard. This is another similar application for recovering files deleted by accident, which you can download from this link .
These are the versions of Recuva and how to download them
Once we know all this, you may need to take a first-hand look at this application that we have shown you. First of all, we must say that we have two versions, one of them free, and the Professional . Well, let's choose which one we choose, we can download them from the Piriform official website . It should also be mentioned that the differences between the two proposals are not many. For example, the paid one has automatic updates, as well as advanced support, all for a price of 24.95 euros.
Something that we must bear in mind is that Recuva just starts up for the first time after its installation, as we mentioned before, a wizard will appear that we can uncheck for the future. This allows us to use the program in a more direct way once installed in Windows and thus adapt it to our needs. Thus, it is worth mentioning that it will initially give us the possibility to choose the type of files to recover to simplify the task at hand. Once we have selected the type of file and its location on the disk, Recuva itself is ready to start searching in the location that we have indicated.
To say that over time this type of program has not stopped gaining in importance, largely because the data we use on the PC for many is irreplaceable. Therefore the accidental loss, or deletion, of them, could translate into a serious inconvenience for most users, hence their recovery will be appreciated.