software
Reasons why you shouldn't close nvidia processes on windows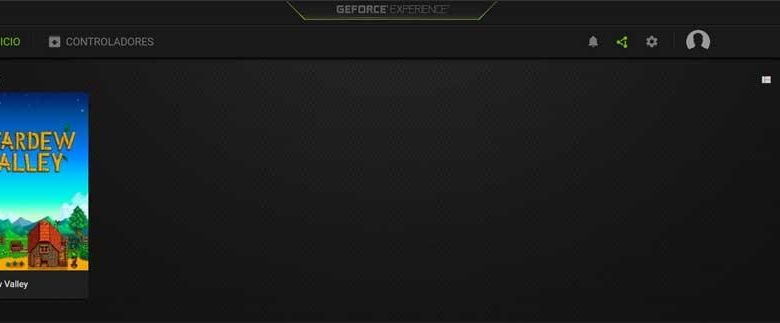 Along with other hardware components that we have installed on the PC, the one related to the graphic section has not stopped growing in terms of importance in recent years. In fact, by far the graphic to be mounted on the computer is one of the most important sections for a growing number of users.
This is something that is especially evident when we talk about PC platform players, video editors, professional designers, etc. All of these, or at least most, will need to have a powerful graphics system to be able to get the most out of the hardware they use in their day-to-day lives. Of course, all this has to come, or at least it should, from a powerful processor and an adequate amount of RAM, among other elements.
But with everything and with that, in these lines we want to talk about the graphic section that we have mentioned. Specifically, we are going to focus on what for many is the leading manufacturer in the sector, such as NVIDIA . We focus precisely on this because perhaps many of you currently have a graphic of precisely this firm. And it is necessary to bear in mind that when speaking of NVIDIA, we refer to the main manufacturer of graphics cards for PC in the whole world.
What are NVIDIA graphics card processes
Of course, despite having powerful hardware for the task we want to carry out on the PC, we must also know how to take advantage of its potential. Serve as an example that in order to get the most out of our graph, whatever the signature, it is important to have the latest version of its drivers . This is something that, how could it be otherwise, has also been extended to NVIDIA.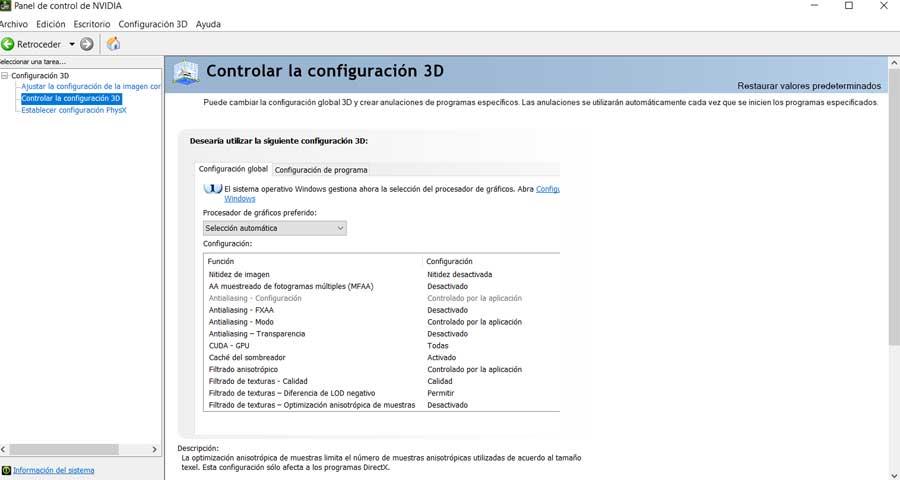 With this, what we achieve is that the operating system itself can recognize the card, in addition to managing it in the most effective way. Also in the case that concerns us here, we will have at our disposal additional elements such as GeForce Experience or the Control Panel of this specific hardware. Of course, at the same time, in addition to the drivers, totally necessary, when installing them on the computer, in turn we will see a series of new processes appear. We will be able to find these by just navigating a little in the Windows Task Manager itself .
These are not running at the whim of the manufacturer, since although they are not necessary at the time, they are in the background for a reason. It is true that most of these processes created by NVIDIA drivers, we could close them in order to prevent them from running. However, this step is not the most recommended, sooner or later they will start up again on their own. In addition, its closure may affect the operation of the rest of the equipment.
What is the role of NVIDIA processes in Windows
It is worth mentioning that we can find in this regard, up to five different processes in the aforementioned System Task Manager . As you can imagine, each of them has a specific task, something that we will try to clarify below.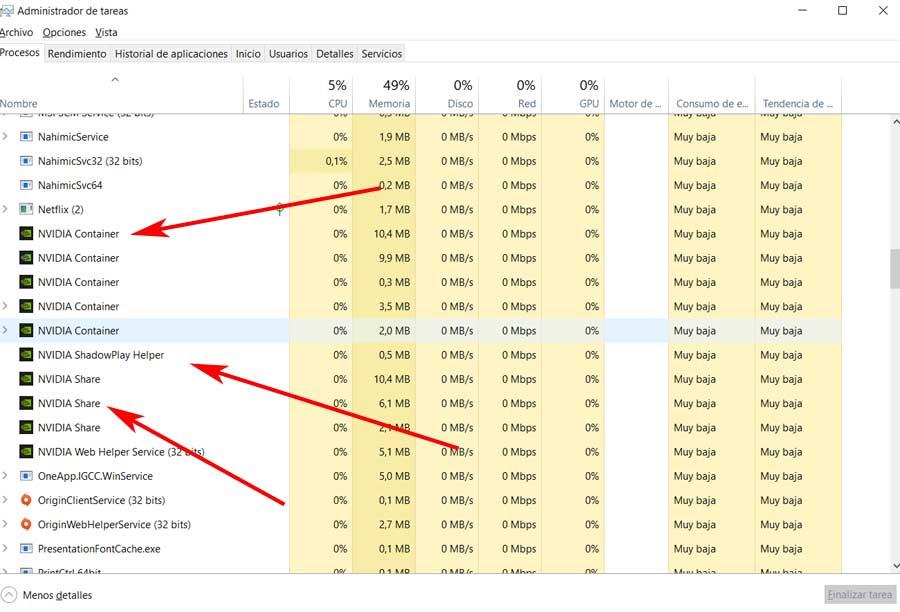 NVIDIA Container
First of all, we will start with NVIDIA Container, an entry that often generates several running processes in the Task Manager. In fact, it could be considered one of the most important in this regard. We are talking about a process that calls the nvcontainer.exe file and is responsible for executing and storing other processes from NVIDIA itself. Thus, this element as such does not carry out tasks by itself, but saves and executes other NVIDIA jobs.
Moreover, if we deploy some of these, those that allow it, we will see other processes associated with it, such as NVIDIA Display Container LS or NVIDIA LocalSystem Container . These are configured to run automatically in the background, and to give us an idea, NVIDIA Display Container LS works with some graphic content display tasks. At the same time and from what is known in this regard, this service is responsible for displaying the signature icon in the Windows notification area. Therefore, if we finish it, the icon will disappear.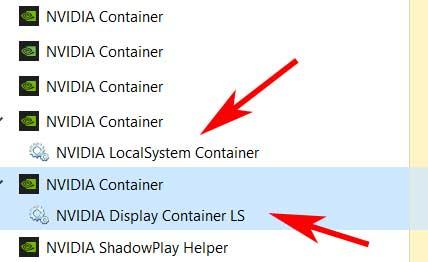 NVIDIA ShadowPlay Helper
We continue with the one that calls the file nvsphelper64.exe in 64-bit versions of Windows. Well, it is worth mentioning that this element refers to the shortcut key that opens the GeForce Experience overlay from anywhere in the system. As many of you may already know firsthand, the key combination for this is Alt + Z by default. However, this is something that we have the ability to customize if we wish from GeForce Experience.

Therefore and as we can imagine, in the event that we end this process from the Task Manager, that key combination will stop working. Also be aware that when you start to record a game, another NVIDIA Container process begins to use the PC's resources. That is why the NVIDIA Container that we saw earlier, also controls the recording of games with the NVIDIA ShadowPlay Helper .
NVIDIA Share
This is another of the processes that are part of the so-called GeForce Experience that we mentioned earlier. Specifically, it is the one in charge of controlling certain functions of this tool. So NVIDIA Share is the element that allows us to take screenshots from the application, record our own videos of the games we play, or even when transmitting them. Therefore, in the event that we want to stream these games, this is the signing process that makes it possible.
In fact this is something that already lets us glimpse its own name. Therefore, in the event that we deactivate or close it, the sharing functionality of the games will be seriously affected.
NVIDIA Telemetry
Terms such as security and privacy when working with our equipment and its software are becoming increasingly important. Now we are going to focus specifically on privacy. In fact, this is something that has recently been seen, among many other examples, with programs of the importance of Windows 10 or Google Chrome . Well, we tell you all this because the aforementioned NVIDIA Telemetry process is responsible for collecting certain data from users.
To give us an idea of ​​this, this is a process that is actually in charge of collecting information about the status and configuration of the systems. This is data that is subsequently sent to the company itself, something similar to what already happens in Windows 10 for example. Of course, you have to know that this information that is sent automatically, is sent anonymously. From NVIDIA's point of view, this is a move that is carried out in order to conduct a market study of its products and users.
It is worth mentioning that it is also in charge of controlling the driver updates. In this way we can have knowledge at all times of the version that we have installed and notify us when there is a new one to download. Therefore, it is also not recommended to close it at all.
NVIDIA Web Helper Service
First of all we will tell you that this is a process from the graphics card manufacturer that we will find in the NvNode folder. It refers to Node.js, so we can imagine that it is based on the JavaScript engine . More specifically, it executes JavaScript code for several of NVIDIA's background tasks in Windows. In case you don't know, Node.js, which is also used by the popular Chrome, allows web developers to use JavaScript to write software that does not run on a web, specifically for the interests of NVIDIA in this case.
Thus, if we take a look at the scripts in this section, we will see that NVIDIA Web Helper is used to automatically download new drivers and install them. At the same time it also refers to other important tasks such as logging into a firm account.