software
Protects all your data as a professional with acronis true image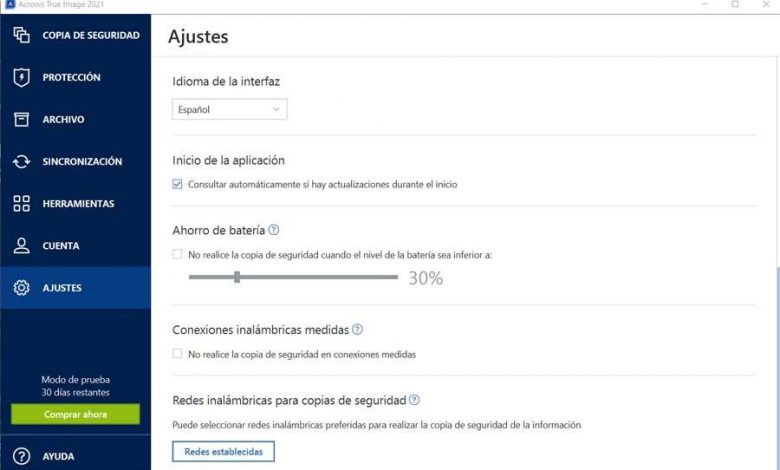 When we talk about our computer, as a general rule we make a description of the hardware that it mounts. But this would be nothing without the programs that we install in the operating system itself, or the own data with which we work on a daily basis. In fact, these are elements that we must take special care of, for which Acronis True Image can be very helpful.
It must be taken into account that apart from the components that as a whole are part of our computer, they are the basis of everything that we later do with the software. Hence precisely the importance of all this. Thus, in these times, we move in many cases in the world of technology, with an enormous amount of data of all kinds. These cover both the professional and the most domestic level, data that in many cases we must take care of.
This is precisely why, as we have told you so many times, regular backups have become a very important element to take into account. For this we can use programs of all kinds, some more advanced than others. Thus, along these same lines, we are going to focus on a whole benchmark when it comes to backup copies of these personal information on the PC. And that or is all, but it also helps us to clone disks or to make complete images of the operating system. Specifically, we refer to Acronis True Image, a program that we can download from this link .
What Acronis True Image offers us on our computer
The first thing we should know is that we are facing a powerful payment solution that we can test for 30 days at no cost. It is valid for both corporate and more domestic environments, and does not present a complete set of tools to safeguard all the software on the computer. Thus, once we have installed the application as such on the system, we find some interesting software maintenance functions .
To begin with, we will tell you that through Acronis True Image we will be able to carry out an image of our complete operating system. This includes both installed programs, drivers and all kinds of data. This, as you can imagine, will be very helpful when restoring everything in the event of a disaster caused by a virus, or any other problem . We also have the possibility of saving the copies or the image created in other units or in the cloud for later recovery . And that's not all, but, how could it be otherwise, we find many other functions and tasks related to all this, as we will show you.
Installation of Acronis True Image
Therefore, the first thing we must do to take advantage of everything that this specific program offers us, is to install it on our computer. To do this, we download the version that interests us from the link above, an executable that occupies around 800 megabytes. Therefore and as usual, all we have to do next is double click on the program as such. At that moment the installation of the same in the system will begin.
This is something that will take a few minutes due to the importance and size of the application. During the process, which is fully automated, we find a window that allows us to register the product with its corresponding serial number . If we don't have one, we can start the 30-day trial version.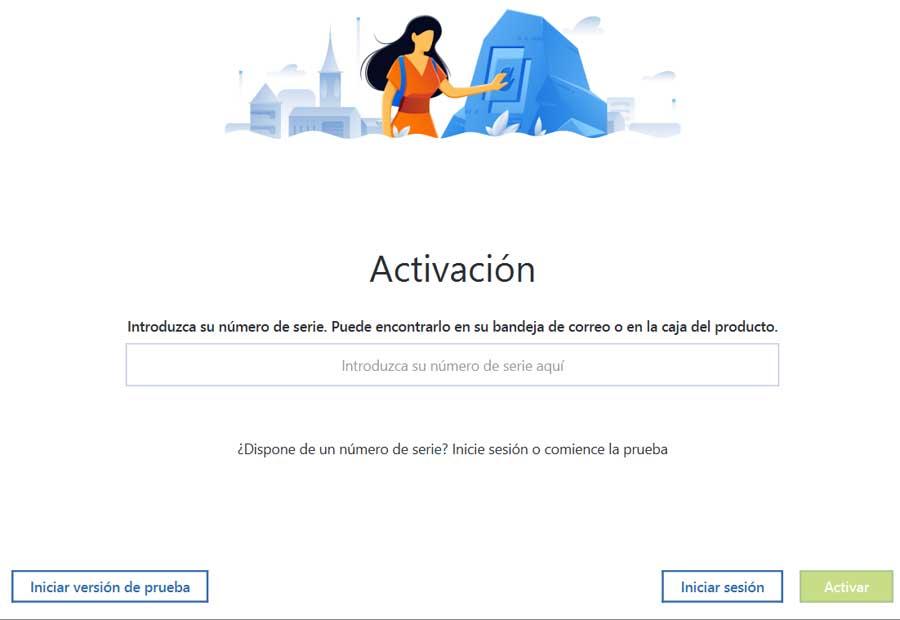 In order to make this trial period to which we refer effective, say that we must first create a user account in Acronis. For this, it is enough that we have a valid email account. Once we have successfully registered, we can start using this powerful software solution . As we say, basically its operation is based on backup copies, disk images and care of our data, applications and operating system.
Acronis True Image interface and first steps
The first thing we find after completing the mandatory installation process of this program is with its main interface . The truth is that it can surprise you because of how simple and intuitive it seems at first.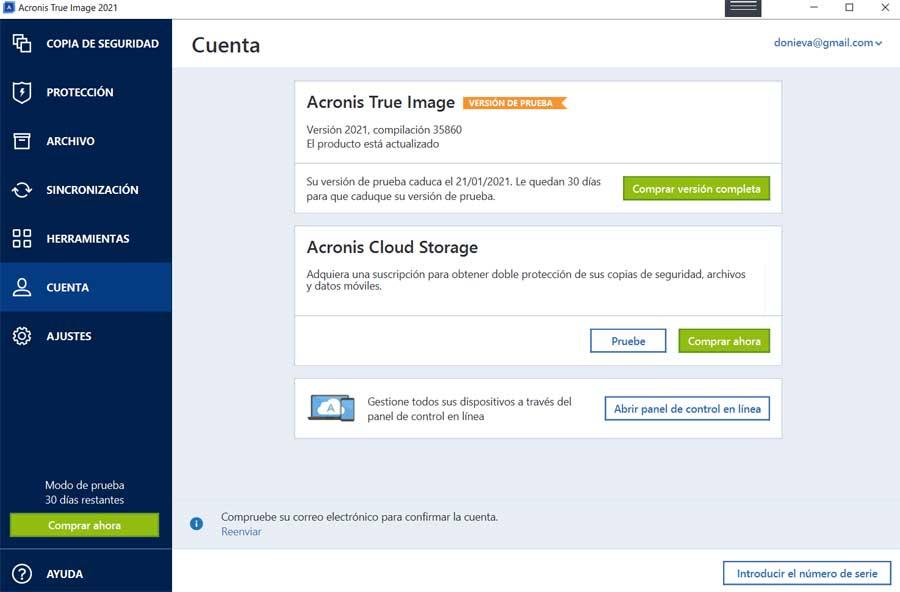 In fact, in the left part of the main window, is where we can see the different categories of which the application is composed. These are divided into both Acronis True Image configuration and customization functions and functions as such. That is why in the next few lines we will talk about how to get the most out of this program, all depending on the needs of each one.
Configuration and management of Acronis True Image
As we mentioned before, its user interface is not at all complicated to understand or handle, as we will see. If we start with the first of the exposed functions, we find the one called Backup.
Backup preparation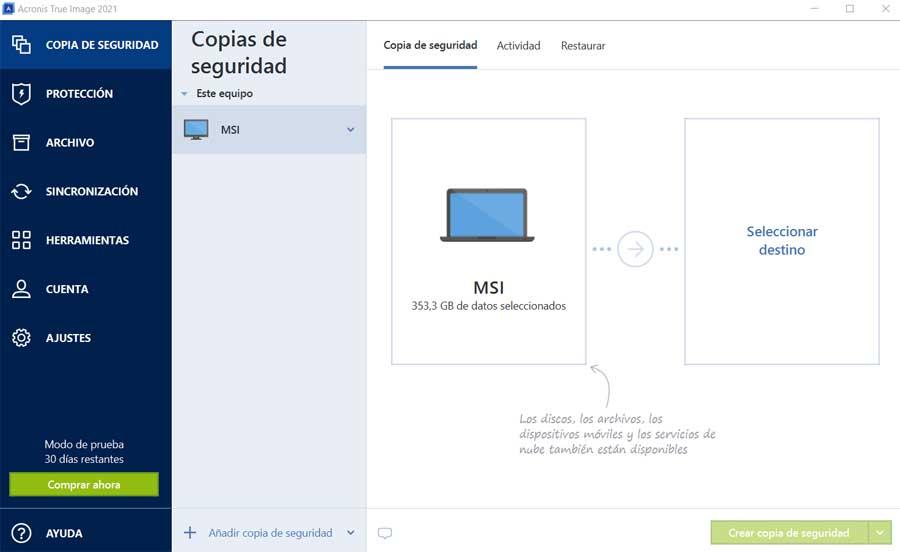 Here what we are going to find are two well differentiated sections. The first corresponds to the main unit that the program detects and that houses both the operating system and the main installed programs. In the second box, to its right, we see an empty space. Here is where we have to specify the drive or location where we will store the backup security as such.
Say that by clicking on this box, the program gives us the possibility of using either an external storage unit, or the Acronis space in the cloud.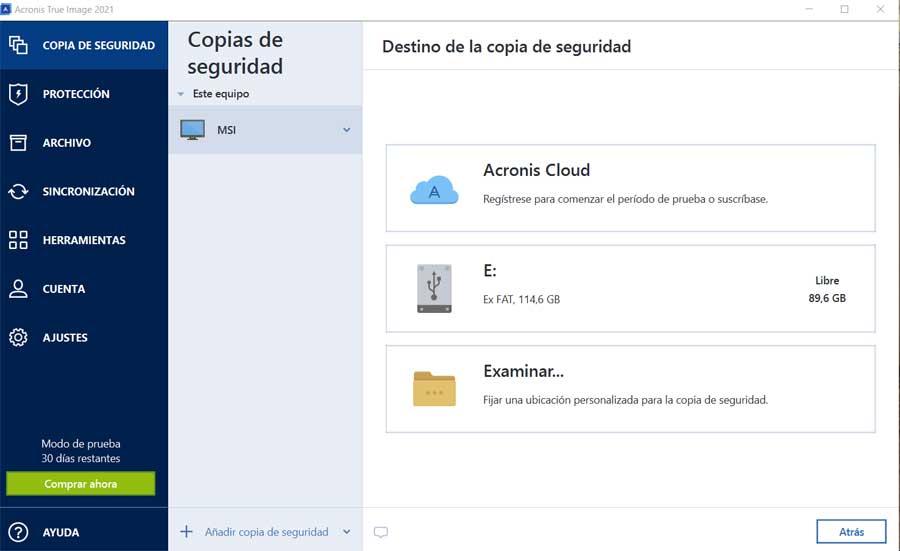 In addition, from this main copy section, we can also change the name of the system unit that is assigned automatically. We also find two tabs that are located at the top of this window. The first one, Activity, informs us about the copying process that is being carried out at that moment. On the other hand, in Restore, it is from where we can restore some of these that we have done in the past.
Backup settings
Once we have selected the destination drive, we will see that an Options button appears. From there we configure the backup as such, for example specifying the day and time we want it to be done. We can also specify the way we want it to be: incremental, differential, or complete. We also configure an automatic notification system that will inform us of the processes that are carried out, or of the elements that we wish to exclude here.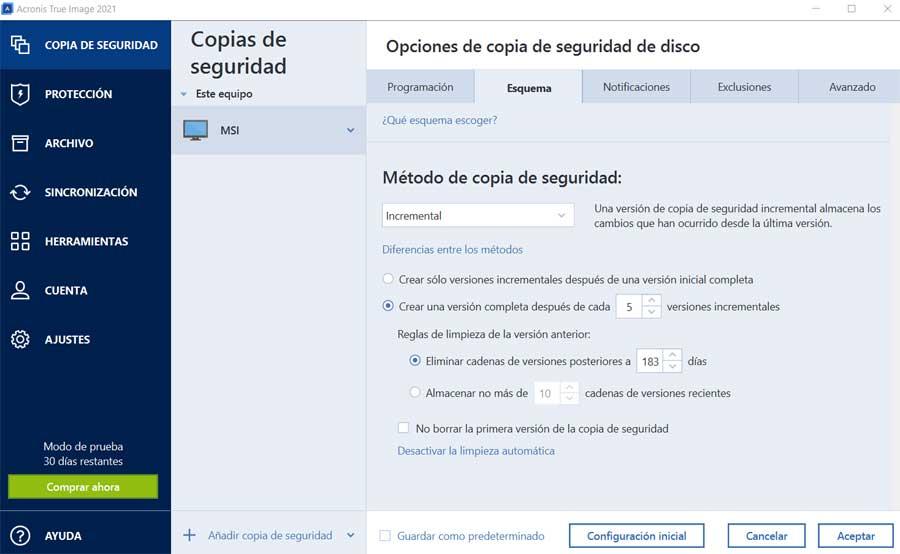 On the other hand, we have a series of advanced options valid for the most demanding or knowledgeable users of these processes. From them we have the possibility to protect the copies we make, configure the destination units in depth, divide the copies, etc. All this to have the greatest possible control over the backup process. It is also worth mentioning that next to the destination drive, in the initial box, we find a link that will allow us to automatically encrypt the copies we make from now on.
Protection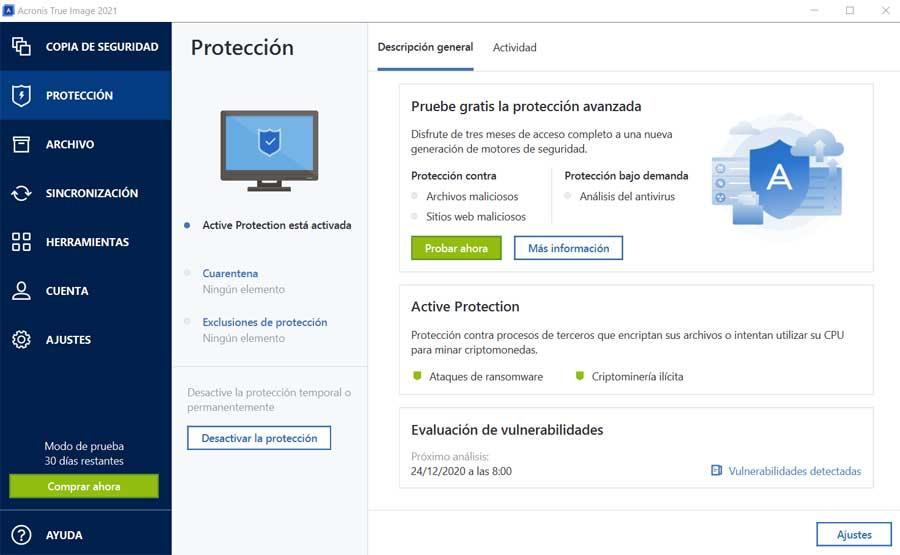 To be more cautious and take care of what we have stored on our disk drives, Acronis offers us its security solution . It is actually an antivirus that we find in the Protection section with an easy to understand and use interface. All of this offers us protection against malicious files, dangerous websites, ransomware attacks, etc.
Of course, at this point it is worth mentioning that if we already have another security solution or antivirus installed, we can deactivate this one. All we have to do is click on the Deactivate protection button, it's that easy. However, it is also true that it is appreciated that the program itself helps us protect our data. All this before we are forced to use the backup copies or disk images created. Say that in the activity tab we will see first-hand all the changes that have occurred in this same section.
File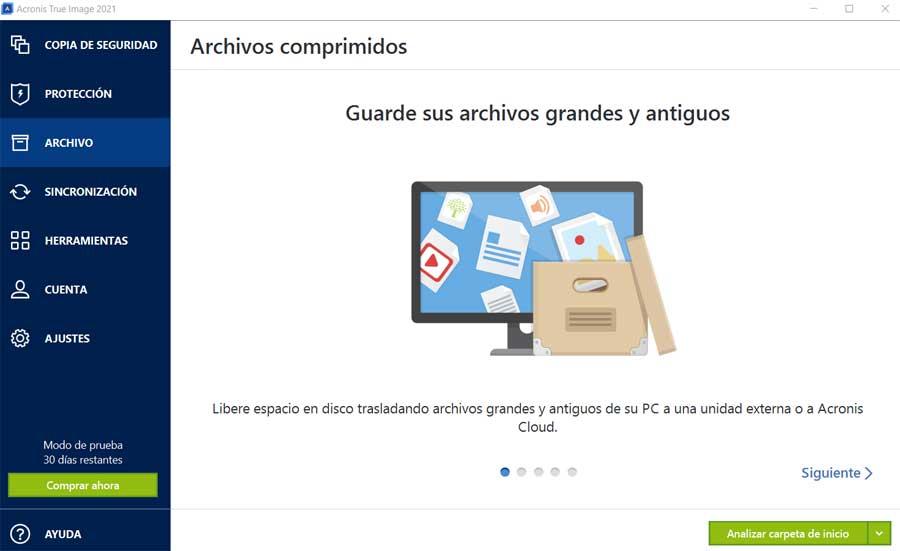 When it comes to taking care of the data that we have stored and its corresponding units, cleaning them can help us. Well, for all this Acronis True Image can also help us. We tell you this because it also has an integrated function that will allow us to remove certain information from these units . In fact, rather than eliminating, what we will do is move everything that is not important or we do not use, to other units, or to the cloud.
For all this, for example, the program proposes a series of search filters to locate what we have not used for a long time, for example. With all this, what we really achieve are several things. On the one hand we gain disk space for other more important things. At the same time, we manage to speed up the backups we carry out since they will not contain unimportant data. To say that at the same time, if we opt for the option of storing all this surplus in the cloud that Acronis offers us , we will be able to encrypt these files. For this, the program uses a 256-bit AES encryption system and thus ensures the privacy of the transfer.
Synchronization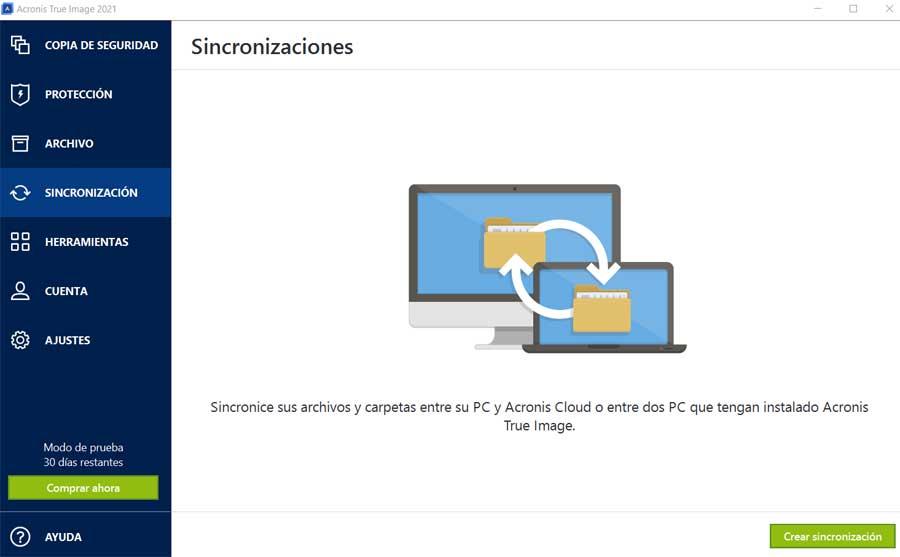 This is another data maintenance function that actually allows us to create a custom data synchronization. This is something we can do, taking our PC as a source, with the Acronis cloud that we discussed before. In the same way, this same synchronization can be carried out with another computer that also has this signature software installed. All this allows us to distribute in the most appropriate way, everything that we want to keep in another location for security reasons. For this we only have to click on the Create synchronization button.
Tools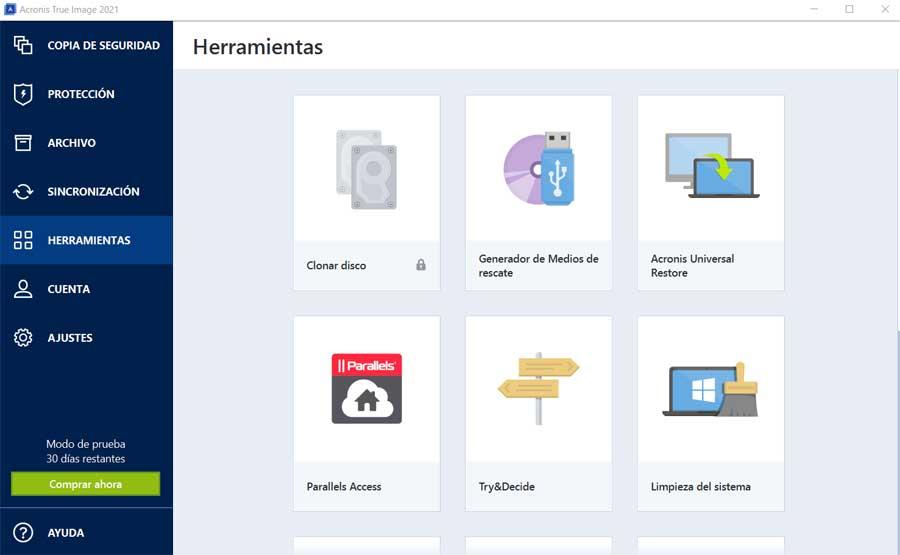 In this other section we find a series of shortcuts to somewhat more specific functions that this program presents to us. Thus we will have the possibility, from here, to clone the main hard drive of the computer, in its entirety. We can also create an external rescue drive, for example on a USB memory . This will allow us to use it to recover the Windows computer by starting with it if we cannot do it with the traditional method due to some problem.
On the other hand, we will have the possibility of using the firm's own data recovery tool, or using Parallels to remotely access a mobile device. We also have another functionality that will help us clean the junk file system that only takes up disk space.
Settings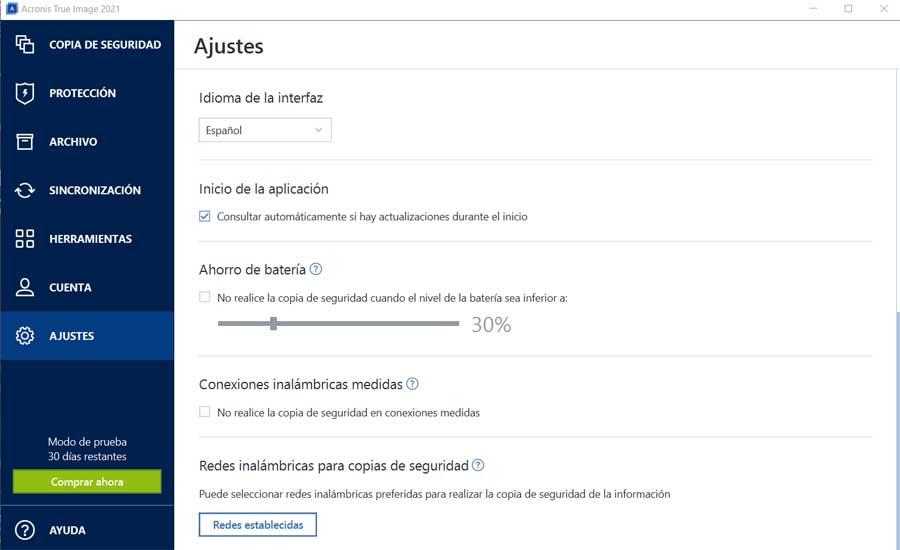 As we have seen so far, each of the sections that we have reviewed is separated enough from the rest to facilitate its use. The same happens with the personalization of each one of them independently. But aside from all this, on the other hand we find a configuration section called Settings. This will help us to carry out a series of general customizations that concern the entire program as a whole.
Therefore, from this section we can specify aspects such as the language of the entire Acronis True Image interface. Similarly, we have the opportunity to specify that backups are not made below a battery percentage on laptops. With this, the process is cut in half or remains incomplete. Likewise, we can establish a series of preferred networks for the transfer of information, or change the parameters of the notifications that the program will send us by itself.
Therefore, as you can imagine, this is a complete program made up of a multitude of independent elements, but with a common objective. This is to provide us with everything necessary to take care of our personal data, operating system and applications installed on the PC. Thus, in one way or another and from a single user interface, we will be able to copy, save, synchronize or protect all of this without leaving Acronis True Image.