software
Protect and back up your most important data with iperius backup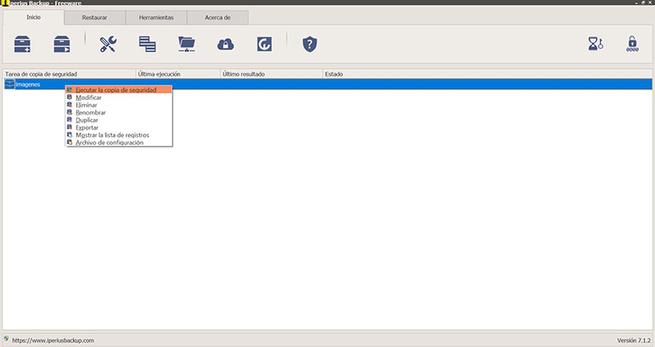 Performing a backup copy periodically is a task that every user who saves important items on their PC must perform. Our computer is not exempt from possible hardware and software failures, which can mean the irreparable loss of our most precious documents, files and photos. To help us with this work, we can use a tool like Iperius Backup about which we will talk next.
Iperius Backup is a powerful, very light and feature-rich software, developed to make backup copies for Windows . With it we can make incremental and scheduled copies of our most precious files. This tool also allows us to make backups and synchronizations on external USB hard drives, on NAS and on other computers connected in a network or through FTP servers, using secure FTPS protocols and encrypting the files using the AES 256 bit algorithm .
This software also allows us to perform seamless backups of WMware ESXi and Microsoft Hyper-V virtual machines, as well as different services in the Cloud . In this way we can back up to online storage spaces such as Google Drive, OneDrive, Dropbox, among others.
Iperius Bakcup, the most complete tool
Once we have started the application, its main menu appears, with an attractive interface with a task bar in the form of a tab at the top and a multitude of options that can overwhelm the most inexperienced users.
In the "Start" section we can see the buttons to create new backups. The first button with the plus symbol (+) helps us to create a new copy. The button on the right is used to execute an existing copy. The following icons allow us to make adjustments to preferences, view reports, open the FTP client, connect with Iperius Online Storage and open the help.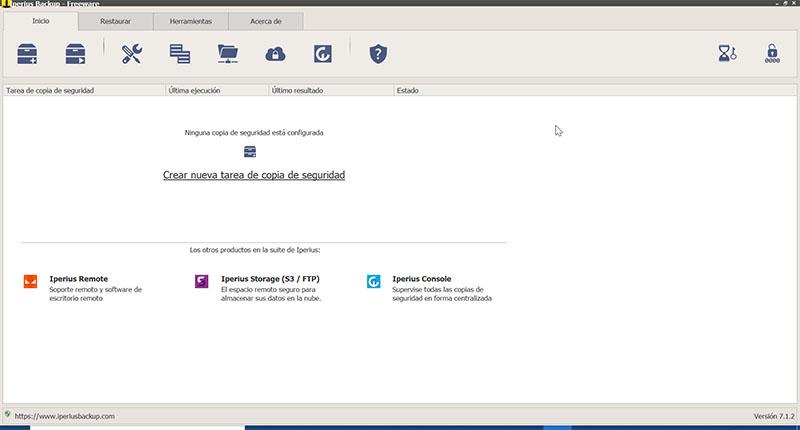 General preferences
In this "Home" section of Iperius Backup, in the "General Preferences" tab a new "General Settings" window appears from where we can determine the behavior of the program, such as protecting configuration changes by means of a password.
Within the "Advanced" tab we can define various parameters such as the logging level or the properties to copy files. From the «Console» tab we can remotely manage the program.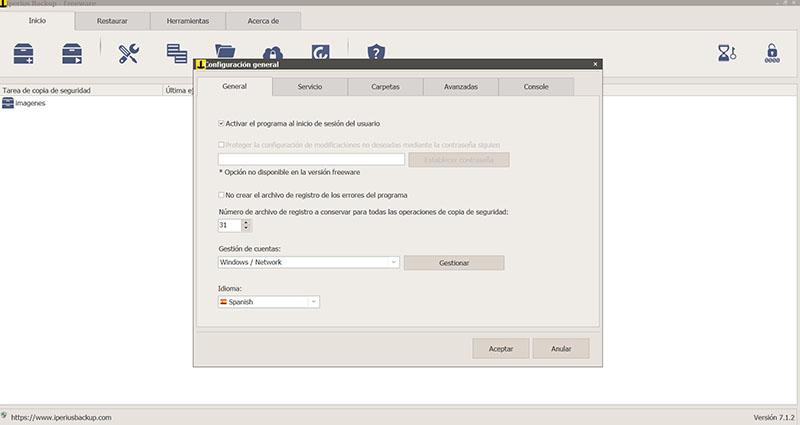 Create a new backup task
If we click on the button «Create a new backup task» a new window will appear to create a backup. In it we have several tabs such as "Elements", "Destinations", "Planning", "Options" and "Summary". All of them will help us to configure and store our copy . With the first button we can add folders while with the second we can add files that will make up our copy and that will be the options we use the most, especially if we opt for the free version of the program.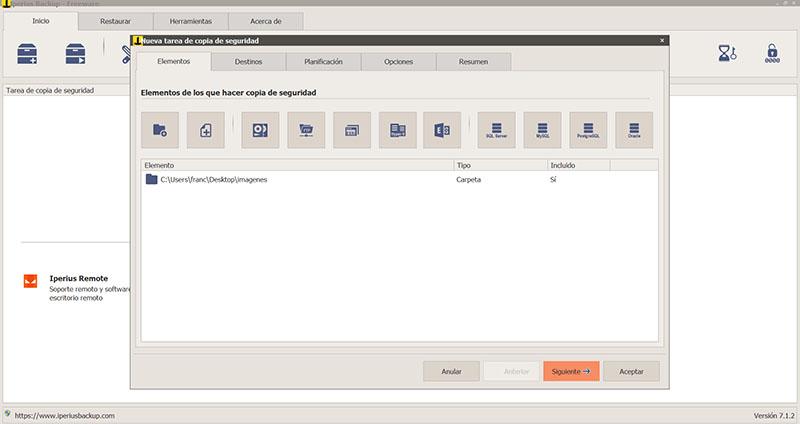 On the next screen we must select the path where we want the copy to be housed. It can be in any storage connected to the computer, or in Tape, FTP or in the Cloud.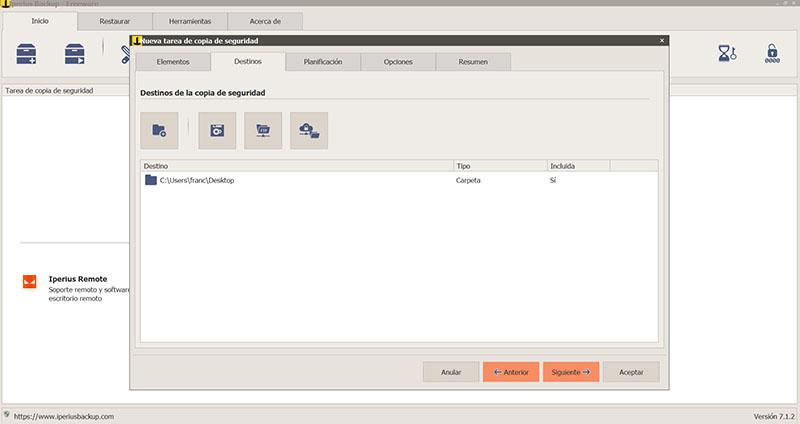 Later, in the "Programming" tab, we can execute a backup on a scheduled basis depending on the settings we make. In this way we can do it weekly, monthly or every so often. In the same way, we can also insert the chosen schedule.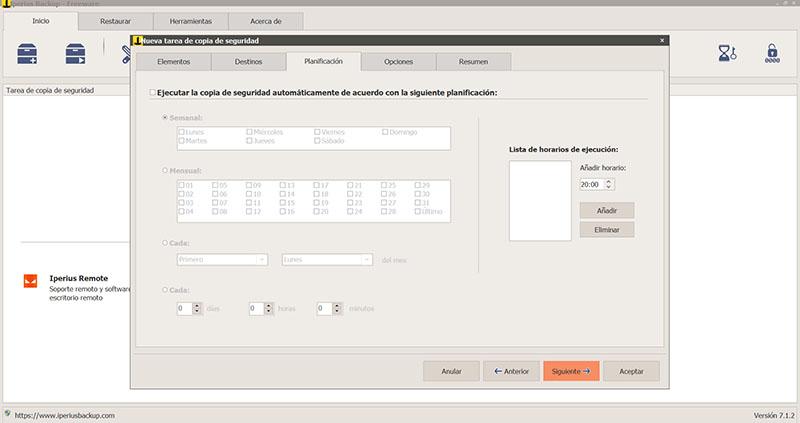 The next section is "Options", from where we can send an email notification at the end of the backup. We can also run other processes to run before or after making the copy, as well as configure some Advanced options.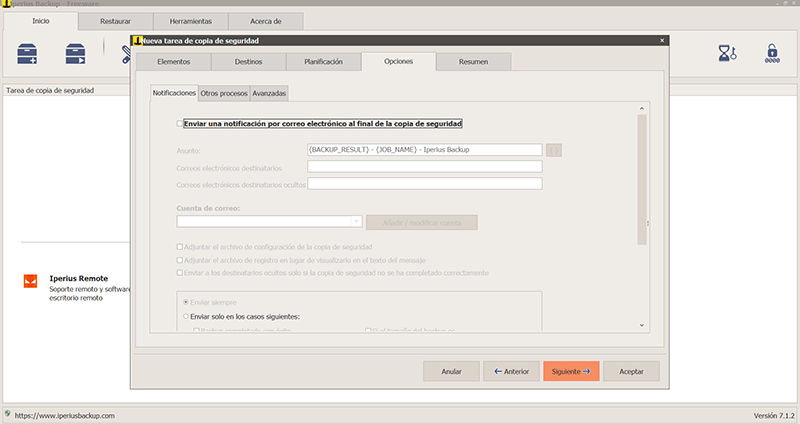 On the last screen a summary of all the operations to be carried out together with the backup will appear , so all you have to do is click OK. Once the task has been added, all you have to do is click on it with the right mouse button and click on "Run the backup".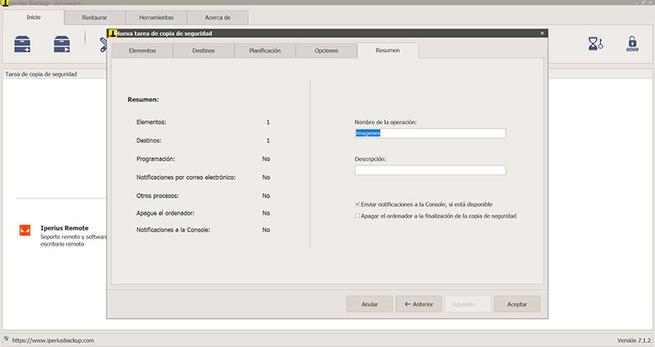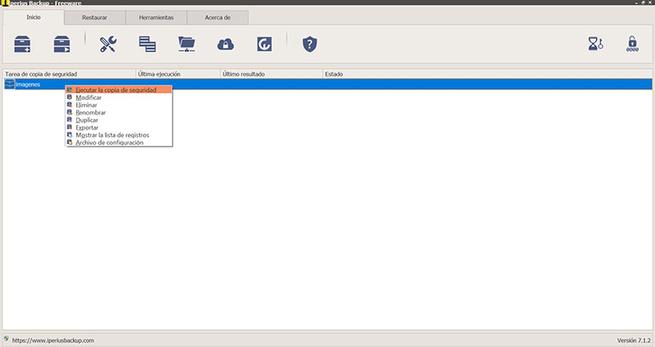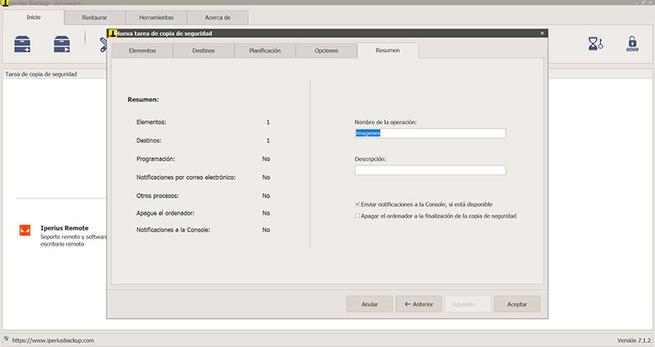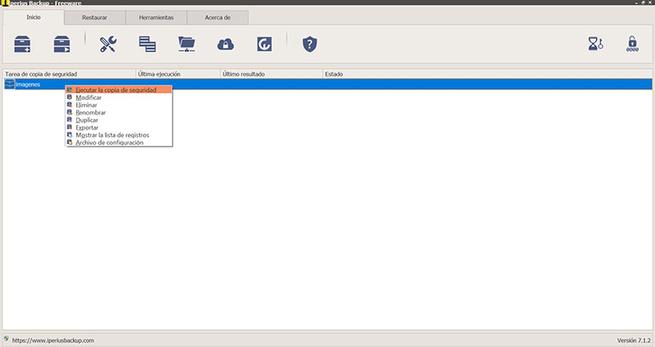 Download and price comparison
Iperius Backup is a program to make backup copies that has both free and paid versions, so that we can select based on our use and that we can download from its website . It is compatible with all versions of Windows such as: XP, 2003, Windows 7, Server 2008, Server 2012, Windows 8,  Windows 10, Server 2016,  Server 2019.
All Iperius Backup licenses are for life and include free updates and support:
Free : this free version allows us to make incremental backups on NAS, disk, USB, RDX and network. It also allows automatic bakcup and email notifications. It allows compression, execution of external scripts and advanced filters. It is compatible with Server 2019, Server 2012, Server 2016 and Windows 10. We can use it without license restrictions and without expiration.
Desktop : Allows you to use it up to 3 PCs and is compatible with Windows 10, 7 and 8. It allows us to perform disk image and incremental backup, disk cloning – P2V and creation of recovery disks. We can also perform open file backup (VSS) and synchronization, as well as backup to NAS, SUB disks, FTP and Cloud. In addition to backup backup to Google Drive, Amazon S3, Azure Storage, OneDrive and Dropbox. Its price is 59 euros.
Essential : It has all the benefits of the Desktop version, but adds compatibility with Windows Server 2008 / R2, 2012 / R2, 2016 and 2019. Its price is 69 euros.
Advanced : this type has four different modalities. There is the Advanced VM (for ESXi / Free, Hyper-V backup, replication and restore). Advanced DB, copies and restoration of SQL Server, MySQL, etc. Finally, Advanced Exchange (for backup and restoration of Exchange and Office 365). And Advanced Tape (for LTO tape backup and restore). The price depends on each type, starting at 149 euros.
Full : it is the full version that includes all the features of the other versions and all backup types, as well as all destination types. Its price is 269 euros.
Alternatives to Iperius Bakcup
If you are looking for a program to make your backup copies, we propose a couple of interesting alternatives to Iperius Bakcup:
Cobian Backup
This data backup software stands out for consuming few resources and allows us to assign different backup tasks that can be executed at the moment or scheduled. Cobian Backup is a completely free file backup program that we can download from its website .
Paragon Backup & Recovery
This program allows us to make incremental backups, including the operating system, on internal storage, disks or hidden partitions. It also allows us to save our bakcup on a CD / DVD or external disk. Paragon Backup & Recovery is a completely free tool for home use that we can download from its website .