software
Prevent windows 10 from spying on what you do with these programs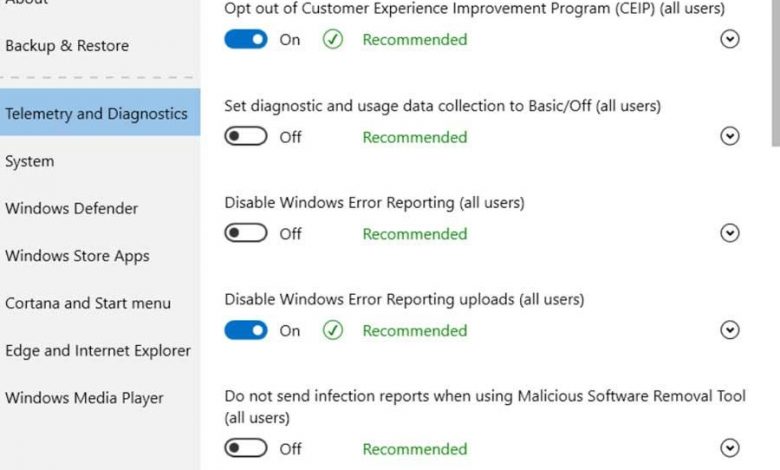 Windows 10 is an operating system so loved by some, as hated by others. This is because not everyone is equally satisfied with the features it incorporates, as many of you may already know. For example, everything related to privacy that this version of the system provides us is one of the most criticized aspects.
And it is that in an almost unavoidable way, the Redmond system itself is in charge of collecting a series of usage data to send to Microsoft. The company makes it clear that this is done completely anonymously, and serves to improve the system in the future. But of course, for many users this is nothing more than a clear violation of their privacy. Hence, by now millions of users refuse to migrate to Windows 10 from Windows 7.
It is true that the operating system itself allows us to customize and adjust these monitoring parameters, at least in part, but not to eliminate them completely. This is something that we can do from the Settings application. Once in this we go to Privacy / comments and diagnoses. Here we can already specify the level of telemetry that we want to use in our Windows 10.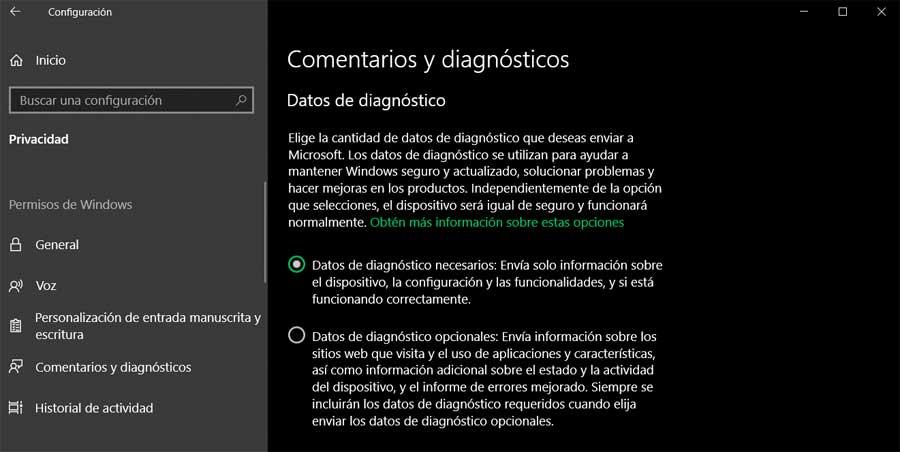 But even if we configure this section to a minimum, the monitoring is still there, something that causes a great rejection for many users. But to largely fix this, we can always turn to third-party external solutions. In fact, that is precisely what we want to talk about in these same lines. And we are going to show you a series of external programs that will help us maintain privacy in Windows 10 . Thus, in a simple way, we will have the opportunity to solve this aspect of the operating system that bothers so many in these times.
DisableWinTracking, simple but effective to improve privacy
First of all we are going to talk about a simple as well as useful application focused on these tasks that we will discuss. Specifically, it will be very useful to eliminate this monitoring. You can download it from this link and it is one of the smallest proposals that we will find here in terms of functionality.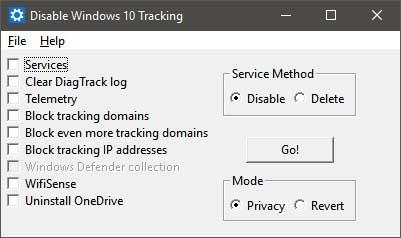 To give us an idea, in its main interface we find a total of four options that focus on deactivating system tracking. In this way, with a single mouse click , it allows you to deactivate the aforementioned telemetry, delete OneDrive, Windows monitoring , block certain Internet domains, etc.
DoNotSpy10, all privacy settings in one window
This is an alternative that you can download from here to avoid spying by Windows 10. For this, it proposes a simple user interface that allows us to manage the way in which Windows 10 will respect our privacy. At the same time, we can avoid certain system services that are capable of recording keyboard or voice input. Additionally, the sharing of contact credentials is blocked . Thus, from here we can easily manage all of this by choosing what we want to share and what not.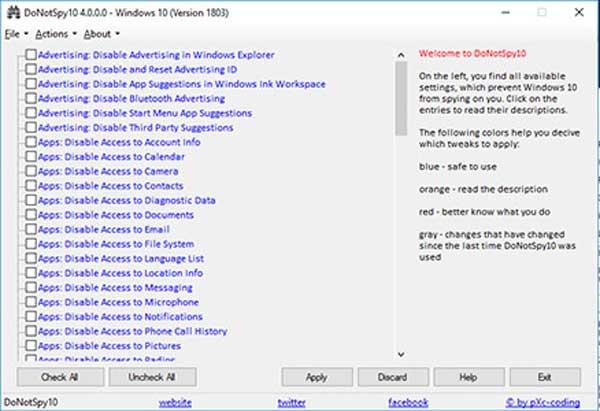 Because many of these settings are difficult to find natively, DoNotSpy10 makes things much easier for us in this regard. All this from a single, easy-to-understand interface.
Private Winten, improves privacy and blocks external requests
On the other hand, we find Private Winten, a tool especially suitable for more advanced users in these conflicts. One of the reasons for this is that the parameters to be modified, for the most part, come without any explanation. Therefore, those who do not know what they are doing, it is better to opt for another proposal. It is a program that you can download from this link and puts in our hands options to deactivate Windows 10 tracking. It also presents other functions also related to the privacy of the system and a firewall to block external requests.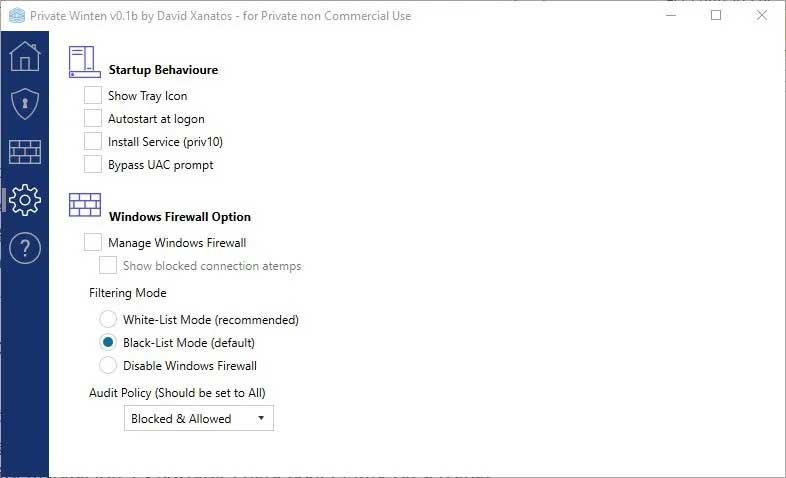 Shut Up 10, take care of both security and privacy
What this other program actually presents us is a series of adjustments in a single interface related to Windows telemetry . In addition, if we mark each of them, we find a detailed description that explains what it really does so we are informed of what we are going to do.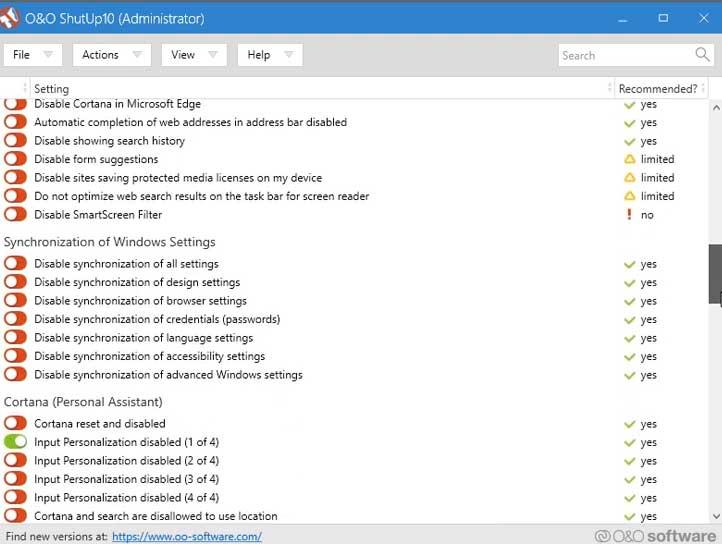 In its favor we will tell you that the program itself recommends us to create a system restore point once we begin to modify the included settings. These focus on both privacy and security, at least for the most part. To download the program, we can do it from here .
W10 Privacy, controls hundreds of Windows parameters
This is one of the best known proposals of this type that you can download from here . At first, this is an application that shows the configuration of privacy and general settings in your Windows interface. In addition, in its interface we see a series of tabs referring to all the sections that are included here.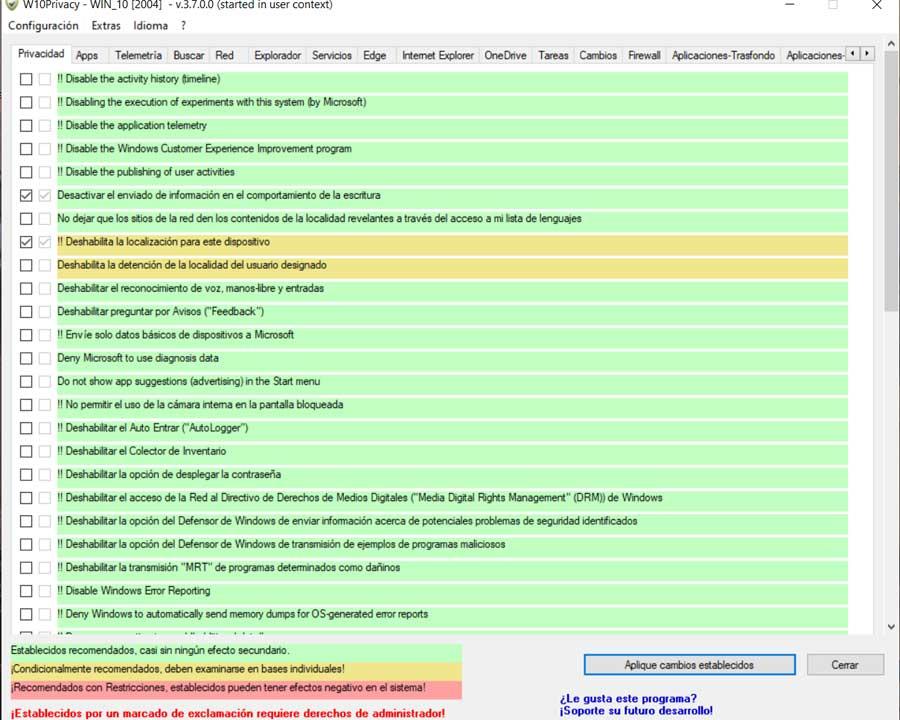 The first one focuses on everything related to privacy as such with a multitude of selectable parameters . But that's not all, since we also find tabs for the Edge browser , Windows services, network use, Firewall settings, etc. In addition, as soon as it starts up, it makes an in-depth analysis of the equipment, so it could be said that this is one of the most complete solutions in the sector.
Debloat Windows 10, privacy scripts
Actually what we are going to find here are a series of scripts that we can use in the Windows Powershell tool. Therefore, this is a somewhat more advanced solution, since these scripts were created for specific tasks related to privacy in Windows 10 . We can download all of this from this link .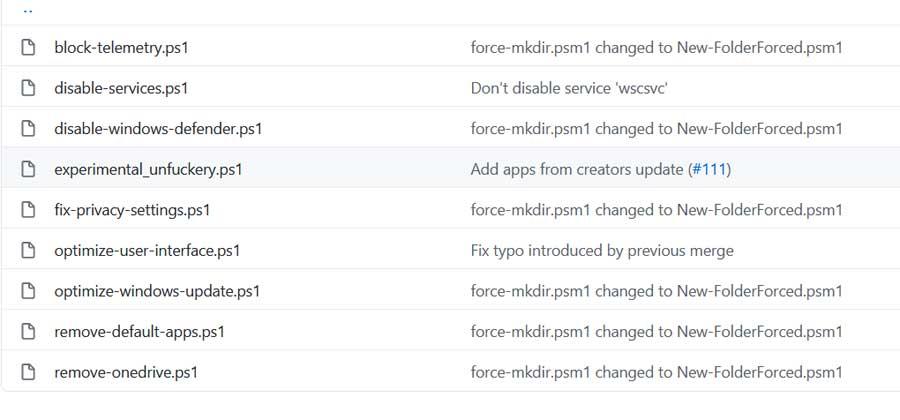 For example, we find a script to eliminate most Windows applications, another to block telemetry services, as well as to make adjustments related to the privacy of the system. In addition, we can open all of them to see their source code and see what they really do.
Spybot Anti-Beacon, from the makers of Spybot Search & Destroy
Next we will talk about another software solution of the same type that you can download from this link . It was developed by the same people who created the popular security software Spybot Search & Destroy. Therefore, this is a program that in this case focuses on allowing us to block Windows telemetry data. This includes elements such as the recording of movements, the use of advertising identifiers by applications, etc.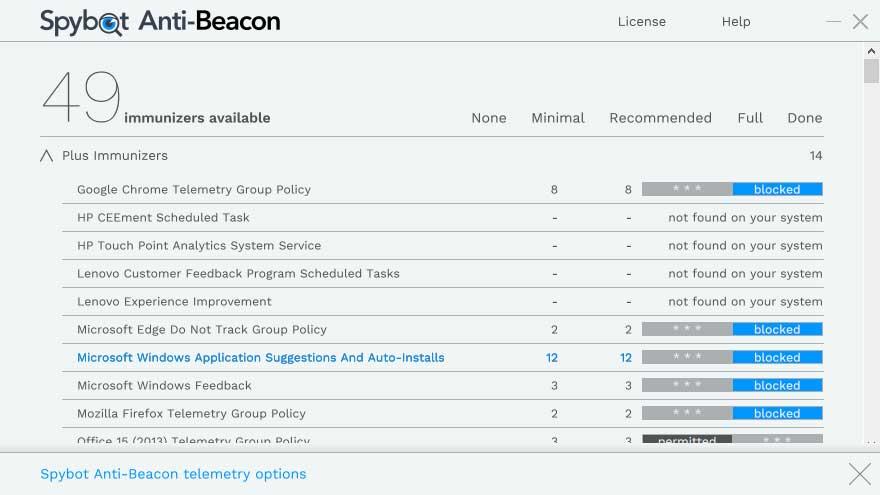 Once we have installed it, the application performs an analysis of the computer and then shows us the changes we can make to improve privacy.
WPD, manage privacy and many more in Windows
Here we find another program of this type, now portable, that helps us to change certain settings in the settings related to privacy. Here we find parameters for the privacy that we discuss, the system firewall, for the management of pre-installed applications, and for the settings included in Windows.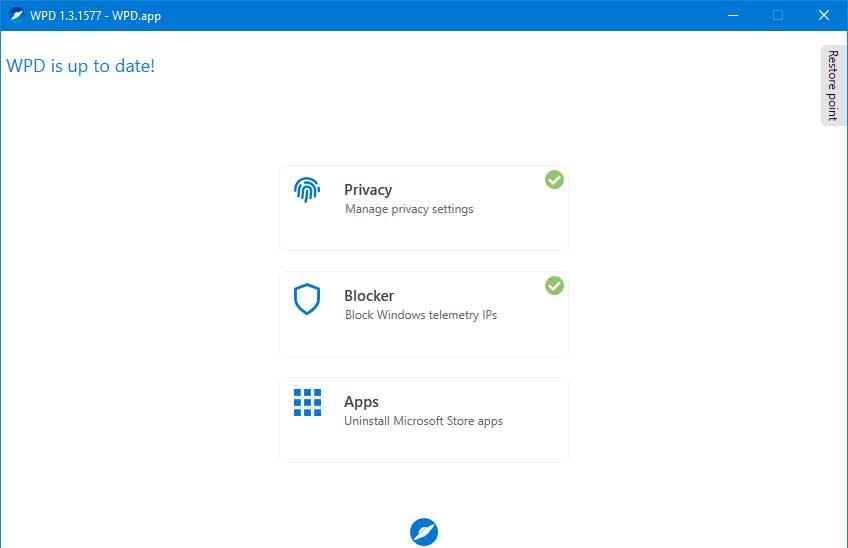 We control all of this in a fairly intuitive way and the interface presents descriptions of each of the changes that we can make. In order to get the most out of the application as such, we can download it from here .
Blackbird, for novice or advanced users
Continuing along the same lines, now we find Blackbird, a program that has two modes of operation and that we can download from here . It is worth mentioning that on the one hand we can put it into operation so that all its settings are applied in Windows.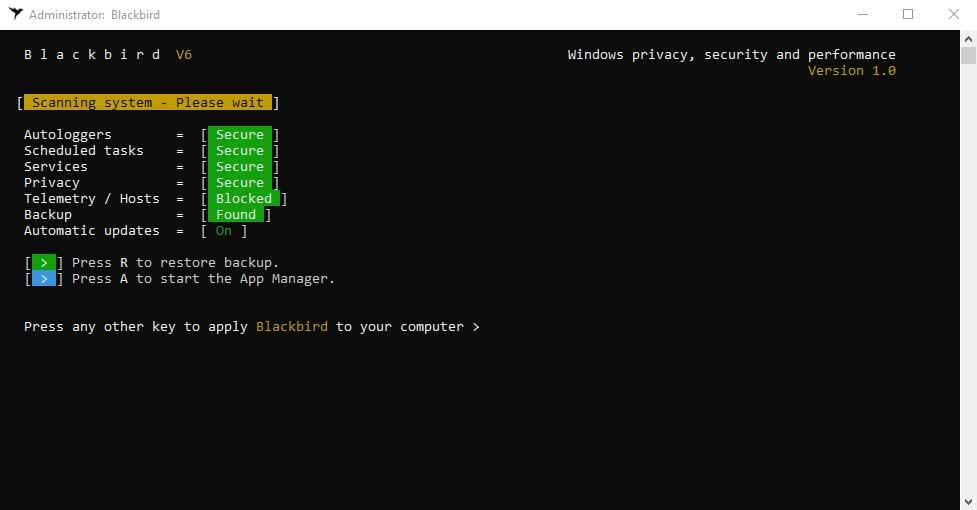 But on the other hand, for more advanced users, we find that we can use it from the command line based on parameters. This, as you can imagine, gives us greater control over the changes. Here some come into play such as the elimination of applications, the blocking of telemetry or the deactivation of services, among many other things.
Windows10Debloater, uninstall Windows 10 apps
To get hold of this program that we will talk about next, we only have to access its GitHub page to download it . In order to get an idea of ​​what this presents to us, we will tell you that it is a software solution created to eliminate bloatware from Windows 10 computers. In this way, the application itself is responsible for disabling certain tasks in Windows, remove most applications that come by default, and improve privacy.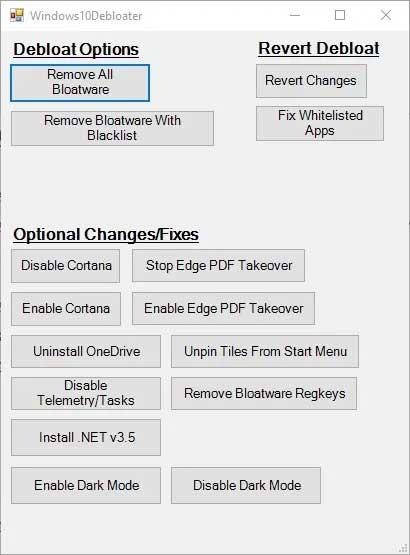 Debotnet, a multitude of customizable functions to improve Windows
There are many functions related to privacy that we will find here, once we download the program from this link . It is a portable solution that disables the telemetry of the operating system and disables some online functions to share data with Microsoft . It allows us to choose which functions we want to deactivate all this through a very simple interface to use. In turn, it offers descriptions of what each function does and integrates a series of custom scripts.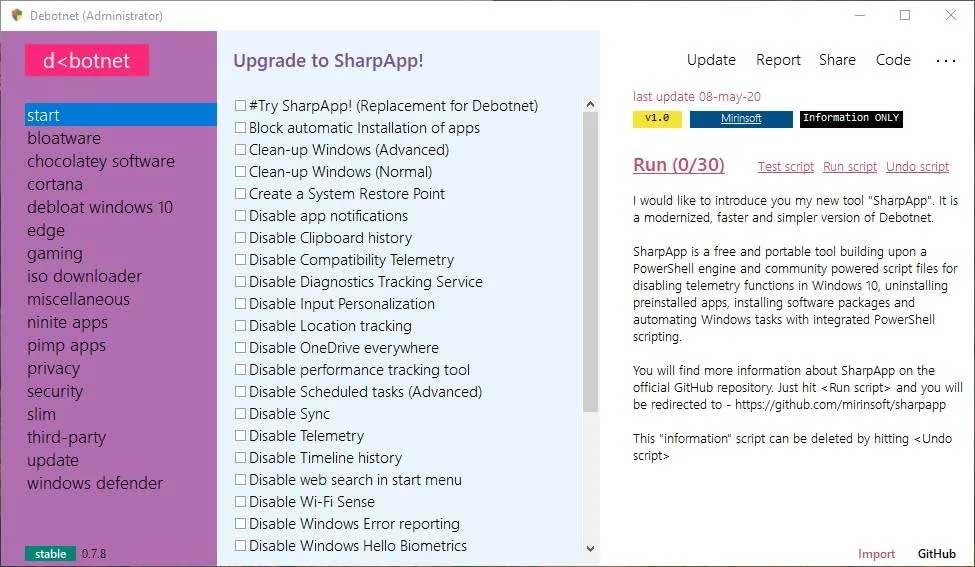 Ashampoo AntiSpy, avoid sending system data
Surely many of you already know the software developer Ashampoo. Well, this firm also presents its solution in this same sense with AntiSpy, a program that you can download from here . Among other things, it allows us to configure and customize the security options of the operating system. All this with the healthy purpose of protecting our privacy, and also deactivating location services.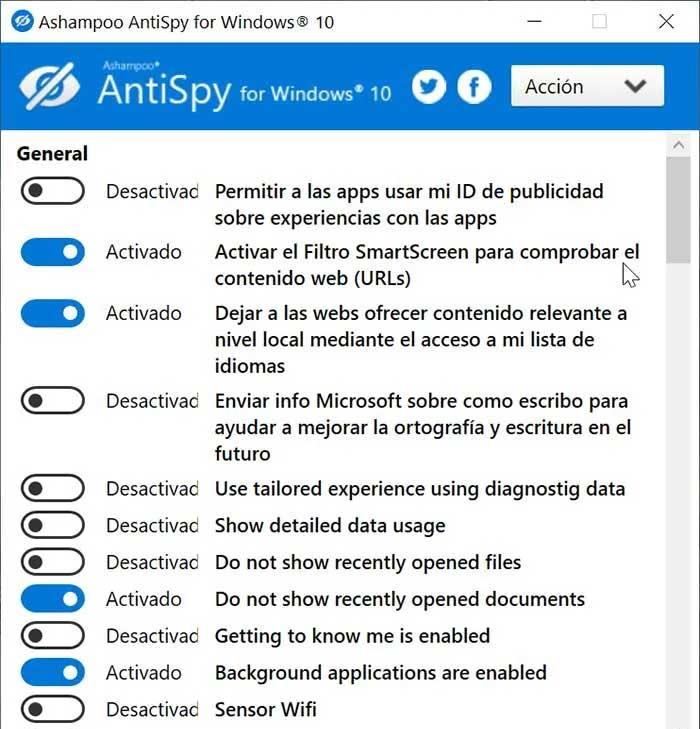 All these changes that we can make from the program interface, we can carry out in order to prevent Windows 10 from sending diagnostic and usage data to Microsoft.
Privacy Repairer, prevents tracking of Windows and its applications
In this case, we analyze an application that offers us a total of 58 independent settings to improve privacy in Windows 10. It is also able to make recommendations about what we should change in each case. But the definitive modification is already in our hands. All this is divided into different categories, among which we can highlight telemetry and diagnostics, Windows Defender, Edge or Cortana, etc.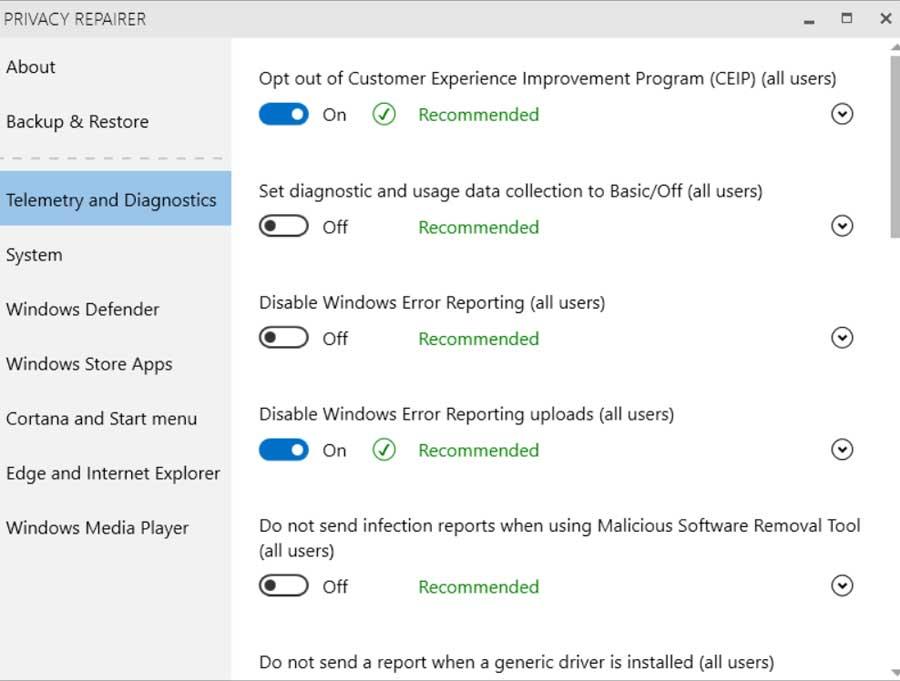 At the same time, it is also worth noting that this proposal offers us a useful list with the affected registry keys. At the same time we find a description of each of the settings to know well what we do. We can do all of this after downloading the application from this link .