software
Never lose files from your hard drives and ssd with r-studio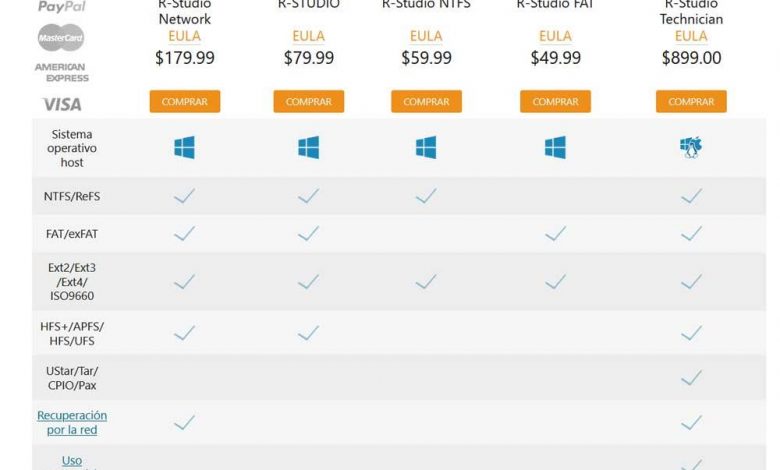 In addition to the operating system as such that we use on our PC, generally Windows, and its installed programs, our own data is extremely important. Hence, we must take special care in dealing with all of them and prevent them from being damaged or lost. With everything and with this, in the event of a catastrophe or problem, programs like R-Studio will be very helpful.
As the years go by, the overall storage capacity of our computers is clearly increasing. Right now, when buying new equipment or an external drive, we found a capacity that sounded like science fiction only a few years ago. This allows us, as most of you know, is to install more applications on the same system, as well as save a greater number of our own files . This does not provide more than benefits, especially if we take into account the size of the videos or high resolution photos with which we are dealing now.
But of course, that enormous amount of our own data that we are storing on disk drives is never 100% safe, you could say. Hence precisely the importance of backup copies or disk images that we so often recommend that you do. But these types of movements are not carried out by everyone, so if an unexpected disaster happens on the PC, that is when we regret it. When we speak of a disaster, we refer to an accidental deletion of files, a virus attack, or a problem in the system that does not allow us to access it.
Advantages of installing and using R-Studio on the PC
But before we regret not having made backup copies or a disk image, we can always use certain programs that will help us. These will allow us not to lose the data saved on the disk drives in case something serious happens with them. This is precisely the case that we want to talk about in these same lines, R-Studio.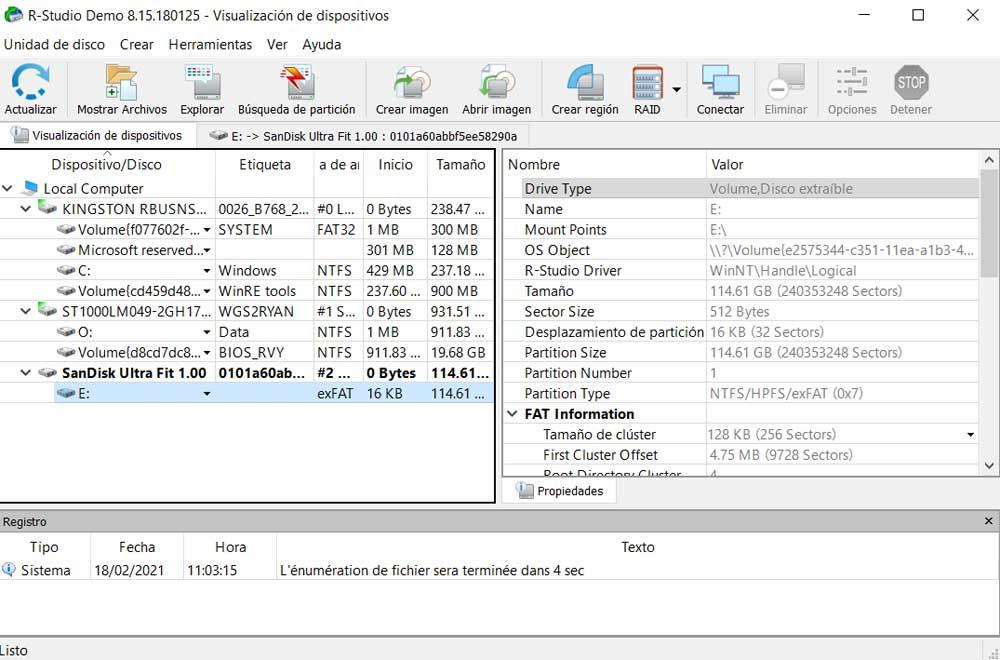 Well, to give us an idea, here we find a powerful integral solution that presents us with several very interesting functions. All of them related to maintaining our data and applications on disk drives. In this way, from the title itself, we will have the possibility of creating and recovering our own disk images. This, as is easy to imagine, allows us to create and save an image of an entire unit to later store it in a safe place.
In the event that for whatever reason in the future we cannot access it, we can always recover it from this same software . But that's not all, but also R-Studio itself puts in our hands functions for recovering files on selected disk drives. All this while showing us a huge amount of internal information about each of these units.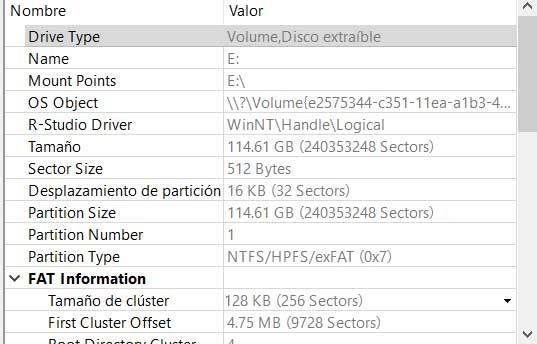 Starting up and creating a disk image in R-Studio
For this we only have to download the program as such from the official website of its developers. Then we run it like any other application so that we can see its main interface on the screen. On the left side of it we find a panel that details all the units that we have installed on the PC . Here both internal and external are included. In this way we have the possibility of clicking on them so that, in the right panel, all the information related to it appears.
At the same time, at the top of this interface, on the panels, we see various shortcuts to the functions that we can perform from here. We see a button, for example, that allows us to search for partitions on the marked disk, and another that directly allows us to create a disk image. If we click on it, which is one of the most important, a new configuration window for said image appears .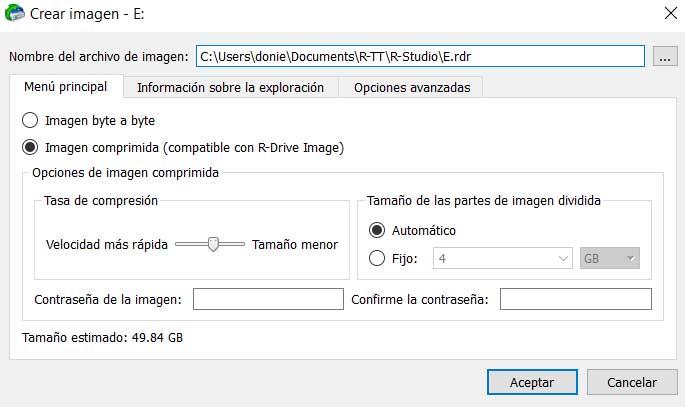 The truth is that the customization of this section is very simple, even for users who are not very expert in these matters. From the window we have the possibility to specify a compression rate for the image data, establish a password, or divide it into parts.
Lost data recovery
As we mentioned before, this is a software that also offers us the possibility of recovering accidentally deleted data . Well, to carry out this, we just have to double click on the unit in question that appears in the left panel.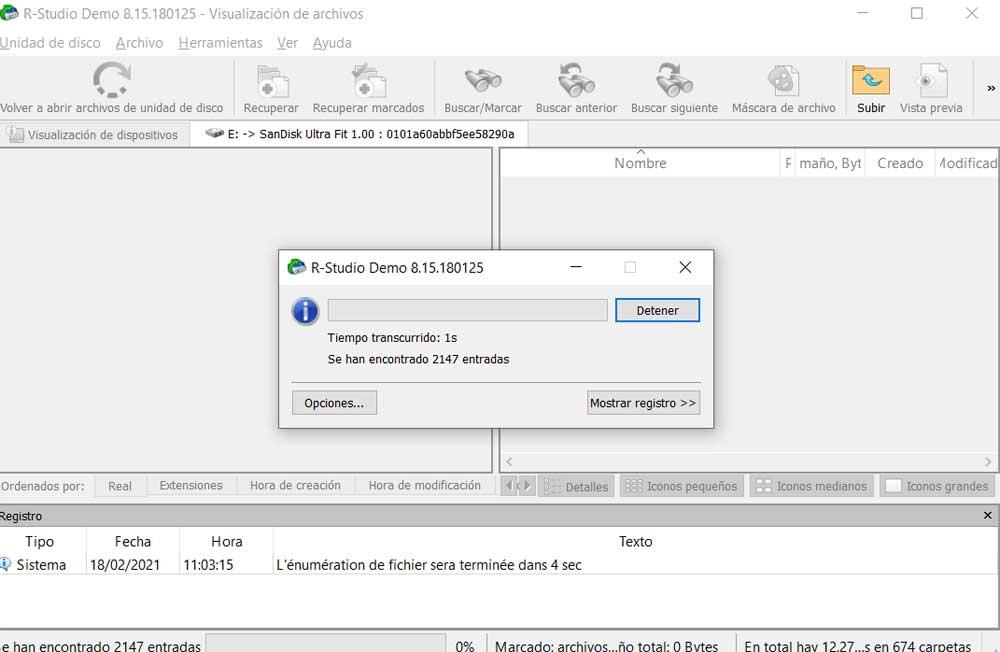 At that moment and automatically, the program will start scanning the selected drive in search of deleted files and folders. This is something that can take a few minutes, so we will have to be patient. Once the process is finished, a list will appear on the screen with the elements located that can be recovered. Say that R-Studio does not retrieve automatically, but that we are the ones who mark the desired content.
Versions and how to download R-Studio
Well, once we know what are the most important functions that this specific software presents us, we will tell you that it is commercial software, therefore, paid. It is true that at first we have the possibility of using a free trial version that will allow us to test the benefits of the program . But if we decide to use it permanently, the price of the basic license is $ 49.99.
From there we find other more advanced versions of the program that increase the price as they add functions and supports.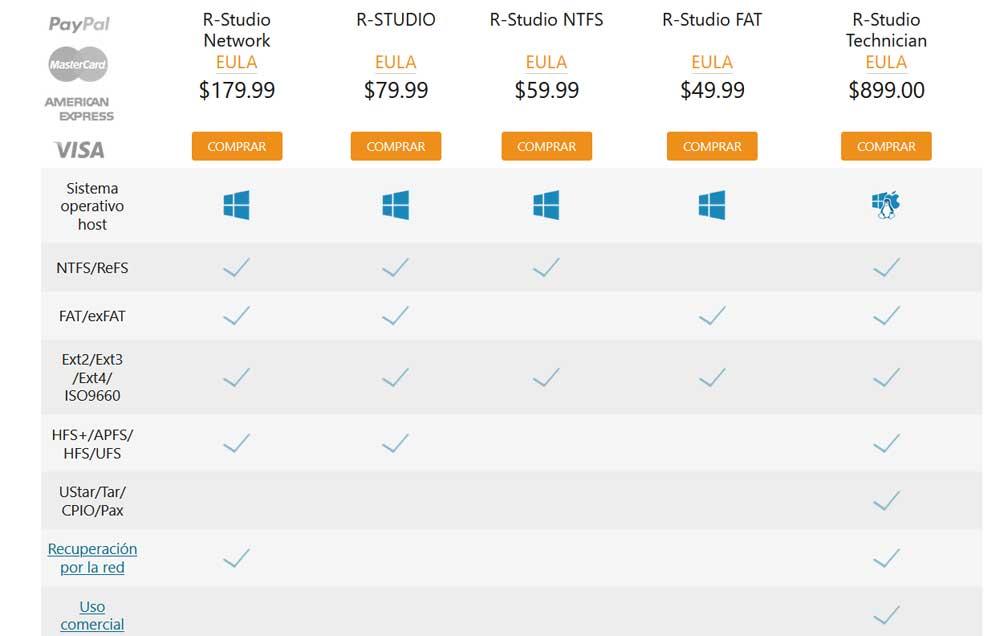 Alternatives to R-Studio
AOMEI OneKey Recovery, ideal for laptops
Here we have a tool that actually allows us to create an operating system recovery partition . This is created in a hidden way on the main hard drive and stores a custom recovery image there. In order to use the program, we can do it from here (https://www.ubackup.com/onekey-recovery.html).
Active Disk Image
This is another alternative that will also be very useful when saving our data on a disk drive, all in the form of a personalized image. How could it be otherwise, we can also restore it in case of problems with the PC. To test this other alternative, we will do it by downloading it from here .
HDClone
And this is another program that, as its name allows us to see, allows us to make an exact copy of the disk drive that we want. He saves it as an image so that we can retrieve it later in the event that we have a problem . We can prove this that we tell you from here .