software
Monitor the health of your laptop battery with these programs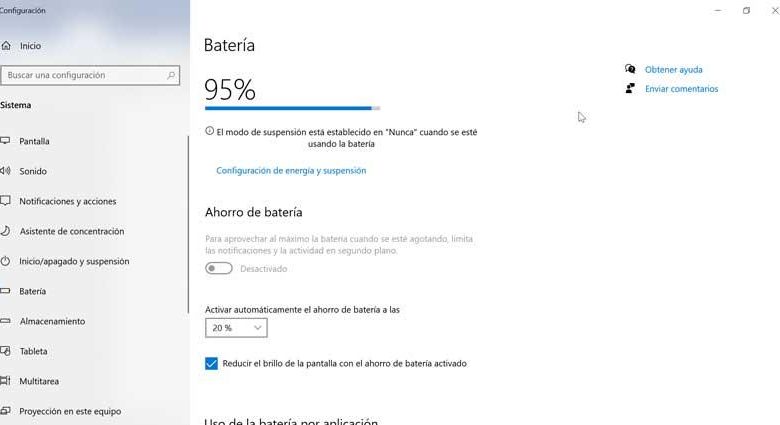 The use of laptops has become common, both for home users, as students or workers. In this way we can always have access without having to be connected to the electrical network, thanks to the use of its integrated battery. That is why it is always important to monitor your health and in this way know everything about your performance, as well as the capacity we have available at all times. Therefore, today we are going to see a series of applications with which to manage and analyze its duration.
And is that the battery is the most important element of any laptop, so it is convenient that we take maximum care of them, since they are not eternal nor are they always as healthy as the first day. Therefore, it is advisable to use tools that allow us to monitor your health.
Reasons to check laptop battery status
Our laptop battery is a chemical device with limited resources . A bad state of the battery can significantly affect the performance of our equipment, as well as its execution time when we do not have it connected to the electrical network.
By periodically monitoring the battery health, we can gain a starting point for the workflow for power management for different workloads. Keep in mind that the battery capacity can vary over time, which can cause the charge indicator to show inconsistent readings, which will indicate that we must calibrate it again.
Any misuse of our battery can shorten its useful life, so by monitoring its condition on a regular basis we can take measures that help us to prolong its longevity as much as possible. In addition, it can help us prevent certain problems, such as the battery not charging even though it is plugged into the mains.
Applications to manage battery status
If we have a laptop and we want to always have the battery under control to increase its longevity, we can use one of the following applications for Windows.
BatteryInfoView, get all kinds of battery information
It is a small application intended for use for laptops, which will be in charge of showing us the current state of our battery. It offers us a large amount of information, such as the full charge capacity, the status of the battery, the new cycle of charges and discharges, etc. It also has a registration window from where it is possible to add a new registration line with battery data in the time interval we need.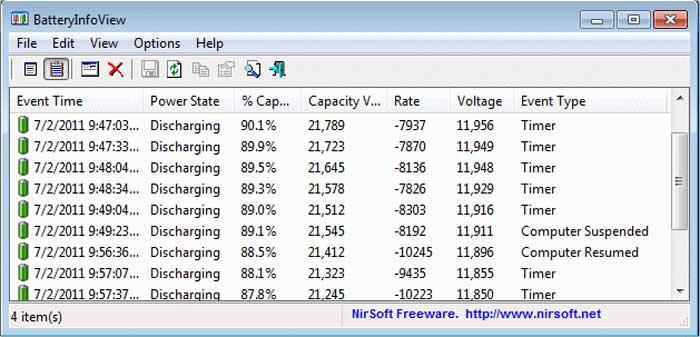 With this simple tool we can see data on loading and unloading every time we use it. And is that every time we suspend or resume the battery a new record line will be created. All the information we need, we can export it to be able to print it or keep it saved.
We can download BatteryInfoView for free from their website .
BatteryCare, calibrates the battery every certain period of time
We are now talking about an application that will allow us to calibrate the battery each time it completes a certain number of charging cycles, so that we can optimize its use. Once this procedure is finished, the program will take care of reminding us of the last calibration performed, as well as all kinds of details about it. In addition, it also helps us control our hard drive and processor.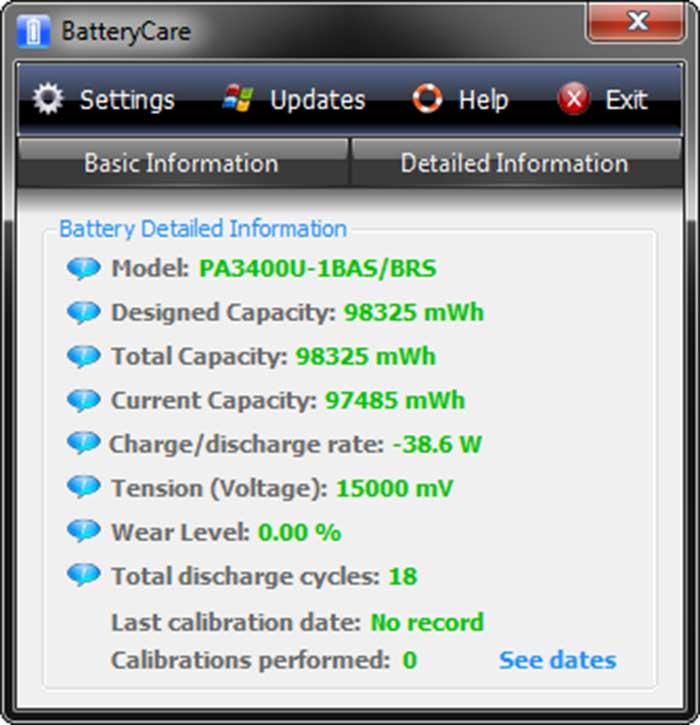 This useful tool will also offer us statistical details about the remaining battery time information. This is something that can be of great interest, in the event that our computer only lists the percentage of the load. In this way, it will show us all kinds of relevant information about the battery such as the level of wear, capacity, consumption, manufacturer, among others.
We can download BatteryCare for free from this link .
Battery Optimizer, monitor battery life at all times
This application has been designed to help laptop users monitor battery life. With this tool we can run different advanced diagnostic tests, which will offer us recommendations on how to make better use of it to extend its useful life. It will also be in charge of telling us the health status of the battery, through precise estimates.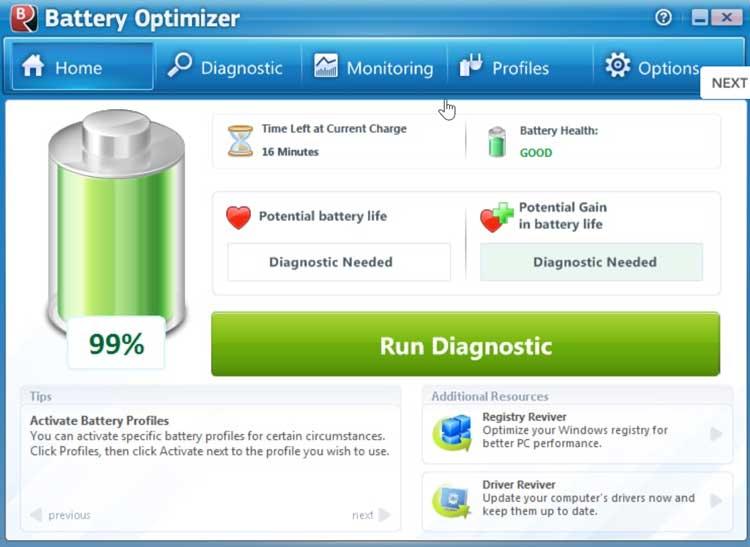 In the same way, we will be able to know how to improve the state of the battery by applying different configuration modes. It has advanced monitoring of battery use over time, and it will show us the remaining time of the battery in the event that our operating system does not.
Battery Optimizer is available for free from here.
Vista Battery Saver, save up to 70% of the battery
This small utility's main mission is to save us up to 70% of the battery. To do this, it will make use of the deactivation of some Windows functions when the battery drops below a certain percentage. For this, it opts for the deactivation of Windows Aero and the sidebar at the moment that we are using the battery in order to extend its useful life.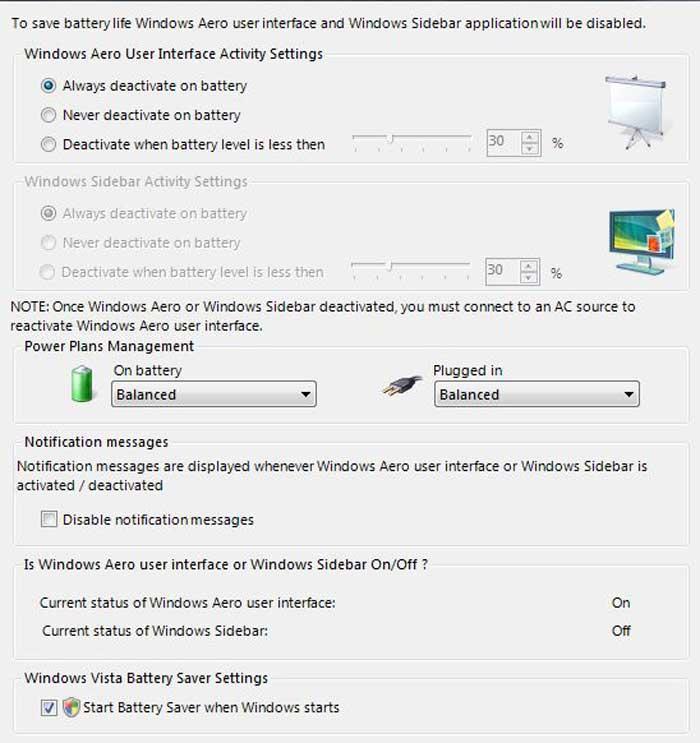 The program also has the possibility of being configured to automatically deactivate both Aero and the sidebar when the load level falls below a previously established limit. The application works without any problem and does not hinder the performance of the system, nor will it ask us for administrator privileges for its use.
We can download Vista Battery Saver from its website .
BATExpert, performs diagnostics of the battery of our laptop,
It is a software with which to diagnose the battery of our laptop, helping us to visualize its status at all times. It is very simple to handle and can be installed on any Windows laptop. With it we will obtain in detail the current state of the battery, as well as additional information such as the type of battery, the manufacturer, the voltage, the temperature, etc.
The application stands out for having a simple and intuitive interface that makes it an easy-to-use tool. It even has a plug-in that warns us of a possible poor battery condition.
BATExpert is a free application that we can download from this link .
BatteryBar Pro, monitors battery status over time
This application is a powerful and lightweight battery meter that will help us monitor its status over time, making precise calculations and estimates. It has a battery meter that adjusts to your usage to calculate remaining power based on past performance. It also has all kinds of features like a power corner switch, graphics, warnings, and custom themes.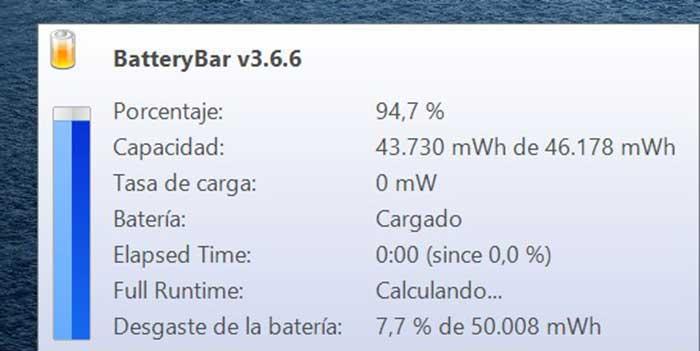 We can adjust the appearance of the battery meter with custom preferences and themes. It will allow us to activate alerts with different warning levels, allowing the energy saving options to keep your system working.
BatteryBaar has a basic trial version that we can download from its website . If we want to take advantage of all its functions, we owe its license for 8 dollars for life.
BatteryMon, view battery usage statistics through graphs
We are facing a laptop battery monitoring tool, graphically showing us statistics on its use, so that we obtain ways to improve its durability. It has the ability to find problems with battery cells, allows you to compare and measure their performance and show the status of each pack.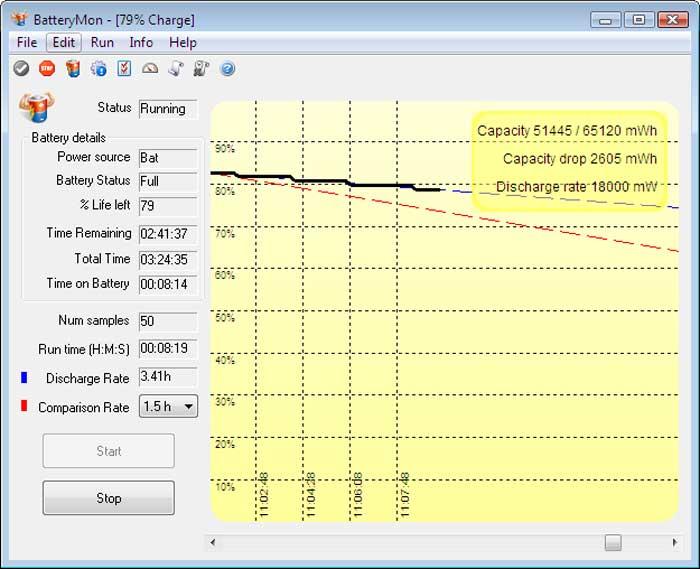 The application has an attractive graphics interface, where we can view the previous battery performance record to compare it with the current one.
Batterymon is a paid application that is priced at $ 28. It also allows the download of a free trial version from this link.
Windows 10 battery saving settings
For those who do not want to download any software, Windows 10 incorporates its own integrated tool with which we can close or limit background processes in order to save as much battery life as possible. In it we can find a section where it will indicate the applications that consume the most energy, expressed in percentages, so that we can dispense with them, if possible, while using the battery.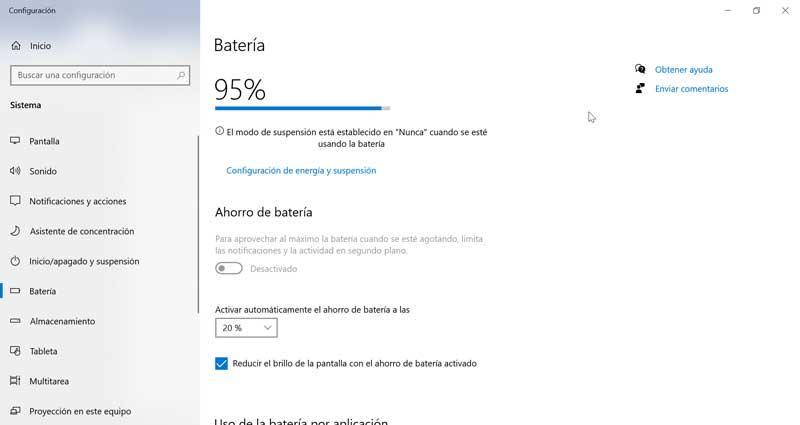 Another option that we can develop is the startup and shutdown configuration, as well as suspending the laptop both for when it is connected to the electrical network and to the battery, so that we can save energy. We can access this section by writing Activate or deactivate battery saving in the search engine.