software
Manage your hard drive partitions with minitool partition wizard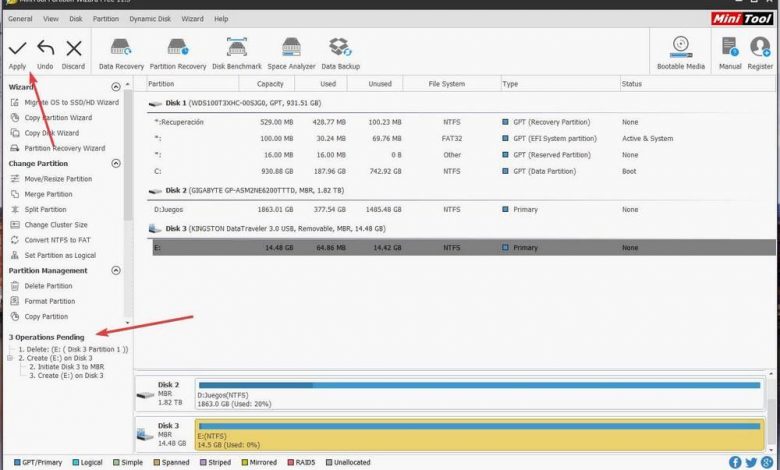 A partition manager is an essential tool that cannot be missing from any computer. Windows has its own disk manager that allows us to create, erase and format partitions. However, this program leaves a lot to be desired, as it lacks many of the functions and features that we can expect from any similar software. Therefore, if we want to have full control over the partitions of our computer, it is necessary to resort to specialized software in this task, such as MiniTool Partition Wizard .
MiniTool Partition Wizard is a simple but powerful software to manage all the partitions on our computer. This program seeks to help users manage all hard drives and partitions on their PC. Among many other functions, it allows you to create, erase or format partitions, verify the file system, align partitions on SSD, clone disks and go from MBR to GPT.
Main features
As can be expected from a partition manager, MiniTool Partition Wizard will allow us to create and delete all kinds of partitions on our hard drives. In addition, it is also compatible with a wide variety of file systems, so we can give our units the format we want according to the use we are going to make of them.
When it comes to working with partitions, this program allows us to eliminate strange partitions from our hard drive in a very simple way. In addition, it has a large number of recovery functions for damaged hard drives and partitions, and can also revive a RAW hard drive by converting it to NTFS.
When deleting partitions we can delete them logically, or delete them for real. We can choose the function of cleaning partition to overwrite all the data on the hard disk by deleting the partition and prevent anyone from recovering any data that had been saved in it.
Besides creating and deleting partitions, this program also allows us to work with them. We can easily move non-adjacent partitions to merge them, and even resize any partition to make it smaller and create a new one, or larger if we have adjacent free space.
MiniTool Partition Wizard also has functions that allow us to move Windows from a normal hard drive to an SSD and accelerate Windows with a few clicks.
MiniTool Partition Wizard: free vs paid
One of the best features of MiniTool Partition Wizard is that it is one of the least limited free partition managers that we can find. Other solutions, although they have free versions, apply series restrictions to force users to checkout.
MiniTool Partition Wizard has several paid versions in addition to the free version. We are going to compare the two easiest to pay, the Pro and the Pro Ultimate, since the others are designed for servers and companies (and their price shoots up).
What can we do with the Free version:
Measure the performance of any disk.
Analyze the space.
Move / Resize partition.
Expand partition.
Merge partition.
Divided partition.
Convert FAT to NTFS.
Set partition as primary.
Set partition as logical.
Manage partitions (create, delete, format, copy, align, clean, mark as active, change letter and hide or show).
Check file system.
Explore partition.
Surface test.
Partition properties.
Convert data disk to MBR / GPT disk.
Copy the operating system from MBR to MBR disk.
Copy the operating system from GPT to GPT Disk.
Copy data disk from MBR to MBR / GPT Disk.
Copy data disk from GPT to GPT Disk.
Migrate the operating system from MBR to MBR Disk.
Migrate the operating system from GPT to GPT Disk.
Clean disk.
Delete all partitions.
Align all partitions.
Rebuild MBR.
Surface test.
Scan lost / deleted partition.
Recover Lost / Deleted Partition.
View the properties of the disk.
As we can see, the limitations (at the domestic level) of the free version are practically non-existent.
Pro version features ($ 59):
In addition to everything that the Free version offers, this version adds:
Change cluster size.
Convert NTFS to FAT.
Change partition type ID.
Change serial number.
Convert the operating system disk to a GPT disk.
Copy the operating system from the MBR to the GPT disk.
Migrate the operating system from MBR to GPT disk.
Recover a lost or deleted partition.
Manage dynamic hard drives (create, delete, format, move, clean, etc).
Allows use within the business environment.
Pro Ultimate ($ 99) Features:
In addition to all the above, this version adds a data recovery function, and allows us to use the same license for 3 different devices.
What version of MiniTool Partition Wizard should we choose?
When deciding to use MiniTool Partition Wizard, we must bear in mind that its free version with very few cuts compared to the Pro version, which is the main reason why we should opt for it. Above all, we must bear in mind that the Pro version has a fairly high price, so unless we are sure that we are going to take advantage of its extra functions, the free version should be more than enough.
The easiest way to format hard drives
MiniTool Partition Wizard has a simple launcher that runs when we run the program. This launcher allows us to directly access the main functions and features of the program.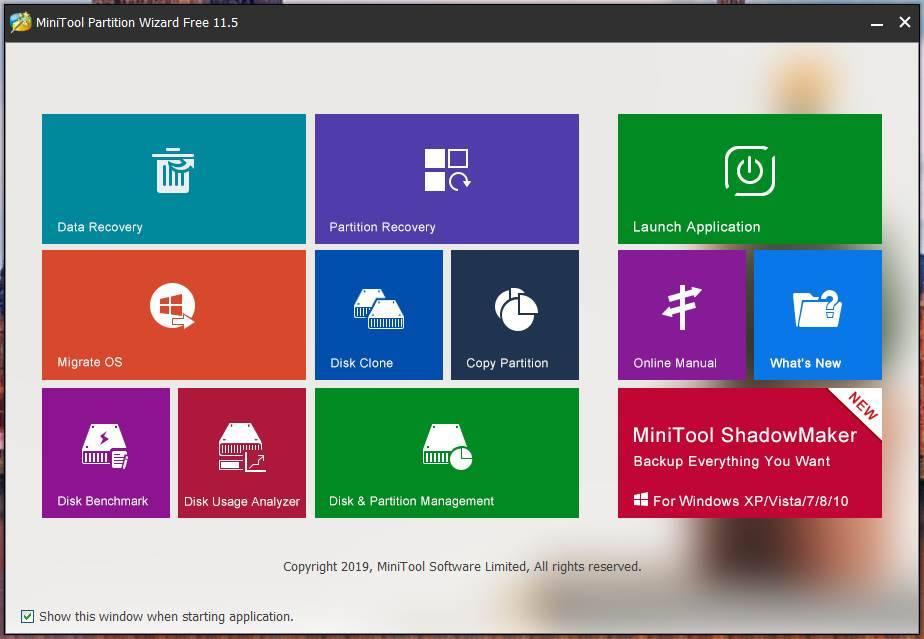 If we are going to do any of the tasks that appear here, we can get to them with one click. In addition, from it we can also open the main window of the program, from which we will have access to all our discs and all the functions of the MiniTool software.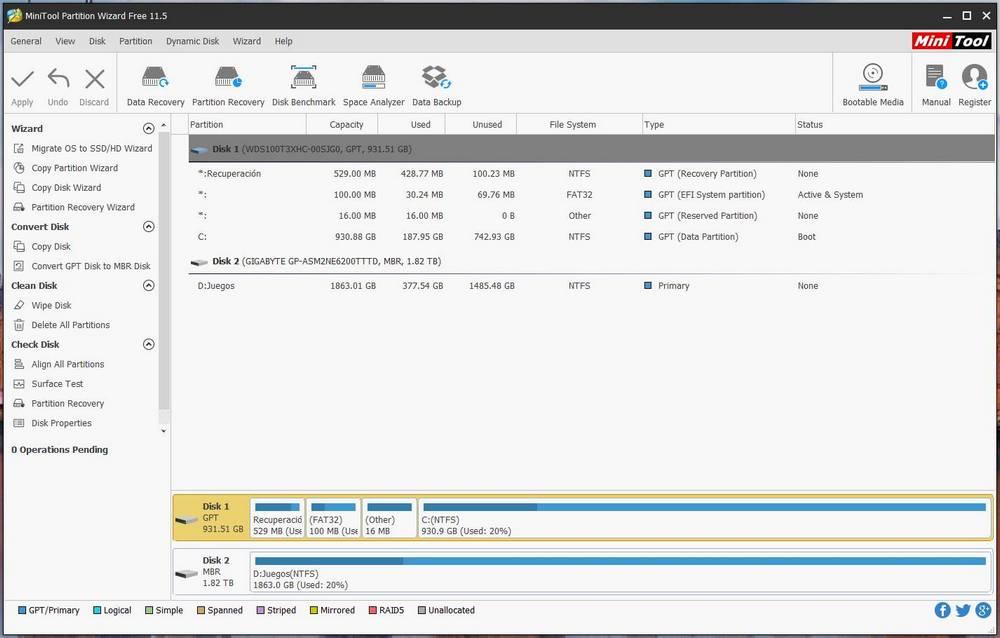 Here we will be able to see a list with all the disks and all the partitions of the computer, in addition to a much more graphic distribution at the bottom. Each disk, in addition to having its technical data, allows us to see the file system and the type of partition used.
In the left part of the window we can find all the tools to manage the partitions that the program offers us. In addition, if we click on a partition with the right button, we will be able to see a menu with all these options.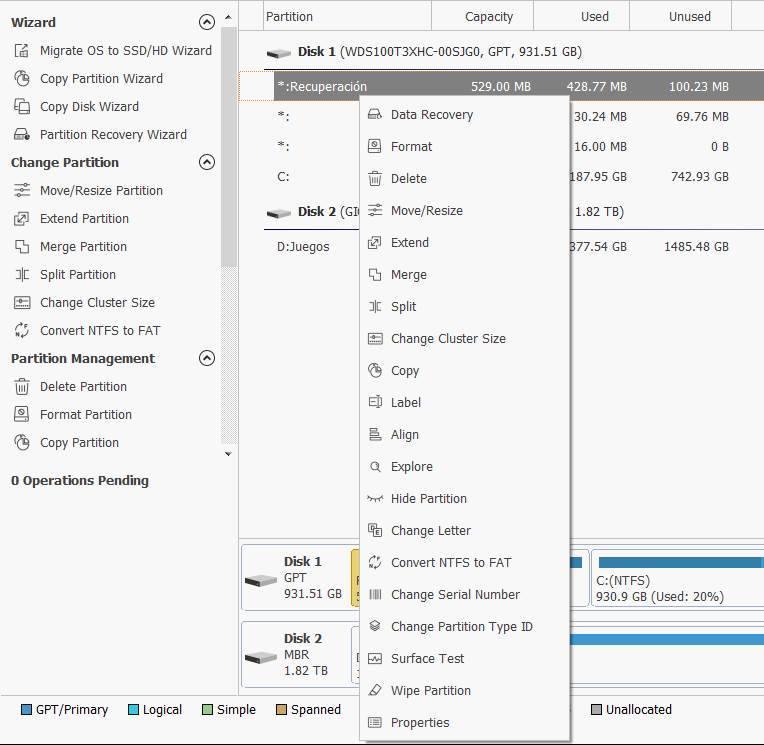 As we can see, from this menu we can very easily access the options to format, delete or create new partitions for our hard drives, SSD or USB memories. The process to create a new partition is very simple, being guided at all times by a simple wizard. From it we can set all the parameters of the new partition. And choose the size both in MB and using the slider that appears.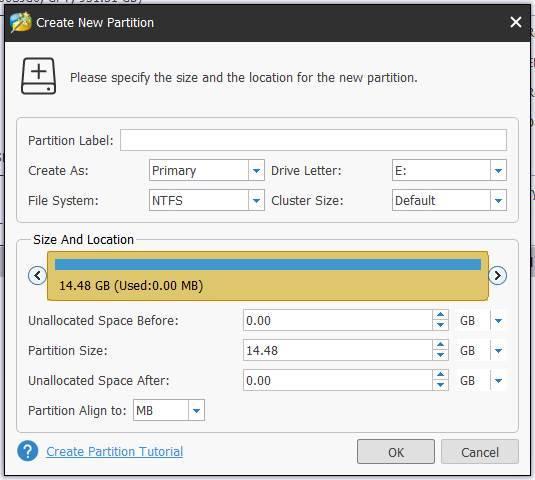 All the changes we make are not applied at the moment, but are saved. And we can consult them on the left side of the screen. When we have made all the changes we want, we will simply press the «Apply» button and all of them will be carried out in order.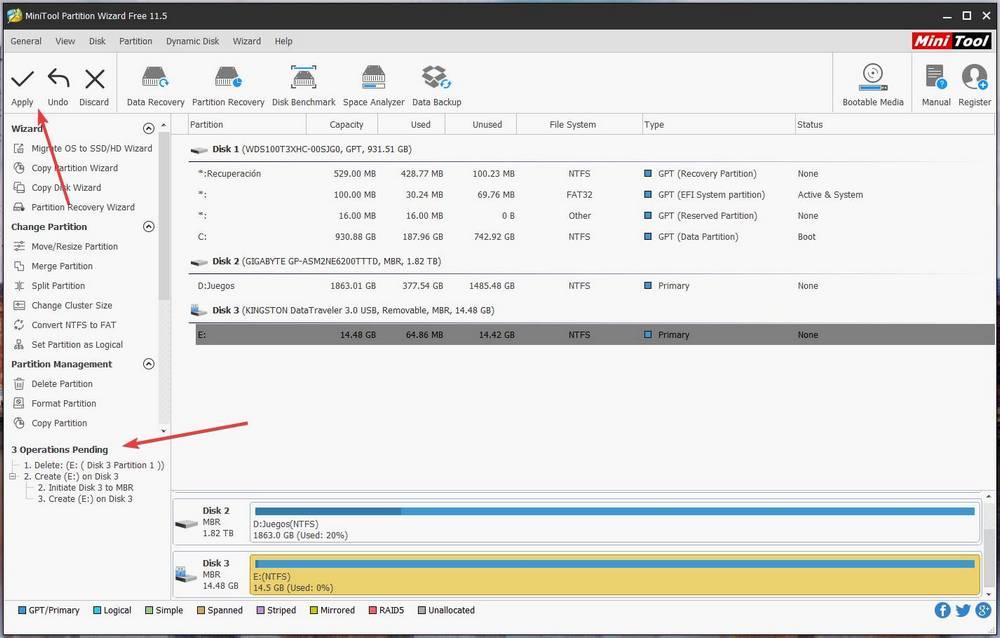 Although we must always take certain precautions when working with partitions, thanks to MiniTool Partition Wizard we can have at our disposal a powerful partition manager, much more complete and simple than the Windows 10 Disk Manager.
Download MiniTool Partition Wizard
We can download MiniTool Partition Wizard for free from the following link. Even the free version is free of unwanted software, so we won't install anything we don't want on our PC.
The only thing that we will see is a launcher when executing the program, a launcher in which we will see other recommended MiniTool programs. But these little banners don't bother, so we don't have to pay attention to them.
If we want to unlock the functions of the paid versions we will have to go through the checkout. The Pro version has a cost of $ 59, one-time payment, and is valid for one computer, while the Pro Ultimate version amounts to $ 99, but we can use it on 3 devices.
Alternatives to MiniTool Partition Wizard
If we are looking for a program with which to be able to create, erase and format partitions, we propose some alternatives to MiniTool Partition Wizard to take into account:
EaseUS Partition Master
This application allows us to repartition our hard drive, so that we can divide it into several parts. It also allows you to create, merge, format, convert, resize, and delete disk partitions. In addition, it allows us to clone our entire hard disk or select partitions, to be able to replace or update the disk, without losing data. We can download it for free from this link.
Paragon Partition Manager
This program allows us to format and manage partitions to keep our hard drive organized, improving the general performance of the computer. We can choose between partitioning, copying, editing the boot options or making backup copies. We can even clone any partition, and in this way, be able to restore it to its original form at any time. We can download it for free from here.