software
Make a good use of your hard and ssd discs with these programs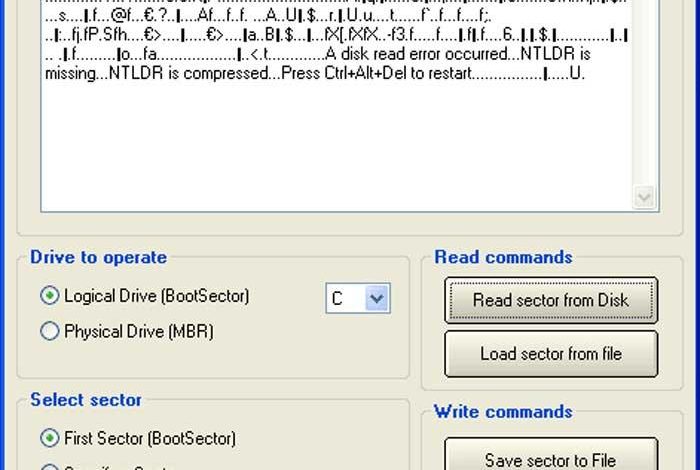 One of the most important components that are part of our computer are all those that are part of its storage system. This is where both internal and external hard drives are located, because in this we store data that can be of vital importance to us for both professional and personal reasons. Along with our important files, we also find our usual programs and even the operating system itself, so its proper use and conversation is very important.
The hard drive is a physical element to which we constantly have access and which is in constant use, so it is essential that it be well taken care of if we do not want to get any kind of scare. For this, it is essential that we make good use of it. To help us with this task, there are tools that have been specially developed for this task. In general, we usually install them on our computer, but it is possible that on some occasions we need to use some of these tools in a portable way .
For this reason, today we are going to see a series of portable programs, which do not require installation on the hard disk, which allows us to transport it in any storage method such as an external hard disk or pendrive and run it on any computer . These portable programs will be of great help to us to know all the information on our disk and in other cases detect possible problems or carry out prevention tasks so that they continue to have good health.
Applications to know the health of discs
SSD-Z Portable, know everything about your SSD disk
This program is a tool that will be in charge of providing us with information about our SSD drives and other disk devices . For this it makes use of its large database and will be in charge of showing us all the available information. In this way, it is responsible for showing us both information about our SSD disk, as well as the controller, processing technology, type of NAND, etc. This application is also responsible for showing us useful and relevant information related to the hard disk, such as the SMART and the layout of the partition. We will also be able to learn details of the controller and NAND chip processing technology and verify that the TRIMis enabled for both the system and our SSD. In addition, we will be able to see the list of all partitions, including the hide, unassigned and boot partitions.
We can download SSD-Z Portable for free from the developer's website .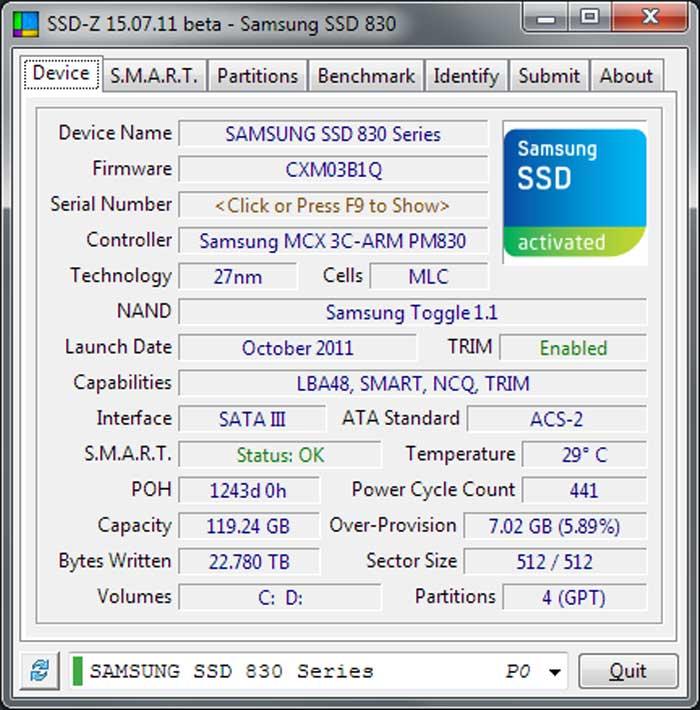 CrystalDiskInfo Portable, inform yourself and control the health of your disks
This tool is in charge of informing us at all times of the health status of our hard drive, notifying us of its temperature while they are working and informing us of their health status. In addition, it provides us with other information of interest such as its firmware, the serial number, its size or the type of interface. This application offers compatibility with USB connected drives and has support for SSD and SMART drives. All the activity on our disks is shown represented by a graph and provides us with information about how many times the unit has been turned on and how many hours it has been active during the day. Finally, we can establish safety limits so that once exceeded it warns us before the disk can begin to fail.
If we want to use CrystalDiskInfo Portable to control the health of our disks, we can download it for free from this link.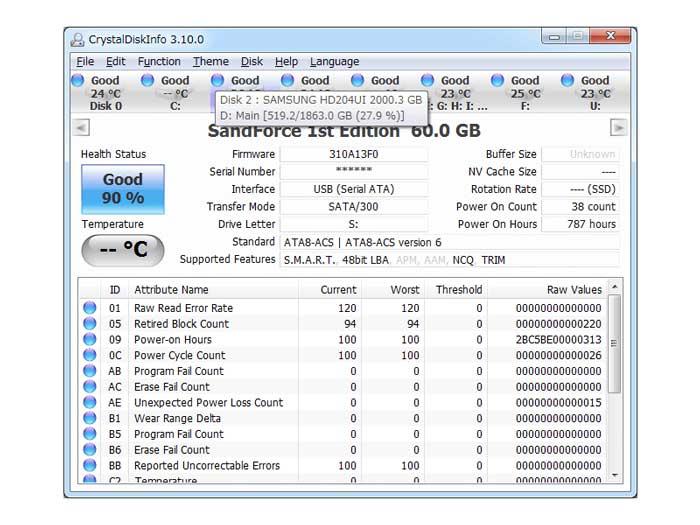 Applications to defragment and optimize disks
Wise Disk Cleaner Portable, clean and defragment your disks
This application is a hard drive cleaner, which also has a defragmenter function. With it we can clean all the junk files that we have downloaded from our browser, as well as unnecessary Windows files and defragment our hard drive . In this way we manage to keep the disk healthier and more optimized, making our PC work faster and more efficiently. Wise Disck Cleaner Portable has advanced algorithms that allow us to detect and eliminate all accumulated junk files in a matter of seconds. It also clears internet and cookie histories to help us protect our privacy. In addition, it allows you to defragment your hard drive by reorganizing files for better PC performance.
If we want to use Wise Disk Cleaner Portable to eliminate unnecessary files and optimize the use of our hard drive, we can download it for free from this link.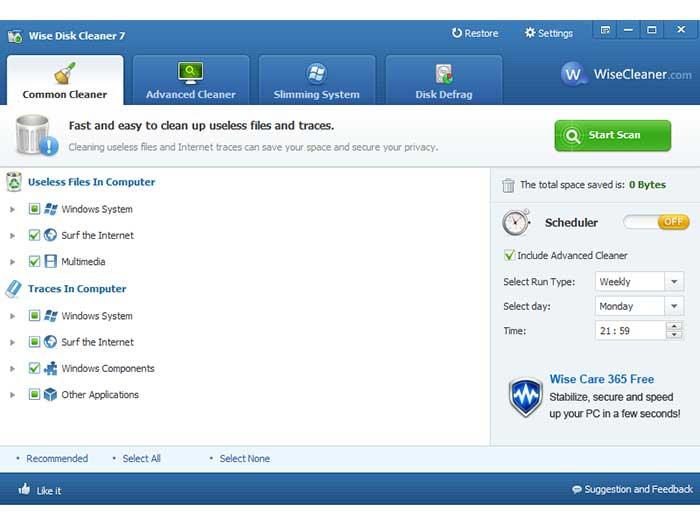 JkDegrag Portable, defragment and optimize your disks
This application has been developed to defragment and optimize the information stored on our disks, as long as we have system administrator rights. It is an automatic and easy-to-use program with several optimization options, since it is compatible with pen drives, memory cards and hard disk. It has both a version for Windows and a version on command line to be able to program on it using a task scheduler or from the administrator scripts. It also has a screen saver, a DLL library and 64-bit versions compatible with Windows.
To use JkDegrag Portable to defragment and optimize our disks, we can download it for free from here .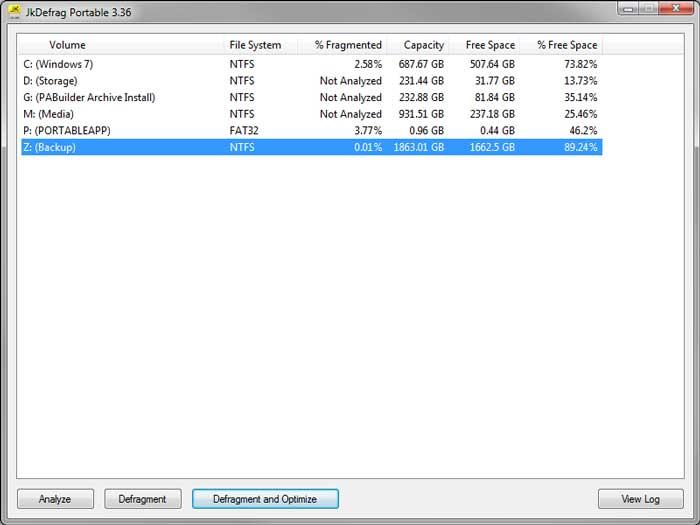 WinDirStat Portable, optimize your disk space to the maximum
This software is responsible for optimizing the storage space of our disk and increasing its processing power. It has a statistics viewer of the use of our disk and a tool with different cleaning options. It has a list of directories, a tree-like map with a graphical interface where it shows all the details such as the size of the file and the total memory that is free, as well as a list of extensions so that we can move our files as we want. Also works with network drives and UNC paths. Finally, this tool analyzes file types and extensions, showing us a detailed breakdown of all the statistics. It is a very useful application although we have to bear in mind that it will not clean or rectify the problems found within a directory on the hard disk.
WinDirStat Portable will help us optimize our discs and we can download it completely free .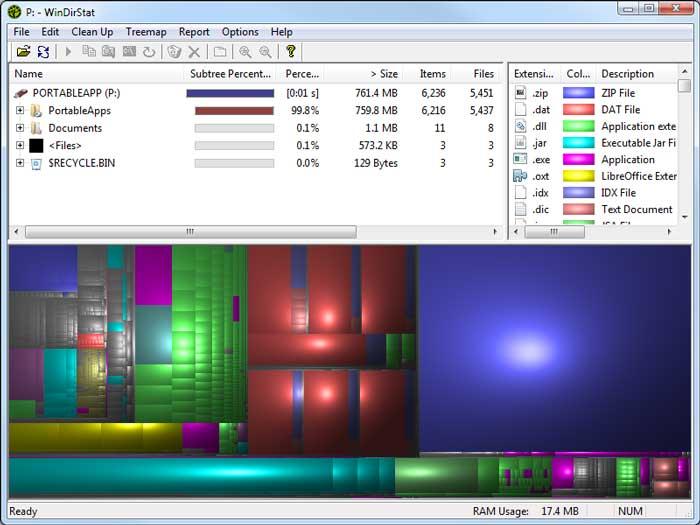 Disk Cleaner Portable, clean the disk temporary files
With this application we can easily and quickly clean our hard drive of temporary files that are located in the system folders, the browser's cache and cookies folder and the recycle bin. Although it is simple to use, it has a wide variety of add-ons that it includes, which can be used by more advanced users to clean more specific elements. In addition, this program is free of adware and spyware, and although it no longer has updates, it is still usable.
You can download Disk Cleaner Portable for free from this link.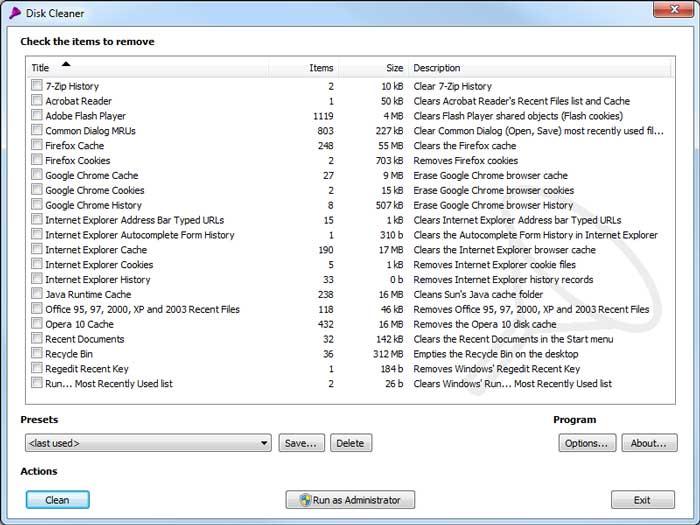 Smart Defrag Portable, defragments and streamlines the file system
We are facing a complete tool with which to defragment our disk and that for its use requires administrator privileges. It is an application specially designed for large discs, thus eliminating long waiting time. It has an intuitive interface from where you can perform all the actions. Beyond defragmenting the disk, it also streamlines your file system, since it will organize the files and directories that we use the most in the fastest area of ​​the disk, which allows our PC to work at a higher speed with greater stability.
If you want to use Smart Defrag Portable, you can download it for free .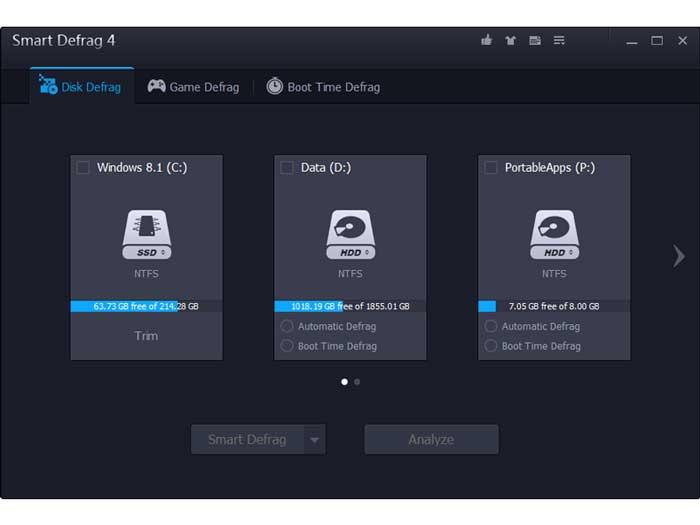 Copy and restore application
HDHacker Portable, for backup and restoration of the boot record
This program is a useful tool that is responsible for making a backup and restoring the hard disk boot record (MBR), as well as the BootSector or even any sector specified by the user, including removable disks. It is an application that can be used, for example, to save and restore a particular boot manager or before a new Windows configuration. It can also be useful as a precautionary measure, since some viruses are capable of overwriting or altering the MBR and Boot sectors, making it impossible for us to start the operating system and access our data.
HDHacker Portable is a completely free application that we can download from its official website .