software
Locked files? With tha me program you can delete them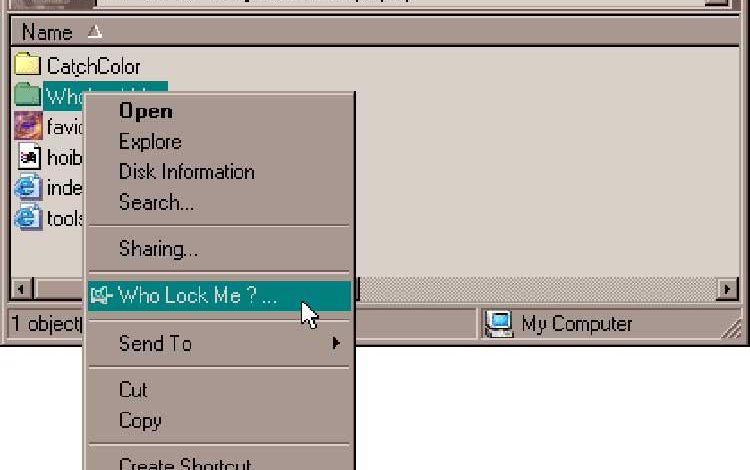 On some occasion, it is likely that we have tried to delete any file and an error message has appeared, warning us that it is not possible to carry out the operation because the file is in use. We close all the programs, we try again and there is no way to delete it, the file is locked. To solve this problem, today we are going to see a series of programs that will help us delete all types of files that have been blocked, preventing their elimination.
And it is that we must take into consideration that in these times and with the storage units with which we work on our computers, the files on a PC can be counted in hundreds of thousands, or even millions. This means that the amount of these elements is much greater than what, for example, we found only a few years ago. The files we refer to here can be both your own and belonging to an application. But in the event that we encounter a problem related to these contents, it can become serious .
An example is the case that we are going to talk about in these lines, blocking them unexpectedly. This can be turned into a multi-gigabyte file that we cannot remove. In the same way, it may be the case that we cannot eliminate a certain program installed due to this same fact. In short, disk space wasted due to a failure for which, in the beginning, we have not done anything to promote it.
Reasons why a file is locked
That we cannot delete a file because it is blocked by the system can cause us more than a headache looking for what the origin may be and how to solve it. The causes of this can be several and we can find error messages such as:
Unable to delete file: Access denied.
Check that the disk is not full or write-protected and that the file is not currently in use.
The source file or the destination file may be in use.
The file is being used by another program or user
A possible solution is to restart the computer. In this way we make sure that the memory is freed and all applications are closed and once started we can delete the file without problem. But this, on many occasions, can also be a hassle, since we must make sure that we have everything well stored and stop our work.
Programs to delete locked files
So that we do not have to resort to shutting down or restarting our computer when we cannot delete a locked file, we can choose one of the following applications, which will be of great help to us.
IObit Unlocker, unlock and manage files and folders
This application will be very useful when it comes to deleting files that we cannot delete directly from Windows because they are blocked. IObit Unlocker allows you to unlock and manage files and folders to always keep it safe and available. We will have an intuitive interface from where we can manage different directories, in addition to offering full compatibility with the Windows file explorer. Releasing the file will be as simple as dragging it into the application window.
IObit Unlocker is a free and compatible application with Compatible with Windows 10/8/7 / Vista / XP. We can download it from the developer's website.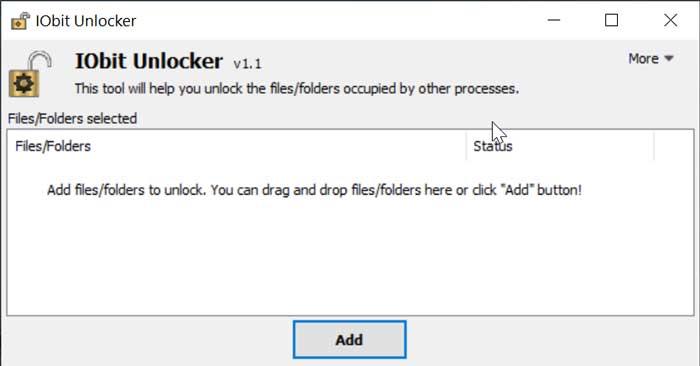 LockHunter, free and efficient file unlocker
This tool is a file unlocker that will allow us to erase all types of files that are locked, preventing their elimination by traditional methods. This application allows us to unblock, delete, copy or rename any file that is blocked, as well as directly kill the blocking process. Also, it allows eliminating hard disk blocking processes, as well as deleting files in the recycle bin, so that we can restore it if we delete them by mistake.
LockHunter is compatible with Windows 10/8/7 / Vista / 2003 / XP and has support for 32 and 64 bits. It is a free tool that we can download from its website .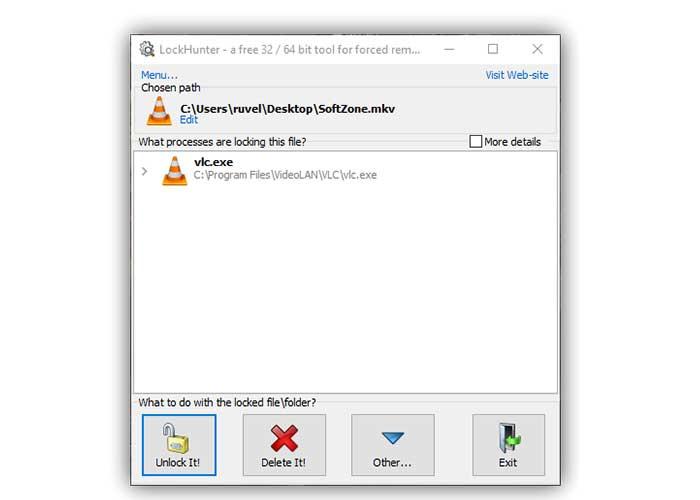 Unlocker, it manages to close any open process that locks a file
It is a tremendously simple tool with which we can unlock files that do not allow us to be eliminated in the traditional way. The application does not have more options or the possibility of configuration, its use is directed by and to solve the problems that we have with any blocked file. With Unlocker we will be able to close any process that could block the file or unlink it so that its elimination is possible.
Unlocker is compatible with Windows 2000 / XP / 2003 / Vista / 7 / 10. It can be downloaded for free from its official website.

Wise Force Deleter, allows you to delete locked files
This application will help us to erase all those files that may have been blocked by the system, even if they are not open, something that can be very annoying. Deleting the file will be as easy as simply selecting it from the application interface. Wise Force Deleter is designed to remove any type of impediment that Windows has locked a file. It has an intuitive and easy-to-use interface so that we have no problem using it.
Wise Force Deleter is an application compatible with Windows and that we can download for free .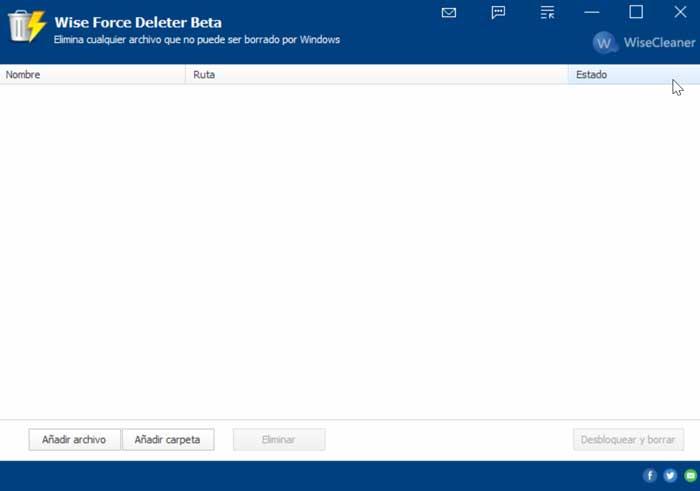 Free File Unlocker, unlock used files or folders
With Free File Unlocker we can eliminate all types of files that are currently used, blocked, occupied or undetectable. With this tool we can unlock used files or folders so that an error message stops appearing every time we try to rename, move or delete them. It can also be used to remove malware that is difficult to remove, as well as viruses and Trojans. It is fully integrated with Windows File Explorer, so with a simple right-click it will allow us to unlock any file or folder.
Free File Unlocker is compatible with Windows 10, 8.1, 8, 7, Vista, 2003 and XP, both with 32 and 64-bit versions. You can download it for free from their website.
FileASSASSIN, ends any process to delete locked files
This application allows us to eliminate any type of file that is blocked on our computer for various internal reasons or because of a virus or malware. Through its advanced programming techniques FileASSASSIN will be in charge of downloading the module, closing remote handles and ending any process to eliminate each of the locked files. It does not need installation, we will only need to put the path where the locked file is located and choose one of the three safe removal methods.
FileASSASSIN is a free application for home users and compatible with Windows. We can download it from the developer's website .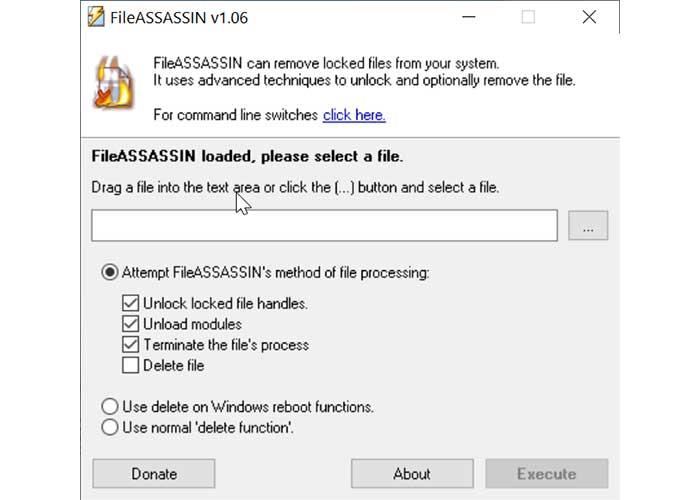 ThisIsMyFile, kills the process that is responsible for locking files
This powerful tool is a blocked file remover, which will also allow us to know in advance which process is the one that is blocked. It has several methods to delete files, depending on the degree of blockage in which it is found. In this way we can kill the process that blocks it and delete the file or restart the computer to block and delete it. The process is so simple that we will only have to drag and drop the file in the main menu of the application.
ThisIsMyFile is a free application that is compatible with Windows 10, 8.1, 7, Windows Server 2000, 2008, 2016 and Windows XP, both 32-bit and 64-bit. We can download it from its official page .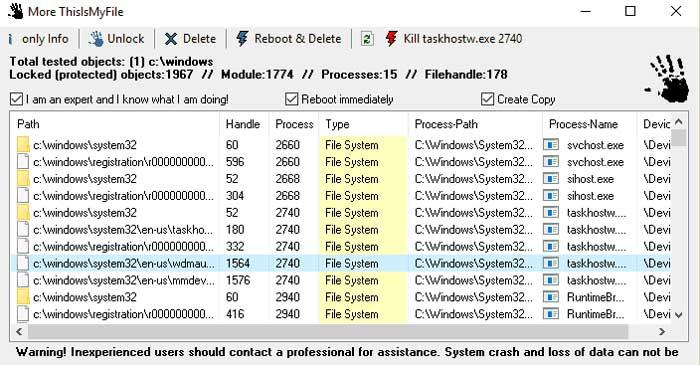 DeadLock, unlock any file with the push of a button
This program will allow us to unlock all types of files and folders, taking position of these files to be able to move, copy or delete them quickly. It allows you to perform various actions such as unlocking the file to continue using it or deleting it permanently . The application is integrated into the Windows context menu, so that unlocking or deleting a file will be as easy as clicking on it with the right mouse button and selecting this application.
DeadLock is a free application that we can download directly from its website .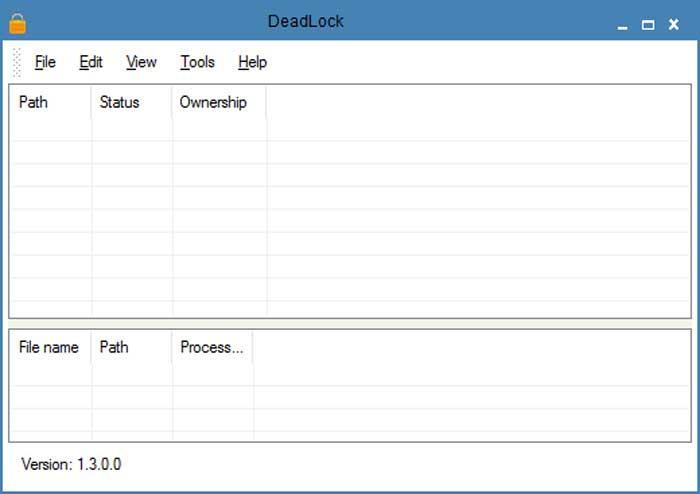 Delete Doctor, delete all kinds of locked files
This application has been developed to eliminate all types of files blocked by the system or by viruses or that are corrupt. It is also capable of deleting index.dat files, in which Internet history is stored, scheduling them for deletion when we restart the system. Unlocking and deleting a file will be as easy as dragging it to your main menu or from Windows Explorer by right-clicking on it.
Delete Doctor is a free application compatible with all versions of Windows that we can download from the developer's website .

WhoLockMe, unlock any file from the context menu
We are facing a very simple extension that is installed within the context menu of Windows 10and through which we can use to reveal any process that is blocking the item that we want to remove or move to another location. In this way, we can verify the processes that are blocking a specific file avoiding the elimination of its current position. In addition to listing the lockers, the application also takes care of providing the means to release the file. In the list of elements that may be responsible for blocking a file, even after closing it, there are several details that can help us identify which program it belongs to. It has a panel that shows us the full path of the open file as well as the location of the blocking process. Its main drawback is that it has a rather dated appearance, although it is still just as useful.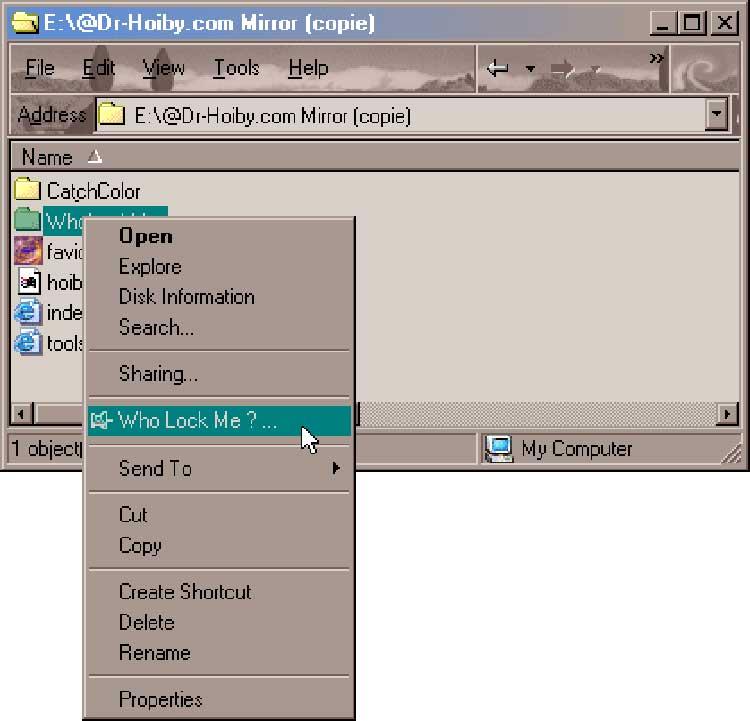 WhoLockMe is a completely free application that we can download from this link .