software
Learn about windows performance with experienceidexok

When we acquire a computer, we do so thinking that it has the necessary power to satisfy our needs, whether to run programs for work or even games. For this, Windows had up to version 7 with an indicator that shows us that our equipment can also work, it is what is called Windows Experience Evaluation, but that it eliminated from the interface of Windows 8.1 and 10. This is something that we can recover thanks to a simple application like ExperienceIndexOK, about which we are going to talk to you next.
Microsoft introduced the Windows Experience Evaluation in Windows Vista to compare the performance of our PC and based on it calculate a score. This function is still part of the most recent versions of Windows, but Microsoft removed the interface that shows us its scores.
What is and what is the Windows Experience Assessment for?
By using the Windows Experience Evaluation we can know the score that the operating system gives to the components based on the performance they can offer, informing us how well our equipment can work when executing applications and games. For this, it gives a score from 1 to 9.9 for components such as the CPU, RAM, internal storage, video card, graphics, giving us a final score. A higher performance index generally means that our PC is faster, responds to requests, performs better, and runs applications faster.
As we have already mentioned, Microsoft decided to remove the interface of this application from Windows 10, although it is possible to run it from PowerShell or Command Prompt. Another option is to use ExperienceIndexOK.
ExperienceIndexOK help us to know the performance of our PC
This completely free application is aimed especially at Windows 8.1 and Windows 10 users and its interface is inspired by the version of Windows 7, the latest desktop version of Microsoft's operating system to have the desktop version of the Evaluation of Experience. With this application we will be able to know by means of a score the performance that Windows gives to our team.
The main features that we can find in this program are:
Show performance evaluation immediately.
The value can be calculated at any time.
Compatible with Windows 7 and Windows Vista.
It requires a low consumption by the CPU.
Category testing tools for Windows
Portable, free and multilanguage.
Once we run the program, a window appears with the scores our team has obtained. It is broken down by Processor, Memory (RAM), Graphics, Graphics (Games) and First Hard Drive. We can rerun the assessment at any time and use the link at the bottom right, Run the assessment.

In this way, the program is in charge of executing a command line interface that is in charge of executing the necessary commands. Once the window is finished it closes, but it is possible that the scores are not displayed completely, so we must restart or reload the program to show them. The information provided can be of help to us if we consider updating the system, being able to know where the weakest components of our equipment are located.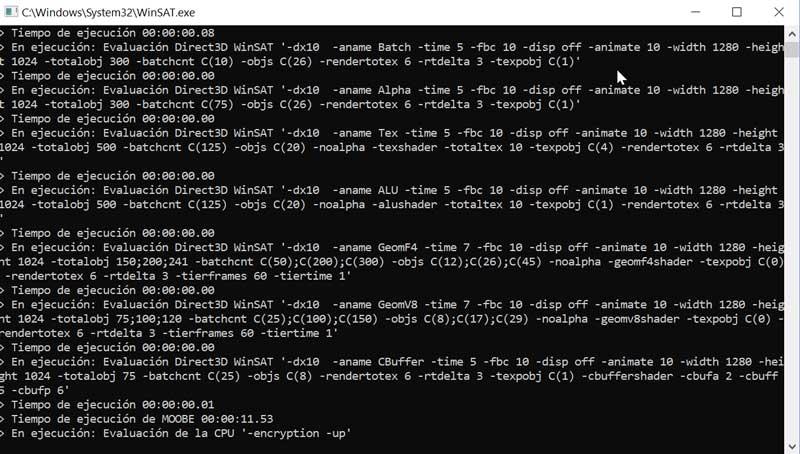 Additionally, the program incorporates a couple of extra utilities that can be helpful. It is possible to take a screenshot of our scores from the ExperienceIndexOK tab. While, in the System tab, we can run from the program's own interface some system-specific tools such as the "Task Manager", "Device Optimizer" or quickly access the "Control Panel".

Conclusions
ExperienceIndexOK is a very simple and easy-to-use application that will allow us to check the Windows Experience Evaluation on our computer. It is useful, mainly, if we have Windows 8.1 or Windows 10, that these versions of the Microsoft operating system no longer have access to the Experience Evaluation from the interface itself. It also has direct access to different system applications, although this is not something particularly remarkable.
If we want to know what are the weak points of our computer according to Windows, it is a good way to find out. In addition, as it is a portable and free application that we can use and delete when we no longer need it.
Free Download ExperienceIndexOK
ExperienceIndexOK es un programa completamente gratuito que podemos descargar desde la página web del desarrollador. Es compatible con Windows Vista, Windows 7, Windows 8 y Windows 10. Se trata de una herramienta portable por lo que no necesita de instalación en nuestro disco duro y no modifica el registro de Windows. Puede ser ejecutando de una unidad de almacenamiento externo como un pendrive, una tarjeta de memoria o un disco duro. Tan sólo será necesario ejecutar el archivo .exe que encontraremos dentro de la carpeta zip que descarguemos.
La última versión disponible por parte de la aplicación es la 3.66 que corresponde con el 11 de abril de 2021, lo cual demuestra que cuenta con un gran soporte y política de actualizaciones por parte de sus desarrolladores.
Alternativas a ExperienceIndexOK
En caso de que queramos conocer el rendimiento de nuestro equipo, os proponemos algunas alternativas a ExperienceIndexOK para conocerla.
Símbolo del sistema y PowerShell
Windows nos ofrece la posibilidad de ejecutarlo desde la aplicación del Símbolo del sistema, el cual debemos ejecutar como Administrador. Una vez abierto escribimos «winsat formal» y pulsamos «enter» para ejecutar las pruebas de rendimiento. Una vez terminado abrimos PowerShell, escribimos «get-CimInstance Win32_WinSat» y pulsamos «enter», para comprobar los resultados de las pruebas de rendimiento que hemos realizado previamente.
Winaero WEI Tool
Esta aplicación se encarga de conocer que nota concede Windows a nuestro ordenador. No solo nos ofrece una nota total, sino que también puntúa a cada componente por separado con una nota. Con todas ella, el programa se encarga de realizar y obtener una nota media con la que calificar a nuestro PC. Lo podemos descargar gratis desde este enlace.
3DMark
Se trata de un programa para realizar benchmarks tanto para tarjetas gráficas como procesadores. Para ello pone en juego en el rendimiento de CPU y GPU con gráficos en 3D y físicas de más de 15 pruebas. En estas puntuaciones nos arroja información acerca de la puntuación adimensional que obtenemos en la CPU y GPU de manera independiente. Si queremos usar 3DMark, lo podemos descargar desde Steam su versión Basic Edition que es completamente gratuita. Si queremos optar por las opciones más avanzadas será necesario pasar por caja.