software
Know everything about your computer hardware with mypc pro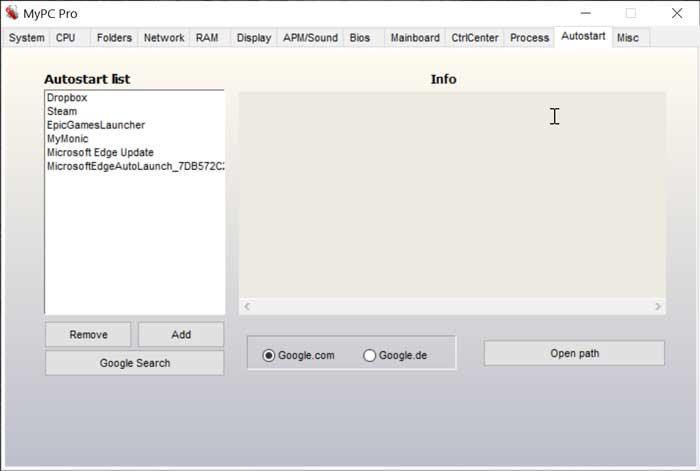 If we have recently bought a new computer or our PC is a good number of years old, it is possible that we no longer remember the hardware that it incorporates. On occasion we may need to obtain information about our system, CPU, network, memory, BIOS and other data. In this case we can use a very useful tool called MyPC Pro, which we will talk about below.
MyPC Pro is a professional program developed to provide us with basic information about the hardware that our computer incorporates. If we have doubts about the components that make up our PC, this tool will give us all the information about the CPU, folders, memory, screen, BIOS, etc. It also incorporates a Control Center very similar to the well-known Windows Control Panel, from where we can access all the data we need.
In addition to viewing data with MyPC Pro we can perform tasks through its Control Center some efficient tasks such as safely deleting files, creating a system restore point, repairing Windows Update, making Windows Explorer our ftp client, etc. .
It also incorporates a screen capture tool, both in full size and by area, so we will not need another program to do the job. There is no lack of a powerful cleaner, with which we can eliminate all those obsolete and redundant files that unnecessarily occupy space in our system, as well as a tool with which we can extract icons embedded in any EXE or DLL file.
All the information on our PC in an accessible way
Once we start the application, its main menu appears. It has a clean and simple interface, offering quick access to a set of functions well organized by tabs at the top. Thanks to its intuitive design, it is suitable for all types of users, regardless of their level of experience. Although it must be indicated that it is entirely in English, which can be a problem for some users.
In the "System" tab, we will find complete information about our system such as the name of the operating system, name and ID of the product, version and owner. Storage systems also appear, allowing us to access them through "Open drive" or view their properties through "Properties". In the "CPU" tab we will find information about the manufacturer, processor ID, cache, etc. While in the "Folders" tab we can see the location of the path to access different parameters such as, for example, Home, System, Favorite, History, Desktop, among others.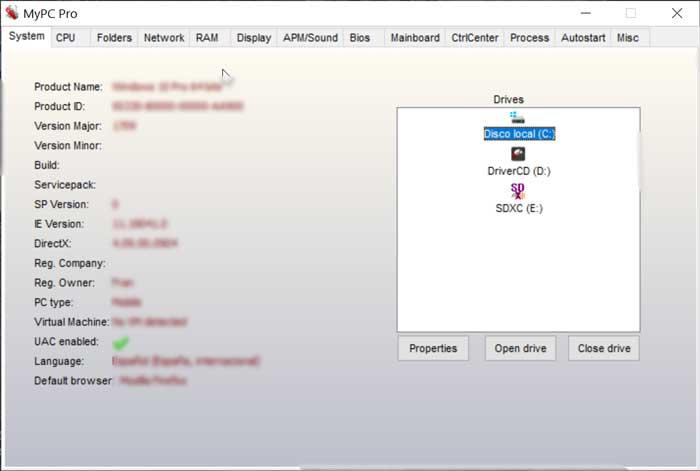 In the "Network" section we can find information about our network, such as domain name, IP address, name of the local computer, workgroup and username. It also allows you to create an FTP client by entering the server, username and password. If we click on the «RAM» tab we can see all the information related to memory, such as, for example, physical memory or virtual memory, both total and free.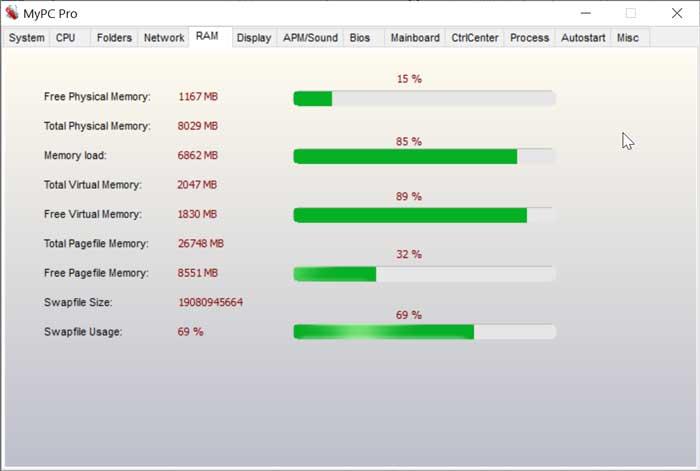 By clicking on the «Display» section, we can see data related to the screen such as its resolution, DPI, colors, refresh rate and the version of the graphic controller. While in the "APM / Sound" tab, we can see the status of the battery (in case we have a laptop) and data about the sound .
Know all the details of the BIOS and access system tools
Another very interesting option is found in the "BIOS" tab, as it allows us to see data about the BIOS such as the manufacturer, name, serial number, date, version and status. In the «Mainboard» tab we can see the information available about the Motherboard . Here we detail the product, version and model among other details. We can also see information regarding RAM such as its nominal speed, module and type of memory.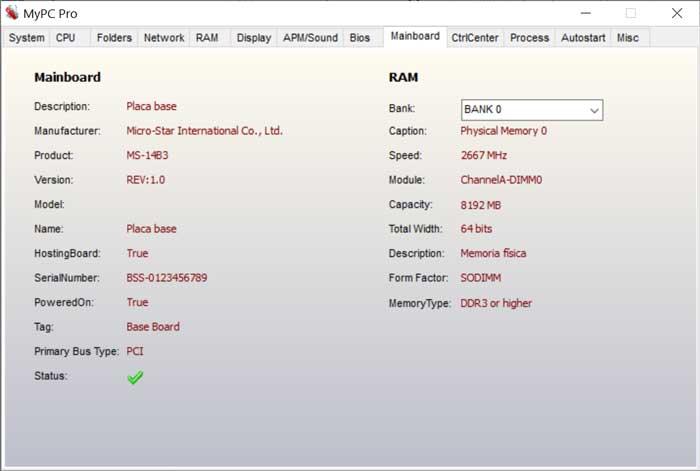 If we select the "CtrlCenter" tab, we can access different system tools such as the Control Panel, Date and time, Printers, firewall, etc. This can be useful if we do not know how to get to the path of each tool through Windows, since here we find them all together. In the "Process" tab we can see all those processes that are currently running on our computer, eliminate those that we select and verify the details of each process (name, version, description, copyright …)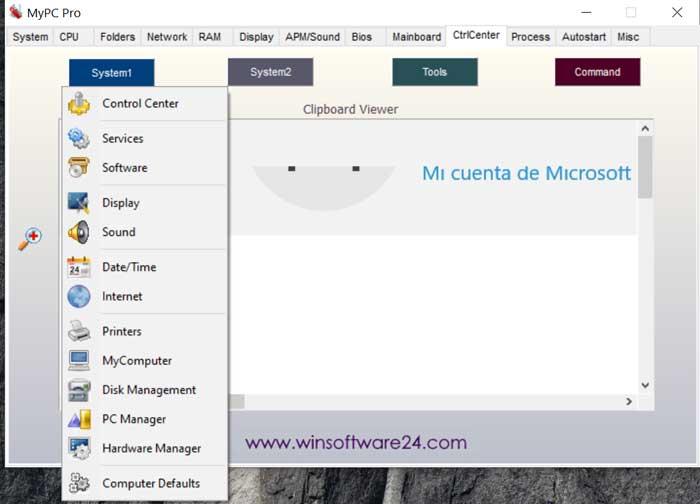 Other functions that we can perform with MyPC Pro is to erase the contents of the clipboard, empty the recycle bin, search for files and folders using filters, turn off or restart the PC, edit the registry and use the integrated cleaner to eliminate obsolete elements.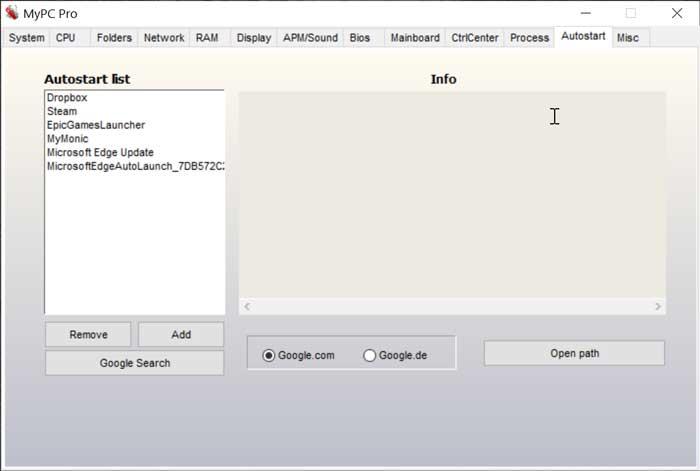 Download MyPC Pro for free
MyPC Pro is a program that has a Freeware license so it is completely free, and we can download it directly from the developer's website . We downloaded a .zip file that is barely 4 MB in size. Once unzipped we will have access to the installer. Installation is done quickly through its wizard without trying to sneak in additional unwanted programs. It also does not include viruses or malware, so its installation is safe.
Additionally, it has support and a license for companies . In this way, during an annual contract period, it offers email support (up to 5 users), updates and improvements and a version of the program compatible with 64-bit systems. Its price is 24.90 euros, allowing you to use the software without time restriction.
System Requirements
Operating system: Windows 7/8/10 (you can also use with previous versions, but without warranty).
Processor: Pentium IV or higher.
1GB of RAM (2GB recommended).
Free hard disk space: 200 MB or more.
Alternatives to MyPC Pro
If we are looking for a program with which to know all the information about our computer, we propose a couple of alternatives to MyPC Pro.
CPU-Z
This free software allows us to obtain information about the components of our computer. We will know details of the CPU, RAM or graphics card, providing us with information beyond the name and model, such as relevant technical details and about its operation in real time. In addition, it has a portable version, so it does not need to be installed and can be run directly on any computer from a pendrive. You can download CPU-Z from this link .
Speccy
With this program we can obtain detailed information about all the hardware of our computer. It has different sections for each hardware component where it provides detailed data on both its detailed technical characteristics and its operation in real time. In addition, it has information about peripherals and details about the network. We can download Speccy from its website .