software
Keep visible and pin a window in the foreground with window on top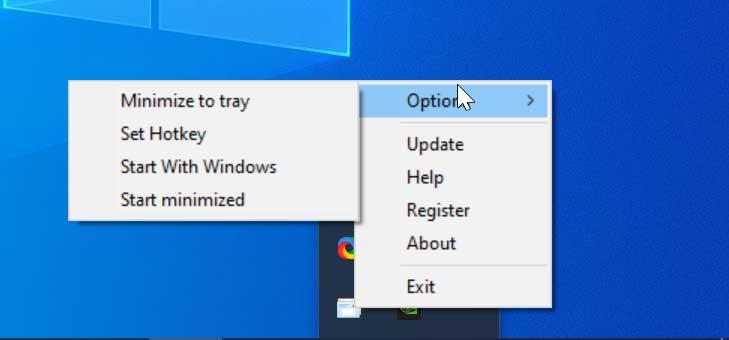 When working with our computer with several windows at the same time, it can cause chaos and disorder that can end up unhinged. Keeping a window open above the others permanently and permanently is something that can speed up our work, since it allows us to keep in sight what is really important. This is something that we cannot do natively with Windows, so we can use third-party applications such as Window On Top, which we are going to talk about.
Although Windows is the most used operating system in the world, it does not mean that it is perfect, and that is that Microsoft's operating system has enough limitations that it does not allow us to carry out a series of actions, no matter how simple they may seem to us. . Proof of this is that it does not incorporate any function that makes it possible to set any window in the foreground, so that it is fixed and always visible in the foreground.
When organizing our work with the computer, it can be vitally important to be able to keep a window fixed so that it is not hidden behind other applications. This implies that we will have to be maximizing and minimizing several windows to be able to find the necessary information, with the consequent disorder that we end up causing on our desktop.
Window On Top is a small application that has been developed so that we can mark any window or folder that we have open on our desktop to keep it fixed and always visible in the foreground on our screen. In this way, it ensures that we have all the relevant information on the screen without the need to constantly minimize and maximize the window since there will be no other element that hides it.
Fix windows easily with Window On Top
Once we run the application, a small window appears whose interface is completely simple, although it is in English it is tremendously intuitive since we hardly have functions beyond setting a window. In the interface, the presence of a hand-shaped icon stands out .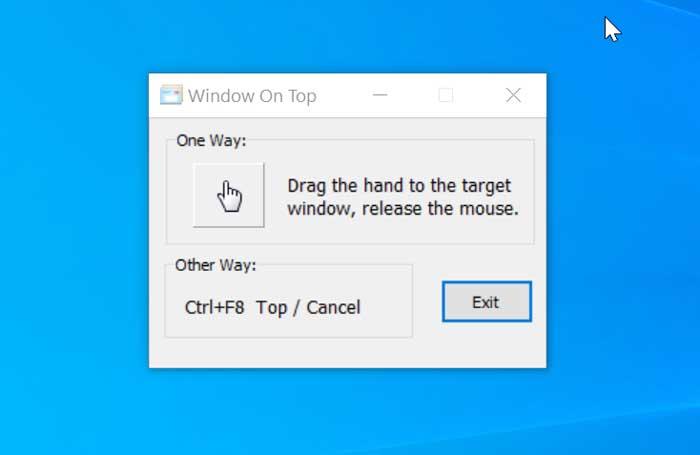 This icon will help us to drag it to the window that we want to keep fixed in the foreground. We also have another way to keep a window fixed, and that is by using the keyboard shortcut Control + F8 . Therefore, if we press it while viewing a window, we can set it to the foreground or deactivate the function.
Drag and drop to hold a window
If we have the Microsoft Edge browser and the Calculator application open, by default one will always be above the other depending on which one we are using. So if we want to always keep the calculator in the foreground while we type or navigate Edge, we will use Window On Top. To do this, we will only have to drag the icon of the calculator hand. In this simple way, the application will always remain fixed on the screen. Once we no longer need the application to be in the foreground, it will be enough to drag the icon of the hand towards it again. As we have commented, it is also possible to perform this function using the keyboard shortcut. We just have to keep the calculator application active and press Control + F8 to fix it. If we press this key combination again, we will deactivate the function.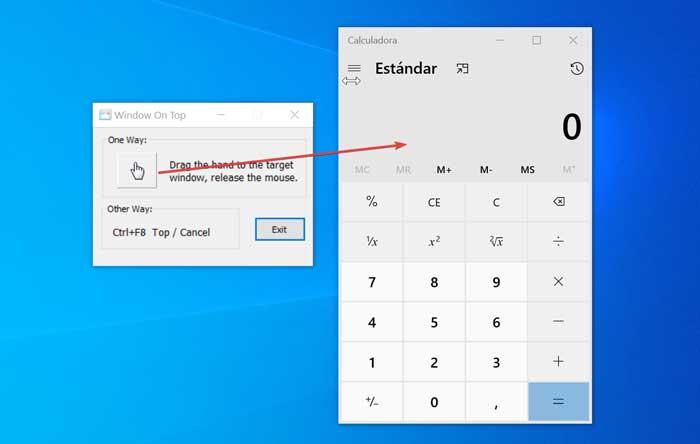 Window On Top stays hosted on the taskbar. If we click on its icon with the right mouse button, a small list opens up where the "Options" section stands out. Here we will find four settings that we can activate or deactivate to our liking. We can always keep the tray minimized (Minimize to tray), configure the direct access keys (Set Hotkey), activate so that the application starts at the same time as Windows (Start With Windows) and always start minimized (Start Minimize). The rest of the actions that we can perform from this menu is to register the product, access the help file or search for updates.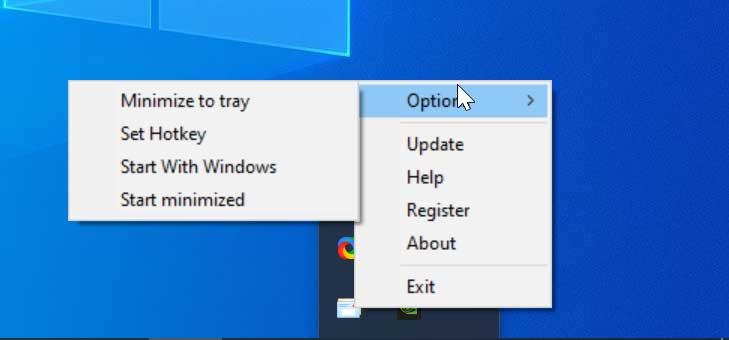 Conclusions
As we can see, Window On Top is a tremendously simple application with a clear and unique objective: to keep any application fixed in the foreground. It does not include additional additional functions or anything that makes us divert our attention from its main mission, which it fulfills in an efficient and simple way, so it can be used by all types of users without complications of any kind.
Download Window On Top
If we want to try Window On Top, we can download a free trial version for 7 days from its website . Once tested, if it convinces us and it is useful, we can buy its license to use it permanently by paying $ 9.95 . It currently has a new version 3.8, which is only 632 kb in size and is compatible with Windows XP, Vista, 7, 8 and 10 . Being a very light application, it hardly consumes resources from our system. Installation is done quickly through its wizard, without trying to get us to install unwanted third-party programs.
Alternatives to Window On Top
If we are looking for a program that allows us to keep a window fixed, we propose some alternatives to Window On Top that we can take into account:
Window TopMost Control
This s encilla application will allow us to keep any window of an application in Windows fixed in the foreground, staying above all the others so that it is always visible. This software can be customized to adapt it to our needs, being able to establish a fixed window at the top or establish a list of fixed windows. We can download Window TopMost Control for free from the developer's website .
Pip Tool
It is a tool that has a very simple and minimalist interface, which will allow us to bring to the fore and fix any window that we are using in Windows. We must create a selection box to define the exact area on which a window will be created to remain above the others. It is a free application that we can download from this link .
PinWin
Another simple open source application that allows us to set windows in the foreground. We just have to select the desired window or select it from its list and place a check next to it. It also has a keyboard shortcut to select the window to set. We can download PinWin for free from here .