software
How to update windows 10 for free to the latest version available? Step by step guide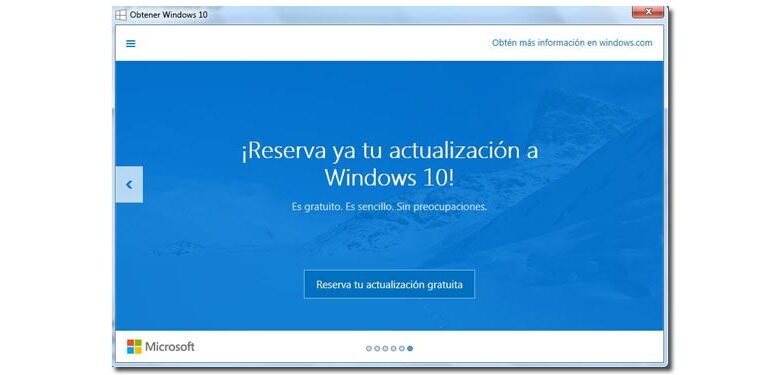 With the arrival of the Windows 10 operating system 

to the market, Microsoft has remodeled its creations providing a more efficient solution for all its users. It has introduced a series of applications designed to run on all brand devices, including tablets, smartphones, personal computers, Xbox One … But can all users upgrade to Windows 10? In the following paragraphs we will try to answer this question.
Speaking a bit about the changes with respect to Windows 8, the user interface has been modified to go from being oriented to the use of the mouse to be able to use the touch screen. New functionalities are added such as the "Task View ", the "Virtual Desktop ", new applications, support for logging in by fingerprint or facial recognition with the "Windows Hello " application. Users are generally very happy, as it has been possible to discern between the types of devices and some of the full screen options of Windows 8, now they only affect mobile devices and tablets.
"Microsoft Store " appears 

which is responsible for selecting the most appropriate tool for the type of device on which you are going to install the application, an option that stands out for its high customization towards the user. Criticisms of Windows 10 today have been few and a large percentage of them are oriented to the update system. This is due to the fact that the system is updated automatically, classifying the different updates by degrees.
Upgrade to Windows 10 from Windows 7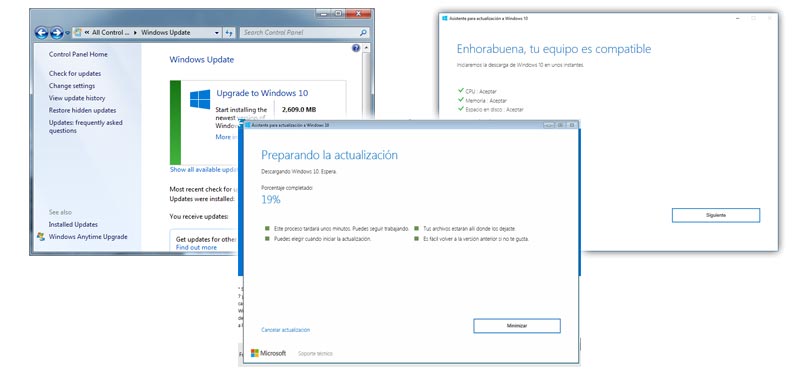 In this way, it does not allow the user to select when they want to carry out this type of operation . In 2015 there was the fact that Microsoft released an update that caused problems in the registry and many of the users had to go to technical service to fix the problem. Only in the "Pro " and "Enterprise " versions the user can decide to postpone the updates released by Microsoft. There is also a complaint regarding the advertising that appears in some basic folders of the operating system. All this and more we are going to give you a solution, keep reading!
If you are one of the users of Windows 7 in the original version, you should know that Microsoft has developed a good market strategy, giving the user the possibility of accessing Windows 10 for free . Although this promotion is expired, I am going to give you a few steps to be able to update to this version at no cost and in a completely legal way.
We are going to follow the following steps:
You must download Windows 10 From the download links that we provide, they are 100% safe .
Click on the "Download the tool now " button . This step will cause you to download the MediaCreationTool.exe file .
Now, double click on the file to run it. It will ask you to accept the license .
Next, Windows asks you "What do you want to do? "; you have to choose the option "Update this device now ".
Click on the "Next " button . You will see that the update begins to download. On that screen you will see the update percentage that remains to be downloaded.
Once the necessary content has been downloaded, the application will guide you through different screens where you will indicate the files you want to keep and other information about the operating system.
You will arrive at a final window where it will notify you that the installation is going to begin. To finish, you must click on the "Install " button .
When this is finished you will already be the owner of a Windows 10 license  for your computer and, in addition, in its latest version completely updated.
Upgrade to Windows 10 from Windows 8.1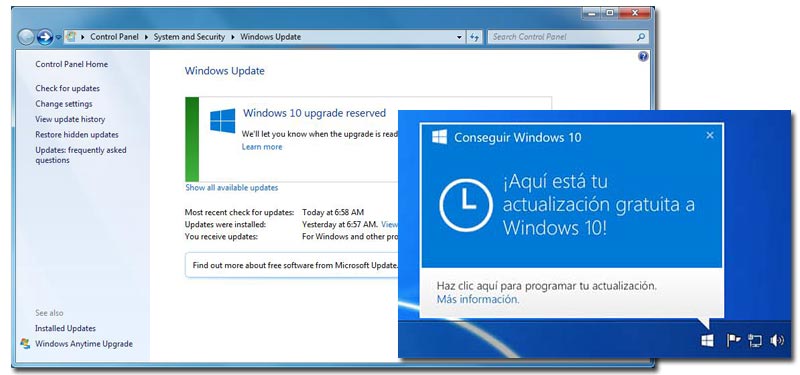 If you are a Windows 8.1 user , you should know that Microsoft has enabled an option so that you can update your operating system to Windows 10

 without having to spend a single penny. Before following the steps that I will show you below, you should review some data.
Your operating system must have the latest updates for Windows 8.1.
Make a backup copy of your data and system files, as well as keep any software keys or licenses safely.
Check that the system drivers and BIOS are in the latest version available.
Make sure your computer is connected to the Internet through an Ethernet connection.
Try to have the applications in their latest version.
Now that you have your system ready, you can follow the steps below to update your operating system to Windows 10 

free of charge :
Open the "control panel " and go to the "Windows Update " section.
Click on "Check for updates ".
The message "Upgrade to Windows 10 " will appear.
Click on the "Start " button .
The files will begin to download and, after that, a message will appear asking to accept the license agreement.
Select "Start update now " or "Schedule for later ". The second option allows you to set the time or schedule at the time of the update.
After completing this process, the system will restart and the update will begin.
After this point, you have to access "Settings ", look for the option "Update and security " and click on "Windows Update ". This is where you need to install and update all the drivers.
* Note: It is possible that during the update your device will restart several times, do not worry it is totally normal, be patient.
Upgrade to Windows 10 Creators Update with the new upgrade wizard

On April 11, 2017, the new update for the Windows 10 operating system appeared

, although it had already been launched a long time before so that all users who were willing to try it could do so prior to its official launch. The ISO images in Spanish appear on Microsoft's official website to download the Windows 10 Creators Update program or you can also obtain it by clicking on the links below . Any user who has this OS can download and use them.
In order to do this update safely we have to follow the steps detailed below:
First of all, you have to download the update wizard from the website indicated above or from the link that we offer you, it is 100% reliable. As soon as we have the download file, we must execute it .
A window will open that will indicate the version of our operating system and the version to which we are going to update. In this case, we are interested in installing version 15063 or later.
A new information box appears on the screen where you must click on the "Update now " button.
The assistant will do a recognition test to check if our system is compatible with this new version. If there is no problem, we will see a window that confirms it; our team is compatible.
Now click on the "Next " option . The update file download will begin. This process will take a while to complete. Do not despair.
Once downloaded, the update installation will begin automatically . We continue to wait.
On the screen we will be able to observe the updated percentage and different messages in relation to it.
When it is finished ( we will see the complete percentage at 100% ), click on the "Next " button again .
The wizard will show us a screen that indicates that the update is ready .
It will ask us to restart the computer and gives us a period of half an hour to do so. In the event that we do not do it automatically, he will do it himself to finish installing Windows 10 Creator Update . The recommendation is that to end the process, click on the "Restart now " button. Otherwise, it may be that we forget and the restart will cut us off some work that we are doing.
The wizard takes some time to complete the installation since it is not exactly lightweight. During that period of time we will not be able to work with the team . On the other hand, it must also be indicated that the computer is going to restart several times throughout the process. This is not an error; it is part of the process.
Now we must complete the new Windows 10 Creators Update setup wizard . This is very simple, since the assistant will ask you questions about the time, language and some parameters that you must indicate . You must select what is most appropriate to your case and click on the "Next " button.
You can also move between the options you want to fill in, by clicking on each of the sections found on the left side of the screen, as a menu. When you fill in everything, click on "Finish " to finish the process. From this moment you are updated to the new version and you can start using your Windows 10 Creators !.
Do you know the latest Windows 10 update? Fall Creators Update on PC
In this latest update, Microsoft shows that it does not stop evolving for many years to come. Hence, productivity has been greatly improved with experiences and connections close to the needs of each user and device. This update can be done automatically or with an update wizard.
Its installation is very simple, since you only have to access the Microsoft website or even easier, follow the download and installation links that we provide, they are completely safe and free of malware and spam. With them you will be able to access the new version of Windows with all its new security, performance or design functionalities. In addition, from here, you can check which version of Windows 10 you have at the moment.
Download and install Windows 10 for free (ISO)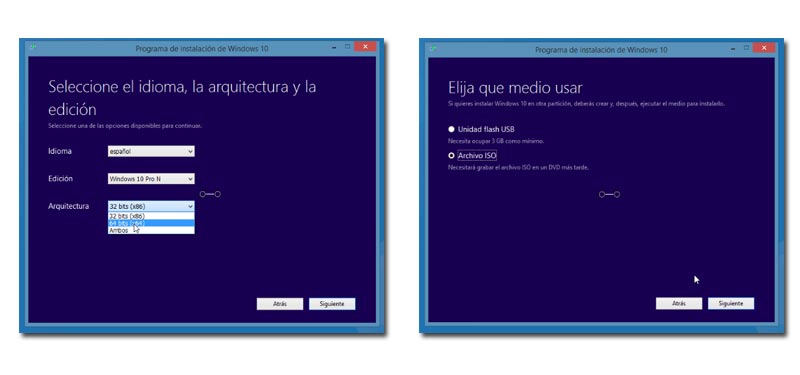 Although Microsoft's operating system is pre-installed on many devices, you may need to have a Windows installation disc (ISO) with which to reinstall or recover your system. If you want to know more about this, keep reading.
On Windows 10 

This process is very simple, we follow the steps to do it correctly:
First, you must access the Microsoft download website . You can do it from the links that we provide.
Then you have to click on "Download the tool now ". In that option the Windows media creator will appear and the option "Create an installation media for another computer " must be selected .
Click on the "Next " button . Uncheck the "Use recommended options for this computer " box.
Now choose the language, the version of Windows and the architecture of the computer (32-bit or 64-bit) and click on the "Next " button again .
Now mark the "ISO file " option and click on the "Next " button again .
Choose the location where you are going to save this file, remember the download folder as you will need it.
From this moment on, the necessary files will begin to be downloaded .
Once they are all downloaded , the ISO image will be created in the location previously indicated. This can be run and installed when you need it . Clever!
FAQ: Frequently asked questions about upgrading to Windows 10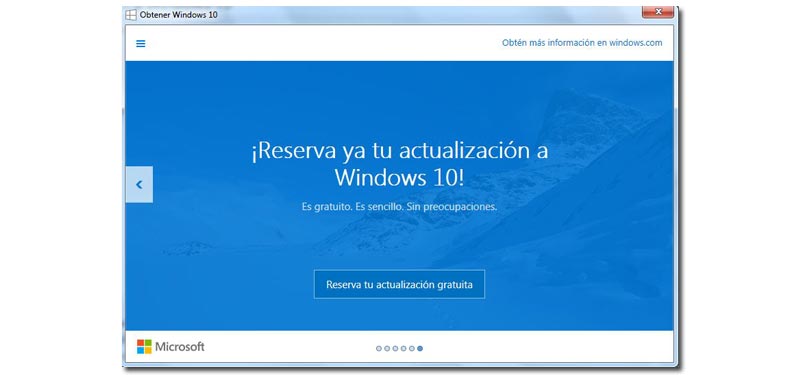 Below you can find some questions, doubts or problems that may arise if you need to update Windows 10 

to the newest version on your computer or PC.
How do you get Microsoft Windows 10?
The Windows 10 operating system in its most modern version is now on sale in the full version for PC as well as for other devices. You can also obtain it if you have an official Windows 7 or 8 license in the previous steps that we have provided.
Is the free upgrade offer still valid?
This offer was officially active until July 29, 2016, although following the steps in the systems of point 1 and 2 it can still be achieved.
Can I still take advantage of the free offer by downloading it from a USB, even if I haven't used it yet?
In principle no, although in some computers it has been achieved.
Is the Media Creation Tool still available to download Windows 10?
It is highly recommended to try it . It may be that you are doing it for the first time and nobody has a physical support with the same serial that you have; in this case you can get it. It could also be the case that if you have previously installed Windows 10 on your computer, you already have a digital key and do not need to activate another.
Will Windows 10 work with assistive technologies on my device?
This offer was active until December 31, 2017 . However, Microsoft does not indicate that it is impossible, but that they do not compromise; it is a matter of testing.
How long will it take to update my device?
The total time it takes to update depends on the power of the computer and how it is configured. In most cases it takes a maximum of an hour to do so, although there may always be a device that changes the norm.
How to free up space for an update?
If you don't have enough space on your hard drive, you should remove files or applications that you no longer use. You can also use the "Windows Disk Cleanup ". During the update you may also be asked to uninstall applications that may cause compatibility issues when updating or using Windows 10.
Can I change the language when I update?
It is best to update to your language and then add a new language:
This is done from: Language → Settings → Time and Language → Region and Language → Add a language .
Can I go back to my old operating system? (the one I had before the update)
You can do it from the "Settings " menu ; either from the "Update and security " option or from external options provided by the device manufacturer itself.