software
How to reset iphone 7 and reset the phone to factory settings? Step by step guide

Many times the possibility of doing a hard reset or restarting the phone with factory settings has crossed our minds, but for fear of not doing it correctly and for not knowing the consequences, we have ended up abandoning the idea.
This process to return to the initial values ​​is not complex at all, but you have to know that a reset to factory settings makes the phone look like the first time it was taken out of the box, so it is very important that the first step is to make a backup to be able to preserve everything you do not want to lose such as photos, videos, music, contacts and information on your phone.
So now you will no longer have excuses not to restart your phone because we will show you the steps to follow to reset the iPhone 7 with factory settings, to forget about those continuous problems of unexpected reboots, late keyboard responses, problems connectivity with WiFi or Bluetooth, performance problems, or simply because you are going to give or sell your cell phone to someone else and you don't want them to have access to all the data.
Steps to restart your iPhone 7 and iPhone 7 Plus and return to the initial values ​​even if it is locked
Apple offers its users a wide variety of methods to perform a complete reset of their iPhone 7 mobile. All of them are very easy to apply and it will not take you more than a few minutes to do so. Next we show you what each one is.
From iPhone 7
If we want to reset and restore the factory settings of our Apple smartphone, we must follow these steps:
Enter "Settings"
We will look for the "General" tab among the phone options.
Once inside the general tab, we will scroll to the bottom where we will find the "Reset"  option and select the "Delete contents and settings" tab.
It will tell us to place our unlock code, we have to enter it.
And finally we will select Delete Now so that our cell phone is restored .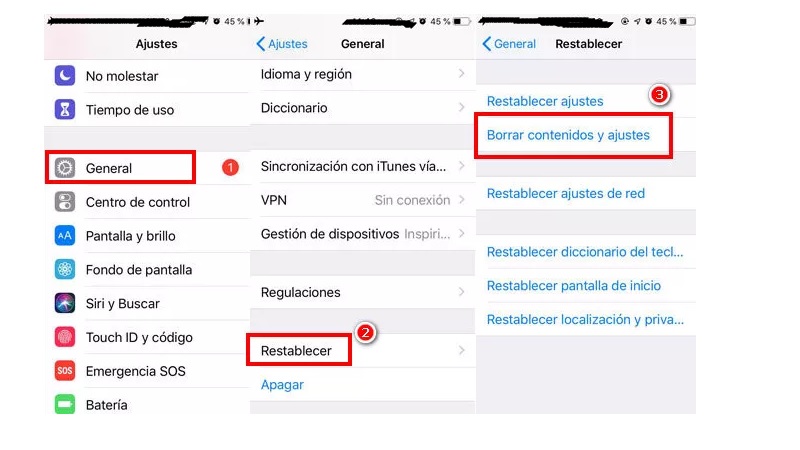 Something that you should keep in mind if you are going to change devices is that you must make a backup copy before proceeding to restore your mobile so as not to lose any of your information . There are several ways to make a backup, but here we will show you a very simple one, you must go to the Settings option and search for iCloud.
Once inside the iCloud menu, you will look for the Backup option . You must activate the Copy button in iCloud, and from that moment the process to create and save your backup will begin. It should be noted that these copies will begin to be made automatically from time to time, but you only have 5GB of space in the cloud.
If you want to store more information, you will have to pay for an iCloud subscription that gives you unlimited storage to save all the information you want.
Hard Reset on IPhone 7 from iTunes
In the event that we forget or do not know the unlock code, we can reset the phone through iTunes with these steps that we will describe below
The first thing we must do is connect our iPhone 7 to a computer that already has the iTunes application installed, we will verify that the battery is fully charged, we will plug in the cell phone and follow these steps:
If the message " Trust this computer? You will select yes and continue.
With the phone on or off, we will press and hold the volume down button and the on / off button .
After about 10 seconds the screen will show us the Apple icon, we must keep both buttons pressed and the cell phone will enter DFU (Device Firmware Update) mode .
Our computer should indicate that the iPhone is in DFU mode . On the iTunes screen, the Restore option will appear, which we will select, and we will accept all the terms and conditions that it indicates.
We can only wait for our phone to be reestablished and once the process is finished, we can continue using our smartphone, yes, we must configure it with a new password.

Restore iPhone without iTunes, with a program
Tenorshare iCareFone is the name of this wonderful program that will allow us to factory restore the device, super easy and without password, it is also a file explorer, a cleaner and even an optimizer for IOS.
The first thing to do is to search in our browser and download Tenorshare iCAreFone .
Once done, you will start the program on your computer and you will access the "More Tools" option, and you will select the "IOS System Repair " option .
The option "Advanced Mode", will help you to delete all the content of the device and restore all the settings as factory.
You will proceed to download a file called iOS firmware and when the download is complete your phone will be restored as factory.

How to perform a force restart on your iPhone 7?
Another thing you can do to reset your iPhone or iPad device is a forced reboot in case the mobile lags and cannot function normally. To do this you must  use the volume down buttons and the on / off buttons of the phone, what we must do is keep both buttons pressed until the Apple logo appears on the screen, once this happens the restart of the mobile phone already will be in process.
The purpose of this is to solve problems with applications that freeze or when the screen does not respond, with this mode we can restart our device without having to delete anything.