software
How to make an organization chart for your company in microsoft excel fast and easy? Step by step guide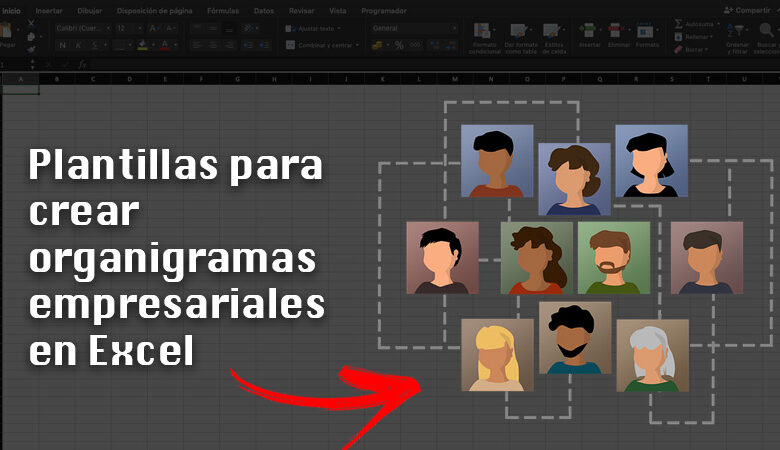 An organization chart is a graphic representation of the structure of a company or organization . The interesting thing about them is that it allows organizing departmental structures and even indicating the people who run each area.
Within Excel, it is possible to design the organization chart of your company very quickly and easily. You can do it manually or through the use of templates .
In this post, you will learn how to make an organization chart for your company in Excel quickly and easily. Keep reading, you won't regret it.
What should we take into consideration when making an organization chart in Microsoft Excel?
First of all, you must be clear about what type of organization you need to design and based on that structure yours. The types are divided according to their structure, content or purpose .
In this sense, the main ones are:
Vertical: the information is organized according to a pyramid from top to bottom .
Horizontal – Hierarchies are arranged from left to right .
Mixed: combination between vertical and horizontal .
Circulars: the maximum authority or the highest level of hierarchy is placed in the center, and around it the other decreasing levels are located in the form of circles .
By blocks: it is a variant of the classic organization charts, and they are based on the same structure of a pyramid . That is, the information goes from top to bottom but in blocks .
Scale: indents are used to represent authority . In this sense, the greater the indentation, the lower the authority of said position .
Tabulate: it is based on scalar, but does not include lines that join the authority commands .
Functional: it focuses on the representation of the specialization that each position has in a certain area .
Comprehensive: this is the one that represents the entire company .
Plazas, units or positions: is where it represents every worker in a company .
Microadministrative: is one that represents a single company .
Macroadministrative: is one that is used when a business has different companies, and the organization chart shows all the units of said business .
Masoadministrativos: includes all companies in a certain sector .
Although there are several types of organization charts, such as those mentioned above, their structure or design can change over time . The reason is that at any time the structure of an organization can be modified, which will inevitably undergo changes .
Other important aspects to keep in mind is that an organization chart should be designed in a way that is easy to understand and very practical to use. Added to that, it must contain only essential information, which means that unnecessary data must be saved .
Finally, when you go to create an organization chart in Excel, you will have different tools that will help you shape the chart, either through templates or manually .
What are the best tools we have available in Excel to create an organization chart?
In Microsoft Excel, you can start creating an organization chart for your company without major problems. The best tools to do this are: SmartArt , Visio or with templates . With any of the three you can do it easily and in a professional way .
Let's see next:
With SmartArt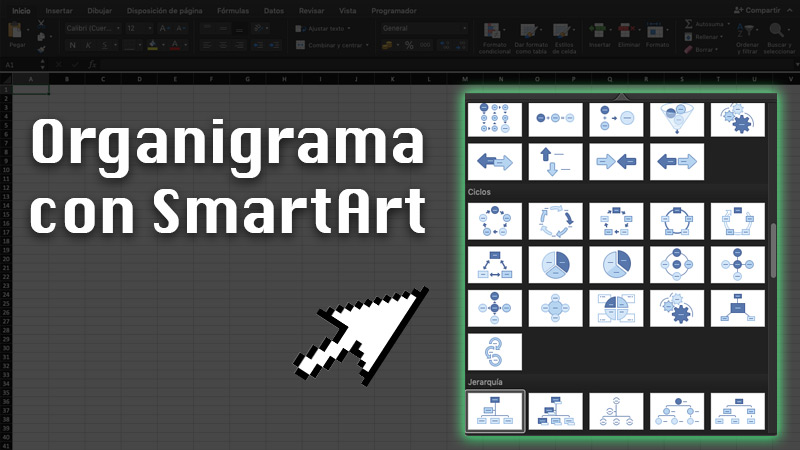 If you are looking to illustrate the structure of your company in a creative and simple way, an excellent option is to opt for the SmartArt graphics that the Office suite includes .
The most interesting thing about this type of graphics is that you can customize options such as:
Colors
Edges
Shapes
Size
Type of text
With Visio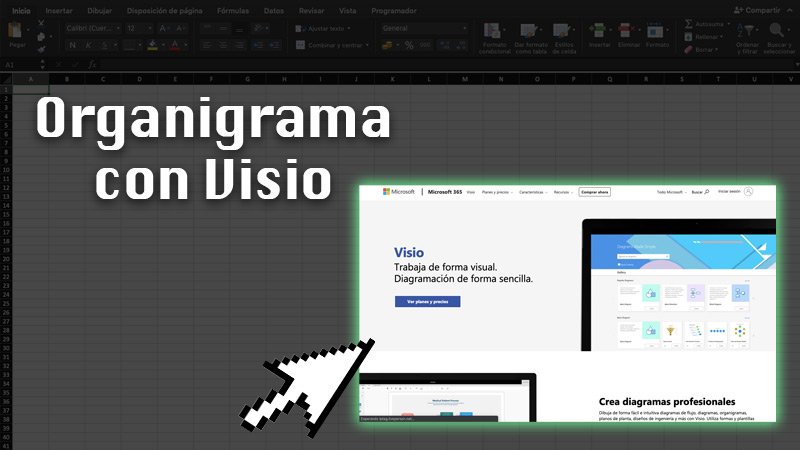 Designing an org chart with Visio is a bit more professional way and is much more recommended for those who are familiar with Excel . Generally speaking, Visio is a tool for drawing using the drag-and-drop technique .
With the help of it, you can create organization charts and even connect to data in existing Excel files . You also have access to Active Directory instances to automatically create these types of charts .
Importantly, Visio is not included in the Office suite, so you have to buy and install it to enjoy its functionalities.
With Templates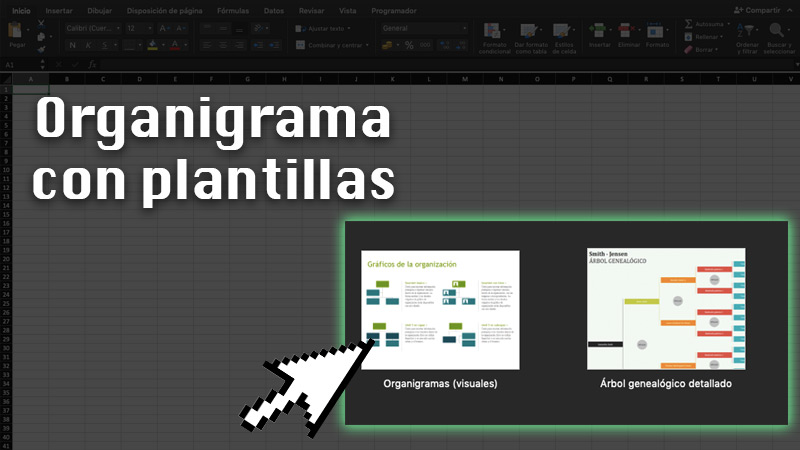 Finally, a very practical and fast way to create organization charts is with the help of Excel templates . Within the program you have access to a predetermined template, in which you can customize the different fields according to what you require.
In case you want to have many more options, you can download all kinds of organization chart templates on the Internet , with varied designs and shapes.
Steps to create an organization chart for your company in Microsoft Excel
If you want to create your own org chart, keep in mind that there are two methods to do it: manually or with a template .
Both are very simple, so we will explain the step by step according to each case:
With a Template
Templates are the best option for inexperienced users who are not very familiar with the design. It is enough to follow a few steps and you will be able to capture the entire structure of your companies or organizations in an organization chart. The steps to follow can be altered according to the version of Office you are working with.
In this case, we are guided by Office 365 on macOS:
Open Excel .
Go to the New section .
Find Organization Chart Templates .
Select the template .
It will automatically open in Excel .
Scroll through each section and fill in the fields you need.
To modify the colors or other details of the graphic, click on the shape you want. The SmartArt Design and Format sections will open .
Enter any of them and make the necessary adjustments .
Once it's ready, you can save it with a custom name .
If you don't like the templates available in Excel, you always have the option of downloading others from the Internet:
Manually
When it comes to designing an org chart manually, there are two methods of doing it. The first and simplest is making use of a SmartArt . Likewise, there is the option to work with Visio in Excel .
With SmartArt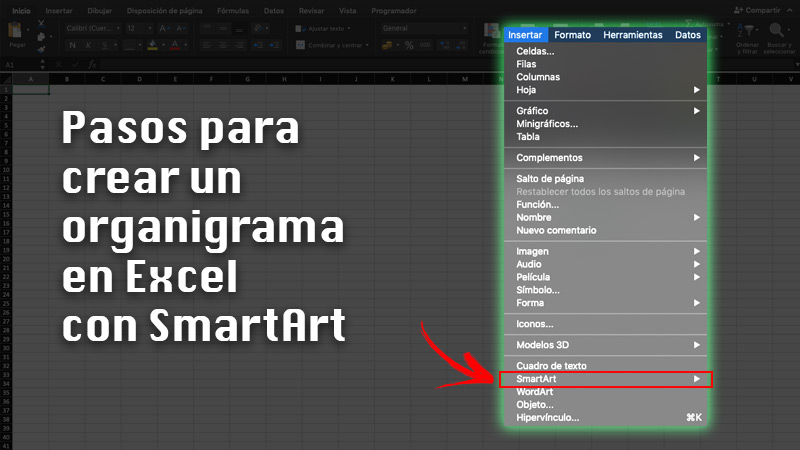 If you want to do it on Windows:
Go to Excel and open a new spreadsheet.
In the Illustrations group , on the Insert tab , choose the SmartArt option .
Within the gallery corresponding to Choose a SmartArt graphic, click on Hierarchy and choose the design you want.
Click OK .
Fill in the fields of the organization chart by clicking on each box.
In the case of the version of Office 365 for macOS, the way to insert a SmartArt is:
Open a new spreadsheet in Excel.
In the top menu of the program, click on Insert .
Select SmartArt .
Click on Hierarchy and proceed to fill in each box with the necessary information.
In both cases, you can modify the colors, borders, shape size, etc., by clicking on the shape, and then within SmartArt Design and Format .
With Visio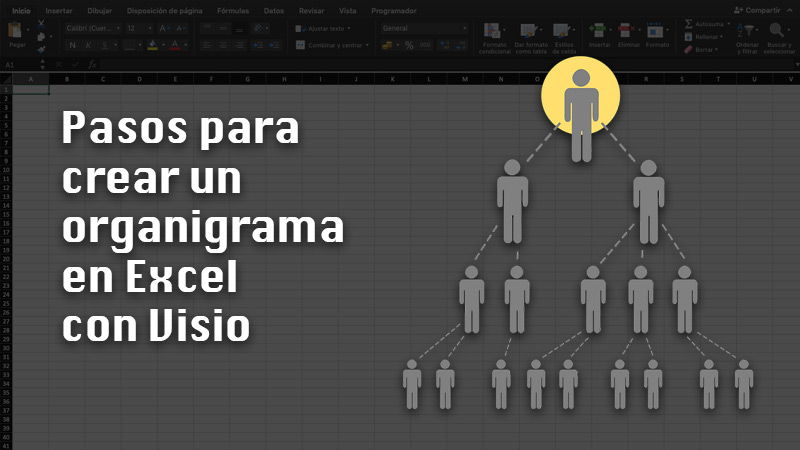 After installing Visio, follow the steps mentioned below:
Select New on the Home tab .
Click on Organization chart and choose Metric Units or United States Units . Then select Create .
If you are creating a simple organization chart, you must click Cancel when the Organization Chart Wizard dialog box appears .
On the Organization Chart tab , there are different types of shapes that you can use.
To connect the forms automatically, drag the subordinate forms to the superior ones according to the hierarchy of your company or organization. You can also choose to connect manually using the connector forms. You just have to write in each one the name and title, along with an image (optional).
Organize your design in the Organizational Chart tab .
In case you already have information stored in a database, what you have to do is:
Open Visio .
Select the Organization Chart Wizard .
Click on the information you have stored in a file or database.
Answer the questions they ask you.
Import photos or images ( optional ).
Click Finish .
Apart from import information into the chart from Excel, you can add information directly in the Wizard to flowcharts .
List of the best templates to create business organization charts in Excel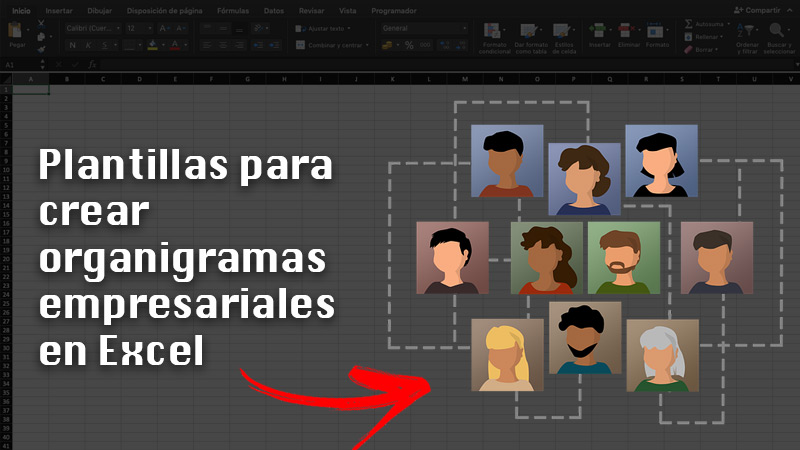 Templates can be your allies when creating a business organization chart if you are inexperienced in Excel, because they are already pre-designed and you only have to fill in the fields with your company information. They also give you the option to customize colors and texts .
For this reason, we indicate a list of some websites where you can download or create templates to make business organization charts in Excel:
en.justexw.com
templatesmil.com
blog.grupo-pya.com
edrawsoft.com