software
How to make a custom calendar in microsoft excel? Step by step guide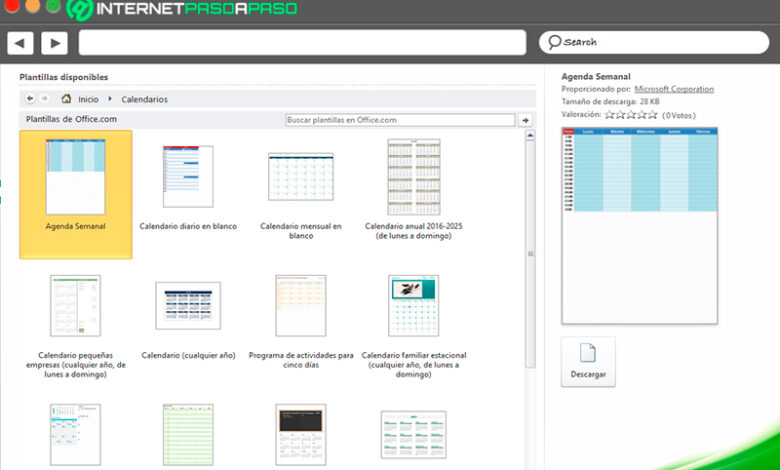 It is not a secret for anyone that this Microsoft software has become a very powerful and versatile tool, which allows you to perform a wide variety of functions easily and quickly . Thus, this program is mainly dedicated to creating and managing spreadsheets, although many other activities can be carried out in it.
The main basis for working in this program are the formulas, but it will also have all kinds of elements, including multimedia ones . And it is that Excel has been gradually improving all its design functions allowing its users to create high-level projects . This is how it also allows you to create calendars .
It is important to mention that this application is not specialized in creating calendars, but it does offer you all the necessary tools to make them. This means that it becomes a very good alternative to carry out these types of activities. This is how here we are going to show you step by step how you can make your own personalized calendar easily and quickly.
Steps to create a custom calendar in a Microsoft Excel spreadsheet
This software offers you a large number of tools and elements that will help you achieve a large number of results, thus allowing you to get the most out of each of its functions . This is how Excel also allows you to create calendars either manually or through a template . In accordance with this, here we are going to present you two ways to make this type of elements.
To do this, follow each of the methods that we will teach you below:
With a template
The first method that we present is to use one of the program's templates, keep in mind that this procedure is much easier and faster to perform. This means that if what you are looking for is to save time in this preparation then it is best to work from one of the templates and not from scratch.
To do this, follow each of these steps that we will teach you below:
The first thing you should do is enter Microsoft Excel.
When you are inside their platform you must click on the "File" tab and then on "New".
There you will see all the available templates of the different categories that appear there. In this case, it will be necessary to search for the "Calendar" category and click on it.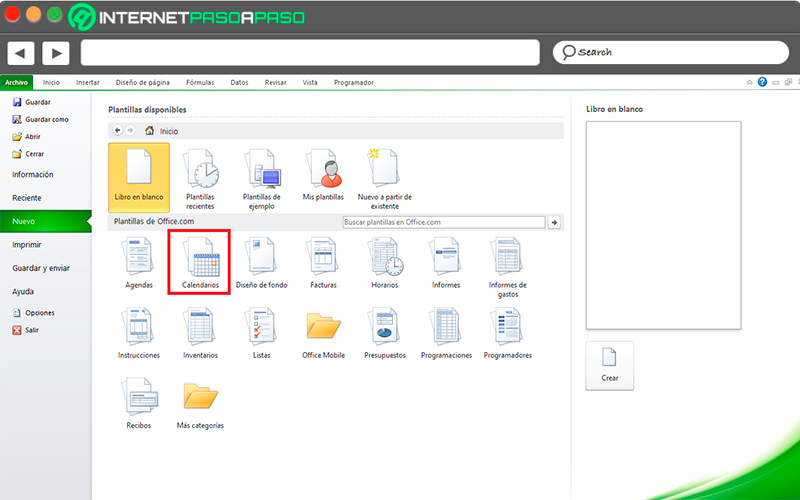 Now you will see a window with all the templates that are available in the software, here you will find those of weekly, monthly, annual calendars , among others. Simply select the one you prefer, in this case we will select "Calendar (Any year)".
Once selected, on the right side of your screen you will find the option to "Download" which you are going to select.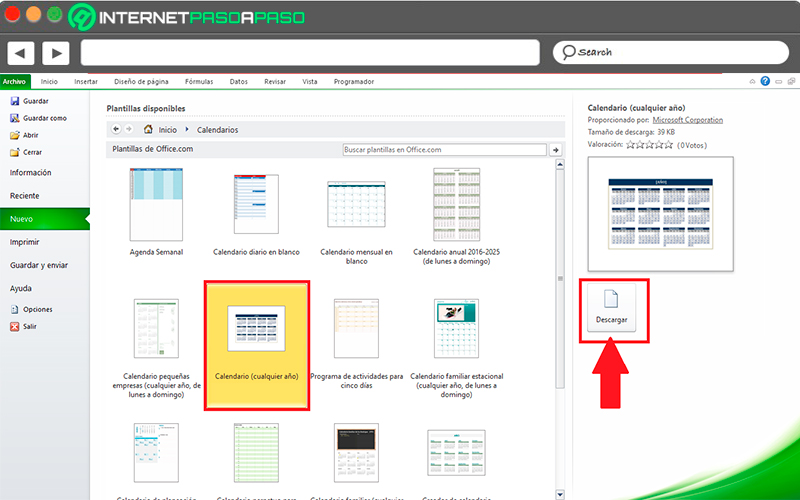 When you have downloaded it, this template will appear in the spreadsheet, which can be seen as follows: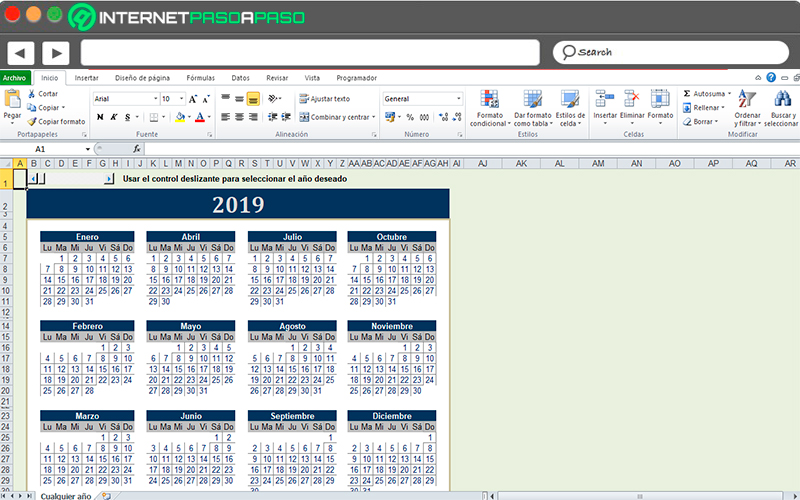 The next thing is to start customizing each of the elements, in this case you can modify the year of the calendar, as well as any other detail of it that you think is necessary, be it the color, the shape, place a background image, among others.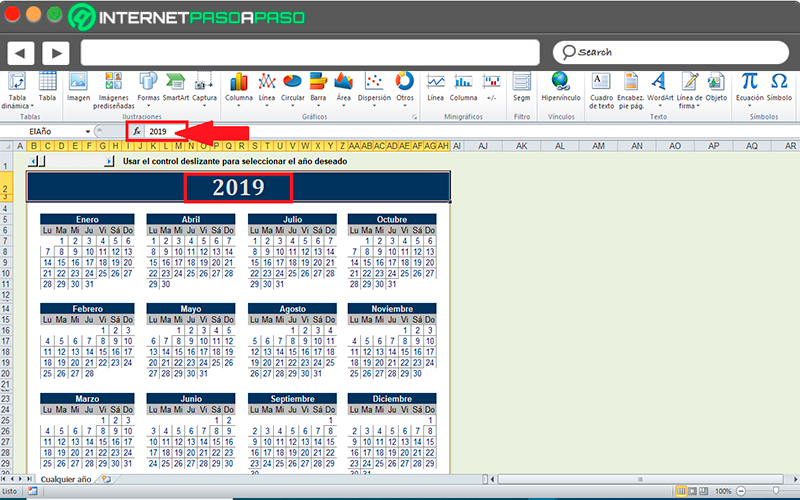 In this way you will be easily creating your calendar through a template in Microsoft Excel .
Manually
The other way to perform this procedure is manually, that is, without a template. This process is a bit more complex and long, this is because you will be the one who creates the calendar completely from scratch . This is in case you do not like any of the designs in the pre-designed templates and you are the one who wants to create your own design .
To carry out this procedure, you will need to follow each of these steps:
To begin you must enter Excel and open a blank document .
Before starting the process, it is best to click on the button located at the top left of your screen so that all cells are selected. The next thing will be to right click and in the drop-down menu select "Format cells".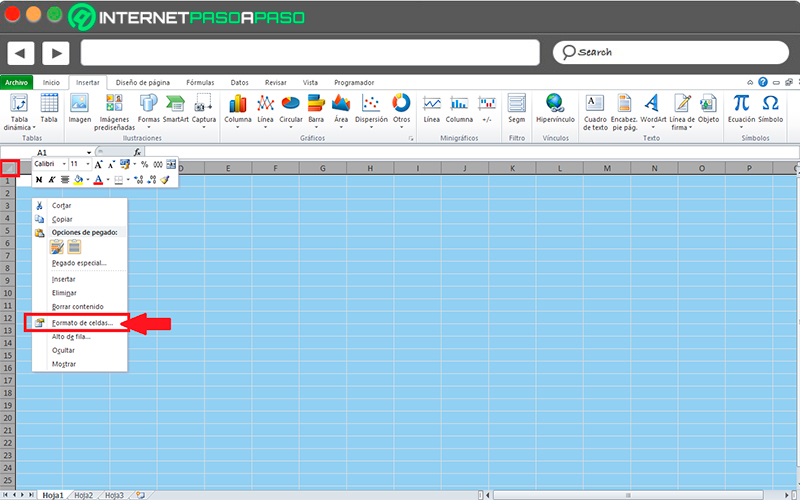 In the new window that appears you select the "number" tab and there you select the "Text" item. This will allow the program to convert the data we enter by itself and keep it as it is. Once selected, click on "Accept".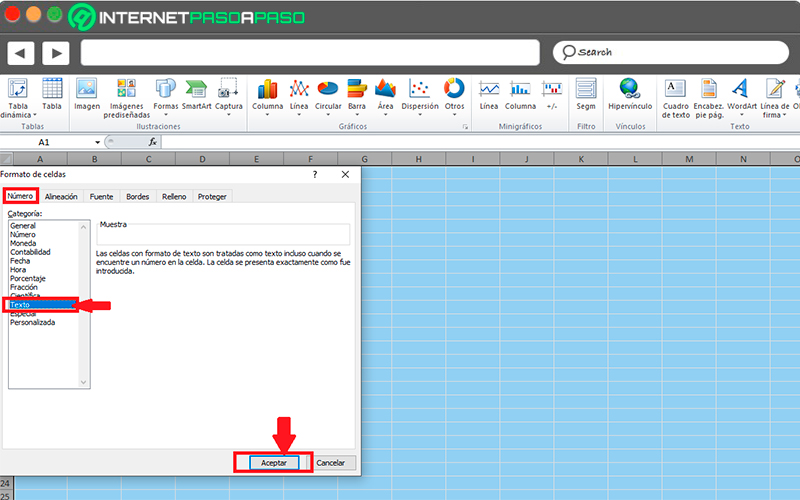 Once this is done, the following will be a space at the top to be able to set the name of the month in large. Select the first four rows and the 14 columns, this will be the measure of your calendar.
When all the columns are selected you must go to the "Start" menu and there select the "Combine and center" option .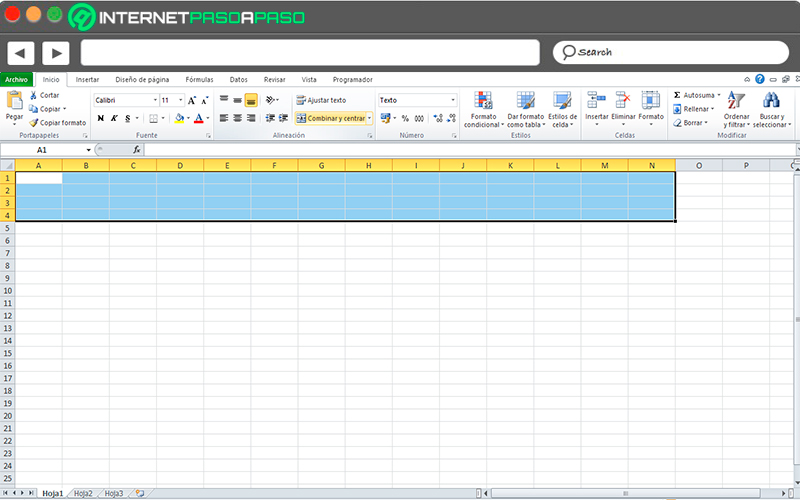 After this, you can enter what is the name of the first month with which you are going to work, in this case it will be "January". This will appear with the default size and font, here you must customize it to your liking, to do so modify the style and size of the letters from the "Start" menu .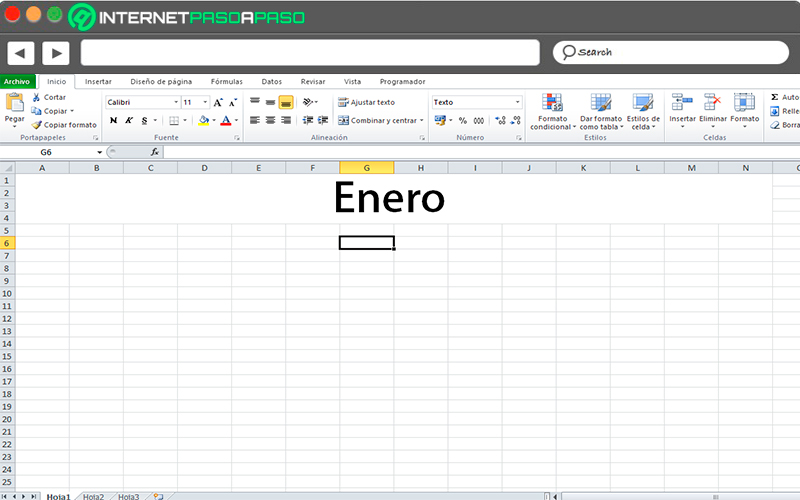 If you have already placed the headline, the following will be to resize the previously marked columns, that is, the first 14 columns . This will allow you to further customize your calendar . Between each of the days of the week it is recommended to leave a space as you can see in the following image: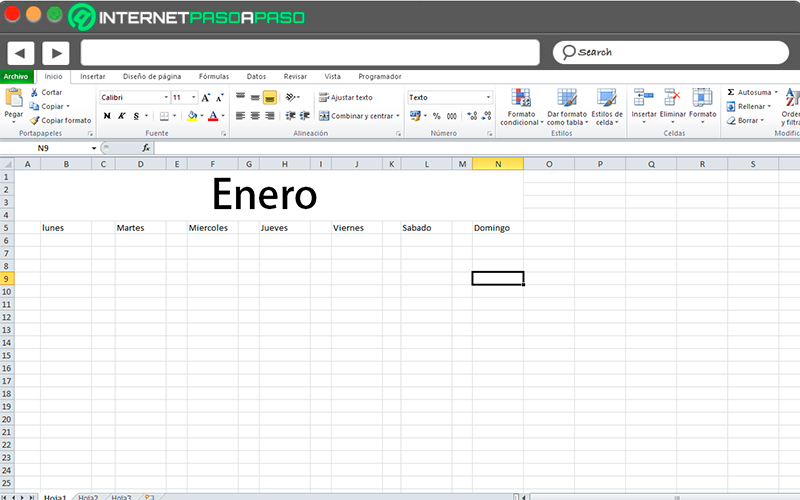 When both the name of the month and the days have been entered, the corresponding numbers of the month must now be added. To carry out this task, it is best to use the edge tool, this option is located under "Font" in the start menu. This is done with the objective that you do not have to mark neither the "Rows" nor the "Columns", but rather that they will make up each day of the month.
Keep in mind that the type of border, space and other elements will depend on the user's taste, as with all other aspects to customize in the calendar .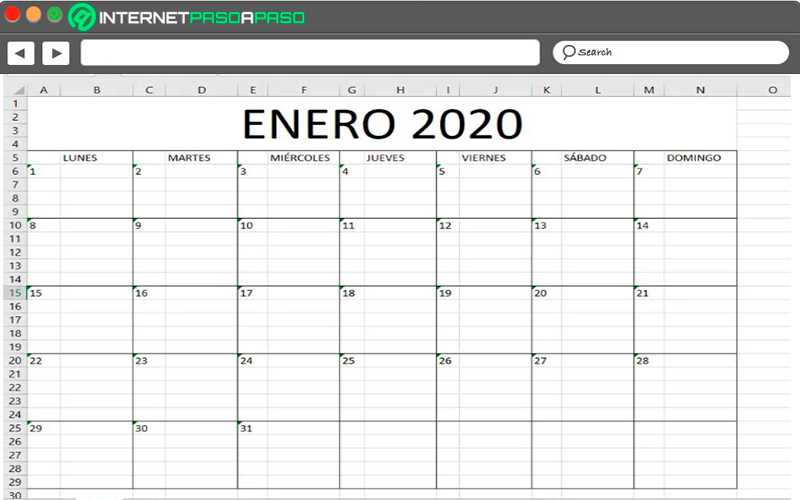 This is one of the simplest and most basic designs to create a calendar in Excel. However, you also have the opportunity to add color to each of the boxes in order to make it much more attractive to the public. Remember that all this depends on you, how personalized or not you want to have it.
In order to carry out this, it will be necessary to use the cell coloring tools, this option is also found in the "Home" tab, there you only have to select the tone that you want to apply to them.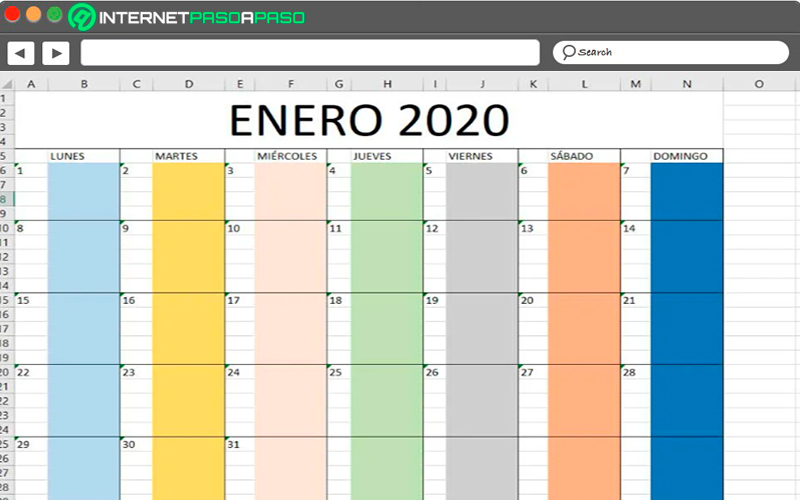 All this will depend on the tastes of the person, since here you will find thousands of tools to customize your calendar. All of this can be achieved through fonts, cell sizes, colors, text color, among many other options.
As you can see, this time the calendar has been created for a single month, it can also be created for the whole year and the mechanism will be the same. You simply have to modify it as you wish. This method from scratch is a bit longer and more complicated than when using a template, but this will allow you to create it exactly how you want it, which in the end becomes an excellent advantage.
List of the best Microsoft Excel calendar templates you can download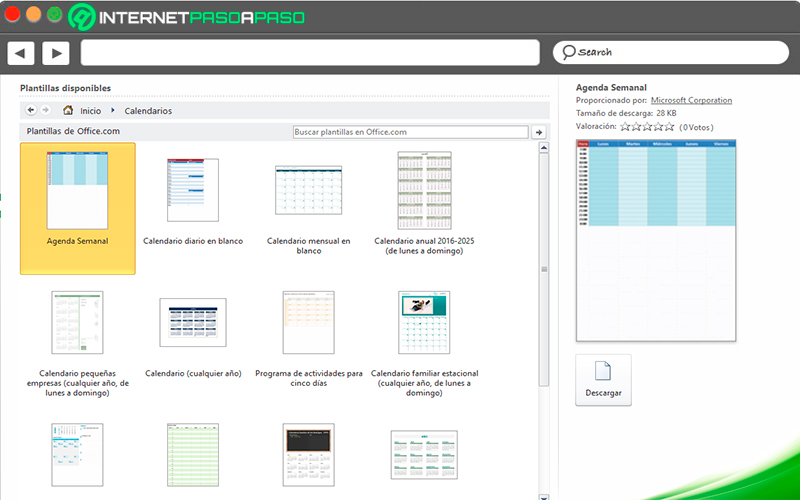 As previously mentioned in the post, being able to work with templates in Excel is much more comfortable, easier and faster, so you can save time especially when having to create different types of calendars . In addition, this calculation software has different types of templates already predetermined in its system, but it may happen that none of them is what you are looking for.
This is how here we are going to show you some calendar templates that you can start downloading and using in Microsoft Excel:
Download monthly and yearly calendar templates
These are one of the most common templates that can be found, since practically all calendars are annual or monthly . Here you will have the opportunity to schedule each of your events, customize the font, font sizes, color, among many other aspects of the template.
In accordance with this, here we leave you the download links for each of them:
Month template
You can also find templates that are only for one month, these are used by a large number of users who want to give a totally different look to each of the months of the year.
In accordance with this, here are the download links:
Daily appointment calendar
There are many users who for work reasons have to meet a large number of appointments on a daily or weekly basis, for them it is very important to be able to have a calendar that allows them to remember all this and thus not get to miss any of their meetings .
In accordance with this, here are the download links for the corresponding templates:
Academic calendars
In the academic area, calendars play a very important point, and that is that they become a great help for most students when they have to remember what types of activities or evaluations they have pending .
This is how here we are going to show you some ideal templates for this type of activity:
Family calendar
Family calendars are others that cannot be absent in most homes . Well, through these elements, many families can organize their family reunions, the time they must dedicate to their wives, children, or to plan any type of family activity .
That is why here we leave you the templates for it: