software
How to log in to xbox live in spanish and for free? Step by step guide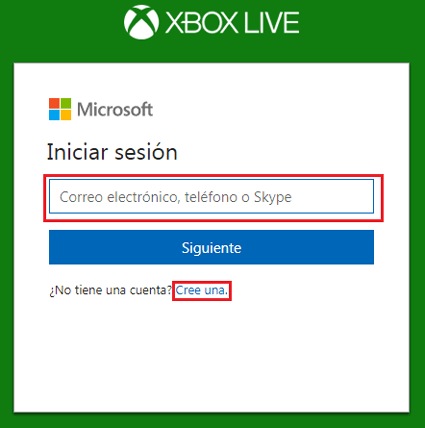 Microsoft has started a powerful service unification race that spans myriad fields. The Redmond company began by creating a single account system with which to access mail, log into its operating system, Windows, or even access programs like Skype; but his range is getting bigger and bigger. 
His current console, Xbox One, also has a user system collected within what is known as Xbox Live . This is used to add friendships to the console, take a look at the offers in the digital catalog and a host of functions, among which is, above all, the possibility of entering Xbox Live Gold to play online and have access to more promotions specials.
Of course, it has been annexed to the Microsoft account system . Those who have the account already created, usually run into the unknown of knowing how to log in to Xbox Live through Windows 10 or even from the console in its different models ( Xbox One, Xbox One S and Xbox One X ).
How to sign in to Xbox Live from Windows 10?
The procedure varies considerably depending on the platform from which it is accessed and, in addition, it has methods as different and interesting as the use of a camera for facial recognition and automatic connection. In this guide we will explain all the steps to follow to log into Xbox Live and we will also help solve some of the most common questions regarding problems that may arise trying to connect and enter the platform. All issues related to the use of these Microsoft accounts, resolved so that you can use them without any problem.
Given the complete unification of Microsoft services, any Windows 10 user has access to the Xbox Live service through the Xbox application . It is important to know that, if you have an Xbox One console and have previously linked a Microsoft account to the service, just by starting the application on the PC with a user who has the same account, it will automatically recognize it and you will not need to do anything more (perform only step 1 below).
If not, we explain how to proceed to log in to Xbox Live through Windows 10.
1 – Open the Xbox app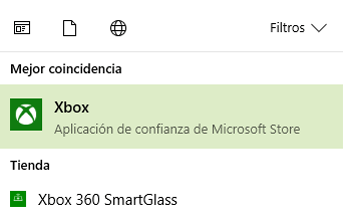 To open the Xbox application, it is best to click on the "Start "  menu button.(Windows icon in the lower left on the PC desktop) and, in the search bar, write "Xbox ". The operating system will show the application we are looking to open as the best match. Click on "Xbox", the green icon with a white circle crossed by an X.
2 – Login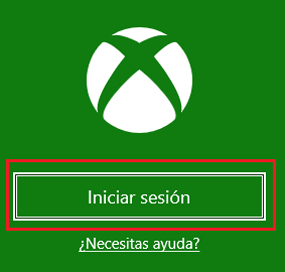 Typically, the Xbox app starts by trying to sign in with your account automatically. If not, click on the central "Start session" button to bring up the new window that begins the procedure.
3 – Account detection
Option 1 – Same account
When you have a Microsoft Account open in Windows 10, something that the operating system requires, it will automatically assign you a user to start playing. In case you want to continue like this, you just have to click on the "Let's play " button after having received a random nickname (Gamertag) and a profile image. With this step, you have already logged in with the account that you had previously assigned.
Option 2 – Change account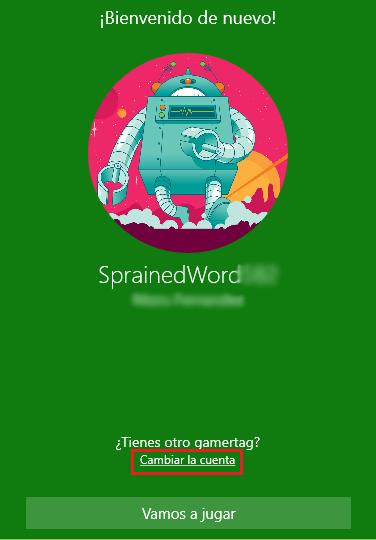 In case you want to change to another account (the one assigned to you on your console, for example), you must click on "Sign in with another Microsoft account" (upper part of the window) instead of on "Let's play ".
4 – Assign another account
Having clicked on the other option, a new pop-up window will appear in which to choose the account you want to use. In the "Use another account " section, click on "Microsoft account" and then on "Continue ".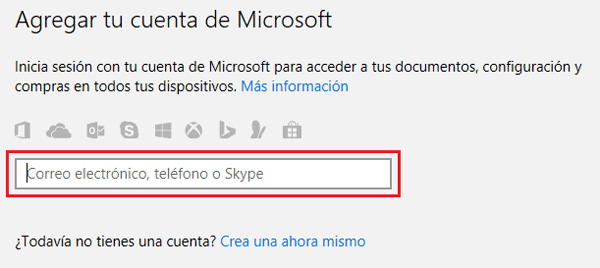 The next step is to enter the email account, phone number or Skype username of the other user you want to login with. Enter it in the field that appears on the screen and click on "Next ".
Then, do the same with the password linked to this other account and, this time, finish by clicking on "Login ".
5 – Protect your account
If you have not done it before, Microsoft will request the reinforcement of the security of this account by assigning a phone number. Enter it and check the option to send SMS for more convenience. Click on "Next ".
The indicated phone will receive a message with a 4-digit code . Memorize it and enter it in the Xbox application window, in the "Code " field . Click "Next " to finish.
6 – Choose your Gamertag
In the case of a totally new account and not linked to an Xbox console, the application will require you to choose a gamertag with which to identify yourself within Xbox Live . Choose any of those that appear on the screen or write your own (making sure it is unique) and click on "Let's play " to conclude with the login.
How to sign in to Xbox Live from the Xbox One console?
Xbox One is designed to connect to Xbox Live quickly . The online service is essential to connect with friends, create an avatar and perform all kinds of actions that record your gaming activity. In addition, it is the necessary step to be able to subscribe to the Gold program, paid, with which you can play online and enjoy additional services.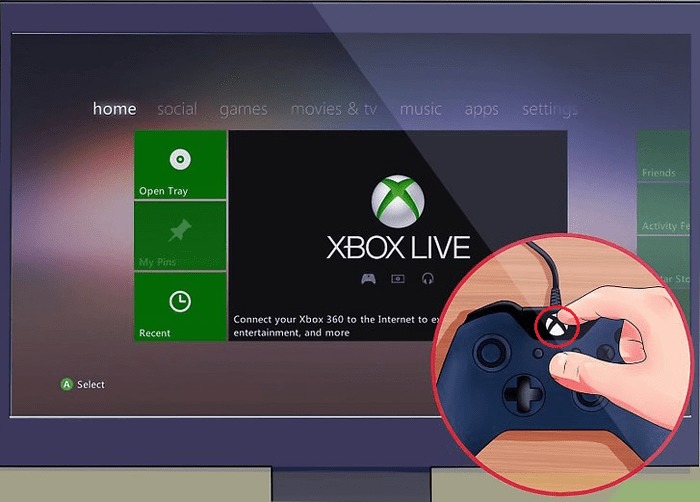 Before proceeding, there are two main branches in this procedure (same as in the previous case): have or not have a previous account on Xbox Live . Here's how to log into Xbox Live from Xbox One:
1 – Go to the login
Press this button on your remote 

and in the settings section of the Xbox One guide menu that will appear on the screen, go to "Settings" and, within them, to the "Account " section . Upon entering, you will be prompted to sign in with your Microsoft account. Click on "Next " to begin.
2 – Enter the start data
We have 3 options, follow the steps according to your case:
Option 1 – If you had an Xbox 360 console with an Xbox Live profile
In this case, enter your email details and proceed.
After doing so, the interface will now need to enter the user password . Do the same and move on.
Review all the sections of the Microsoft Privacy Settings and, when you have done so, move on.
To indicate the type of login you want, you can choose between:

Log in with Kinect (the camera detects you, to do this click on "Make it quick, make it magical " and follow the brief instructions).
Manually (enter password, indicate it by clicking on the "Lock " icon ).
With a 6-digit passkey (usual method, click on "Check it's me ").

Once this is done, the session will be started and it will only be necessary to review the profile image and the mosaic colors. You are already connected.
Option 2 – If you have not had a console, but have a Microsoft account (adult)
In this case, you must choose between creating an account for an adult or for a minor. In the first situation, you start by entering the email in question and then the password.
After this, click on "I agree" to indicate that you agree to the terms of use of Xbox. Then check your privacy settings.
The rest is the same as the procedure in the previous section.
Option 3 – If you have not had a console, but have a Microsoft account (minor)
If a child account was chosen , once the email and password are entered, parents must offer their consent by clicking on "I am an adult . " In addition, they must create a Microsoft account to also connect it to the console and grant the permission.
The rest of the process is identical to that of the previous section.
FAQ: Problems with accessing or signing in to Xbox Live
When we want to access or log in to Xbox Live it can sometimes cause several problems. Here we are going to solve the most common inconveniences and solve various errors when we want to log in to this platform, since in many cases, it can create doubts in some users.
Login errors, I can't access Xbox Live
In this situation, the first thing to check is that there is an internet connection . Enter the browser (if you are on Windows 10) to verify it.
If this option does not work, check on this website https://support.xbox.com/xbox-live-status  if the servers are in good condition.
Another alternative is to log in to the xbox.com website and check that the account is in order. If you are on a PC, check that the clock is synchronized automatically . If Microsoft detects that it has a different time than the one indicated according to the servers, it will not allow access.
When none of these options work on your PC, go to "Settings "> "Accounts "> "remove ", next to the account in question. Add it back later to test again in the Xbox app.
I have changed my password and I can't sign in to Xbox One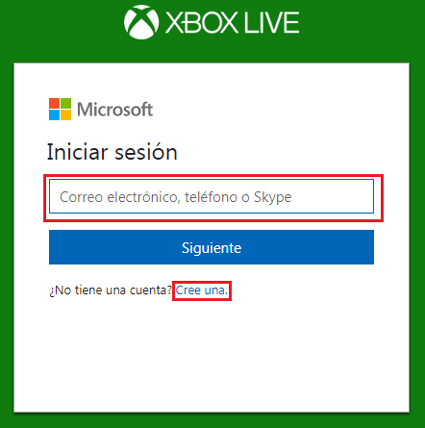 The first thing you have to do is check that on the web account.xbox.com you can log in without problems using your new password. If it works, proceed as indicated below.
Restart the console by pressing the Xbox button, by going to "Settings "> "Restart console "> "Yes ". Try to log in now.
Remove and put the account back in the console . Go back to "Settings "> "All settings "> "Account "> "Delete accounts ". Now, restart and do the following: press the Xbox button , go to "Login "> "Add and manage "> "Add new " and enter all the data.