software
How to log in to psn sony playstation network in english? Step by step guide

Given the large number of users using PlayStation consoles (PS4, PS3 and even the portable one, PS Vita), those responsible, the Japanese giant Sony, decided that the best thing to do to bring all these people together in a friendly digital environment full of possibilities it was establishing a system of accounts. In this way, the popular PlayStation Network platform was born , better known among the community by its abbreviation, PSN .
It is a system that allows you to connect to the internet through any of these game consoles, but which also brings with it a series of additional functions that are impossible for those without a profile. Thanks to it, for example, you can enter the PlayStation digital store to download games or even movies, as well as access platforms such as Netflix , or chat with other players, or play with them through the internet or endless other possibilities that are available to everyone who registers.
Possibilities that, obviously, in addition to requiring a previous user creation process, require the user to log in each time he wants to access (unless he saves the login to do it only once). This point is the one that we are going to detail here, and that is that we are going to explain how to log into PSN (Sony Playstation Network) through all possible means. If you do not know how to enter from your PS4 console, your PS3 or even from your mobile, we explain everything step by step here.
Steps to log into my PSN account for free
In this guide we make clear all the processes to be carried out when logging into this system, as well as we will help you in case you forget the password with which to access . Forgetting keys, that common problem, is something that you can easily solve if you take a look at the guidelines that we leave you.
To log into your PSN account for free, in addition to being able to do so on the company's two main consoles in recent years (PlayStation 3 and PlayStation 4), you also have the opportunity to do so through the PlayStation App that is available for mobile phones. Whichever path you want to follow, these are the steps for each of them.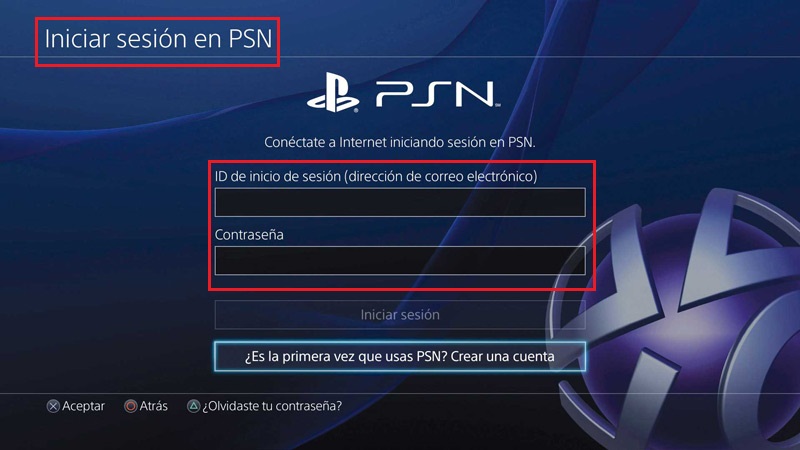 Enter from the PS4
With the console on and the image on the screen, go to the "Settings" section.
Inside it, you have to look for the option "Sign in" . To do this, first enter "Account Administration ", you will find it in this section.
A small form will appear on your TV that will ask you for two details to login. First write your PSN ID, which can be the email or your username, and also the password . Remember to respect uppercase and lowercase if there are any and, when you finish, click on "Confirm ".
You have already logged into your PSN account from the PS4 console! .
Login from the PS3
Turn on your PlayStation 3 and, once it loads its main menu (XMB), go to the "Users " section.
Inside it, you have to look for the option "Local user" and enter it.
Now, go to the "PlayStation Network" section and click on it to continue.
Within this, you will have the option to login ("Start session "). When you press to enter through it, you will then have to write in the two fields that appear your user nickname or the email of your account and, of course, the password you have on PSN.
When you have done it, you will be in your profile from PS3!
Access with the PlayStation APP (Android and iOS)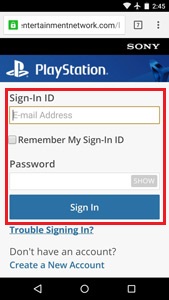 The first step is to have the application . If not, you must download it from the App Store if you use iOS or the Google Play Store if you are on Android. Look inside it for "PlayStation App " and download the first program that appears, which is the official one.
Once the application is installed, open it through the icon that you will have just arrived on your mobile.
When you open the app, various aspects of use will be explained to you. Accept, confirm and continue until you reach the login point.
It is time to write the login ID, which can be your email or username, and the password in the field below. Check the box "I'm not a robot " and, when you have filled everything out, press "Sign in ."
The login is done! . You can now control your user profile from your smartphone thanks to this PlayStation app.
How do I sign in to PSN with 2-Step Verification?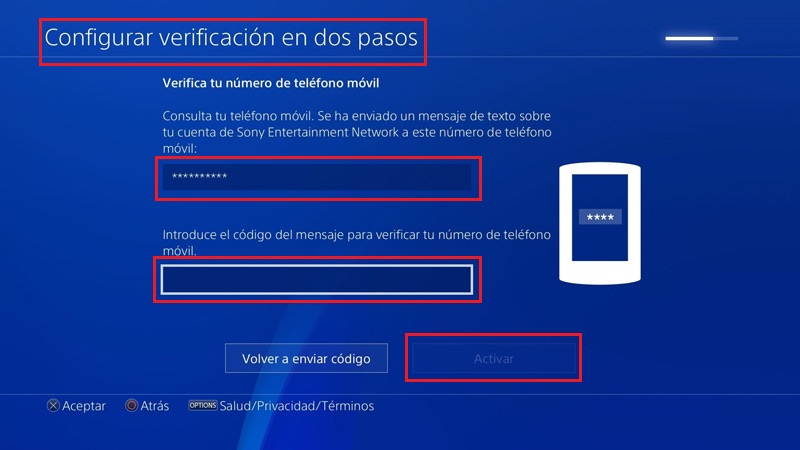 Two-Step Verification is the best way to avoid phishing on PlayStation Network accounts . This system, in addition to requesting the normal login data, adds one more point to the entire procedure that requires the use of a smartphone to receive and copy a security code.
Therefore, when you want to log in to PSN with this 2-step verification, proceed as we have explained in any of the previous sections. But, when you write your access data, another step will be added to you. A security code will be sent via SMS to your smartphone that you will have to copy and write in the login section where you are. And you're ready! .
I forgot my password How to recover the password of my PSN account?
To recover the password of your PSN account you have to follow these steps on both PlayStation 4 and PlayStation 3:

For PS4
Go to the login section as we have explained in the login section through PS4 ("Settings ", from there to "Account management " and, finally, "Login ").
Now, in this section, press the triangle button on your remote and another menu will appear. Write your PSN user email in it and then click "Next ".
You will receive an email from the Sony team with a link to reset the password . Look for the message (if you don't see it, look under Spam or unwanted) and open the link inside.
It is likely that now you will be asked for extra information to confirm your identity (answer security questions or a key on your smartphone), comply with what is asked and move forward.
Now, just create your new access password remembering to respect the requirements . You already have a new password and you can log in again.
For PS3
Proceed as if you were going to log in normally ("PlayStation Network " on your console, then "Log in ").
In the login menu, click on the option "Have you forgotten your password?"
Next, you have to enter your user ID (email) and your date of birth. Fill in both fields and click "Confirm ".
Look at your email inbox, you will have an email from Sony with a link inside. You have to open it to redirect you to the password change portal.
Answer security questions or write the code that reaches your smartphone (depending on what you indicated at the time).
Now, you can enter your new login password on PSN . When you do, you will have regained access from PS3.