software
How to download and install custom cursors in windows 10? Step by step guide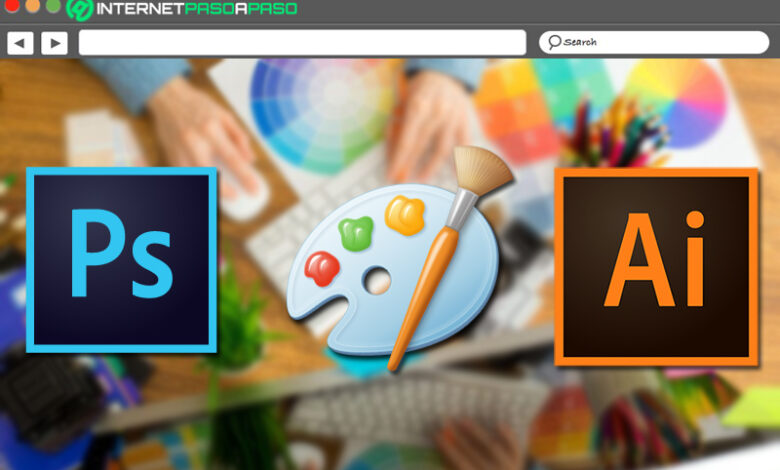 While it is true, Windows 10 is one of the most famous operating systems in the world . Since, since its launch in July 2015 and thanks to the excellent innovations that it added to Microsoft's OS, it has become an essential tool .
This, above all, due to its great customization capacity that allows users to adapt their experience according to their tastes. Among which, is the possibility of installing custom cursors ; This being an essential element that is always present in your graphical environment and represents the position of the mouse.
That is why, if you want to visualize a much more striking cursor and put aside its characteristic boring design, we recommend installing a custom one on your PC, in order to improve the appearance of your W10 . Here is everything you need to do in these cases.
List of the best portals to download custom cursors in Windows 10
To begin, it is important to clarify that, just as you can modify the original cursor of your Windows using the options offered by the same system, this can also be done by downloading one directly from the Internet . Of course, taking the pertinent measures to enter trustworthy websites and thus avoid contracting viruses or malware .
In this sense, there are online platforms that facilitate the download of custom cursors for W10 and here, we mention 4 of those websites of interest :
DeviantArt.com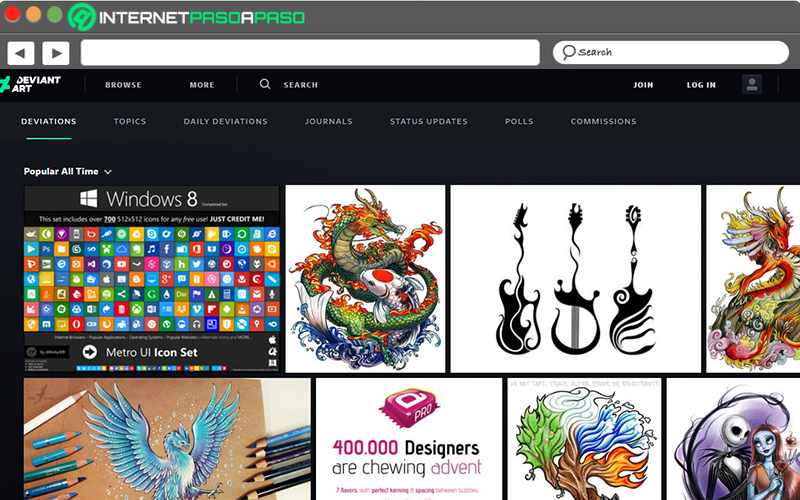 One of the most widely recognized alternatives to obtain custom cursors and use them in Windows 10, is this web page that stands out for simplifying the download processes of any cursor you want and also for the optimal levels of security it provides to its users . Thus, a completely free platform .
Now, to find the available options around the cursors, what you have to do is type "cursors for Windows 10" in the search bar located on the main page and proceed to search for them. When you find the one you want, click on it and then click on the "Download" button to proceed to register on the web .
Archive.org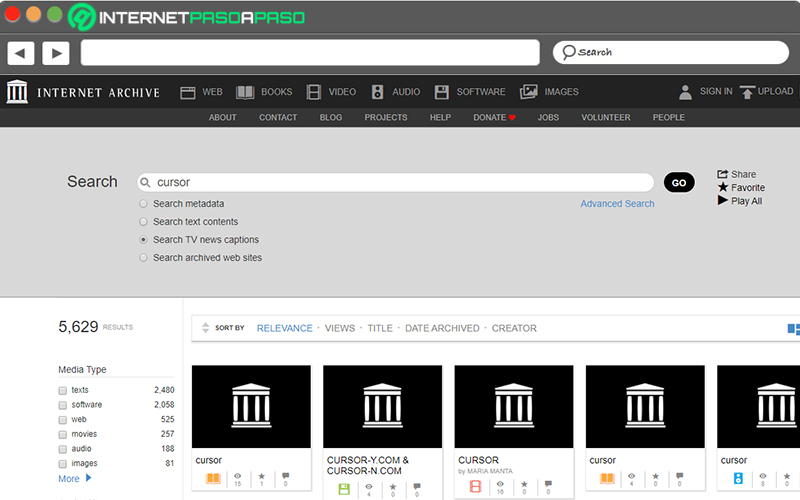 It consists of another of the best rated websites for safe downloading of cursors from the Internet . Taking into account that, unlike many other platforms, this one hosts a greater variety of custom cursors, as it has yielded more than 5,000 associated results .
Once you access Archive.org, what you should do is start the search from the "Search" bar, located in the upper right corner of the main page. There, proceed to type the word "cursor" and now, to locate those that are compatible with Windows 10. Thus, you just need to start the download for free .
Cursors-4u.com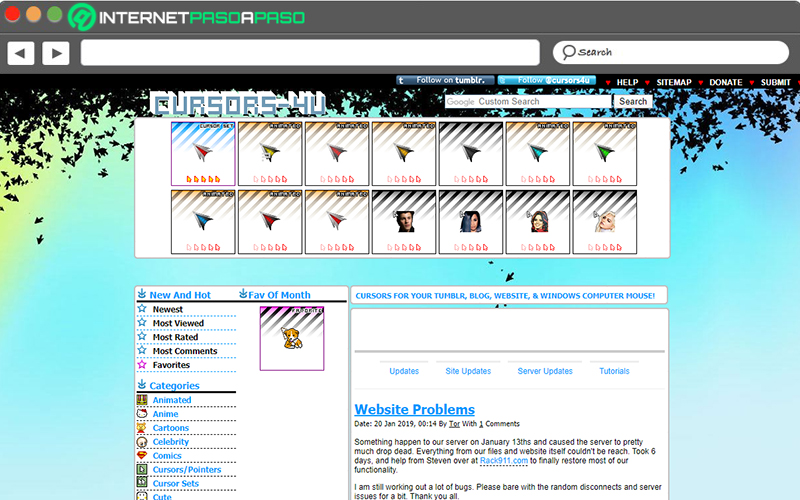 It is also characterized by being a platform that contains many options to select from to customize the cursor of your Windows 10 system . Since, it has more than 10 categories in which it gathers all the available cursors and, therefore, it has the ability to adapt to any taste of its users.
For its part, it is completely free and supports personalized searches, so that, by using keywords, people can obtain the desired results more quickly . In addition to that, it should be noted that it has an active and updated blog where it provides information of great interest, such as the processes to install, add or change cursors, for example.
Rw-designer.com
It refers to a website very similar to the previous one, since it also has a complete gallery where it has stored its different custom cursors and offers them, free of charge, to all users who want to modify the original cursor of their PC Windows.
In this sense, when you enter said platforms, on the main page, you will find around 20 sets of icons and cursors that meet all the quality criteria and are the most recent . In addition, from its search engine, you can find the option that interests you the most using keywords. To start the download, you simply have to select the cursor and click on "Download" .
Finally, it is important to note that, generally, the types of custom cursor files downloaded are: ".cur", ".ani" and ".inf" . Therefore, when obtaining any of these online platforms, verify that it is in one of these formats or, otherwise, they could be insecure and you should use extreme caution. If, for any reason, they are an ".exe" file, do not run it because there is a potential risk of infecting your PC.
Steps to set a custom cursor on your Windows 10 PC
After downloading the custom pointer that you liked the most on a recommended website, you will surely wonder how you can install it on your Windows 10 computer. Therefore, below, we explain step by step what you have to do to do it :
To start installing the cursors that you have downloaded from the network, you have to access the application corresponding to the mouse configuration. To do this, use the Start menu and from the search bar, key as is "Mouse settings" .
Once you are inside said application, find and click the selection that says "Additional mouse options . " Specifically, it is found on the right hand side of the panel in the Related Settings section.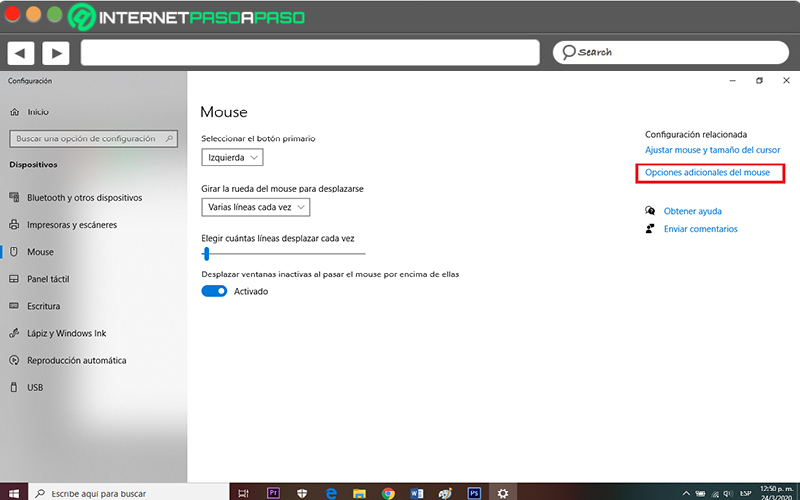 Next, a new mouse configuration window will appear and among all the available selections, press the tab called "Pointers" and then click on "Browse" (at the bottom of the Customize section).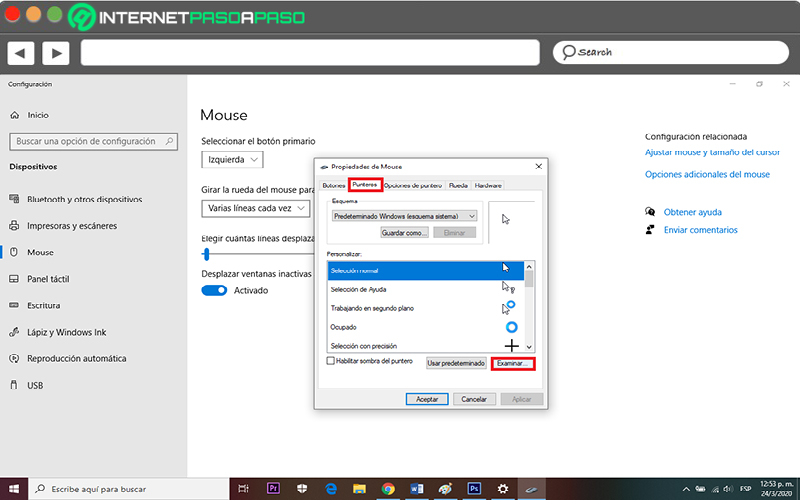 Once this is done, a file explorer will automatically open and there, you have to locate the folder that contains the cursor or cursors that you have downloaded . From there, choose the one you want to place and click on "Open" .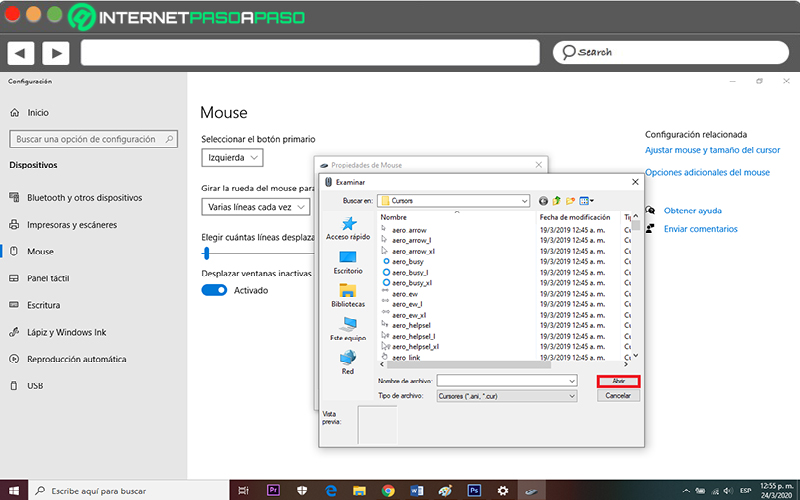 Finally, the brand new cursor will now be ready to be selected from the "Pointers" options and when you choose them, just click on the "Apply" button to start using it. If you want it to show a shadow for further customization, before clicking on Apply, press where it says "Enable pointer shadow" .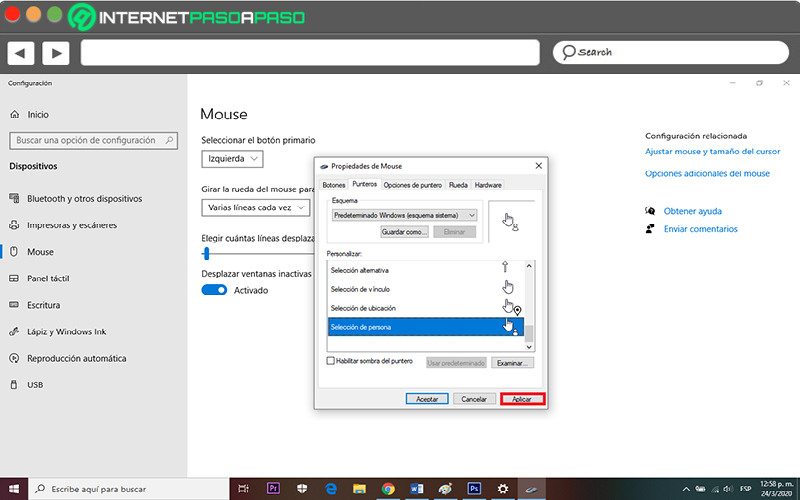 Learn to create your own custom cursors from an image step by step
In the event that, for security or originality reasons, you prefer to create your own custom cursors and thus avoid going to the web pages that host cursors to download them; there is an excellent solution for you . Since, through certain programs and with the image you prefer, you can create a unique cursor for your PC .
However, although this method may seem difficult, it really is not. Next, we indicate the process that has to be completed to create and install a custom pointer in Windows 10, made by yourself :
First of all, look for an optimal software from which you can manage and edit the image to use, as you prefer. In this case, we recommend using Photoshop .
Once you access this program, from the File tab at the top, proceed to open the image you have chosen for your new cursor .
Now, do the editing you want around its colors, for example. Likewise, it proceeds to modify the corresponding size of the image to use it as a pointer, correctly . Whereas, most Windows cursors are 32×32 . Thus, from the "Image" tab in the "Image size …" option , define those measurements.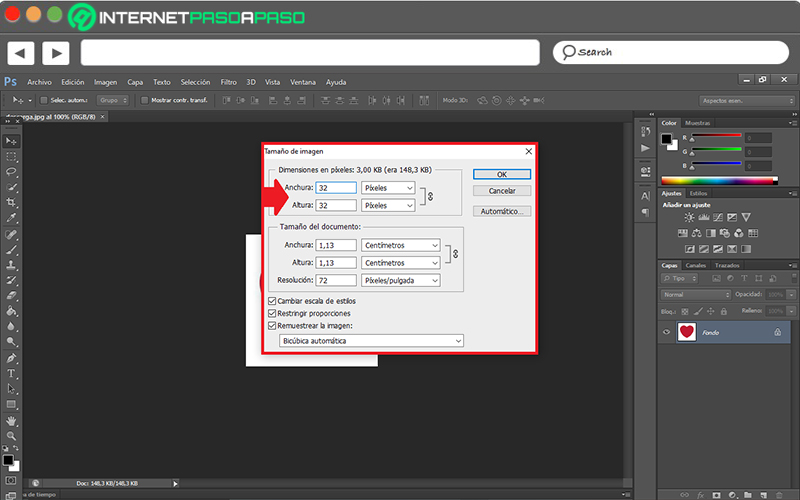 After that, proceed to save the image in question in BMP format, following these steps: File> Save as …> Format> BMP> Save .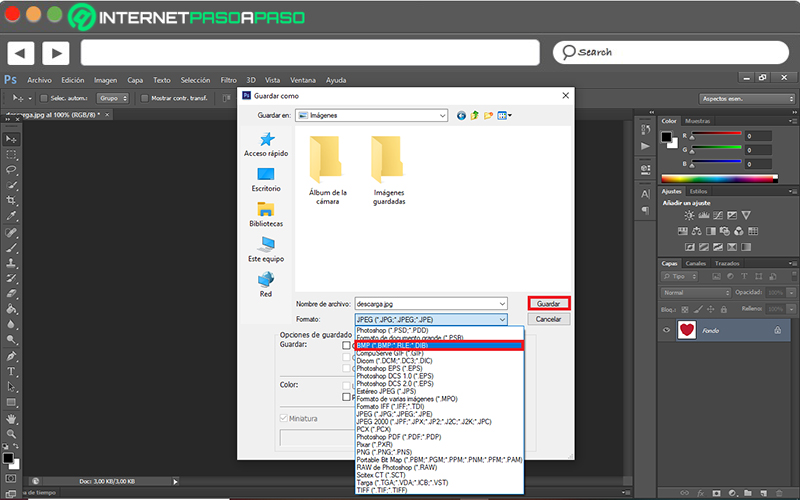 Once this is done, from your preferred web browser, look for a converter that allows you to transform the BMP image into CUR format, which is one of those recommended for cursors. In this case, we use Online Convert Free.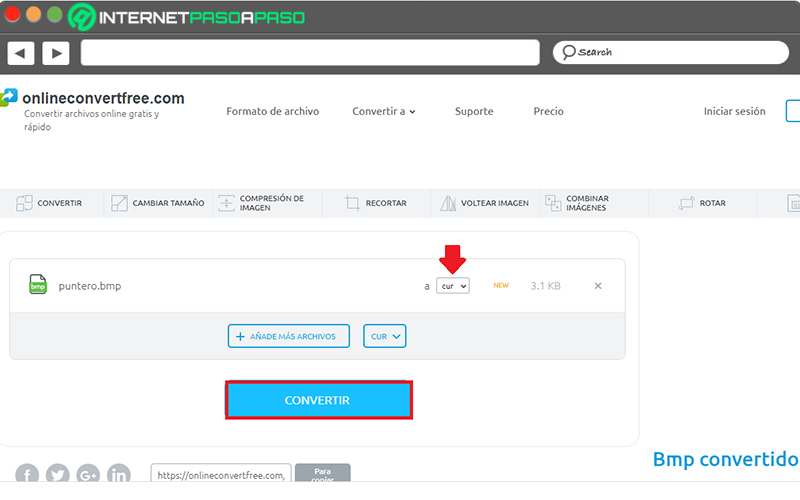 To conclude, once you carry out said conversion and obtain the CUR file of your custom pointer, proceed to download it and carry out the procedure detailed above to define it as the new cursor on your W10 computer .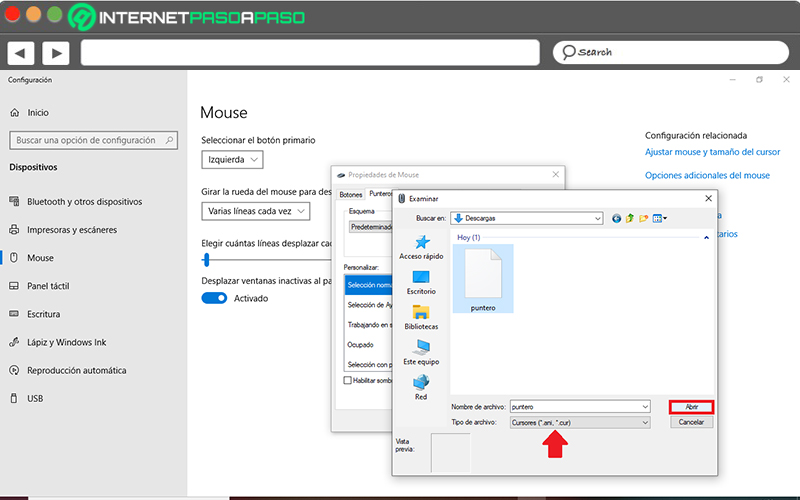 The best programs to create your own custom pointers in Windows 10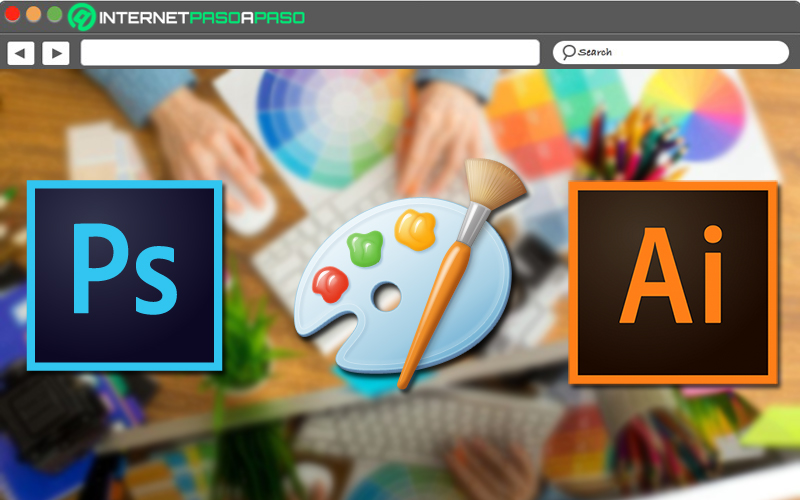 As we indicated in the previous part, you can use any program that allows you to edit your images to set them as cursors on your Windows 10 PC, in a more optimized and personalized way. However, although there are so many solutions for this, it is worth pointing out the best three that you can run from Microsoft Windows :
Photoshop
Without a doubt, it has been cataloged as one of the most powerful and recognized image editing programs in the world, which was created by Adobe . For this reason, it is the program that we use to teach you how to easily create custom pointers, especially because it allows you to save files in various formats that you can choose freely .
Among its most special characteristics, we highlight the following: it has numerous tools to make professional-level edits and this, without the need for advanced knowledge to handle it. It also has many filters, you can add special effects, make 3D illustrations and it is very fast software .
Microsoft Paint
Since it is an application created and designed by the same Windows 10 company, it is also recommended to use it to create high-quality custom pointers . Taking into consideration that Paint is one of the most used drawing programs in the world, especially due to its presence in all versions of Windows .
Regarding its most important features, we highlight that it incorporates several quality tools (free selection, eraser, zoom, brush, pencil, text, line, curve, polygon, rectangle, ellipse, airbrush, fill, etc.). Apart from that, it adds a 48-color palette and 12 custom color slots that can be easily edited.
Adobe illustrator
Basically, it is an optimal platform to create graphic pieces from high quality tools . For this reason, it is one of the platforms most used by designers and, thanks to the fact that it was also created by Adobe, it can be considered that it is an excellent mechanism to create custom cursors and install them in W10.
Now, focusing on its most substantial particularities, we point out that it has several controls for a vector design, its fonts are much more advanced and original, it allows to obtain more attractive and specific strokes, guarantees a remarkable sharpness, supports various formats, has a wide color gamut and there is no loss of quality in the images. However, this program is ideal for more advanced users, unlike Paint and Photoshop.