software
How to deactivate the history of windows 10 locations to take care of your online privacy? Step-by-step guide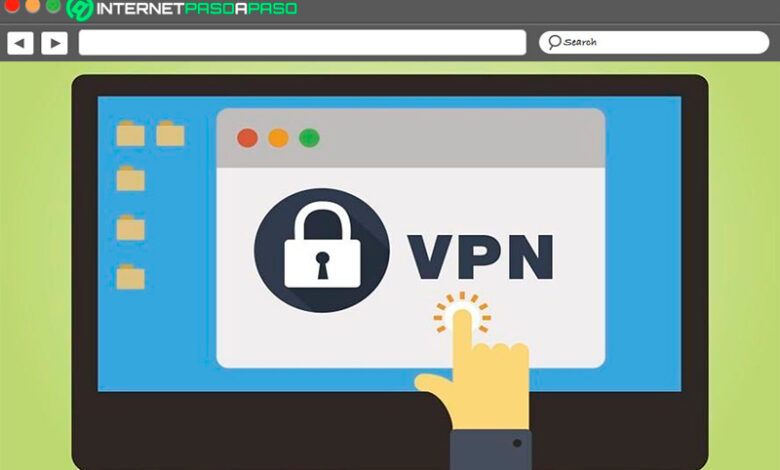 Microsoft has been characterized by being a fairly customizable operating system, this being one of the most striking features for users, but in the same way they have shown some concern because said OS has some functions that can collect too much private information from users, as is the case with Windows 10 location history.
This is how many users who consider that Microsoft passes the line of privacy and security, have made the decision to protect as much information and data from their personal lives . Luckily for everyone, this operating system will allow you to activate and deactivate any type of function that you consider to be a risk for you.
One of the biggest concerns on the part of users is all the data that is collected while browsing the internet, but also the W10 location tracking has become a problem for many. This is how here we are going to teach you how to deactivate this history in an easy and fast way and thus be able to take care of your privacy online, for this, follow in detail everything that we are going to teach you below.
What is location history in Windows 10 and what risks does it pose to my privacy?
Today there are many users who still do not know what the history or location tracking of Windows 10 is, in this case it is a function that, as its name says, allows Windows to know where you are. This function has been programmed so that the operating system can provide important information to each of its users, such as the local climate, nearby restaurants, hotels, tourist sites, among others.
This is very well taken by some people, while by others not, since it is considered to be a violation of the privacy of the person, so an alternative to avoid this is by deactivating said tracking function . However, keep in mind that some of the operating system applications need to know where you are in order to function properly.
One of the cases where it is necessary to have this tool activated is when the user has asked a W10 application to remind him to buy bread when he is in the supermarket, for this to work the application must know when the person is there . All this is about a service that can provide you with maps to go to your destination to show you shops of your interest near your location .
Although the intentions of this tool is not to violate people's privacy, it can be considered that it does so for many of them, since some of the users do not want to provide this data for security measures, since anyone else Having access to your W10 session can easily track you and know your every move . They can even know when you have left your house, your daily routines, your favorite stores, among many other details.
How does Windows 10 history tracking work?
This Microsoft system location setting allows certain applications and functions of the Win 10 operating system to work properly. As can be the functions of automatic configuration of the time zone, find my device, among some others. When this tool is active or enabled, the Windows location service will use a combination of the Global Positioning System (GPS) .
nearby wireless access points, cell towers and IP address, all this will allow you to know the location of your device. Keep in mind that the precision of all this will have varying degrees of accuracy, which will depend on the possibilities offered by your device. When history tracking is enabled, it will send depersonalized location information to Microsoft, after removing all personally identifiable data from the device.
So that all this information is used to improve some of Microsoft's location services, in some cases all this is shared with partner location service providers such as HERE, so that the provider's location services can be improved. . You should keep in mind that enabling this will allow applications to use both your location and your device's location history.
All this to offer you location recognition services with the precision that your technological device allows. In the event that you have logged into your Microsoft account and location history is enabled , the latest information related to your location will be stored in the cloud service , where it is available to your devices, either to be used. for other applications or for the services you use with your Microsoft account .
Learn step by step how to disable Windows 10 location history from scratch
If you are one of the people who likes 100% privacy and does not want the Windows 10 operating system to be tracking you wherever you go, then one of the alternatives for this is to disable the tracking history.  Fortunately, this procedure can be executed very quickly and easily, so you will not need advanced knowledge.
To do this, in this case simply follow each of the instructions that we are going to explain below:
The first thing you should do is select the start button of the system and in the options that appear on the screen you must select the "Settings" icon .
Once you have entered the "System Configuration" window, you must click on the "Privacy" category .
Now in the privacy window you will find an options menu in a panel on the left of your screen, there you must click on "Locations" located in the "Application Permissions" section.
When you select it on the right side of your screen, all the corresponding options will appear, in this case it appears that the location for this device is activated, to deactivate it you must click on the "Change" button
There you will see a switch on the blue screen, which indicates that it is activated, in this case you simply have to turn it off and it will be gray .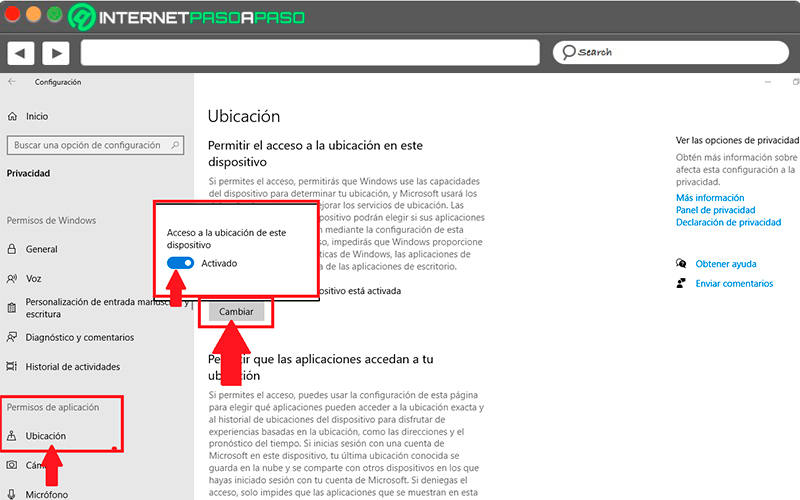 Here you can scroll the window down to locate yourself in the "Allow applications to access your location" section. In this case you will also find a switch that is activated by default, here you simply have to repeat the previous step and turn it off to deactivate the function.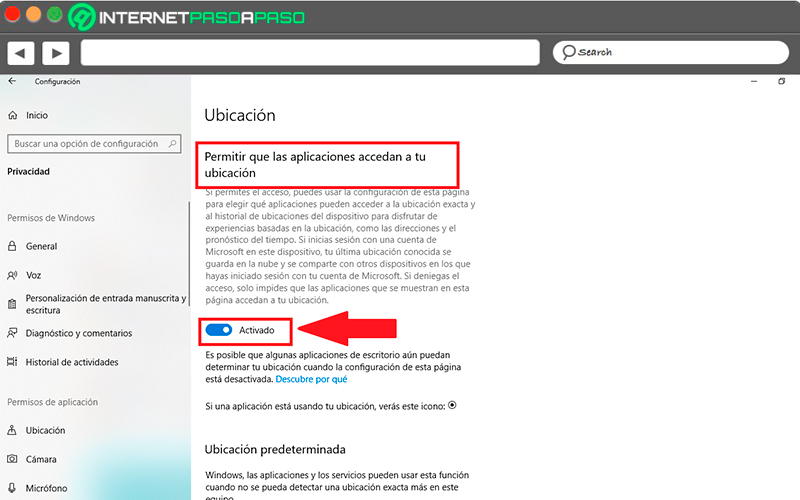 Finally you can scroll a little further down until you find the "Location history" section and there click on "Delete". This will allow you to delete said history and prevent it from being available to third parties.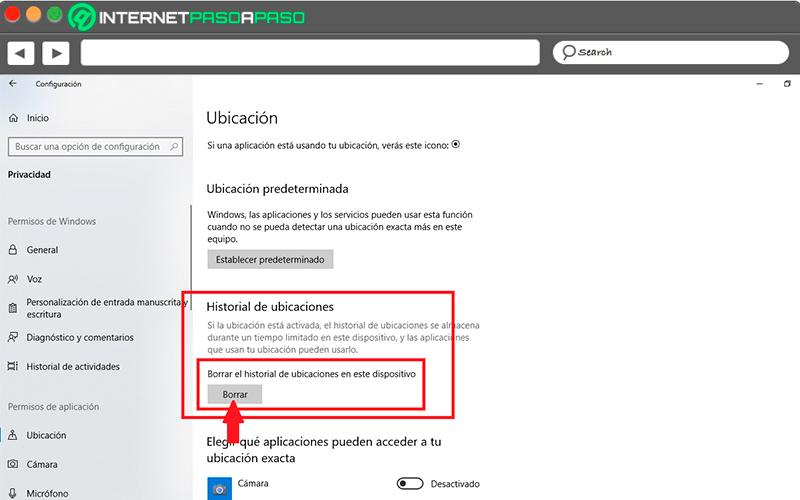 You must bear in mind that in the event that your Windows computer has several user profiles, then you will have the opportunity to deactivate it on a user-by-user basis or simply deactivate it for only some of them.
In order to deactivate or activate this in any of the individual accounts, you must follow each of these steps:
The first thing will be to log into the account and perform all the steps mentioned above, there you must click on "Change" and slide the switch to activate or deactivate the location.
It is also important to mention that it is not always all or nothing, bearing in mind that some applications need location activated in order to function . Therefore, to be able to solve this Windows allows you to activate or deactivate the location only for some specific applications .
To do this, you must follow these steps:
You must go to the aforementioned route, once located on the location screen you must scroll to the end of it and there you will find the section "Choose which application can access your exact location".
Here you will find a list of all your available applications, in this case you only have to activate the switch to those that you want to continue having access to your location. In this way you can control this Windows function to your liking .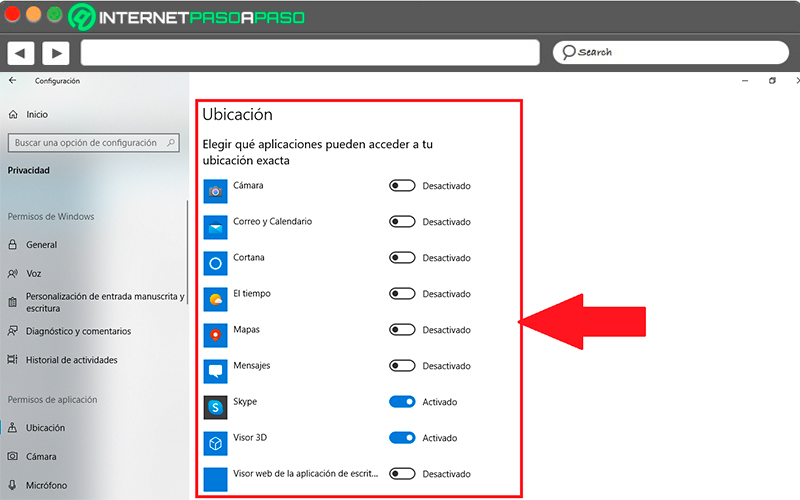 The best tips to improve your privacy in Windows 10 and be protected
Undoubtedly, one of the most important issues in computer equipment today is privacy and security, since all this is directly related to the information stored on computers by users.
In the case of Microsoft's operating system, it offers tools that will help you guarantee maximum security, but despite this, it is important to take our own measures in order to secure personal information. In accordance with all this, here we are going to teach you some tips that will help you improve the privacy of Windows 10 and thus be much more protected all the time.
To do this, follow in detail the list of recommendations that we will show you below:
Disable Cortana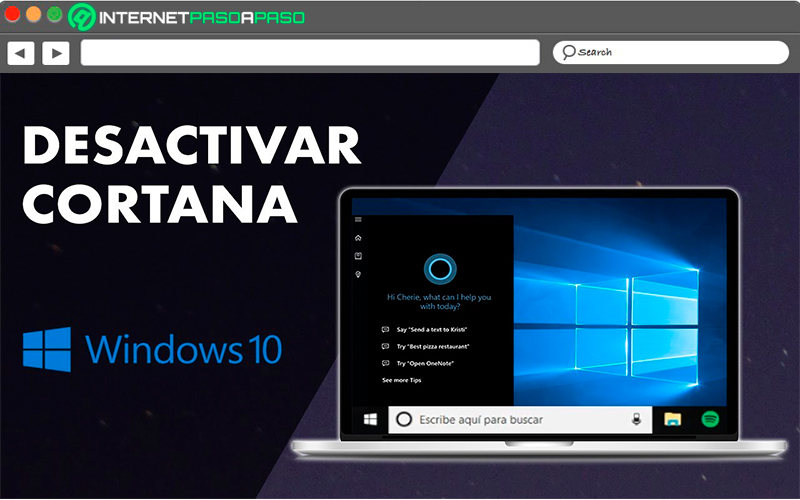 Cortana is known as the Windows voice assistant and it is being used widely in mobile environments. Despite this, its use on computers is not so frequent, so it is considered that it is not a necessary tool even though it can be quite useful on many occasions.
However, if what you want is to take care of the privacy details on your computer, then the best thing in that case is to deactivate this function and thus prevent Cortana from accessing your personal and banking data as well as other information you have on your computer.
Turn off ad tracking
In the case of the Windows 10 version, users will have an option known as "Allow my applications to use my advertising ID" in this case, all applications installed on your computer will be able to send you advertisements based on registered activity from your system.
All this can put your privacy at risk, since any app could access all your data. Therefore, the best option for this is to disable this function, for this it will be necessary that you go to the "Settings" menu and then to the "Privacy" category and there you enter "General" where you will carry out the deactivation of this ad tracking.
Review privacy settings after updating the system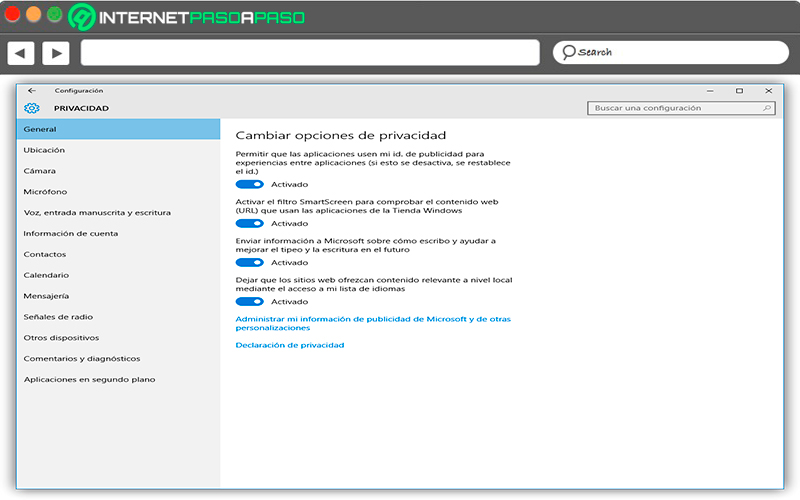 It must be borne in mind that the Windows operating system is constantly sending updates to its system, thus allowing its users to have up-to- date tools to be able to give an effective response to any type of danger that may arise. That is why after each update process by Windows Update changes are made to the system.
Mostly these changes can be noticed with the naked eye, but some of them are not noticeable, so you end up modifying some parameters of your configuration without realizing it. Therefore, if you want to maintain privacy, it is important to review these Windows options from the configuration menu in order to make sure that nothing has been modified after the update.
Forget about quick installation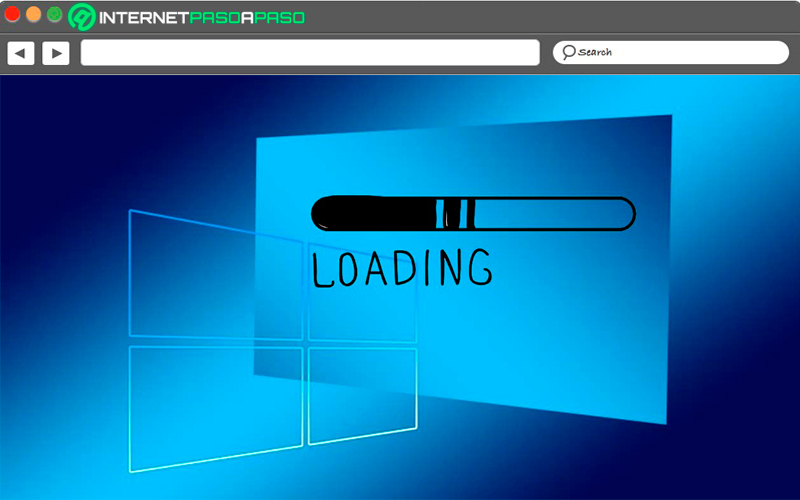 When the installation of Windows 10 is being carried out on your computer, it is necessary that you choose between what is a quick installation and a custom installation . If the express installation is chosen then the Windows operating system will be installed according to the default values, so this could affect your privacy in the future.
In order to have better control over all this and thus be able to take care of your privacy much more, then it is necessary that during the installation process of the Win 10 operating system , the custom installation is chosen and each of the parameters is adjusted to suit your needs. In this way you can ensure that each of the options related to privacy and security has been configured correctly.
Surf the internet using a VPN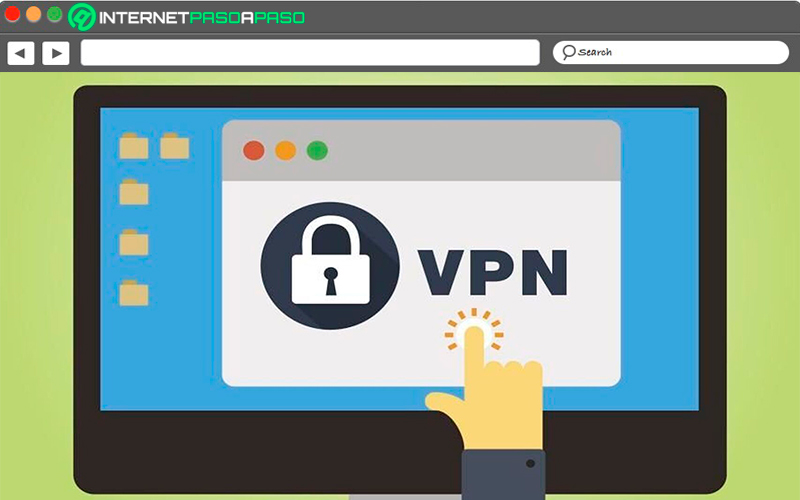 Currently, most computer users have chosen to use a VPN when browsing the Internet, since this is a way to prevent ISPs from tracking the steps performed on the web, taking into account that they can check the urls visited .
In this way, one of the most viable options to increase privacy on computers is using a VPN to encrypt your connection symmetrically . In this case, the most important thing is to be able to choose a very good privacy software provider, since this will be what allows you to hide your source IP and thus be able to navigate in a much more secure way.