software
How to create custom icons for your folders and shortcuts in windows 7? Step by step guide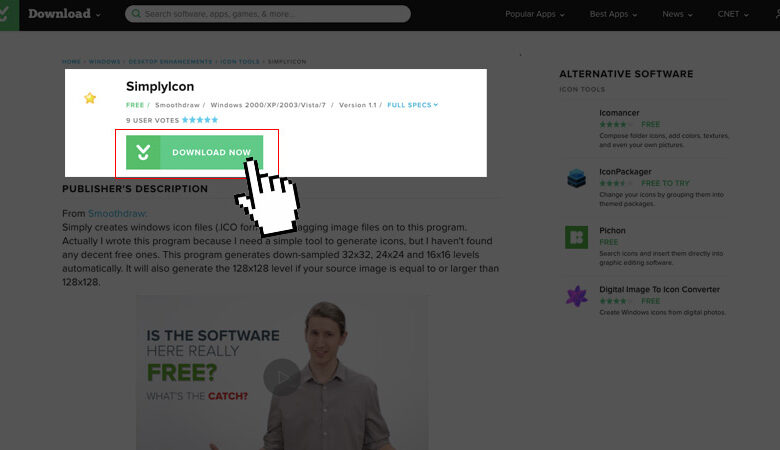 All computers have the option to customize desktop themes, which includes changes in terms of colors, sounds and even in the icons of the folders and shortcuts .
In this way, the user can have a view of their equipment 100% adapted to their tastes or needs . In case the settings included in your operating system are not enough or you don't like them at all, you can resort to designing your own icons and configuring them on your PC.
In this sense, read on to learn how to create custom icons for your folders and shortcuts in Windows 7 step by step . In addition, we show you what programs you can take advantage of and the necessary dimensions in your designs.
What are the correct dimensions and format for the Windows 7 desktop icons?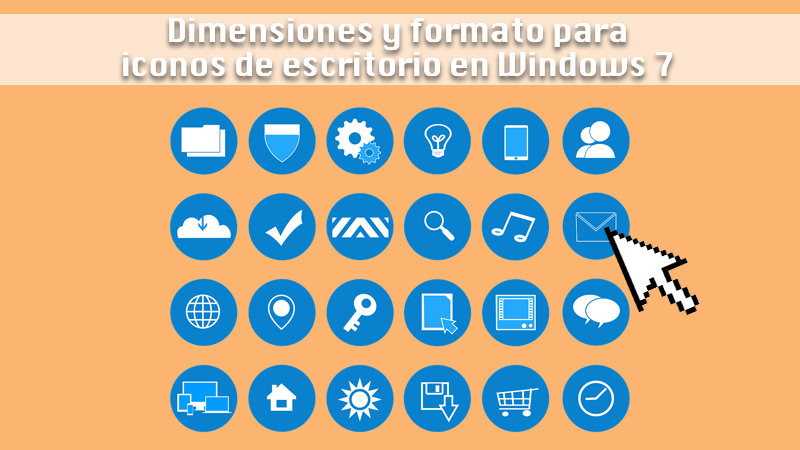 Before starting to make any type of design, it is important to be clear about the dimensions and formats that they must have so that they are compatible with what you are looking for. In the case of Windows 7 desktop icons, there are certain aspects that you must consider in order to customize them.
Regarding size, there are four types you can work with:
Very small: 16 x 16 px.
Small: 24 x 24 px.
Medium: 32 x 32 px.
Large: 48 x 48 px.
On the other hand, when it comes to the supported format for the icons for a color screen, it is recommended to use the X pixel map (XPM), whose name usually has the suffix ".pm". For all other cases, use X Bitmap Format (XBM) files which have the suffix ".bmp".
Learn step by step how to create a custom icon for your folders and shortcuts in W7
If you don't like the default Windows icons and you want to have a lot more personalized ones, you should know that you can achieve it with the help of design tools . On the one hand, we will teach you how to create it with Paint, which is the easiest way to achieve it.
Apart from that, we will also show you below how you can do it with the help of slightly more advanced editing programs:
In Paint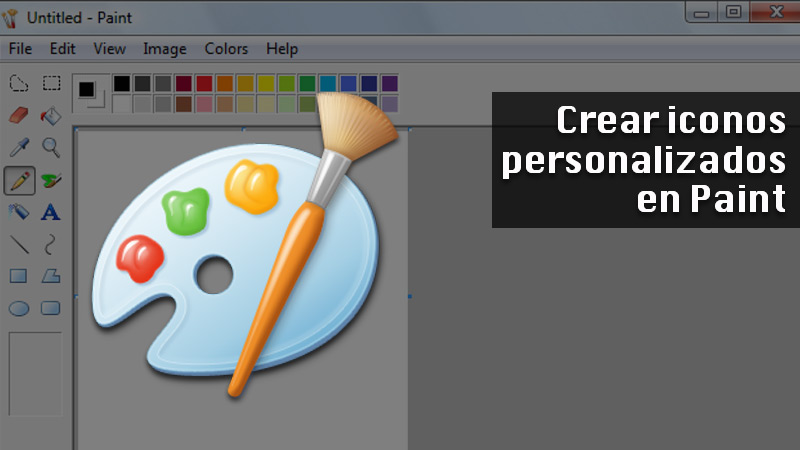 The option to create icons using Paint is very effective, especially for people who do not have much experience with slightly more advanced programs. The most interesting thing about Paint is that you can even draw it and obtain an attractive result in a few minutes .
In this sense, the step by step to create icons for your folders and shortcuts in Windows 7 with Paint, is the following:
Open a new file in Paint.
We recommend that it be 256 x 256  pixels . However, you can make it bigger but you should know that the icons must be exact squares, so both the width and the length will always be the same.
The next step is to display the grid so that everything stays in symmetry. Go to the View tab and check the checkbox in the Grid section .
Choose the pencil, brush or pen tool and start drawing your icon. Likewise, you can choose the color you prefer for your strokes and even add textures.
Once the drawing is ready, you can put text on it if you prefer. To do this, select Text from the toolbar. Keep in mind not to overload the text icon, because visually it can look bad.
When you are satisfied with your design, save it in the original size because this helps you to trim it in the future and not lose quality. The format to save is ".bmp". Then reduce the size to 32 x 32, which is the default for all icons in Windows.
After reducing the size and setting the format, you must enter "Save as type" and write the name followed by the suffix ".ico". Specifically in these cases, you have to write the whole name together, such as "menuinicio.ico".
In Photoshop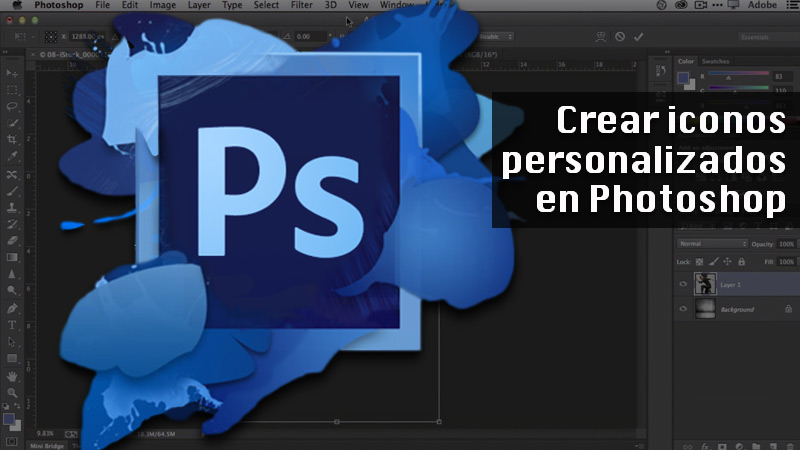 Creating an icon for Windows 7 in Photoshop is a very simple procedure, so you don't need to be a professional editor to achieve it. The steps to follow are similar to those you apply with Paint, so pay attention to each step to achieve a unique custom icon for your desktop.
Let's see below the steps to follow:
Enter Photoshop .
Click on File and then on New .
When the pop-up window is displayed, you should make sure to place the 256 x 256 pixel measurements   for the worksheet. It is recommended to work with these dimensions, to avoid distortions in case you have to cut it.
After entering the measurements, click OK .
On the left side of Photoshop, the toolbar that you can work with is displayed . We recommend using the Drawing tools to create the shapes, Fill for the colors and if you want to incorporate text, in the Text button .
When you're done, you should save the original icon by going to File and then Save As .
Next, it is time to adjust the size of your icon according to the dimensions you are going to use. To do this, click Edit and then click Resize image .
Inside that section, put the new dimension that you would like to use in terms of pixels. Use equal measurements in both width and height, to avoid distortion. For example, 256 x 256px measurements in images are reduced in the middle at 128 x 128 px, 64 x 64, 32 x 32, and 16 x 16 px .
Finally, save the icon with its new dimensions by going to File and Save As . Remember to change the name of the icon to be able to identify that it has a different size than the original one. This makes sure you don't delete the base design.
Save the image in BMP format and with the extension ".ico" so that Windows will recognize it as an icon.
In case you want to create a file with the ".ico" format, you must open a 32 x 32 pixel image . Later, select File and Export As in the menu bar located in the upper left corner. Proceed to save the file in ".GIF" format and close the image . To complete the procedure, open Windows Explorer and change the image extension from ".GIF" to ".ico" .
Steps to set a custom icon in a folder or shortcut in Windows 7
Once you know how to design your custom icon for your folders or shortcuts in Windows 7, the next step is to set that design for each folder .
It is a very simple procedure, and we will explain it to you below:
Right-click on the folder you want to change the icon for. Then go to Properties and enter there.
Go to the Customize tab and, in the Folder icons section, click on the Change icon option .
Automatically, a window with the available icons is displayed . In this case, to choose the one you created, you must search for it by clicking on Browse .
When you get it, select it and tap OK .
That's how easy you can change the icon of your folders in W7 . However, keep in mind that the image must be BMP with the extension ".ico". This way you avoid any kind of compatibility problems.
List of the best programs and tools to create custom icons
Apart from Photoshop and Paint, there are other very effective programs and tools that help you create custom icons for your computer.
Here are the 3 most popular in the field:
Illustrator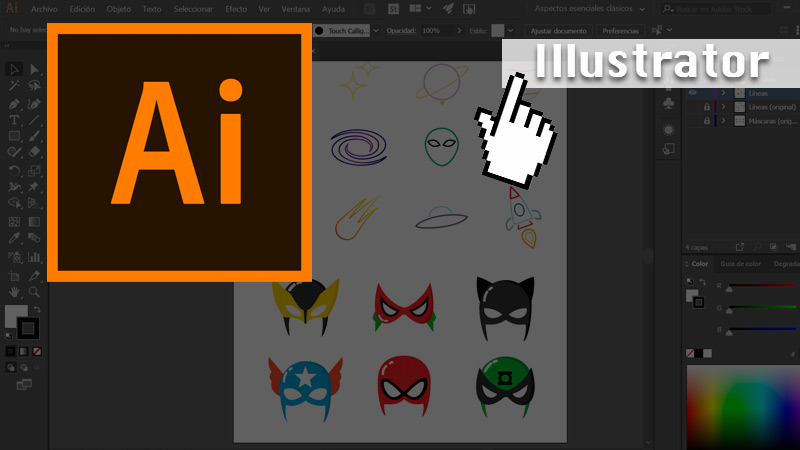 Illustrator is a much more advanced option for folder icon and shortcut design in W7 . It is an Adobe program , with which you can make all kinds of designs according to your tastes and needs. Inside it, you have access to brushes, pencils, lines and many other alternatives to make attractive icons. To get your 7-day trial you must enter "adobe.com/es/products/illustrator" and when you complete your data, your trial will begin.
Corel Draw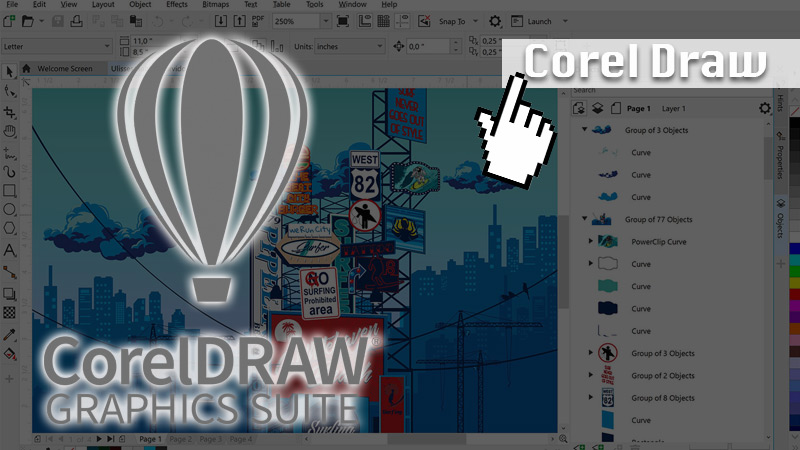 This program is one of the most widely used illustration creation software in the world. Thanks to it, you have a wide variety of pencils and brushes with which you can design your icon from scratch. Once that's done, you can add filters and other cool visual effects to it. Added to that, it allows you to even create images with 3D effects so that your desktop is much more original. Remember that when saving your design, you must use the BMP format .
Simplylcon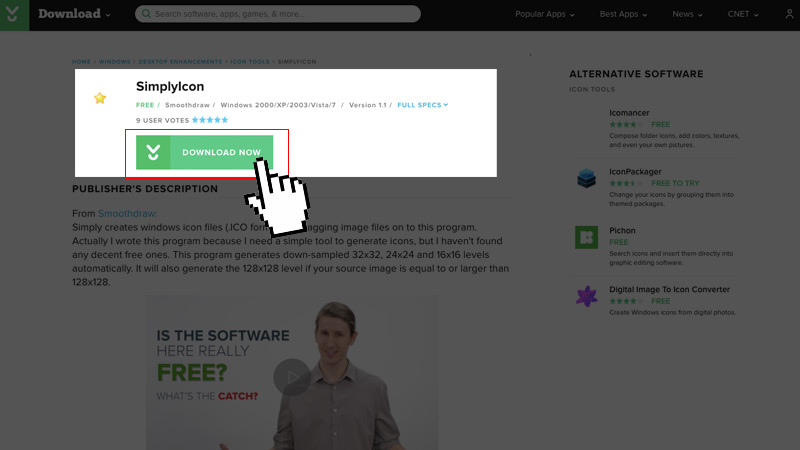 It is a practical software of very good quality with which you can make your icons without problems to personalize your desktop. This means that you can create different designs in ".ico" format to be compatible with W7 .
An interesting fact is that it does not require installation to function. In this sense, you only have to download it to your PC and when the program window is displayed on the screen, you must drag it over the image that you want to convert into an icon . Simplylcon will take care of generating an icon from this and will save it in the photo's source folder.