software
How to buy 100% legal and discounted windows 10 and microsoft office license? Step by step guide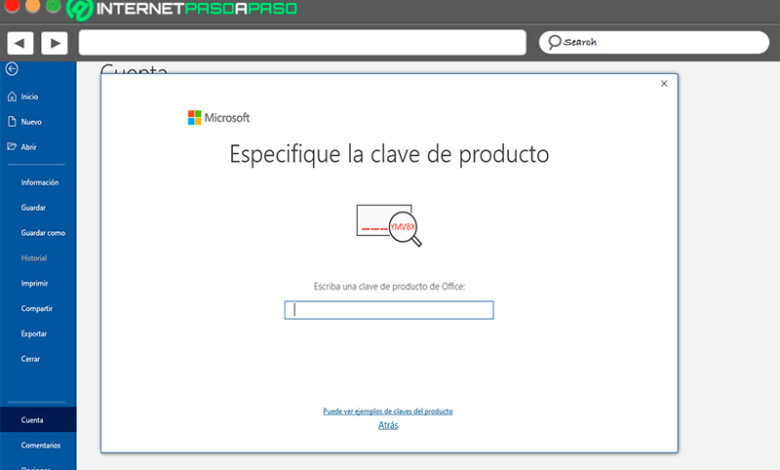 Today there are many users who make use of the latest version of Windows 10 and therefore also have the Microsoft Office suite . However, to use this operating system and each of the programs contained in the Microsoft suite, it is necessary to purchase a license that will allow these products to be used indefinitely .
As we already know, Microsoft Office is made up of different programs, all of which are widely used all over the world, such as Excel, PowerPoint, Word, among many others available there. To be able to use these softwares without any problem and run the risk that they stop working, it is necessary to have a Microsoft license .
The same happens with the W10 operating system, many of the users do not dare to buy it because they think that they have an excessively high cost and the truth is that it is the opposite. That is why in this post we are going to explain how you can acquire the 100% legal license of these two products so that you can work completely safe.
What are all the license types for Windows 10 and Microsoft Office?
Being able to obtain a license for these products legally will be very important, especially since you will be able to enjoy both the operating system and the Microsoft suite indefinitely without risking the programs being closed. In addition, it is important to know that there are different types of certificates for each of them and which we are going to show you below:
In the case of W10 you can find different types of licenses for the time of activation of this product, since this will be what allows you to use it legally. Therefore, here we show you each one of them so that you take them into account when activating W10 on your personal computer .
OEM (Original Equipment Manufacturing)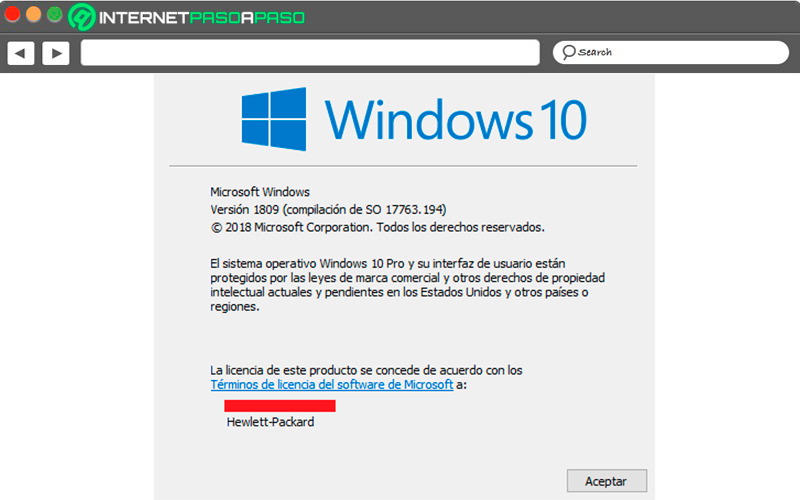 The first type that can be found are the OEMs, these can be said to be the most popular of all, this is because it is the one that is included when a new computer is purchased and they are directly linked to the hardware of the machine. When buying a computer with the license integrated directly into the hardware, it must be taken into account that parts such as the motherboard, processor or hard disk cannot be changed, since said certificate will be unusable .
In the event that some of these parts are changed, the user will be obliged to acquire a new certificate of originality . When it comes to a computer like this, you can simply make changes to parts such as RAM, graphics card and some other components. If you have lost the certificate you can get a new one online , since there are currently many websites where they sell them.
But it is important that you bear in mind that when you buy a license of this type that is intended for manufacturers, there may be some inconveniences, since if there is any type of technical problem you will have to wait for the manufacturer of the equipment that sold you the license to respond to you., since in these cases Microsoft ignores any problem that may arise .
Retail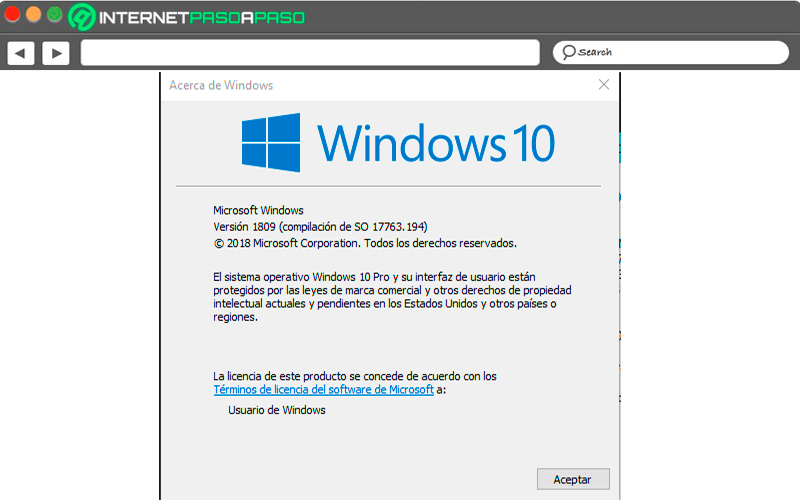 These are the other types of licenses that you can find in the market, they are generally more expensive than OEMs, because they can be used in different devices, this is how they are considered to be linked to the user . This means that if you have a Retail you can activate it on all the computers you want with any hardware configuration.
But it is important to clarify that it can only be activated on a single computer, this means that you can not activate on two computers or more simultaneously. These are used mostly by those users who are dedicated to assembling computers by parts and equipment that are sold without any type of operating system .
GVLK (Generic Volume License Key)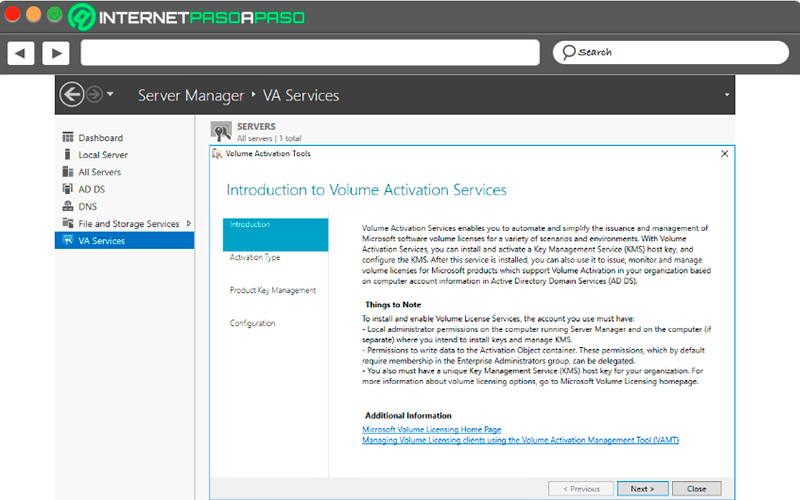 Finally, you can find volume licenses, which are used mostly in companies and businesses where a large number of computers are used at the same time . This means that this type of license can be activated simultaneously on a certain number of computers using the same key. So they are ideal for those companies that need to activate many computers and buy licenses in batches.
When this type of volume certificate is available, the user can choose a KMS server with Windows Server, since in this way you can activate it on all the machines that connect to it. This means that the volume license must be entered on the KMS server . In this way, each of the clients will look for a KMS server to use the license without needing to use the Internet.
License types for Microsoft Office
In the case of Office licenses, you will have the opportunity to find different types of them, this will allow you to activate those that best suit your needs with the Microsoft suite programs.
Use the discount code, KWLE50, it also offers 50% discount on the following products:
Office 365 Home: Here you will have access to all the programs in the suite, and you will be able to share it with a maximum of 6 people .
Office 365 Personal: Access to all available programs plus additional services such as 1 TB of OneDrive storage so you can save all your documents in the cloud. But keep in mind that this will work for a single user.
Professional Office: It is currently the most complete of all, it includes a single payment for the service of all the programs in the suite such as Word, Excel, Outlook, Publisher, Access and PowerPoint, and it works for a single PC.
Office Home and Business: Offers a license with access to Word, PowerPoint, Excel and Outlook programs . In this case, the payment will be unique unless you want to update the Windows version and the license is lost.
Office Home and Student: It is very similar to that of home and business, but in this case the Outlook email server is not included .
Where can I buy a license for Windows and Office?
Use the discount code, KWLE38, it also offers 38% discount on the following products:
In case you are interested in buying a license for both Windows and Office, here we are going to recommend the website where you can find all the licenses available for both the Microsoft Office office suite and Windows 10 with great discounts.
It is also important to mention in the case of Microsoft programs, you can also acquire their license through the official keysworlds page , here you will find all those certificates available so that you can acquire the one that best suits your needs.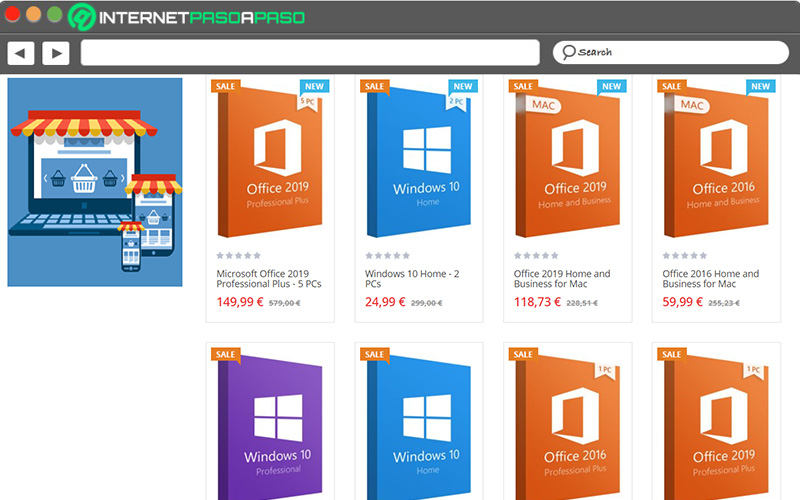 In the case of keysworlds, it is an online store that is licensed for software at a very low price and with immediate delivery via email . In addition, it has become one of the most reliable and secure websites for this type of shopping . This is how here you will find all the original licenses for the Windows operating system as well as for Microsoft .
This web portal also offers a wide variety of products such as video game licenses and Xbox Live Gold cards . In the case of W10 licenses, they can currently cost around 180 euros in any other online store, but at keysworlds you can buy it for up to 8.67 euros for a limited time.
Steps to activate my Windows 10 and Microsoft Office with my new license
In the case that you have already bought your Windows and Microsoft license and you want to activate it so that you do not have problems in the future and you do not know how to do it, here we are going to explain the main steps so that you can carry out this procedure.
To do this, follow each of the methods that we will teach you below :
Windows
If you have bought the Windows license and you do not know how to activate it, here we are going to explain step by step how you should execute this procedure, it is very simple and fast to perform, to do this, follow each of these instructions:
Once you have the new activation key for Windows in your hands , you will have to go to the W10 activation menu. For this you can do it through the Windows search engine or simply by entering the start menu and clicking on the "Settings" icon .
When you have entered the "Settings" window, you must select the "Update and security" category .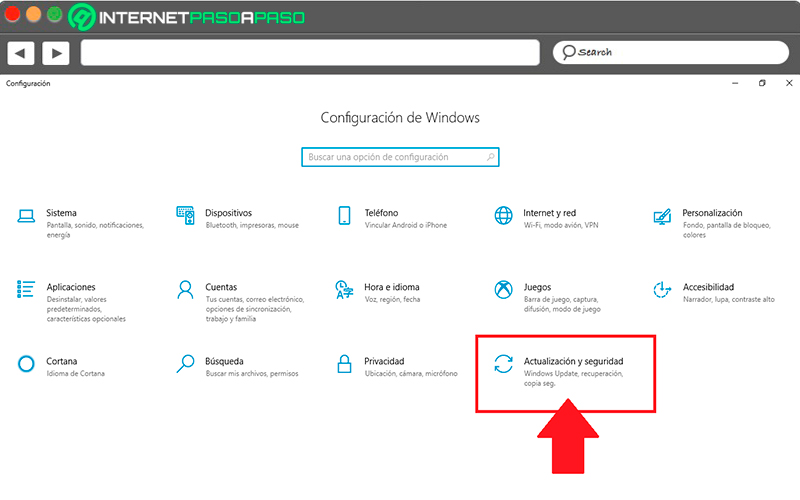 Now a new window will appear where you will find a menu on the left side of your screen, there you must click on the "Activation" section.
In the section above you can see if your Windows is already activated or not . In the case that it is already activated and you want to change the product key, it will be  done in the same way as if it were activated for the first time. Here you must click on "Change product key".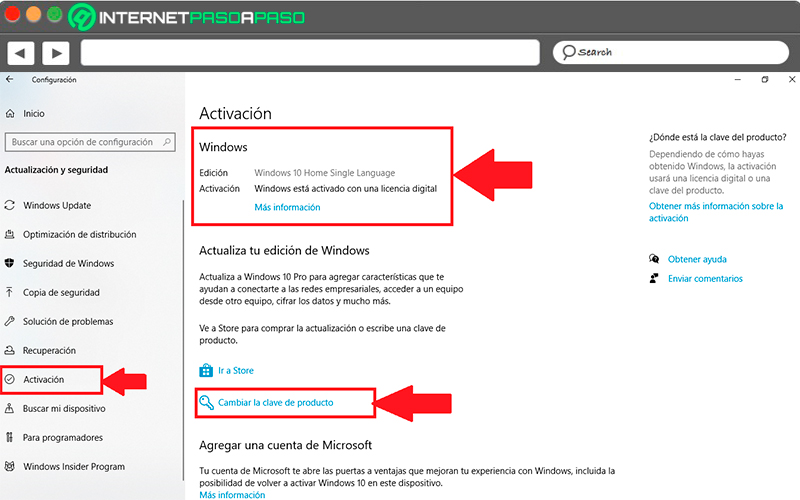 Once you click on the option to change password, a blue box will appear on the screen where you must enter the new product key, you must make sure that all the digits are written correctly and click "Next". Once done, the key will be activated automatically in W10 .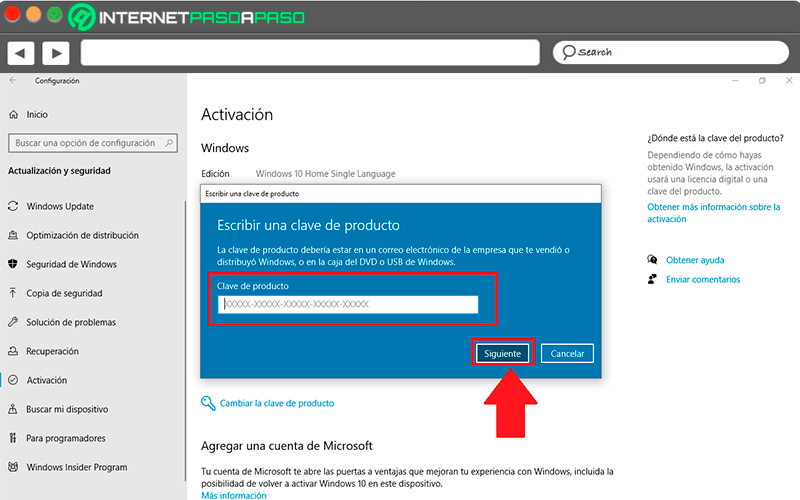 Microsoft Office
As we already know, Microsoft Office is made up of different programs such as Word, Excel, PowerPoint, Access, Outlook, Publisher and some other programs belonging to the office suite . That is why the importance of being able to have an activation key that allows you to enjoy each of them without any inconvenience and indefinitely .
Therefore, if you already have this activation key and do not know how to activate it, simply follow each of the steps that we will indicate below:
The first thing is to enter one of the programs belonging to Office, in this case it will be done from Microsoft Word .
The first thing will be to enter Word and click on "File". There a new menu will open where you must select the "Account" section.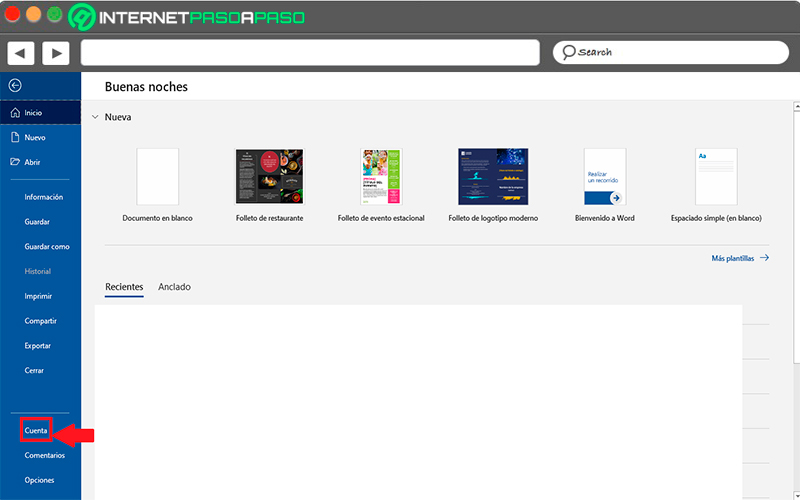 On the right side of your screen you will see the option "Change product key" which you are going to select.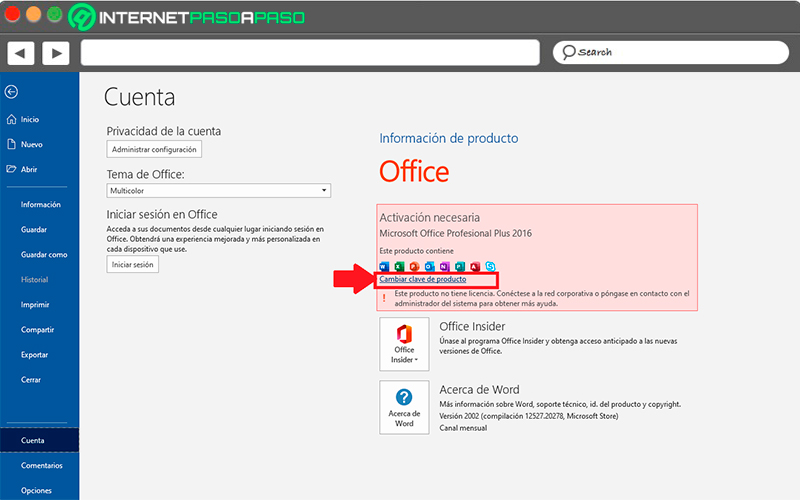 A new window will appear on the screen where you must specify the product key and press the "Enter" key .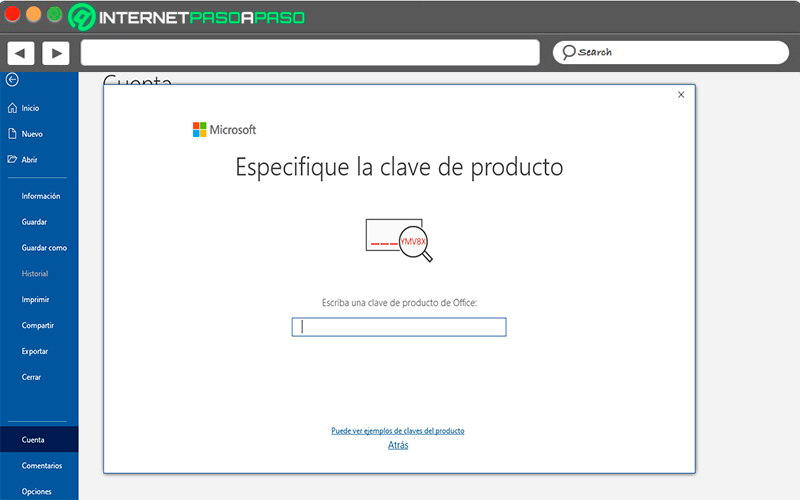 If the activation key is correct, you just have to close the program and re-enter it, there you will see that the product activation has been carried out correctly .
Can Windows and Office be activated with a free pirated license? What are the risks
It is not a secret for anyone that you can get absolutely everything on the Internet, but it should also be mentioned that many things that are obtained there are illegal, and in the case of Windows 10 and Microsoft Office licenses, there is no exception. And there are currently many people dedicated to scam other users with these types of tools, so you must be very careful when buying one of them.
In general, many online stores usually offer this type of activation keys at very low prices only with the aim of attracting the user to scam them, even in well-known sites such as PCComponentes and Amazon, these types of fraud have been detected . This means that in many cases buying the cheapest is not recommended .
If you buy an illegal activation key you will be running the risk of losing your money, as well as the license. This means that you must buy these licenses in reliable and safe sites, thus avoiding taking risks at the time of purchase and losing your money .