software
How to apply advanced animation effects on my slides to make powerpoint presentations more dynamic? Step-by-step guide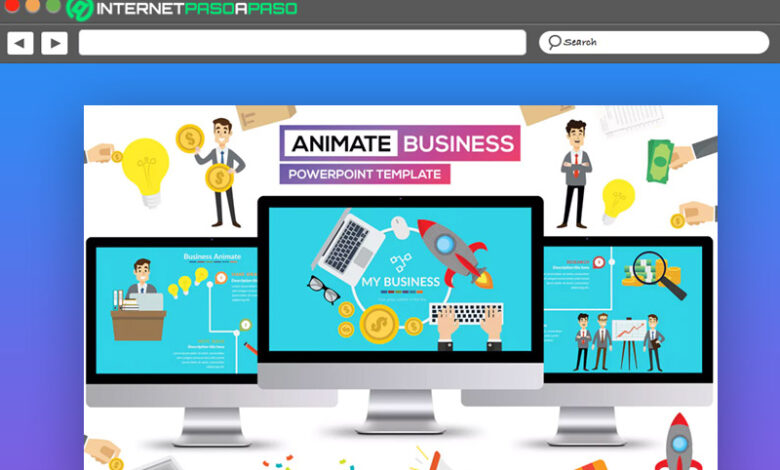 Today, PowerPoint is still one of the main programs for preparing presentations through panels or slides that offer the necessary utilities to introduce any type of content. Consequently, it is classified as one of the most used software in Microsoft's renowned office suite .
Now, just as it allows exposing any kind of text in a technical way, Microsoft PowerPoint also stands out as an office automation tool in which users have the power to customize and optimize their presentations to a great extent . Therefore, it allows you to insert images , music , videos and many more elements .
In addition to this, in order to enrich the slides, the program has the necessary options to apply advanced animation effects to these panels and in such a way, make the presentations look more efficient. If you want to use this to expose your content in a more interesting way, we invite you to read this post so that you know how to use these effects .
Learn step by step how to apply advanced animation effects in PowerPoint
In general terms, an animation is defined as a process that has the ability to give movements to certain inanimate objects or drawings and this is achieved through a sequence of images that were consecutively ordered to produce a credible movement before the human eye. In this way, they are elements that lend themselves to the game of visual illusion .
Now, in the case of Microsoft PowerPoint, animations consist of visual effects that are applied to objects found throughout a presentation . Therefore, they are used to bring "from the inside out of your slide" those objects such as texts, images or graphics, for example. Thus, advanced animation effects in PowerPoint are also known as "inputs and outputs" .
Since, an input refers to an animation that brings something onto the slide and, on the other hand, an output is responsible for moving the object off the slide. Therefore, if you want to display a great presentation in order to capture the attention of the audience present and reinforce the compression visually around the exposed data, it is advisable to use animation effects to obtain a completely dynamic presentation as a result .
Next, we explain the alternatives available in PowerPoint and the steps to follow to be able to execute each one correctly:
Create custom effects
The first thing you can do is create your own effects in a personalized way to show greater originality and exclusivity throughout your presentation. For that, you have two options available in PowerPoint and they refer to the following procedures: Apply various animation effects to an object and use an animation of the animation path .
To apply various animation effects to an object
In this case, the software allows you to target multiple animation effects on a single text string and also on an object (be it an image, shape, or SmartArt graphic ).
To prepare it, the steps to follow are: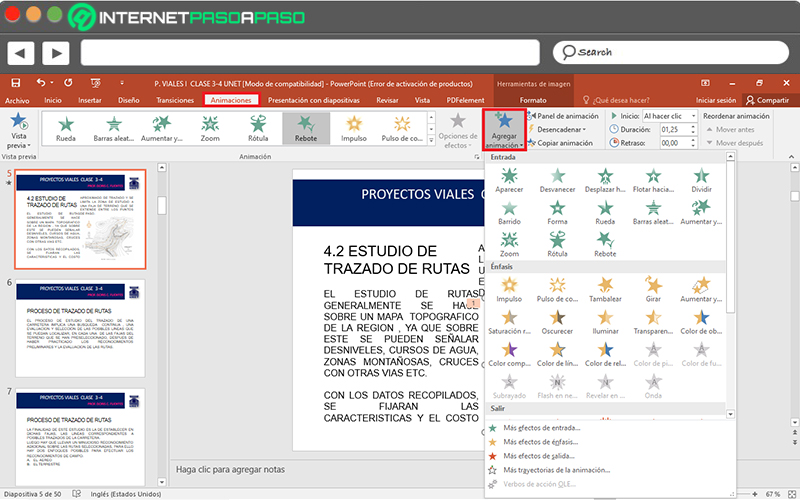 Initially, you need to open the animation panel and for that, first of all, you have to select the object on the slide that you want to animate .
Once you have chosen the text string or object in question, go to the options bar and click on the "Animations" tab .
Next, find the group that says "Advanced animation" and from there, select the option "Add animation . "
After that, you will be able to observe three sections (Entry, Emphasis and Exit) through which you can choose the animation effect to apply .
If you want to add other effects to the same object, you have to repeat the same process . Since, in such a way, only a single advanced animation effect is added.
In case you want to control the timing of the added animation effects, you can set the start time and duration.
To do this, carry out the following procedure :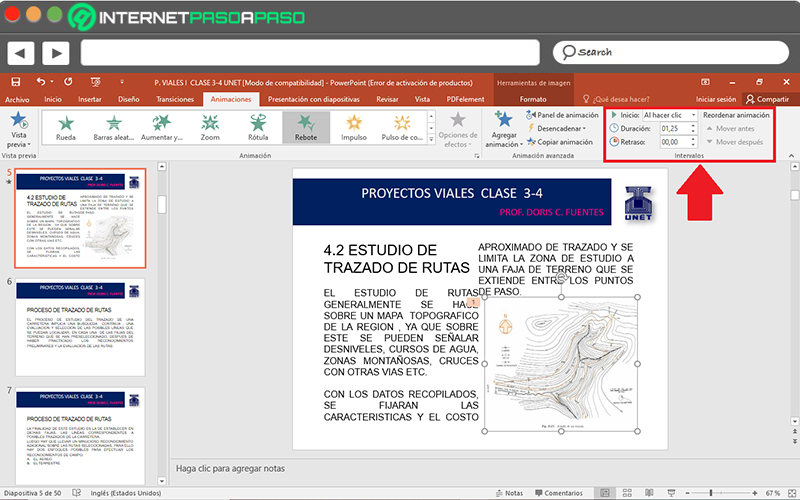 Choose the object to which you have applied the effect and go to the "Intervals" group .
There, click the "Start" down arrow and select one of the three startup moments (on click, with the previous or after the previous one).
In Duration, proceed to change the speed of the animation effect (reducing or increasing it using the arrows available in that option).
By means of Delay, it is possible to delay the start of the animation effect, using the arrows to set the number you prefer.
To apply an animation effect to the animation path
When it comes to customizing advanced animation effects on your slides, you can also apply animation effects to the animation path in order to move objects on the slide in a sequence that reveals an effective story .
Thus, the steps to follow in this case consist of: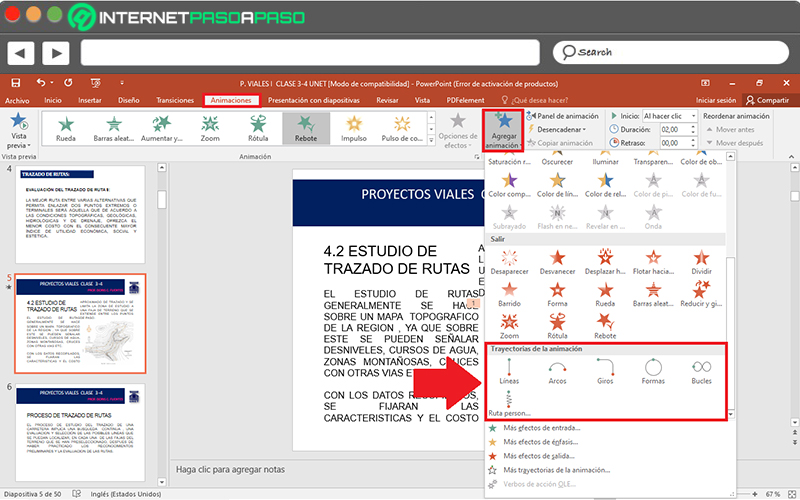 To add an animation path to an object, first of all, click on the object you want to animate in your presentation .
Now, through the options bar, click on the "Animations" tab and click on the "Add animation" option .
Next, scroll through the menu presented to you and focus on the section that says "Animation Trajectories . " At that point, select one of them and start drawing the path you prefer the object in question to take .
Finally, to stop drawing a custom path, you just have to press the Esc key .
Use template with advanced animation
If, in addition to being able to create your own advanced animation in PowerPoint, you prefer to make use of a template of this type, the program also offers you this possibility. Taking into account that, there are numerous professional designers who have originated various free templates that contain various types of advanced animation effects and have hosted them in this tool .
As a consequence, if you want to find a template with advanced animation that fits what you are looking for to optimize your PowerPoint presentation, directly from the software, you will have to follow this procedure: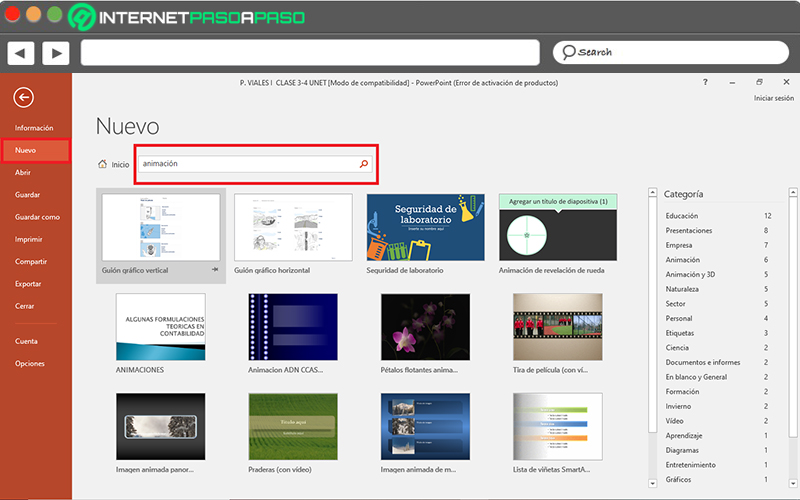 First of all, access your PowerPoint file to add advanced animation .
After that, go to the options bar of the program and click on "File" which is the first tab found there.
Then select the "New" option on the left side of the panel.
Finally, through the search box at the top, proceed to enter "animation" and start the search by pressing the magnifying glass icon or pressing the Enter key . Thus, it only remains to choose the template to use by selecting it, clicking on "Create" and that's it .
Apply animations and transitions
Just as you can apply animations to the objects present on your slides, Microsoft PowerPoint also offers you a similar solution that consists of adding animated transitions . Which refer to the way in which one slide passes to the next, that is, it is not applied directly to the objects but to the panels that are found throughout a presentation .
In this sense, the slide transition is defined as the visual effect that is reproduced when the presentation goes from one slide to the next during its execution . In this case, you can control their speed, add sound, and customize the properties of the effects that are generated.
On the other hand, in order to apply animated transitions to your slides to make your presentation much more dynamic, you have to carry out the following step by step that we present below:
Located in the PPT or PPTX file to edit, proceed to choose the slide to which you want to add a transition and click on it in any area.
After that, through the software options bar, you must click on the "Transitions" tab .
Now, directly from the group that says "Transition to this slide", it is time to choose one of those visual effects available (1). To preview it, just select the transition and it will show up on the slide .
To customize your new transition, in the same group, click on "Effects options" and choose the direction of the transition, as well as its nature (2).
By means of the group "Intervals", you can add a specific sound among multiple options, define the duration of the transition, the way to advance towards the slide and "apply all"  (3).
When you have customized your transitions to the maximum, to see how it will look before presenting it, you can select the "Preview" option in the "Transitions" tab  (4).
List of the best templates with advanced animation effects in PowerPoint
Although Microsoft PowerPoint supports the creation, editing, and customization of advanced animation effects and animated transitions across slides, it does take time and effort to get truly technical and effective results .
Consequently, many users choose to rely on some templates to do this . However, although they are clear that they want to make use of a template with advanced animation effects to make their presentation look dynamic and just the way they want, they do not know what type of templates they should go for .
That is why, here we present five alternatives for you to select the one that best suits your requirements:
HEXA – PowerPoint Presentation Template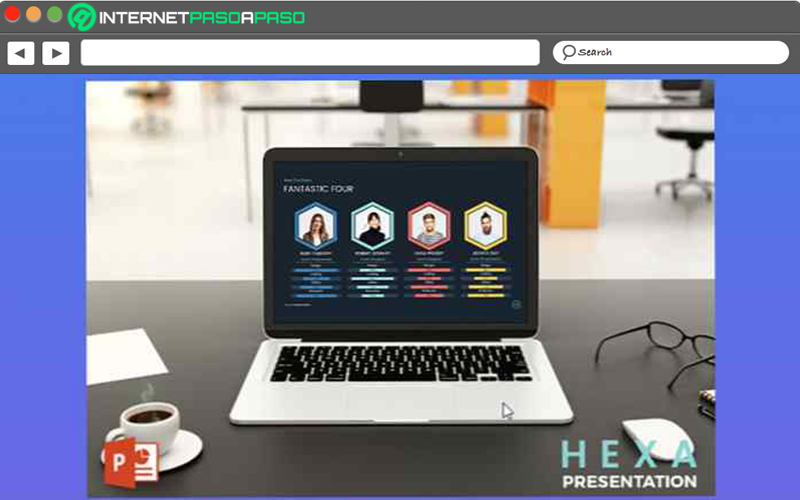 It is a template designed for PowerPoint that you can download directly from the web, for an affordable price . Mainly, it is a pattern that is characterized by containing animations and transitions that are easy to edit and optimize, in addition to having objects with custom animation . Thus, it is based on panels that exhibit a professional appearance.
Additionally, through this template, you can get more than three dozen modern, creative and dynamic slides . In addition to that, it has a great handmade infographic, a mockup of the device where it will be played (laptop, tablet, mobile phone, etc.) and also provides a section of rest slides .
Kupat – PPT Template with Cool Animations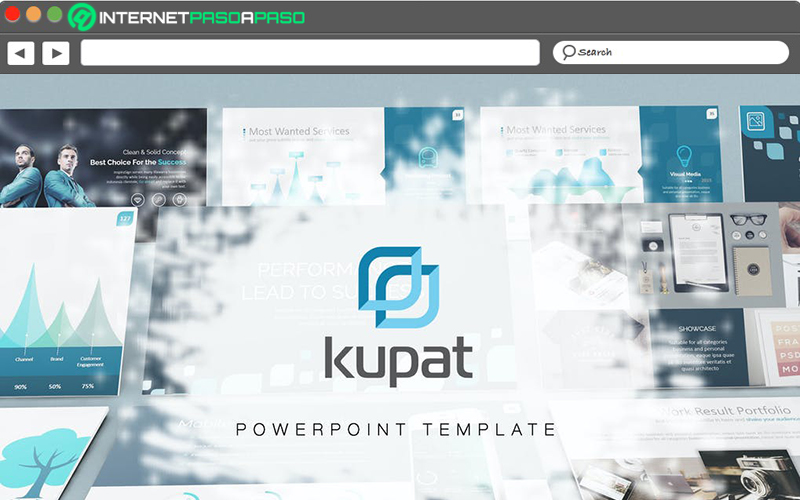 It consists of a template that includes options for animations and transitions on all your slides, so it looks highly interactive. Typically used to create a personal, business, finance, technology, or creative industry presentation .
Thus, it has around 150 multifunctional, creative and clean slides, it also allocates custom animation for each object, the illustrations are perfect for pixels, it provides a handmade infographic and the aspect ratio is 4: 3 or 16: 9 ( you can choose the one you prefer). It should be noted that all the elements are easily editable .
Creative Project – Interactive PowerPoint Template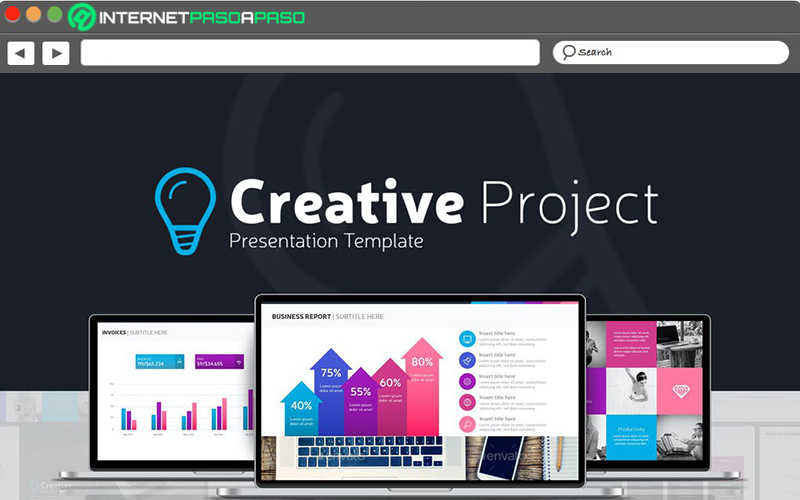 Both in terms of design and ease of use, this is a template that offers notable benefits. Also considering that it has numerous professional features such as: slide transitions, PowerPoint animations, 78 unique slides, 56 main presentation layouts, general information content, light and dark version .
Apart from this, it has a 10-color scheme, provides a handmade infographic, it also has a numerical list, photo list and price tables. Additionally, it has many more options from which it allows you to create a great presentation in a simple, technical and efficient way .
Animated Smash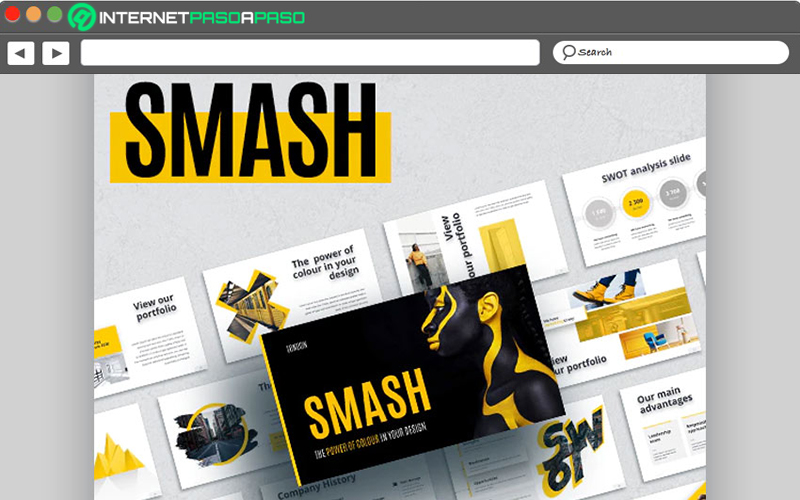 Without a doubt, this is one of the most attractive and interactive presentations available for PowerPoint that you can find on the Internet and this is pointed out by several experts. Since, unlike many other solutions, Animated Smash is not neutral and, in addition, it stands out for being a type of dynamic presentation that includes integrated animations .
Now, beyond its great evolution on the integrated options, this element is completely customizable and editable, so you can save a lot of time to create your presentation as you want. That way, you can adjust all the infographics, diagrams, tables and vector graphics that you find in the content . You can also choose one of 9 ready-to-use color schemes, it has over 100 exclusive slides, and it's free .
Business Animate – Business PPT Presentation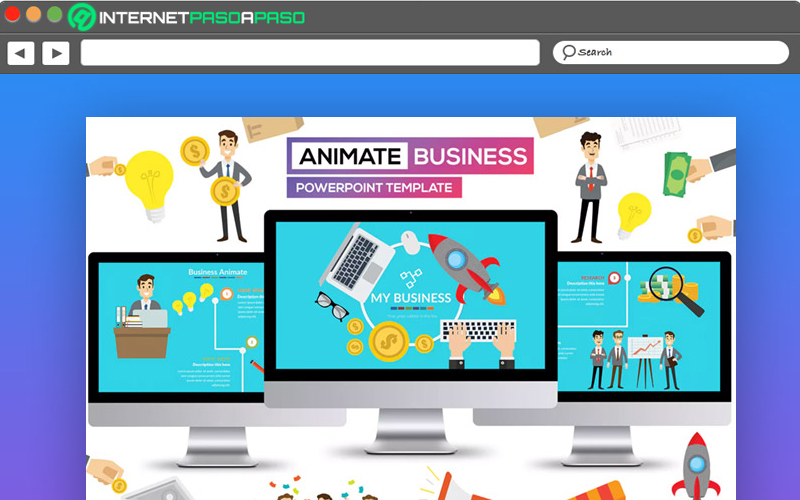 Basically, it qualifies as an "exciting template" and just as the name implies, it is an ideal PowerPoint file for making business-based presentations. In addition to this, it is characterized by presenting numerous animations and, if that were not enough, it supports a remarkable level of customization so that you can create your animations as you wish .
Among other details, it is a totally free template, it is simple and easy to edit, it is fully animated, it provides a kit of a thousand icons, its aspect ratio is 16: 9 and it emits Full HD quality . In this way, it manages to capture the attention of the audience present in a simple way and stands out for being very interactive in these cases.