software
Gandalf's windows 10pe, a portable windows to carry on your usb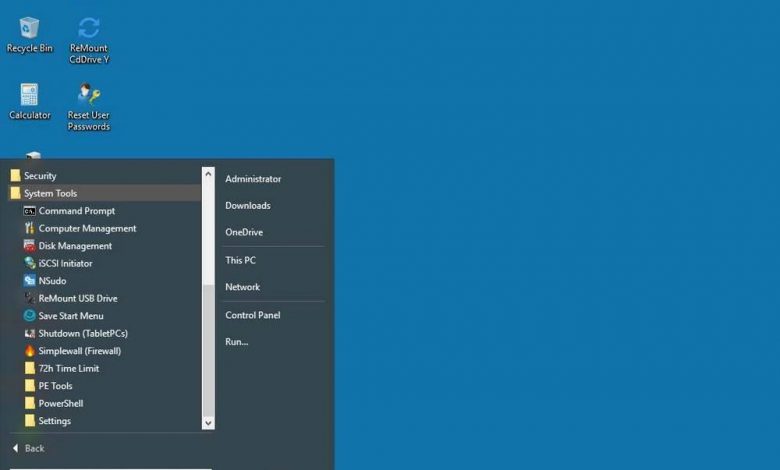 When our computer works well, we generally never worry about being prepared to recover it in case something goes wrong. However, when this happens, it is usually too late, and depending on the rush we have to recover and use the PC again, we probably don't even know where to start repairing the PC. For this reason, it is always advisable to have a recovery system ready so that, when something fails, we can resort to it without thinking twice to help us repair the computer. And one of the most complete that we can find on the net is Gandalf's Windows 10PE .
Gandalf's Windows 10PE is a portable operating system based on Windows 10 that has a large number of tools installed by default so that we can use them to try to repair and recover our computer. These tools will allow us to analyze the system, solve very common failures, problems and errors and, of course, help us recover the most important data in case we cannot repair the system in another way.
Main features
This operating system offers us a desktop very similar to that of the original Windows 10, something that will help us to be able to defend ourselves with this system with total ease. On the desktop we will find the basic icons of the PC, the trash can, CMD and an explorer, and some configuration and start-up tools for the distro. The taskbar is the same as any original Windows.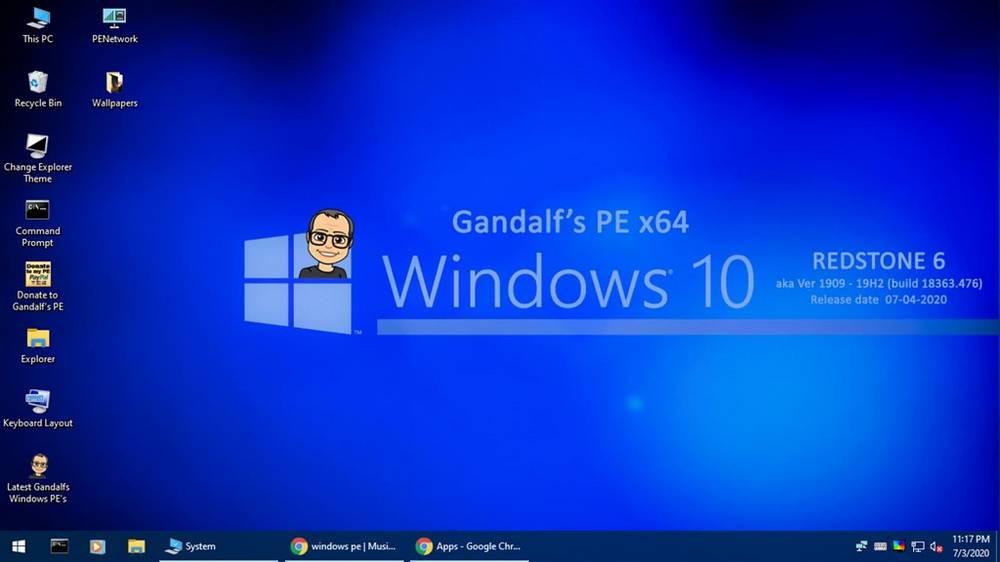 What does change is the start menu. Its developer has opted for a menu more similar to that of Windows 7, organizing in folders all the programs that come pre-installed on this system.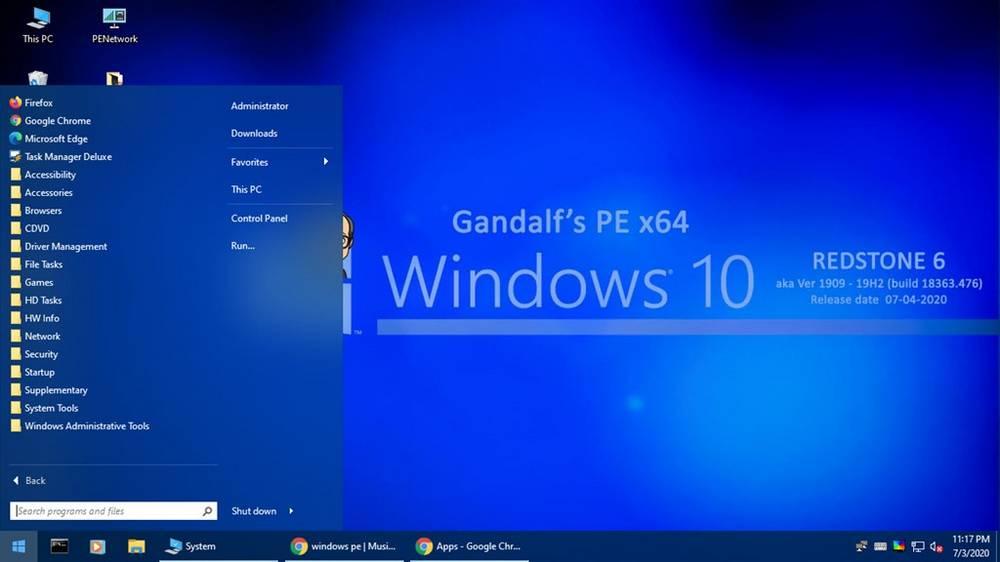 Among the programs that are installed by default are most of the classic Microsoft applications and games for Windows and, in addition, useful programs both to get out of trouble with the PC and to be able to repair our main system. We can see the complete list of programs at this link, although the most relevant are:
Browsers (Chrome, Firefox, Edge).
CD and DVD recorders.
Special drivers.
File explorers.
Programs to compress and decompress files.
Analysis and repair software for hard drives and SSDs.
Hardware diagnostic software.
Glary Utilities.
Disk imaging and backup software.
Data recovery programs.
Network and remote control software.
Hardware analysis programs.
Key retrievers.
System tools (including the Nirsoft suite).
Windows administrative tools.
How Gandalf's Windows 10PE Works
The first thing we must do before we can start using this system is to download the latest version from the developer's website. This categorizes them according to the " Redstone " version to which the build corresponds. For example, the latest version of this portable Windows is based on Windows 10 19H2, which is why it is called Redstone 6.
When we have downloaded the system, what we have to do is record it to a USB memory to be able to use it. As it is a bootable system, we will need to load it before the Windows that we have installed on the PC. And we will do this from the boot menu of the PC's own BIOS / UEFI.
Once we have the system copied to the USB, and we start the computer with it, it no longer hides any mystery. It is used the same as any other Windows 10, and all the programs will be available to be able to use them as we want.
Download Gandalf's Windows 10PE
To download this portable system we must do it from the developer's website . However, we recommend much better to look for it by other trusted sources before doing it from this website. This is because on the windowsmatters website it is very difficult to find the download links, there are many times that the website is directly down and even this one does not work well, since it opens windows, pop-ups, in the browser all the time .
If you want to download Gandalf's Windows 10PE, we recommend doing it much better from Mega links, which other people have uploaded, or from other pages that centralize downloads. The important thing is that they are reliable websites.
Free vs paid
This system has been free until Gandalf's Windows 10PE x64 Redstone 2 version. However, from that version its developer decided to convert the product into a payment system. Therefore, if we want to use the most modern versions of portable Windows we will have to go through the box. If it works with an older version, then we can use it for free.
Anyway, there are excellent alternatives to this portable Windows that we will be able to use for free and, above all, download without so many headaches.
Alternatives to Gandalf's Windows 10PE
Hiren's BootCD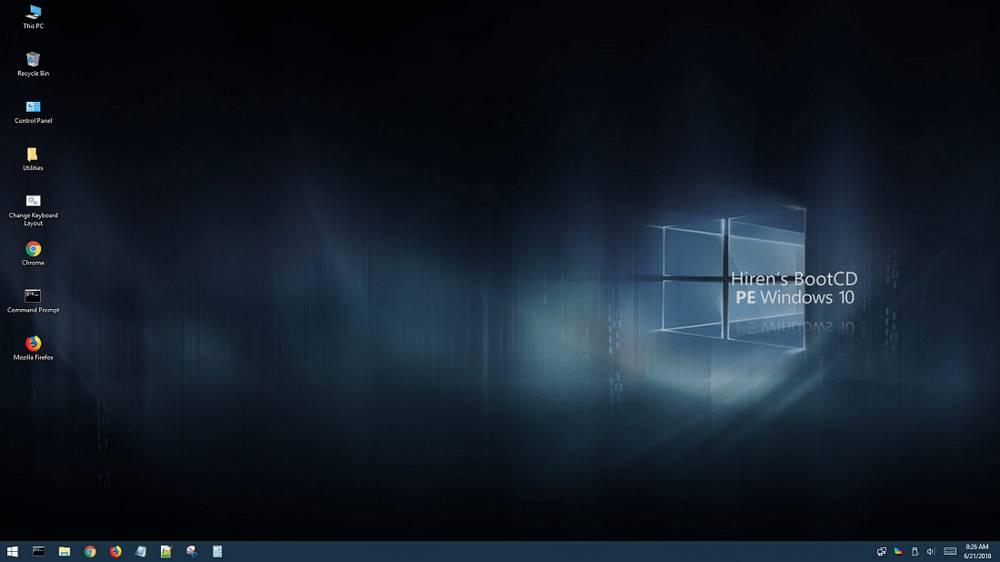 This is one of the best known recovery operating systems that we can find on the net. Hiren's BootCD offers us a Windows 10-based desktop along with a large number of programs that will allow us both to work on any PC that we have at hand and to repair any PC that, for whatever reason, has stopped working properly. We can also find a version based on Mini Windows XP, ideal for old and not very powerful computers.
We can download it for free from the following link .
MediCat USB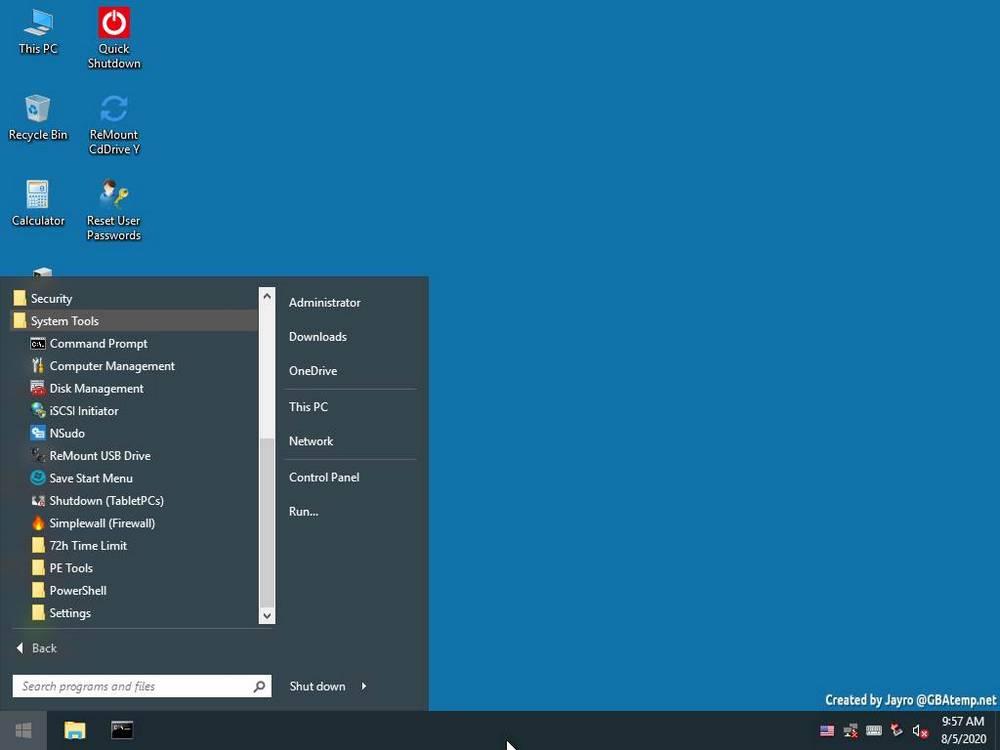 This is another of the alternatives that will allow us to run Windows 10 from RAM. This project is completely free and comes with a large number of programs of all kinds that allow us both to work with the PC to get out of a trouble and to try to repair most of the common errors that we can find.
Many of its tools are run from the boot menu, but we can also choose to load a Mini Windows 10 system to use it in desktop mode. It also brings Linux distros that we can load equally to analyze and repair our system from it.
We can download this system from here .