software
Format and partition your hard drives and usb with thess programs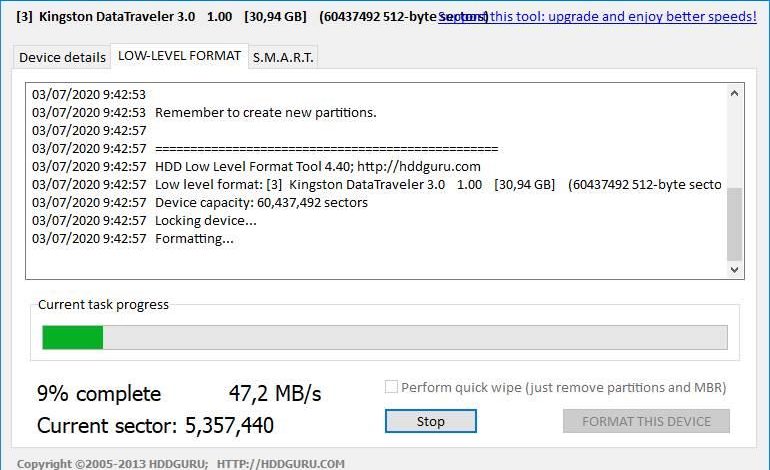 There are increasingly larger hard drives and USB sticks on the market with which it is possible to work with them and divide their storage to make the most of their productivity. For this, tools are used with which we can format, create partitions and modify them without losing our data, even allowing the installation of different operating systems. Today we are going to see which are the best programs that we can download to format and create partitions .
These formatting programs will also help us to safely erase all the contents of our hard drive or USB memory so that in case we decide to sell them they do not fall into the hands of people who can recover our data.
The best programs to format hard drives and USB
Windows 10 Disk Manager
The Windows 10 Disk Manager is one of the most classic tools of the Microsoft operating system. With this program we will be able to manage all the storage units that we have installed on our computer, so that we will be able to create, delete or change all the partitions that manage the system, without the need to acquire any type of additional software. With this useful tool we can safeguard our data in case the system fails, in addition to allowing the installation of several different operating systems.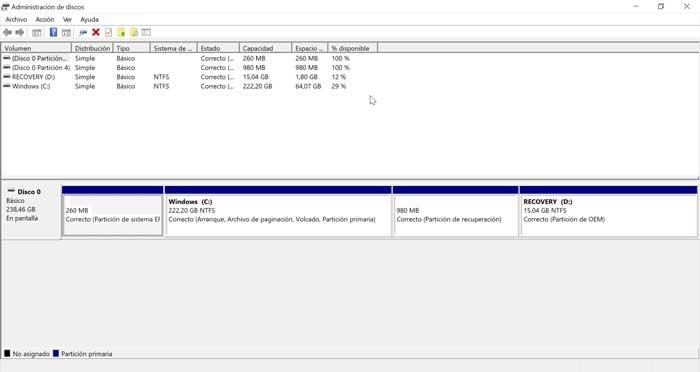 Windows 10 Disk Manager is built into the operating system. The easiest way to access it is by typing in the search box "Create and format hard disk partitions".
EaseUS Partition Master
EaseUS Partition Master is one of the best programs to format and partition hard drives, which stands out for having a very friendly and easy-to-use interface aimed at both beginners and experts, as it also incorporates useful advanced functions. With this tool we can handle up to 32 units and we will have support to be executed in a RAID system . Its functions include the ability to resize or move a partition on the hard drive, merge partitions, recover partitions, redistribute free space or convert dynamic disks.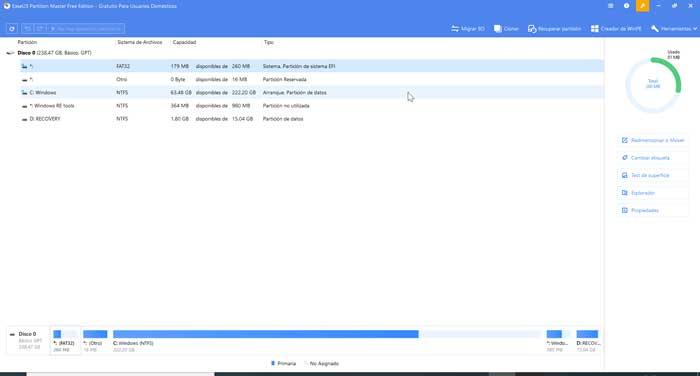 We can download EaseUS Partition Master completely free of charge from this link . Additionally, we have payment options such as the Professional, Server or unlimited version, for a price of 43.96 euros, 119.2 euros and 372 euros respectively. All payment options have a trial version and free updates for life.
MiniTool Partition Wizard
MiniTool Partition Wizard is a partition manager with which we can create, delete and copy partitions on our hard drive, as well as change their size or edit the drive letter. All in a tremendously simple way and without the need for prior advanced knowledge. This program supports the FAT, FAT32, and NTFS file systems . It can also be useful to rebuild the Master Boot Record (MBR), recover a partition and make any partition invisible.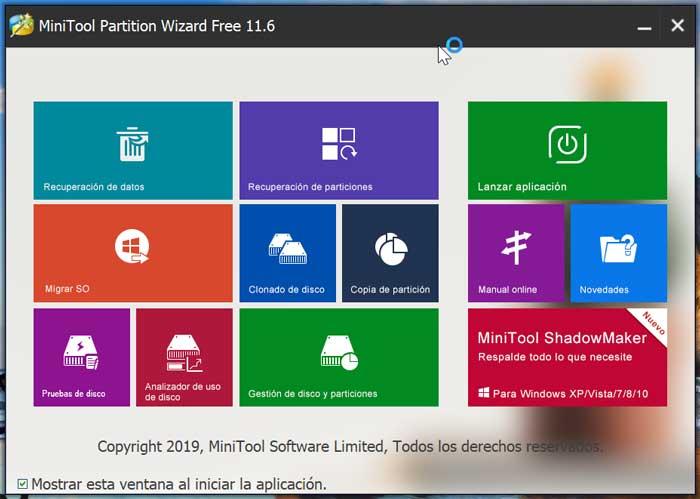 MiniTool Partition Wizard has a free version that we can download from here and is available in Spanish. For those who need more features, some paid versions are available, such as the Pro version that costs $ 99 with a license for up to three computers.
Paragon Partition Manager
Paragon Partition Manager is another of the best programs to format and manage partitions in a comfortable and simple way thanks to its simple and well-organized interface. All the available options are organized by theme, being able to choose between partitioning, copying, editing the boot options or making backups. All these functions have assistants that will guide us during their execution. In addition, this tool will allow us to create an exact copy of any partition, so that we can return it to its original state at any time. Whether we want to better organize our space or if we need to install several operating systems, this program is a great option.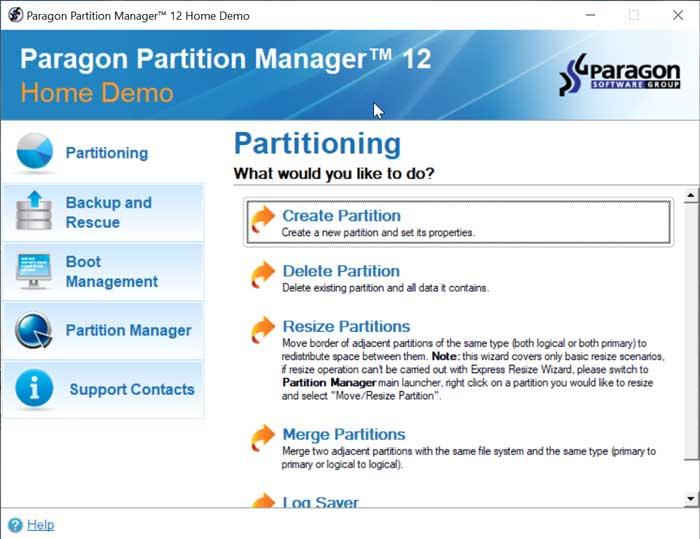 Paragon Partition Manager has a free version that we can download from this link . It also has paid versions, such as the Workstation, which costs $ 99.
KORO USB Disk Formatter
We are also going to talk about another very interesting proposal of the same type that will help us deal with our disk drives. When talking about KORO USB Disk Formatter, we find a practical application that was created to help us format disks quickly and easily. It is a program that we can use with USB memory sticks and external hard drives.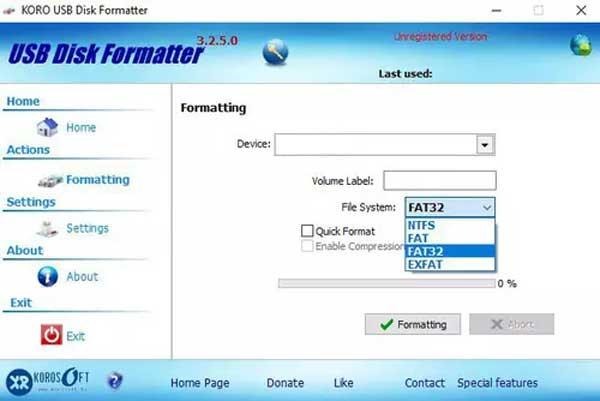 At the same time it is worth mentioning that it has support to work with the file systems NTFS, FAT, FAT32 and EXFAT . In the same way, it is worth knowing that this is a program that consumes few resources and has several functions that are very easy to use. In this way we will have the possibility of quickly formatting these units for any of the available file systems. Also, if we opt for the NTFS system, the application gives us the possibility of using a data compression system in order to optimize its storage capacity. We can achieve all this from this link .
AOMEI Partition Assistant
AOMEI Partition Assistant is a tool that will allow us to perform all kinds of operations with partitions without compromising the integrity of our data. We can create, resize or move partitions, as well as divide existing partitions, make copies, check status among many more options. It is compatible with the FAT and NTFS file systems, being able to convert partitions from one type to another. It includes all kinds of diagnostic and recovery tools and includes the ability to create bootable discs.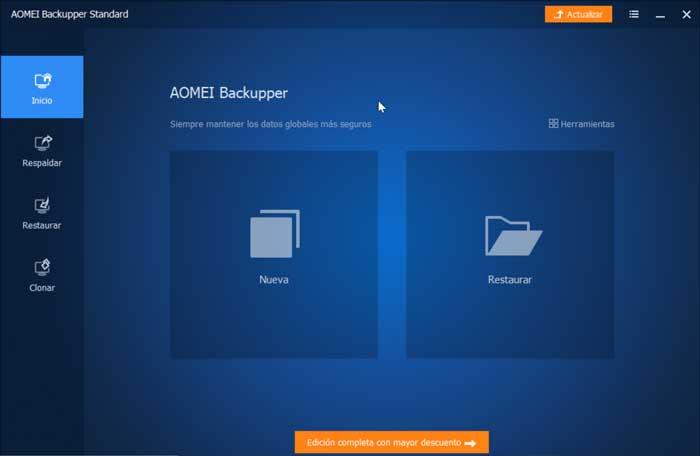 AOMEI Partition Assistant is a completely free program that we can download from this link . It also has paid versions, such as the Professional and Server versions that cost $ 47.95 and $ 179 respectively.
DiskGenius
DiskGenius is a very powerful data recovery tool. Its main functions are Data Recovery, Partition Manager, Backup and Restore, and Disk Utilities. With this program we can create, resize, format and delete partitions. In addition, we will have a hex editor to view and edit binary content. It is also possible to recover files for EXT4, FAT32 and NTFS partitions , being optimized so that they can perform to the best of their capabilities.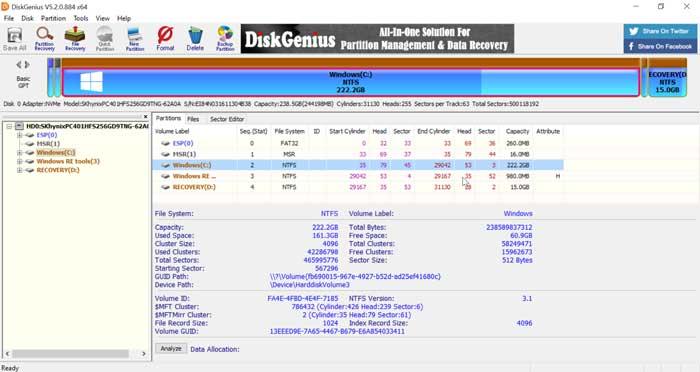 We can download the free version of DiskGenius from here . In the same way, it has two payment options with additional functions. The Standard version costs $ 69 and the Professional version costs $ 99.
GParted
GParted is a multi-system tool with which we can create, reorganize and delete partitions on our hard drive without losing our files. Supports hardware RAID as well as all sector sizes. We will also be able to manage the contained file systems and for this it uses the GNU Parted library that handles all the devices that are connected, as well as a gtkmm graphical interface. In addition, it will allow us to install a different operating system on each partition of our hard drive.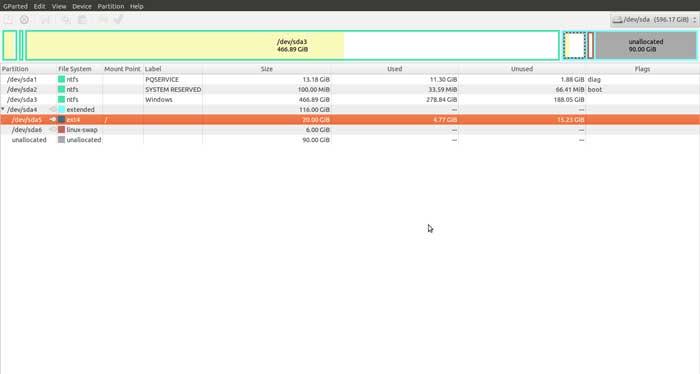 You can download GParted for free from this link and you will only have to burn it to a CD or USB to use it as a boot disk. In addition, it offers us the possibility of adding partitions or changing the size of the ones we have available.
Active @ Partition Manager
Active Partition Manager is another formatting program that will help us manage the different drives and partitions on our hard drive. It has a simple and intuitive interface that has the options to create, delete, format, rename partitions and change attributes. It is compatible with FAT16, FAT32 and NTFS systems, as well as allowing to create partitions on USB memory sticks. It also allows us to manually edit the tables of the partitions made.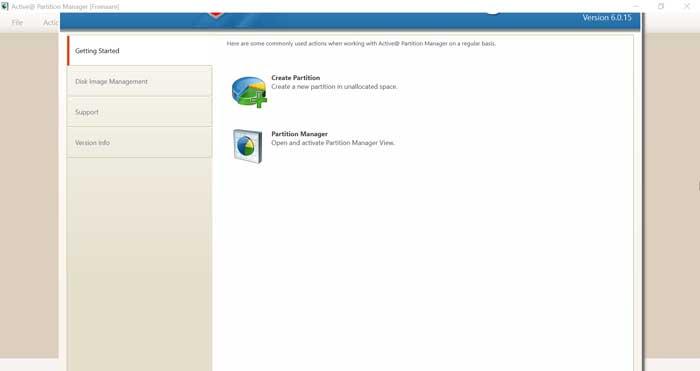 Active Partition Manager is a completely free tool that you can download from here .
Perform a low-level format: Low Level Format
The previous partition managers are very useful when creating new partitions, formatting the ones we already have and managing the space of our hard drives, USB and SSD much more efficiently. However, there is other more specific software that will allow us to leave the hard drive as fresh from the factory and, in addition, to solve possible errors. This process is what is known as low-level formatting.
Normal formatting simply clears the file index to make it appear to be empty, although it is not actually so. What low-level formatting does is zero all sectors of the hard drive. The process is much slower, but by doing it we get all the data to disappear completely. And, if any sector is corrupt, we can recover it.
To carry out this process we must use a special program called HDD LLF Low Level Format Tool . The program is very simple to use, we simply have to choose the drive we want to erase and format it from this program without checking the "quick wipe" option.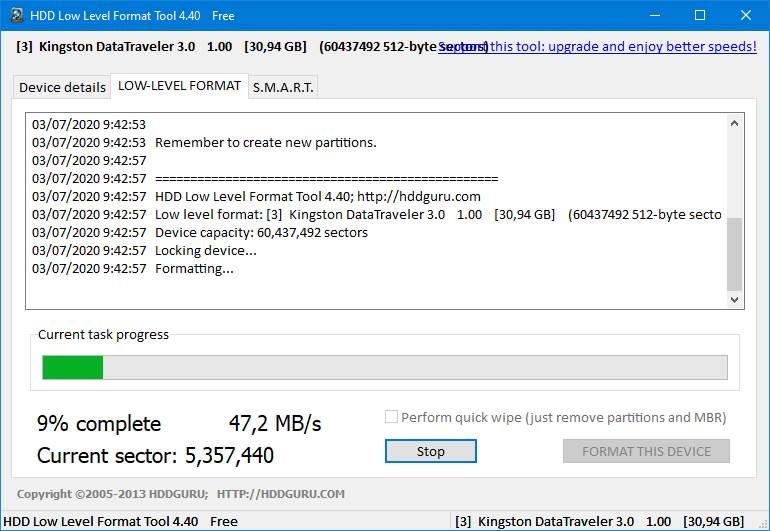 When finished (the process may take hours, depending on the capacity and speed of the disc) this unit will be completely erased. We will have to create the partitions we want to use again and the disk should work like new again.
We can download HDD LLF from here .