software
Find and recover deleted files on windows with free file recovery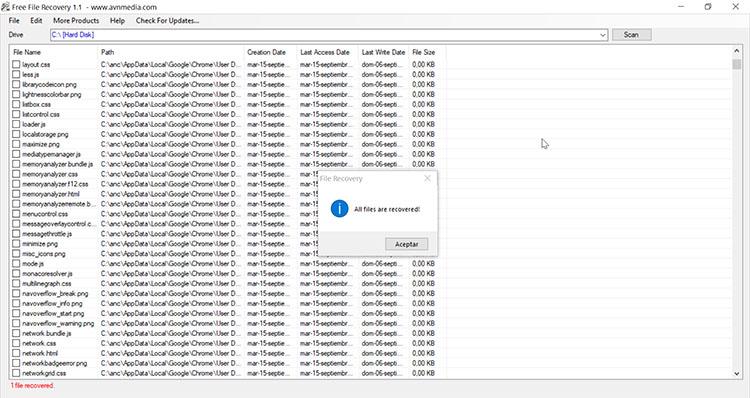 Currently it is common for us to use our PC to store all types of files for both professional and private use, which can be of vital importance. These files can be exposed to being deleted by any human error, system failure or malware infection. But do not panic if it happens, because contrary to what it may seem, deleted files can be recovered. For this we have a free tool such as Free File Recovery, which we will talk about below.
It is normal that once we have deleted any file we think that it has disappeared forever from our computer. Although this is something that we can consider as wrong. This is so because the files that we have deleted are no longer visible in Windows, but they remain hidden on the hard drive until they are overwritten by another file that takes their place. That is why it is possible to recover any deleted file, especially if it has not been a long time since it was deleted. The more time passes, the more difficult it will be that it has not been overwritten.
Powerful and free file recovery
Free File Recovery is a free program for Windows that can be very useful for restoring files that have been accidentally deleted from our computer. Here we can include those files that have been deleted from our internal hard drive, as well as images or files that we have been able to erase from memory cards, either due to errors, failures or viruses.
Despite the fact that it is a free and highly powerful application, it allows us to recover files that we have deleted before or after having emptied the recycle bin on our computer. It can also recover files damaged by viruses or power outages . In the same way, we can obtain new files after having reformatted the partition where the files were originally, even when it is a different file system.
Main features
Simple, user-friendly and highly customizable interface.
It can be run from a USB stick.
Restore all types of files, documents, images, videos, music, email, etc.
Support for FAT12, FAT16, FAT32, NTFS, NTFS5, and NTFS + EFS file systems.
Restore files from external ZIP drives, Firewire, and USB hard drives.
Restores files from removable media such as Sony Memory Sticks, Compact Flash cards, Smart Media cards, Secure Digital cards, etc.
Recover any deleted files quickly
Once we run the application we find its main menu that has a simple interface, without fanfare and easy to use. Although it is completely in English, it should not be a problem to be able to use it correctly given its simplicity.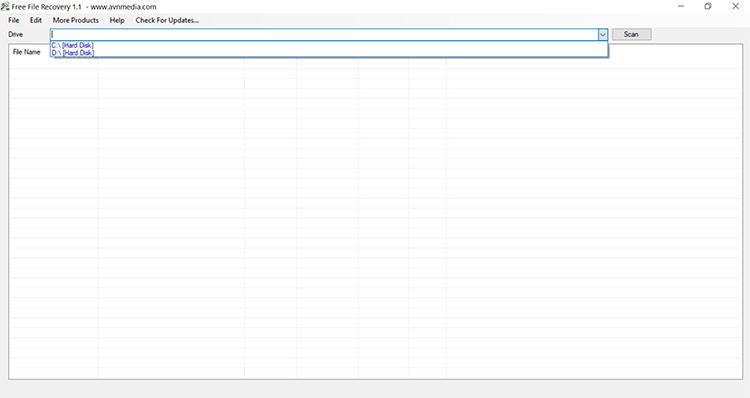 At the top we find the classic toolbar organized by tabs. In it we will find the "File" option, which will allow us to search or close the application. We also have the "Edit" option, from which we can select all the files found, unmark all the selected files and recover the selected files . The rest of the options are to download more products of the company, a help button and an update search engine.
As we are going to see, its use could not be easier. Below the toolbar we find the «Drive» bar where we must select the drive in which we want to perform the search. Once selected, click on the «Scan» button located on the right side and the program will look for all the files deleted from the disk. Unfortunately, it does not allow customization options, so we will not be able to search for specific files such as images, videos or documents, nor will we be able to search by format.
The application does not allow filtering search by file type or format
As the application finds files, they will appear on the central screen. Here it will show us tabs with the name of the file, the place where it was stored, its creation date, the date of its last access and the date of its last writing. Finally, it will show us the size of each file. These tabs will not also serve to organize files by name, size, etc. just by clicking on them.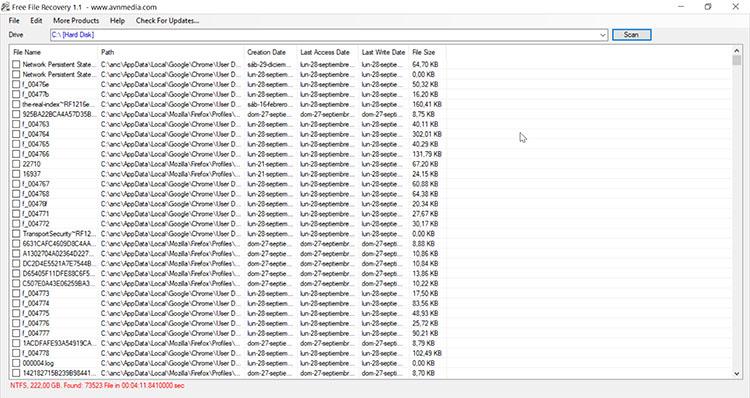 At the bottom, once the search is finished, the format of the disk that has been scanned will appear in red, as well as its capacity, the number of elements found and the time used for it.
Once we have the list with all the deleted files, we will have to look for the one or those that we want to recover . Once we find it, we can only try to recover them. To do this, we must check the box corresponding to each file that we are to recover.
Once this is done, we have several options to recover it : on the one hand, we can right-click on the file and a contextual menu will appear where we must choose the "Recover Selected" option. On the other, click on the "Edit" tab and select "Recover Selected Files", or finally press the F12 key to launch the function.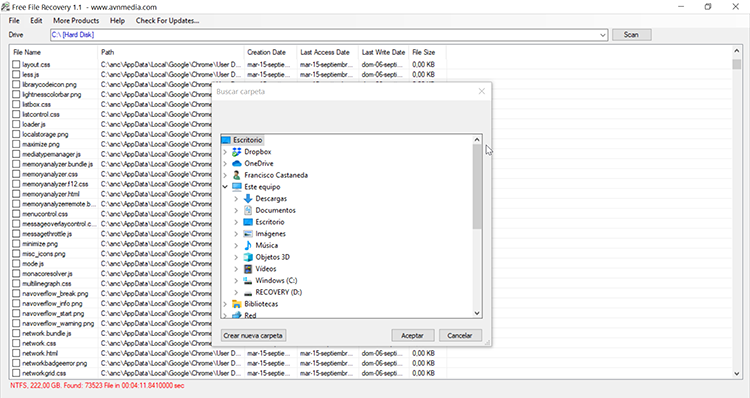 Once this is done, a window will appear where we must select the folder where we want the file to be available again or create a new one. Finally, click on OK and then a sign will appear indicating that the selected files have been recovered.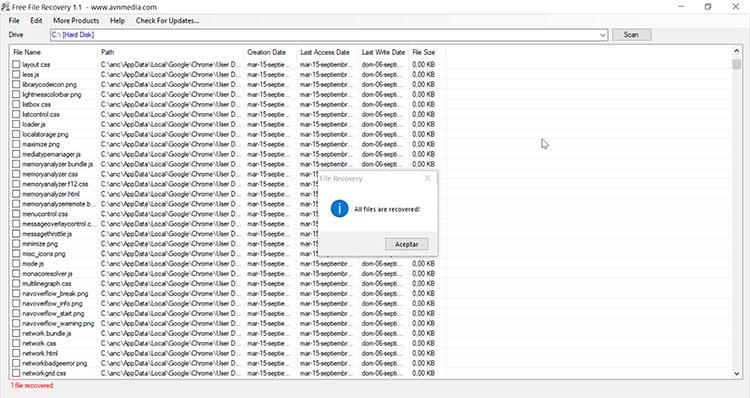 Download Free File Recovery
Free File Recovery is a free deleted file recovery tool that we can download for free from the developer's website, which in this case is AVN MEDIA. The application does not have any payment option and is free of any type of virus, spyware or malware, so we can install it with complete peace of mind. It even allows it to be used from a USB memory. The space we need to install it is minimal since it only occupies 4.5 MB.
The main drawback of this application is found in its support, since its most current version is 1.1 corresponds to the year 2011. Since then it has not received updates. Despite this, the program works correctly on computers with Windows XP / 2003 / Vista / 7 and 10 (32 and 64 bits).
Alternatives to Free File Recovery
If we need a tool to recover deleted files and Free File Recovery does not convince us, we propose a couple of interesting alternatives that you should not ignore.
Auslogics File Recovery
This is a professional data recovery program belonging to Auslogics, which will allow us to recover deleted files from hard drives, USB storage drives and memory cards. Its price is 27.72 euros, but it has a 30-day free trial version that we can download from its website and that allows us to recover up to 10 files per analysis.
Kickass Undelete
It is a program that allows us to recover deleted files from hard drives, pen drives and SD cards, being compatible with the FAT and NTFS file systems. It is a portable application so it does not require installation. Kickass Undelete is a free, open source and free tool that we can download from the Sourceforge website .