software
Erase files and folders safely and for free with eraser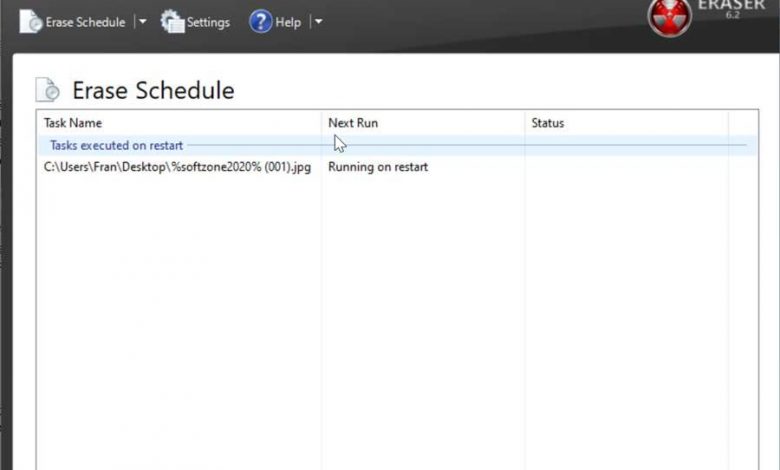 The usual thing we usually do when a file does not interest us on our Windows 10 computer is to delete it. To do this, we first send it to the Recycle Bin and later when we empty it, the file is completely eliminated … or so we thought. Despite the fact that we have apparently eliminated it, its recovery is possible using a suitable program. That is why to make sure that a file has been completely deleted, we can use software such as Eraser, which we are going to talk about.
It is quite common, especially in users with a not very advanced level, who think that when a file is deleted, the data disappears completely. But really, this is not the case, and the operating system does not remove the file from disk, it only removes the reference of the file from the system table. That is why the file remains on our hard drive until another file is created on it. Sometimes even after that it is possible that it can be recovered by specialized programs, studying the magnetic fields on the surface of the disk platter.
So we can use a program like Eraser
Eraser is a free and open source tool that will allow us to completely eliminate the confidential data that we have stored on our hard drive. To do this, it is responsible for overwriting it several times using carefully selected patterns. It is compatible with virtually any version of Windows from XP to Windows 10.
This program supports different methods of erasing drives. It allows us to delete files, folders and previously deleted counterparts. It has six types of algorithms that are responsible for overwriting files with random data in multiple passes. The greater the number of passes, the greater the difficulty to recover the file. It works through an extremely customizable programmer that will allow you to safely delete any file.
Delete any file forever in a few clicks
Deleting any file with Eraser is quite simple, so it is something that any type of user can do, even if they do not have great knowledge. Once we have it installed on our computer, the program is responsible for creating links in the Windows context menu. If we right-click on the file we want to delete, two options appear: «Erase» and «Secure mode» . The first one allows us to delete the file and the second one to move it safely without leaving a trace.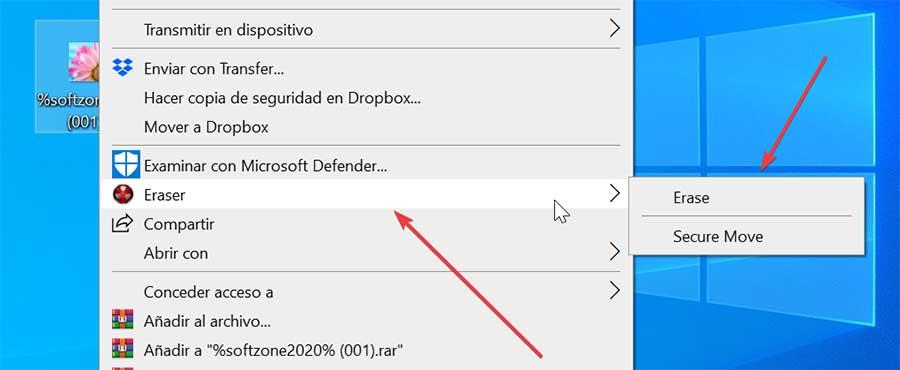 Delete a file or move it safely
In the event that we want to delete a file safely, click on the "Erase" option . Next, a confirmation window will appear, asking us if we are sure the file will be deleted. Click on YES and the file will be completely deleted.

In the event that we choose the "Secure Move" option to move the file without leaving a trace, a window with Windows Explorer will appear where we must select the destination folder and click OK. At the end of the process, a window will appear informing us that it has been completed correctly.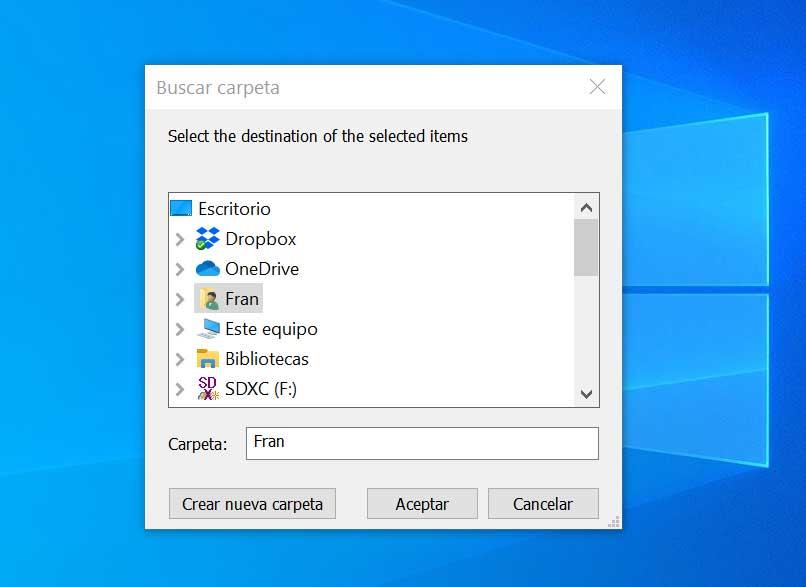 Delete the files saved in the Recycle Bin
In the event that, instead of deleting a file, we want to safely delete the files from the Recycle Bin, we can also click on it with the right button. The contextual menu will open where we find the Erase option that we can use to safely delete files. Click on it to proceed to its total elimination as we did previously.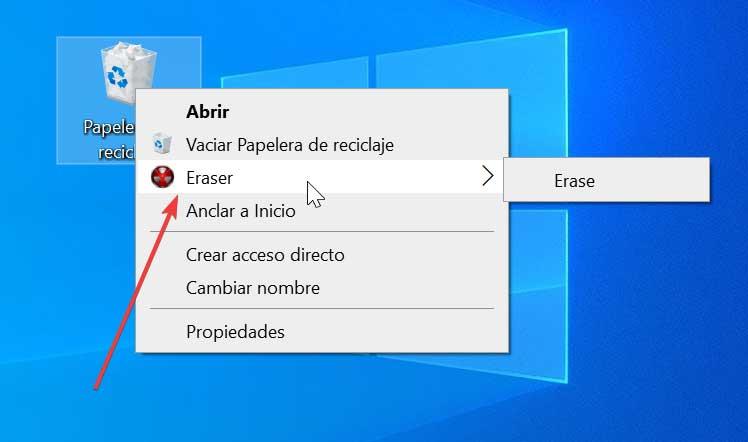 Delete the free space on our hard drive
Another interesting option that we can do with Eraser is to safely erase our hard drives, that space that in theory remains free when we erase any file. To do this we go to My PC and click on the right button on the hard drive on which we want to act.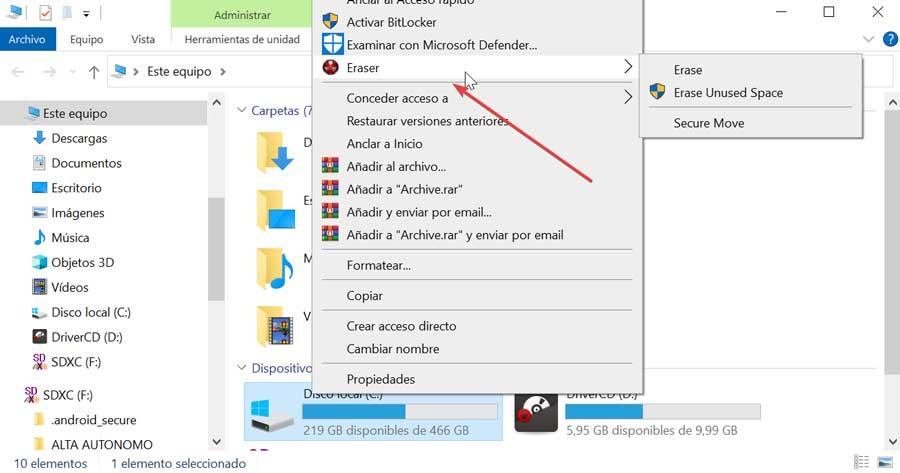 Schedule file deletion
Eraser also allows us to carry out a series of scheduled tasks for the program to take care of later. For this we have to enter its main menu through the direct access created on our desktop. At the top left we find the " Scheduler" option , which allows us to instruct the program to delete a file or several (or the blank space of a hard disk or removable memory) on the day and time we want.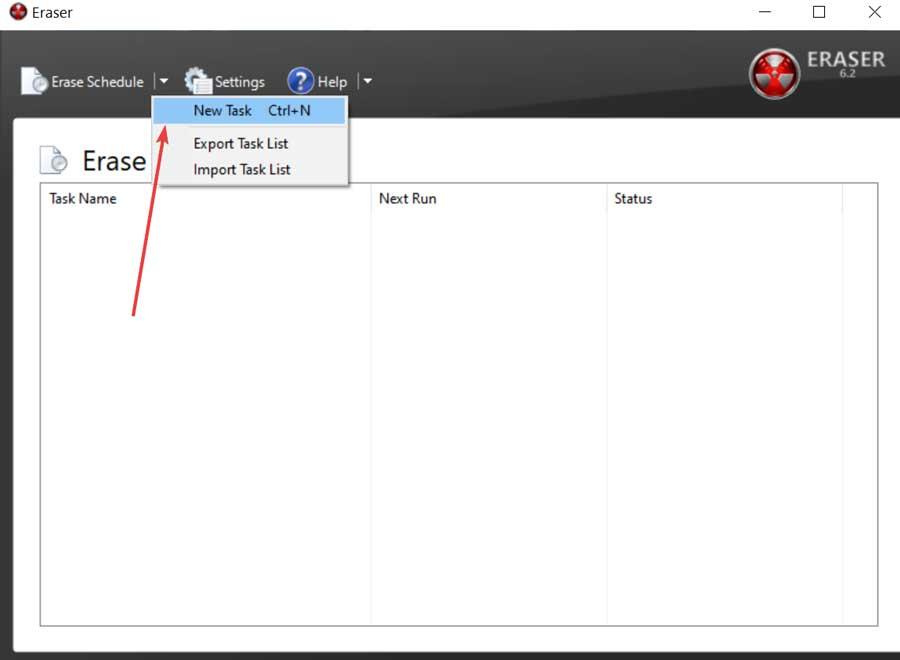 To do this, click on «New Task» which means something like a new task. By clicking on it, a new window will appear where we must select «Add Data» to choose the desired file. With the «Browse» tab we must navigate through the file explorer until we locate the file that we want to delete and finally click on the OK button.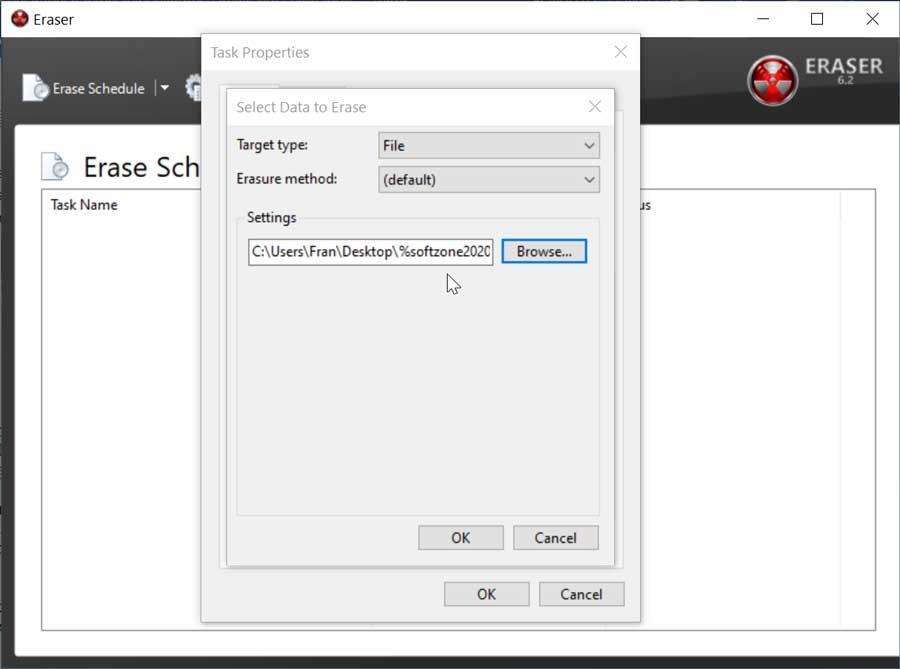 Once we have selected the file we must choose the type of action to perform: "Run manually" (run manually), "Run immediately" (run immediately), "Run on restart" (run on restart) or "Recurring" (recurring ). It will also be possible to choose one of these tasks and give it a new one. For this we must use the tab "Task name (optional)". Once finished, we will click on «OK» to confirm the established data.
Next, each file will appear in the list of the main menu of the application. In it, it will inform us of the file path, as well as the deletion procedure that we are going to carry out. For example, if we have indicated that we want the task to be carried out when the computer is restarted, "Running on restart" should appear in the "Next Run" column. So on with each file to which I have found a task added. Once the deletion occurs, it will disappear from the main program list.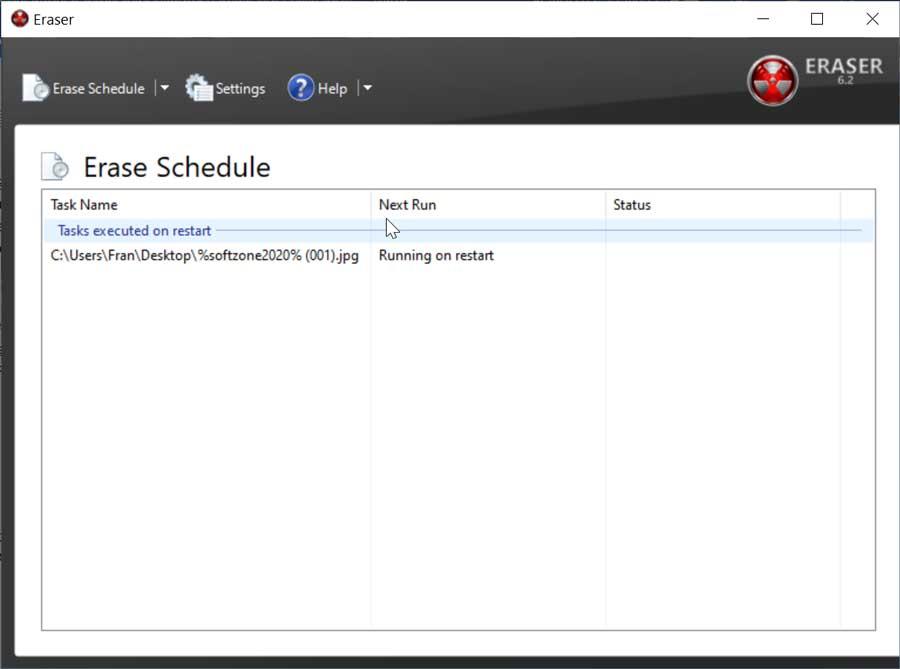 Free Download Eraser
Eraser is a free and open source program that we can download from its website . It is currently compatible with Windows XP (with Service Pack 3), Windows Server 2003 (with Service Pack 2), Windows Vista, Windows Server 2008, Windows 7, 8, 10 and Windows Server 2012, 2016. Its installation is quick and easy to through its assistant, without at any time trying to sneak in the installation of third-party software.
Its latest version to date is 6.2.0.2992 that was published on February 26, 2021 . This shows a great support and update policy on the part of its developers, as well as the user community, something important as it is open source software.
Alternatives to Eraser to delete files permanently
If we are looking for a program with which we can permanently delete any file, we suggest some alternatives to Eraser.
My Disk Wiper
It is a program through which we can safely erase all the content of our hard drive, flash memory or SD card without being able to recover it later. Also, for our maximum security, please delete the file name before deletion. We can download My Disk Wiper for free from this link .
HDD Low Level Format
This application also allows us to safely format our hard drive so that stored data cannot be recovered . It has support for IDE, SATA, USB, SCIS, SAS and firewire drives. Also, it is possible to erase SSD devices and USB sticks. We can download it from here .