software
Do not lose your data! These are the best backup programs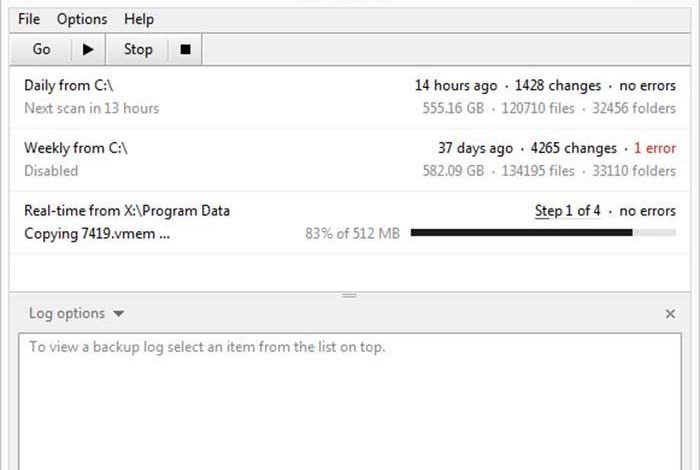 It is becoming more and more important and we are more aware of how necessary it is to keep our data well safe, which is why more and more users are turning to backup or backup programs . The data that we have on the computer is always susceptible to being erased by carelessness, so a timely backup can save us more than a headache. To do this today we are going to talk about backups and what are the best options.
What is backup and how many types are there
A backup or backup is a backup that we make of physical or virtual files in their secondary place such as an external hard drive or cloud for their conservation and later use if necessary.
These copies must be periodic and non-punctual so that they do not lose their usefulness, since surely a one-year-old backup can be of little use to us, since many of your data will be unnecessary and more recent ones will be missing.
In general, there are four different types of backups, which we must choose depending on our needs:
Complete backup : this is the option that we will choose if we need to make a complete backup of all our equipment, reaching 100% of the available information, being the best option if we want to have everything completely protected. This type of copy requires more time and space to complete.
Differential backup : in this type of copy we will only include the files that have been changed since the last time we made the copy, so that the new files will be included. An ideal option if we already have a copy and we just want to update it with new data or modified files.
Incremental backup: if we only want to make a copy of the files that have been modified since the last copy was made, this will be the option we must choose, being the fastest to make our backup.
Mirror backup: this backup mode is quite similar to full backup, except that the files cannot be compressed, so in addition to being less secure it will also take up more storage space.
Depending on the type of backup that we are going to make, we must choose the correct software so that we always obtain the functionality we need.
In addition, it is important that the backup is always carried out when we are not going to use the equipment so that in this way it does not interfere with its performance and proper functioning.
The best backup programs
Acronis True Image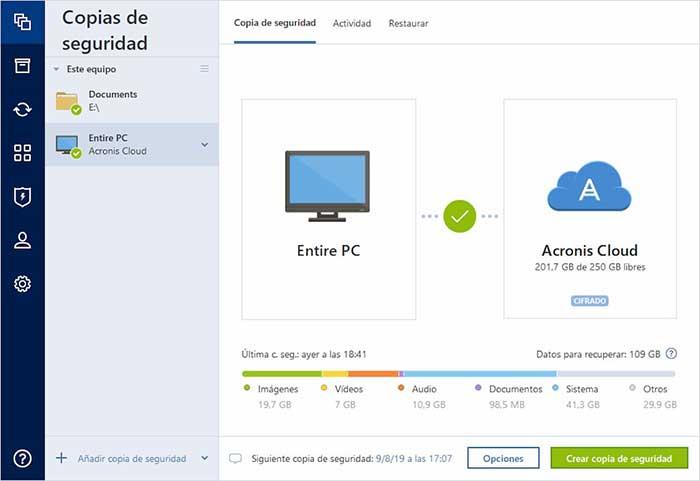 Acronis True Image is a program focused on both backup and cybersecurity. The software is developed for both Windows and Mac with which we will have several options to make our backup.
In this way, we can choose which files and folders will be copied over, so it is not necessary to do it completely.
We also have the option of searching for files from among those stored in the glass and recovering only those that interest us, so that it is not necessary to restore the system completely.
If we have a laptop, we can avoid draining our battery, establishing a minimum charge level to make the copy or we can block it completely so that it can only be done when it is connected to the electrical network.
We can buy Acronis True Image from 49 euros with storage options from 250 GB to 1 TB. If we want to test it beforehand, it is possible to download the free trial version for 30 days from here .
Aomei Backupper Standard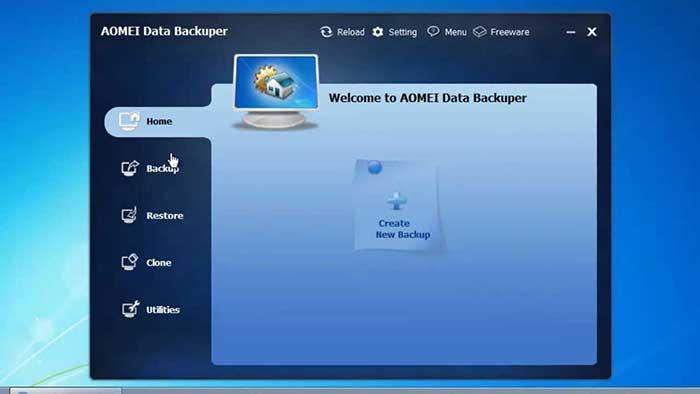 Aomei Backupper Standard, a program designed to create backup copies of our entire hard drives for Windows from XP to Windows 10.
It stands out for being a completely free tool , which, unlike other free applications, is free of advertising and unwanted software.
With this powerful program we can make copies of both individual files, such as partitions or fully encrypted hard drives. In the same way, we can easily restore it including the boot sectors.
It is also possible to easily clone partitions and entire hard drives. In addition, it incorporates a series of utilities that will help us to analyze and control the status of our hard drive.
Although we have said that it is a free application, it also has a paid version that starts at 44.99 euros. You can download the free or paid version from this link .
O&O AutoBackup
Next, we will talk about another interesting proposal in this same sense that focuses on offering us everything we need for these tasks. It is a simple application that allows us to automatically make backup copies of all our files and folders. It is compatible with all types of disk drives, both internal to the PC and USB devices. The program itself is activated automatically when the device previously specified for backup is inserted into the USB port . From there O&O AutoBackup goes live.
This is something that can come in handy, especially if we work with the computer every day and want to make a copy at the end of the working day. We achieve all this through the functionality implemented in AutoBackup, hence its name. Of course, this is a program that costs 29.99 euros and is not as efficient, for example, with complete copies or images of a disk drive. You can test all this just by accessing this link .
Cobian Backup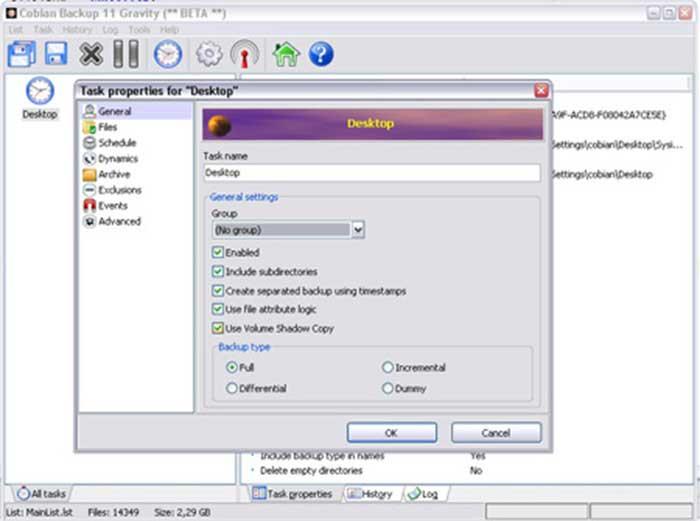 Cobian Backup is a program that will allow us to create backup copies either on a computer, a local network or from an FTP server , supporting SSL protection . It is available for Windows and stands out from other similar programs for consuming very few resources, being able to run in the background without us noticing.
With this application we can assign at all times when to run the backup. This can be for days, weeks, months, annually or for a time that we specify.
It supports both full, incremental or differential copies and has support for ZIP, Zip64 or SQX compressions . In addition, we can protect our copies with a password for greater security of the stored data.
You can download Cobian Backup for free directly from here .
EaseUS Todo Backup Free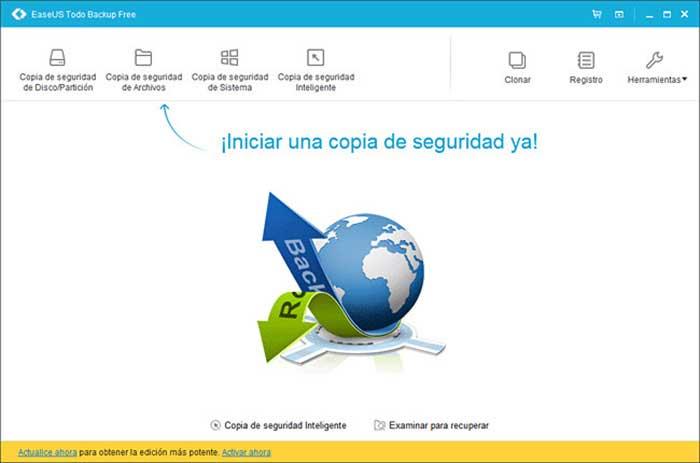 EaseUS Todo Backup Free is an efficient free tool with which to make backup copies that facilitates the active scheduling and execution of our backups, even allowing to clone disks or partitions by sector.
This powerful software allows you to create backup copies of individual files, partitions or system automatically. These files can be recovered both individually and completely.
If we have the misfortune that our system crashes or fails, we can restore it without having to reinstall it and keep it running as it was.
Although EaseUs is a free program, it also has payment options for one year, two years or for life from 26.95 euros and that you can download from its website.
Paragon Backup & Recovery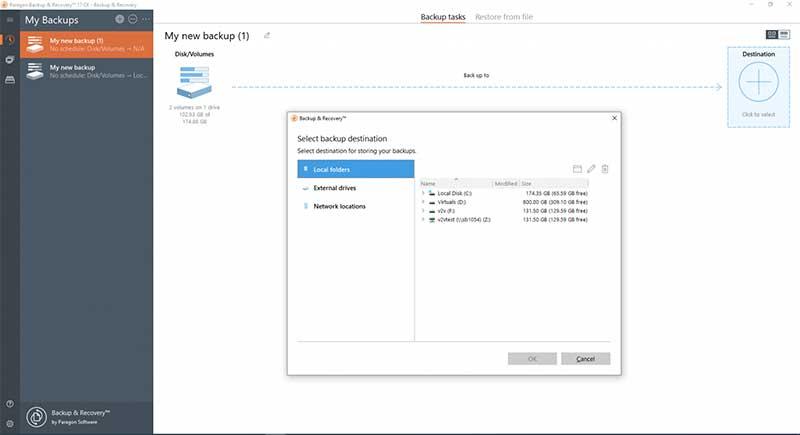 Paragon Backup & Recovery is a full, differential or incremental backup program, so it provides a complete package to cover any of our backup needs, being compatible with both Windows, Mac and Linux computers.
This software has the advantage of being compatible with the new Apple File System (APFS) file system that we can modify from Windows. In addition, it allows us to back up virtual disks such as VMware, Hyper-V or VirtualBox. It also has the option of being mounted by virtual machines if we need it.
Its interface is very simple and intuitive. It is possible to make a backup just by choosing the disk, folder or complete equipment that we want to save. We can even create restore points in case we are only interested in restoring a specific part.
We can download Paragon Backup & Recovery for free from this link .
Macrium Reflect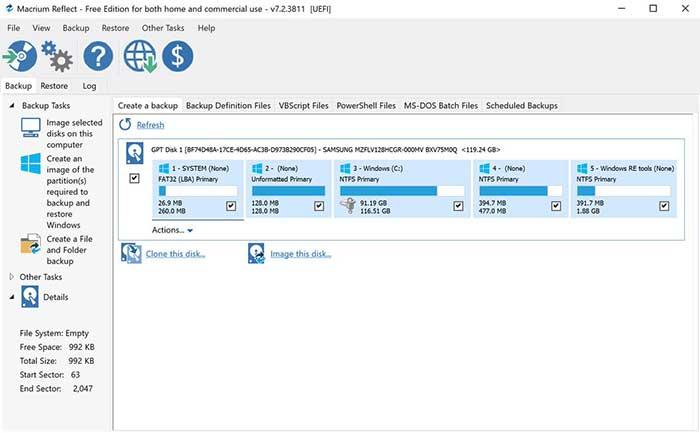 Macrium Reflect is a great free option for creating backups, disk images, and cloning. It is compatible with all our important files, such as documents, photos, music or emails, being easily recoverable.
This will allow us, in addition to protecting our most precious data, update the hard disk or test other operating systems with peace of mind. This way we will have all our files safely and securely. In addition, we can make the copies both in local drives, as in network or via USB.
It also includes some useful additional functions . We will have protection against Ransomware infections, instant viewing of the backup images or a task scheduler compatible with Windows 10.
Macrium Reflect has the possibility of downloading a free version , as well as a 30-day trial edition that incorporates all its more advanced functions.
Duplicate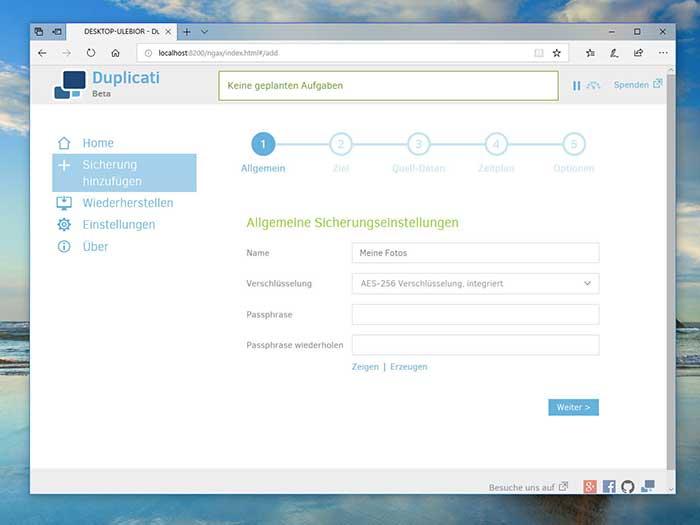 Duplicati is an open source program that is responsible for safely storing encrypted backups. These will be incremental and compressed based on all types of files, cloud storage services and remote file servers.
The application is completely multiplatform, so we can use it whether we have a computer with Windows, Mac or Linux.
It stands out for its completely intuitive and easy-to-use user interface . We have a design based on web applications with which we can surely feel familiar. These will guide us through the entire process of creating our backup.
This tool is therefore adapted for all types of users, from the most novice to the most expert.
Duplicati is completely free so all we need is to download the installation package from here to run and install it.
Bvckup 2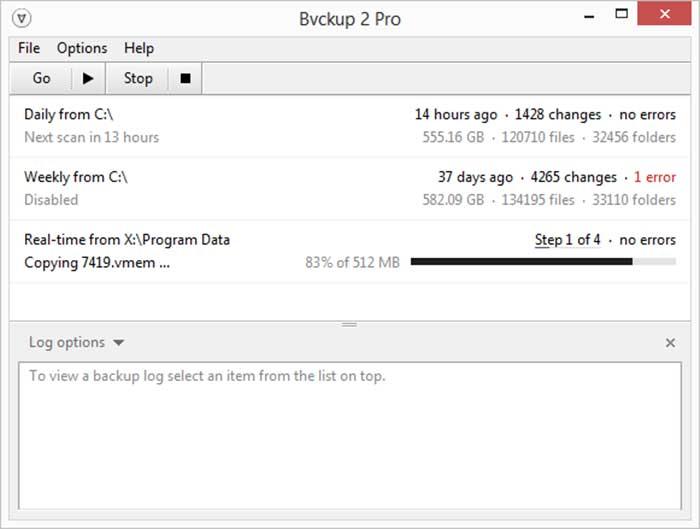 Bvckup 2 is a program that takes care of making backups quickly, easily and with real-time updates. The objective of this tool is not to synchronize files or compress them, but rather it is responsible for copying their content from one directory to another.
As it is exclusively a copy of specific data and directories, these can be updated as soon as they undergo any change. Therefore, it is a very useful application if what we want is to create our backup copies on an external hard drive.
It also offers us other functions such as the possibility of creating a duplicate of the backup from another location in an additional way. This is of great help in case of any mishap during copying such as a power outage or system failure.
Bvckup 2 is a paid application that we can purchase from $ 29.95 . It also has a trial version that we can download from this link .
Cloud backups
In addition to the programs that we have just seen, another technique that we can use to make a backup of our most important files is to the cloud. Backups in the cloud will allow us to save our data on a server outside of our PC. Thanks to this, we can access them from anywhere and at any time and, in addition, if something goes wrong on our PC, the backup will not be affected.
The problem with betting on the cloud as a backup platform is that cloud storage is often limited. And clients are not exactly comprehensive and intuitive. Anyway, they are a very practical solution that anyone can access.
OneDrive
If we use Windows 10, OneDrive is the best cloud storage platform that we can use. This cloud storage server is integrated into Windows 10, and we will be able to save all kinds of files in this cloud as if we were saving them in another folder on the computer. OneDrive offers 15 GB of free storage, and if we are Office 365 users we can get up to 1 TB as long as we have a valid subscription.
Google drive
If we don't like Microsoft's cloud storage service, then we can bet on its main rival: Google Drive. This company offers us 15 GB free in its cloud, to save everything we want, just for having a Gmail account. Unfortunately, the client for Windows 10 leaves much to be desired, although if we want we can use an alternative client, different from the official one, or upload the backup copies by hand when we have them ready.
Mega
If what we want is to have 50 GB of free storage, and also a military encryption that prevents anyone from accessing our data, then the best platform we can bet on is Mega. This storage server offers free 50GB to all users just for signing up. From there, we can hire additional storage space, and traffic, through their subscription models.
An excellent alternative for users looking for something safe, private and with more than the 5 or 15 GB free that other platforms give.