software
Discord tricks: become an expert with these secret tips and hinds – 2021 list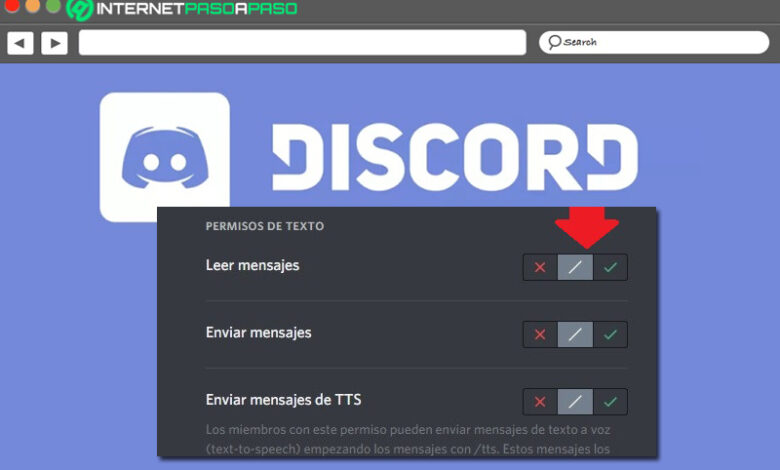 While it is true, the development of technology has managed to transform many areas of people's daily lives. One of the most important refers to the communication sector, as there are more and more alternatives designed so that users can communicate in real time and online .
That is why Discord was born as the main communication service between gamers or video game fans . This being, a multiplatform application that consists of a free chat that has gained notable worldwide recognition. Therefore, although its primary objective was based on simplifying the communication possibilities between online players, today it is used for other purposes as well .
In this sense, it is valuable to know how to take advantage of the chats of this recognized application to the maximum that allows fast communication and with total security. Which is why, in this post, we want to teach you the best Discord tricks and tactics so that you can become an expert when handling this service .
What are the advantages of using Discord for online group chats?
In recent times, Discord is one of the most popular chat services that has gained more popularity and it is very well deserved . Since, it provides an outstanding quality compared to other chat applications that are also recognized in the digital world today.
Therefore, it is very important to know how to take full advantage of Discord and make use of all the functionalities it provides. But, before specifying the most powerful tricks to get the most out of this service, it is of great interest to know what are the most notable advantages and / or benefits that it exhibits to carry out group chats online and establish communications easily .
Therefore, below, we proceed to mention each of these virtues:
Through its servers, this application offers the facility to create voice channels with different levels of access and for a wide variety of users.
Discord allows you to create servers that adapt to your needs, easily . Therefore, you can connect your account with other services and even hide your personal information while you are broadcasting live.
Apart from providing a sync function with other platforms, it also allows you to sync your account with games .
It also stands out for the ease of use that it reveals and, thus, allows group talks online with great simplicity.
All users who want to access this application can do so without any complications. Since, it can be downloaded on Windows or Mac computers, as well as on Android and iOS mobile phones .
The Discord application is completely free and, in the same way, it offers the possibility of having group conversations at no cost.
List of the best 20 Discord tricks to get the most out of it
Known the best advantages that reveal the fact of using Discord for group chats online, surely you will want to try this famous application or get the most out of it, in case you are already a registered user.
For which, it is valuable to make use of a series of tricks and tricks through which you will learn to handle Discord better and thus you will be an expert:
Find servers to join
In case you didn't know, Discord is an application based on its servers and each of them has its own channels, managers, bots and people . In other words, it is as if it were a completely different IRC.
For this reason, in order to get the best out of this application, one of the essential steps you must take is to explore the servers that you like the most . Which, you can verify them in pages like Discordservers.com, Discord.me, Disboard.org or Discordea.net . Thus, you will have the possibility to navigate between different options and once you access a specific server, you will find a link that will send you to the platform to accept invitation screen . Therefore, to enter the server, you simply have to click on the "Accept Invitation" button .
Create yourself server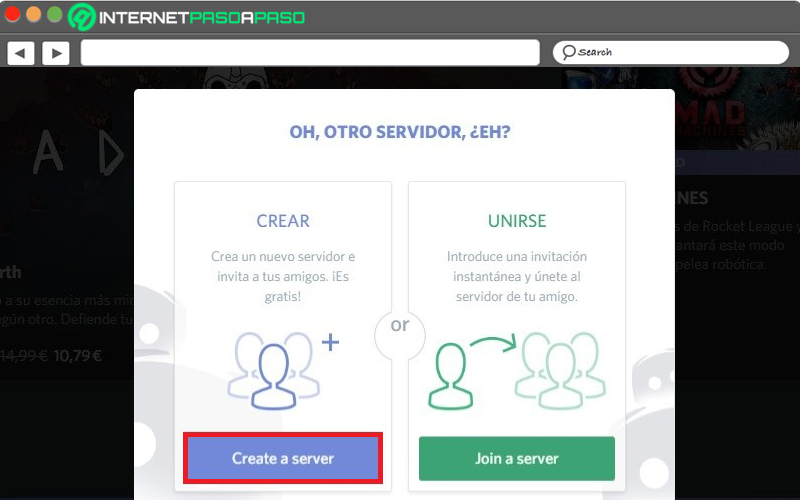 In addition to exploring different servers to join them, Discord also offers you the possibility of creating your own server, since it is an application oriented to make communities of players. Therefore, it allows you to manage an ideal environment so that you can organize with your friends and acquaintances, as well as invite other people to be part of your community .
Thanks to this, not only can you create communities of players, but you can also create other channels that go beyond the world of video games . Now, the steps to follow to create your own Discord server are:
To begin, you must make use of the column that is on the left side where all the servers to which you are connected are shown and there, you have to press the plus icon .
Now, on the screen that will be shown at this point, select the option that indicates "Create server" .
Finally, you can choose a name and different aspects of the server and once the creation process is complete, the system will provide you with a link with an invitation that you can send to all the people you want.
Edit or pin your messages
One of the best functions that chat services and applications can have, they refer to the possibility of modifying the messages once they are sent, in case you have regretted what you have written a few minutes later or the message has some error. Luckily, in Discord you have this alternative and, basically, it consists of a very simple trick to execute .
Here is each step to follow:
Within the chat in question, find the message you want to edit and click on the three-dot icon located on the right side of said text .
After that, in the menu that they show you, tap on the "Edit" option .
Finally, press the text to edit and thus, you can change it to the words you want.
Added to this, Discord also gives you the option of pinning messages easily. But, it is only possible if you are the server administrator or accounts with the appropriate permissions . To do this, you will have to carry out the same procedure explained above, but with the difference that you must click on the "Anchor" option, instead of Edit. Once that is done, the text in question will be fixed at the top of the channel, it will be accessible to all participants and will never be deleted.
Connect your accounts in other services for additional functions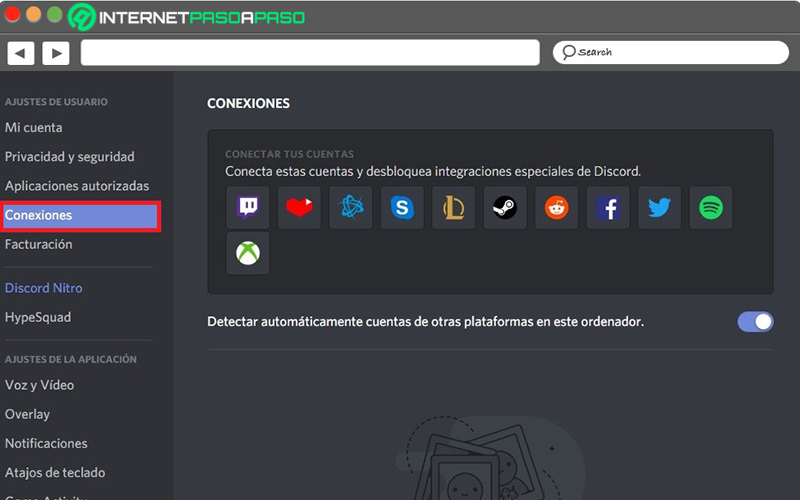 If you want to connect your YouTube, Spotify, Twitch, Reddit, Facebook, Skype or Twitter accounts with the Discord service, there is the possibility to do it through this trick. From which, you will be able to implement new functions within your servers with total ease .
Here, the procedure to carry out for it:
Located in the section of your profile, proceed to press the gear icon located in the lower left side of the application.
Next, press the option that says "Connections", in which it will be possible to view all the servers that are available.
Subsequently, press the icon of the service you want to link with your Discord account and thus, a web page will open in the browser to grant the permissions to said application so that it can access the data required for it to function. That's all.
Enter links or code boxes with markdown
Once you implement markdown when writing your texts, you have endless functionalities. One of the most important is that you have the possibility of writing a text in which you add a link within a word, in order not to include it separately.
In that sense, the trick is based on writing the word in which the link in question will be found, in brackets . Later, you will have to add the link right after it and in parentheses.
In addition, this trick will also allow you to share code if you are talking to developers and to give it a more special format, if you want. In this case, what you must do is write them by placing a comma backwards both at the beginning and at the end of a sentence and if it is a paragraph, they will have to be three commas backwards .
Use markdown to format text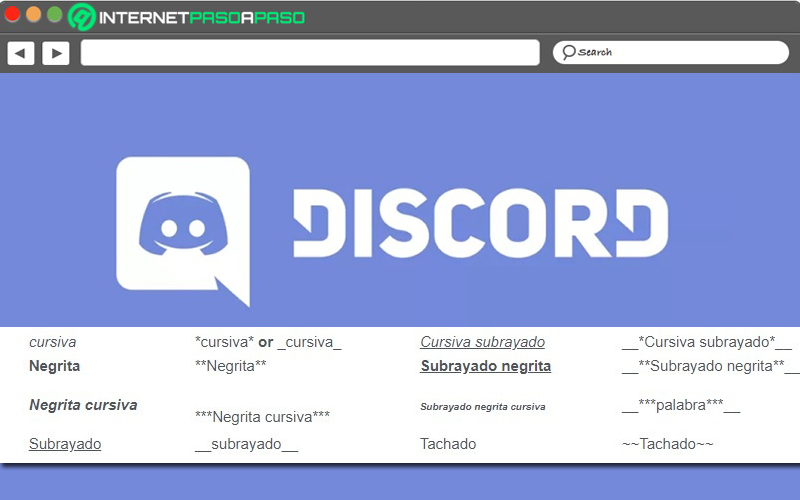 In case you are familiar with this lightweight markup language, apart from adding dialog boxes, you can also use the same codes to edit your conventional text in Discord chat .
In this way, you will be able to make use of certain codes at the beginning or at the end of the words or phrases, in order to place them in bold, italic, underlined and obtain other combinations to give a better shape to the texts you send from the application . As we show you in the indicated image.
Make group mentions to communicate important messages
In case you need to communicate something to all the members of the same channel on your server, you will not have to opt for the tedious process of sending the message to each user separately. On the contrary, you have the possibility of doing it in a group way.
There are two ways to do it:
The first trick is to write "@here" before a sentence, in order to notify all the people who are connected to the channel in question.
On the other hand, if you prefer, you can also do it by writing "@everyone" followed by the text you need to display. In this way, the message will reach all the members, whether they are connected or not.
Control what the application shows on your screen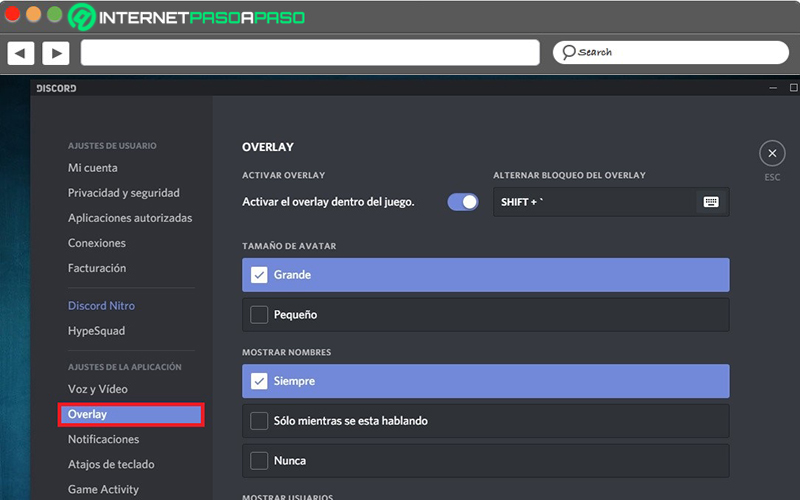 Through Discord's functionality called "Overlay", users can show something on the screen and superimposed on some elements of the application, while they are playing . In other words, this function allows, whether or not to show avatars along with their user names or related notifications from other people who are playing, for example.
However, for privacy reasons, this function can be annoying for many users and in order to personalize the experience, there is a trick by which it is possible to manage everything that Discord will show on your screen .
For this, the steps to be carried out will be the following:
To get started, go to your general account settings. That is, you have to press the gear icon that appears in the lower right to your username.
Next, you have to enter the option that says "Overlay" . From there, proceed to enable or disable the feature. In addition, you can also adjust the key combination to display it and decide what you prefer to always be displayed on the screen (the name or the avatars of the users, only when they speak, if you prefer everything to appear, etc.).
Share your screen with other users
Luckily, as with other quality online communication services, in Discord you will find the possibility of sharing your screen with more users of the application . This being, a function of great interest by means of which it is possible to optimize communication between the groups of people active there.
In this sense, to make use of this functionality, the first thing you have to do is start a video call in the service . Then perform the following steps:
After starting the video call, proceed to display the menu at the bottom of the panel, in order to find the extra options.
Second, you have to look for the icons to turn the webcam on and off, which are next to the "Disconnect" button . At that point, you will find the option that prints "Start screen sharing" and once you press it, the other participants will see everything you show on your screen.
Run any installed game from Discord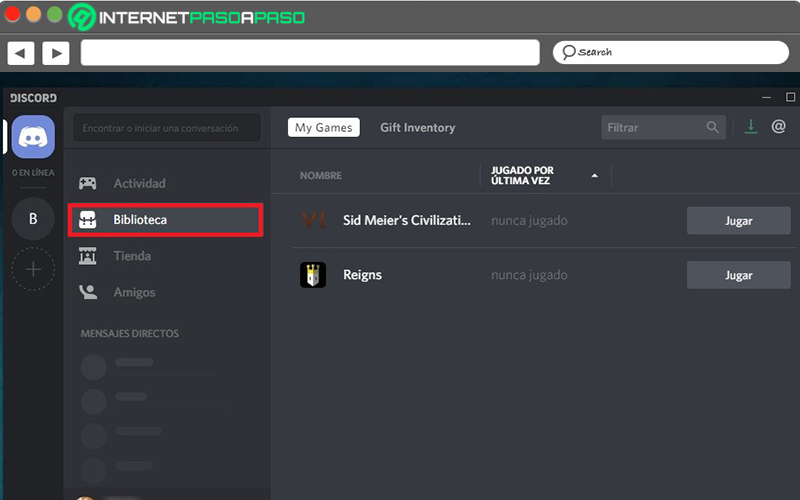 Since the end of 2018, Discord introduced a game launcher on its platform. Which can be complemented with each and every one of the video games that you have installed on your computer and even those titles that you have on Origin, Steam or other sites of that type. Which means that it allows you to launch these games directly from the application.
In that sense, to run games from Discord, what you should do is open the application and within the Activity page, you will see all the games you have installed in the "Quick Launcher" section . Apart from this, you can access the Library section to view the complete list of all the titles you have installed, in general. Thus, all you have to do is press the "Play" button to start the game of your choice.
Make use of the bot system to improve the user experience
Thanks to the fact that Discord has a complete bot system from which various types of automation can be included in the channels of your server, the application allows you to easily optimize your experience . In that sense, they resemble those bots of other applications such as Telegram and, therefore, you can find them on certain similar websites that work to search for servers .
Said recommended pages are: Discord Bot List, Bots on Discord or Carbonitex ; Once you enter any of these, you will find the links to add them to your servers without any complications. Assessing that, each bot will show you detailed information of interest, including the number of servers on which it has been previously installed.
Dock the bots to your server by modifying their name
For further customization, the Discord system offers the facility to change the name of the new bot you have invited, in order for it to display a name more in line with the site you have taken it to. So, if doing so calls your attention, the process to follow consists of the following :
First of all, right click on the added bot whose name you want to change .
Now, they will show you a pop-up menu that has various options and, among all of them, you will have to press the one that says "Change nickname" . With this, you only have to enter the name you want and that's it .
On the other hand, within these selections, the service also allows you to silence the bot in order to temporarily disable it whenever you prefer (the option is located at the top of "change nickname" ).
Limit the quality and number of users of voice channels
It is no secret to anyone that voice chats require a higher bandwidth and, especially, when users want to obtain an optical quality of sound. For that reason, Discord offers the functionality to limit the quality of voice channels, through a setting that is identified as "Bit rate" and is found in the General settings menu within the "Summary" section . There, you can adjust this parameter using the graduation bar.
In addition to this, in the same section, you can make use of another setting that is based on the limitation of the number of users and, in general, is used to prevent the room from filling up with many people speaking at the same time and thus, look totally saturated. To do this, you will also have to adapt the graduation bar to the number you want, which is between 1 and 99 users (as you will see).
Adjust user write interval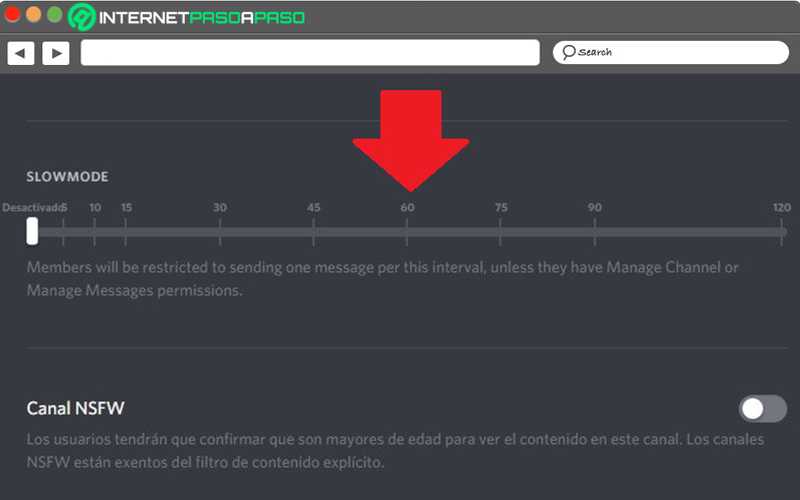 This consists of an adjustment known as "Slowmode", which is based on a bar in which a certain time interval can be marked in order to set the period that users have available to write a message. Therefore, once they do, they will not be able to send more than one message until the established period of time is reached . Which can be done from the settings section of each channel.
In general, it is considered as an extremely useful function to avoid saturating a certain conversation made up of several people . In other words, this setting allows you to keep the chat paused during these intervals.
Create roles to manage a channel
If you have a large server, you have the possibility to define who can control and manage each of the channels. This is carried out through the role management function, which you find by pressing the cogwheel icon that is located on the right hand side of each channel.
Next, access the "Permissions" section and from there, you can start adding individual users or creating established roles for each person. Thus, all you have to do is grant the permissions to manage the channel . Like creating invitations for the server, modifying the permissions and editing the channel (adjusting its name or deleting it).
Establish a channel that only some users can read or write to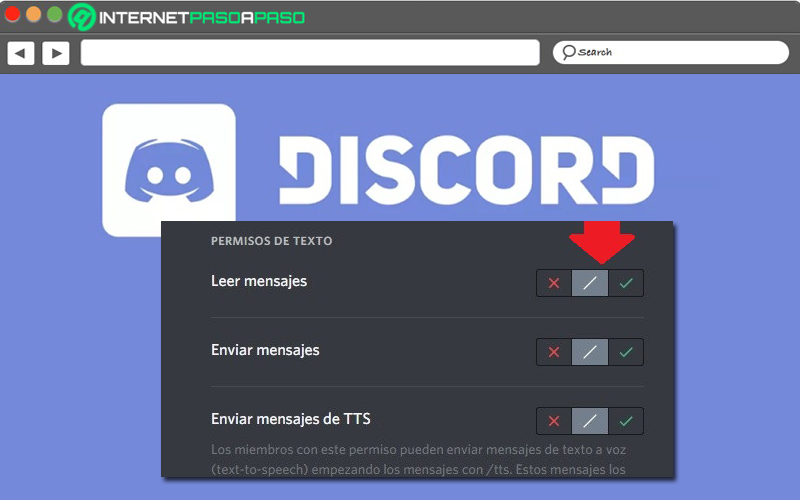 Through the role function explained in the previous tip, you can also create a channel for administrators where you can determine which people can write and which can only read .
Here we indicate the steps that have to be carried out:
Start by accessing the channel configuration and enter the "Permissions" section .
Now, look for "Text permissions" and among the available options, you will see "Read messages", "Send messages" and "Send TTS messages" .
From the first two alternatives, you can make only some people have the possibility of reading the messages of a channel or that they can only write to it .
It should be noted that this functionality is indicated for a broadcast channel where users only need to communicate certain messages without obtaining the noise caused by other users, for example.
Use the official applications
Although this service can be used easily through its official website and from any operating system, the truth is that it also has several native applications from which a better user experience can be ensured . Since these applications adapt the service to your computer or mobile phone.
In this sense, it will be possible to find different desktop applications for Windows, Mac OS and even for Linux computers in the .deb and tar.gz formats, free of charge . Apart from this, it offers mobile apps available in the Play Store and the Apple Store