software
Delete programs and clean your pc completely with hibit uninstaller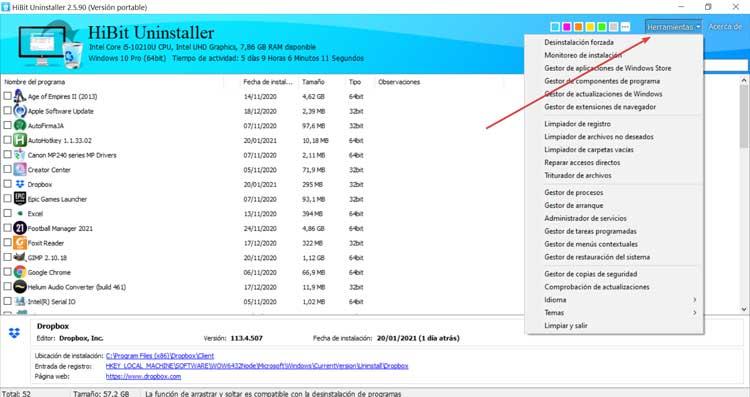 In general, we install a wide variety of programs and applications of all kinds on our Windows computer. It is normal that over time we accumulate third-party applications that, possibly, sometimes we do not end up using and that end up accumulating space unnecessarily on our hard drive. If we want to eliminate any application without leaving any kind of trace, we can use a free program like HiBit Uninstaller, which we will talk about below.
Although any program that we install on our PC must include its own uninstaller that we can find in the installation folder itself. However, on many occasions, they are not usually very efficient, leaving traces with files and folders that are of no use to us, while in others they do not even incorporate it. It is true that Windows incorporates its own application to uninstall applications located in the Control Panel. This tool, although it allows us to uninstall applications, does not always work as well as we would like.
It is because of that. If we want to be sure of completely and efficiently deleting any program without leaving a trace, let's use a specific program for this, such as HiBit Uninstaller.
HiBit Uninstaller, the cleaner you need for your PC
HiBit Uninstaller is a program that will help us keep track of the applications that we have installed on our PC. With it we can clean those that we do not use or no longer need. Unlike the uninstallation tool that the programs themselves incorporate, HiBit Unistaller removes any modification made to the Windows registry, as well as any file or folder related to the program itself
This uninstaller will take care of a deep and fast scan to eliminate all the leftovers it finds, being able to force the elimination of any program, even the most rebellious. Also, it has the possibility of uninstalling batch programs, as well as the applications that we have installed from the Microsoft Store. In addition, it allows us to eliminate browser extensions and, above all, to solve any registry problem to increase the performance of our PC.
Uninstall any app even by force
Once we start the program, a window appears with its main menu that has an interface similar to the uninstaller built into Windows. That is why it will be very easy to use since it even has a Spanish translation. In the upper part it shows us data about the hardware of our computer such as the processor, graphics card, available RAM and operating system.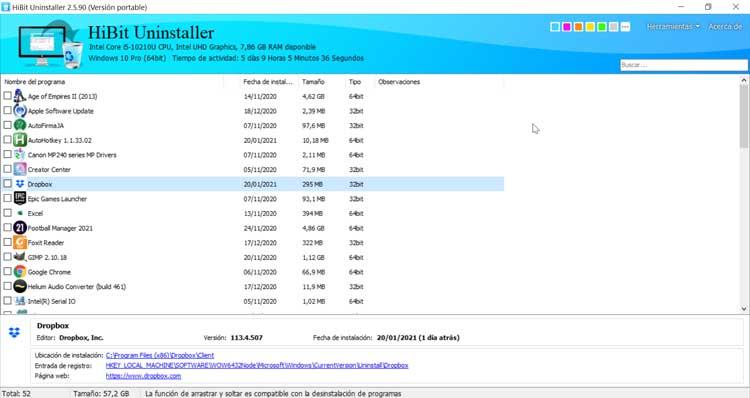 In the central part, it automatically shows us all the programs that we have installed on our PC, along with the installation date, their size, the type (32 or 64 bits) and additional comments. These entries can be sorted by any of these criteria by clicking on their corresponding column. It also has a search function available in case we cannot find the desired program.
It shows us all the information about the installed programs
If we select any application, at the bottom it will show us more details about it, such as its version, the installation location, the registry entry and its website. In this way we will be able to know everything about the applications that we have installed in our system.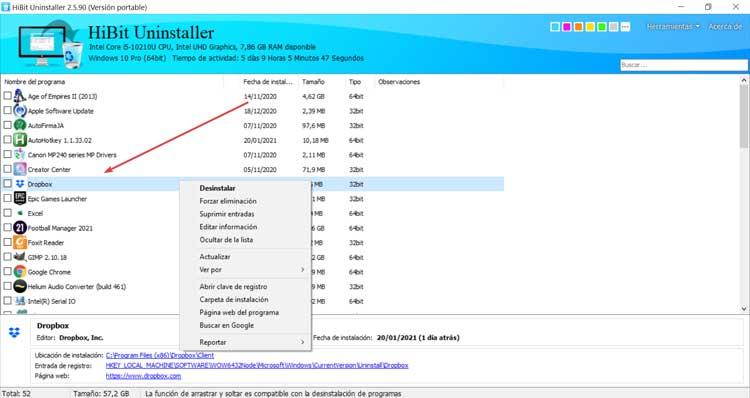 If we click with the right button of the mouse on any application, a contextual menu appears, where in addition to the usual uninstallation method, it has the "Force removal" mode. In this way we can apply force, through an advanced method designed to scan and delete remaining files and registry keys. Other options such as "Open registry key" or the installation folder, generate reports or search for information about an unknown program on the web are also displayed.
It has tools with additional functions
At the top we find the "Tools" tab, where we will find a series of additional functions . From this section we can manage applications from the Microsoft Store, eliminate invalid entries in the registry, delete junk files to free up space, delete empty folders and broken shortcuts. In addition, it allows us to end current processes, manage startup entries, services, drivers, scheduled tasks, and context menu entries.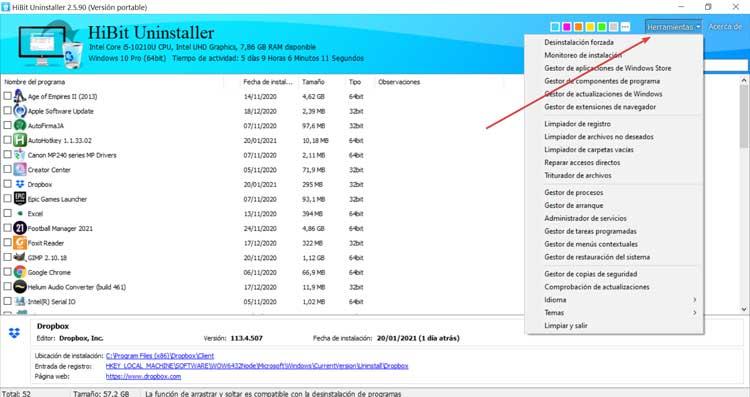 Conclusions
HiBit Unistaller is a complete program uninstaller . In addition to searching for and deleting files and excess registry keys, it has extra tools dedicated to cleaning and optimizing our hard drive. All this completely free of charge and without annoying advertising, which makes it a highly recommended program that is worth having at our disposal at any time.
HiBit Uninstaller free download
HiBit Unistaller is a completely free program that we can download directly from its website . It is compatible with the Windows operating system in its versions of Vista, 7, 8 and 10, being valid for both 32-bit and 64-bit systems. In addition, it has both an installer version and a portable version. In this way, it can be executed on any PC from an external storage device such as a hard drive, a pendrive, memory card, etc.
Its latest available version is 2.5.90 corresponding to January 7, 2021 . Therefore, we are facing a program that has a great policy of updates and support from its developers, something of great value, especially since it is a free application.
Alternatives to HiBit Uninstaller
If we are looking for a program to help us uninstall programs and clean the hard disk, we suggest a couple of alternatives to HiBit Unistaller to consider:
Bulk Crap Uninstaller
It is a software capable of detecting all the programs not registered in the system. It is capable of detecting the vast majority of applications and games in order to eliminate them completely. It even has a system that does everything automatically. Bulk Crap Uninstaller, is a free and portable application that we can download from here .
GeekUninstaller
This program will help us to uninstall any Windows software. It has the necessary functions to eliminate programs that we no longer need one by one. Also, it is ad-free and completely free. GeekUninstaller it can be downloaded directly from this link .