software
Delete all the programs that you do not need in windows definitively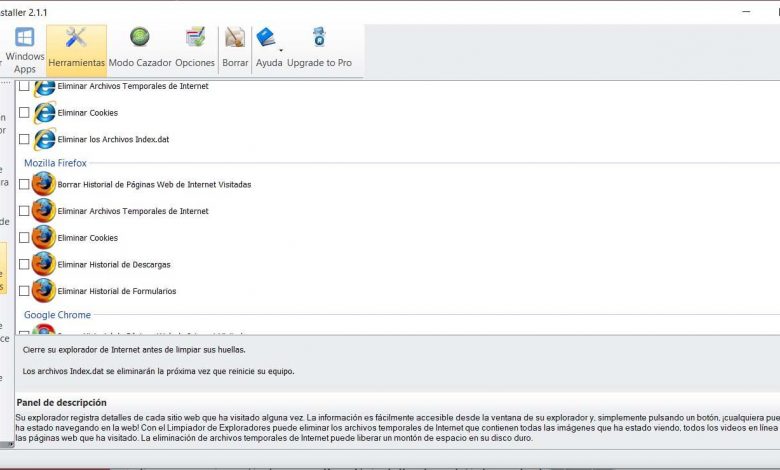 When using our computers based on the Microsoft operating system , Windows, despite the applications that it brings with it, we usually install many others. This increases the functionality and usefulness of the PC, but at the same time fills the available storage space.
Keep in mind that this space that we are talking about here is one of the most important sections in any team, hence we have to take care of it. This is something that we achieve based on a series of measures that we can take. One of these is the elimination of everything that we no longer need in Windows, both its own files and complete programs.
Many times we have problems when uninstalling a program, either because it does not have an uninstaller and Windows does not work, or because it gives errors. These do not allow us to uninstall it, to which we must deal with the traces that this program may leave in the system registry, and the unnecessary files on the disk drives. Therefore, to solve these problems that we are commenting on, there are several applications that will be very helpful. One of the best and best known for years, without a doubt is Revo Uninstaller. This is a powerful free tool that will get us out of more than one problem when it comes to saving space.
Thus, in the event that a program presents errors when uninstalling it, we can use a solution like this that we are going to talk about. It, among other things, forces the erasure of all the keys in the registry generated by said program before eliminating it.
How Revo Uninstaller helps us on your computer
Once we know this, we will say that sometimes we can find ourselves with the problem that not all installed programs can be eliminated, at least initially. This is because sometimes some of these programs do not appear in the uninstall function of Windows . Well, in that case, surely solutions like Revo Uninstaller will be of great help to us.
Save disk space with Revo Uninstaller
That is why more and more users are choosing to use this type of software for different reasons. If we focus on Revo Uninstaller, say that this is a program that performs cleaning functions in the Redmond operating system. As we mentioned, with this what we achieve is to free space unnecessarily occupied by software that we no longer need.
In addition to this interesting function, this application incorporates more interesting features such as the secure deletion of files, the elimination of unnecessary files, or the possibility of completely deleting the files that we have deleted by hand.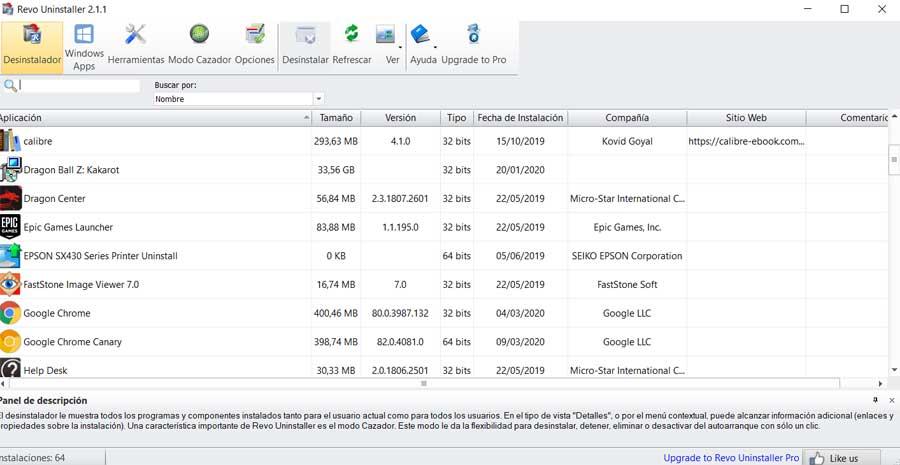 Therefore, the main task that this solution proposes is to uninstall unnecessary programs and at the same time eliminate all kinds of junk files generated by them. In the same way, it has some somewhat more specific functions such as a cleaner for useless files, or for those created by web browsers.
Get the most out of your user interface
Thus, from a single interface, we will have the possibility to uninstall all kinds of programs in just a few steps, even those that are more difficult to remove directly from Windows. It is worth mentioning that at the same time we can erase from the disk drives those traces of files that have been left by incomplete uninstallations. Thus, at the top there are a series of buttons that allow us to access different functions.
If we select any of the entries listed here, we can uninstall the application that appears at the bottom of the main screen. To uninstall this program, we just have to select its icon and click on it with the right mouse button.
Other additional functions it presents
It is also worth knowing that this program offers us other additional operating modes that will allow us to take care of the operating system . Thus, by clicking on the Tools button on the main interface, we access these functions that we mentioned. From there we will have the opportunity to eliminate useless Office files, as well as all installed Internet browsers.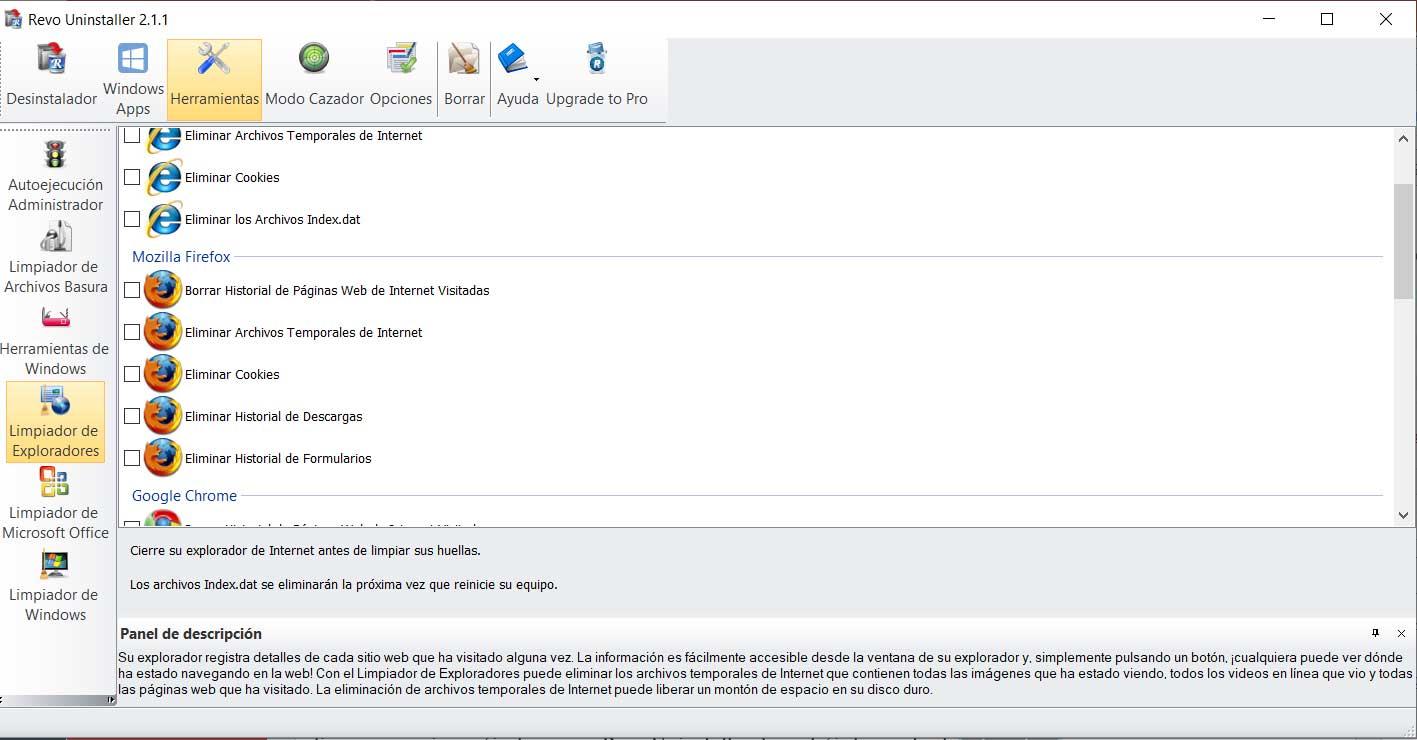 Another more specific function is the one that also offers us the possibility of eliminating everything that is of no use belonging to the programs included in Windows. It is also worth noting that Revo Uninstaller offers us some shortcuts to important functions of the system itself. Among these we find Task Scheduler, Windows Defragmenter, Services, etc.
Versions and how to install Revo Uninstaller on PC
To say that as regards this program, we find two versions of it that we can use. On the one hand we have the possibility of installing Revo Uninstaller Free without spending a euro, while there is a Pro version that starts at $ 24.95 for a year and a single PC.
This is a cost that will increase as we buy licenses for more time, or more equipment. The differences between the two versions are several. Here we can highlight that the most advanced is valid for 32 and 64 bit systems, it has a portable version, advanced technical support, or a customizable interface. To finish we will tell you that if you want to download Revo Uninstaller, you can do it from this link .
To finish we will tell you that as you have seen, Revo Uninstaller is much more than a simple uninstaller of applications for Windows. That is why it could be said that it is a powerful application that should not be missing from our PC since it will also be very useful in other tasks. In addition to keeping the operating system cleaner and free of junk files, the program makes the whole work a little more fluid. And that's not all, but in addition to all this we can add the storage space that over time we will be able to save with the use of this powerful software solution.