software
Create hd and 4k wallpapers on windows with background generator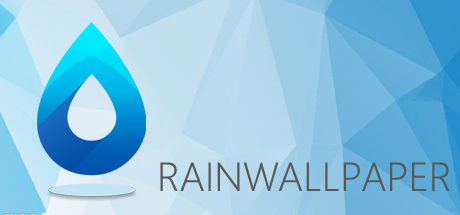 The wallpaper is one of the most personal customization points for an operating system. Each user wants their desktop to be unique and adapted to their tastes and needs. In the network we can find an infinity of wallpapers. However, if we want to use a unique wallpaper that no one else uses, we have two options: the first is to use a photo that we have taken, and the second to generate random wallpapers and personalize them with the elements that we want using tools like Background Generator .
Background Generator is a program that, as its name suggests, its main purpose is to allow us to generate all kinds of funds. This software includes 7 background generators within a single program and allows any user to generate their own wallpapers without complications and without the need for editing knowledge.
Why use a wallpaper in Windows
In case you don't know, when we refer to the wallpaper in Windows, we are actually talking about that image that generally decorates your desktop on the system. You could say that this is more of a decorative element than anything else, but at the same time it gives Windows itself a much more personal look. It is true that Microsoft, from the outset, by installing the operating system from scratch, already provides us with some examples in the form of funds to use. Furthermore, they cannot be considered ugly photos, quite the opposite.
But at the same time, most users choose to use their own images for this decorative element. In this way, it is more than likely that we will work something better, at least as far as the spirit is concerned, if we have a good image of our pet, partner, family, car, landscape, or whatever it is that brings us up on the PC. mood habitually. Of course, as we will see below, we can also choose to create our own personalized content for the desktop, let's see how to do it.
What can we do with Background Generator
Background Generator is a tool focused mainly on those users who want to have unique wallpapers on their computers. However, it is also very useful among designers, since it allows generating random backgrounds, without copyright, to use in any type of project. All this completely free of charge and without any type of limitation.
The images that this program generates are 100% unique . Everything we see in it has been generated as a result of a series of algorithms that make it almost impossible for the same background to repeat itself twice. In addition to allowing us to customize the background, it also has more than 100 icons that we can add to the creation, as well as different text effects to give the image the shape we want.
The program allows us to generate funds in high definition . We can generate from HD and 4K wallpapers to backgrounds with the proportions of a smartphone or tablet. Of course, we can also enter the dimensions we want to generate an image at that size. We can also create images with a transparent background, and even use the program to generate banners, logos or whatever we want. Thanks to random algorithms, our creations will be unique.
We can choose between 7 different styles to generate the funds (and each one is fully customizable):
Colorful: allows us to generate backgrounds from different geometric shapes.
Graphics: allows you to generate random and custom backgrounds by choosing one of the hundreds of available icons.
Galaxy – Random, custom space-based backgrounds with light fixtures.
Changing light: allows you to generate funds using sources and light beams. We can see an animation and stop at any time we want to use it in the background.
Polytechnic School: allows generating colored backgrounds with geometric effects.
Dreamer: dream backgrounds generated by bubbles and color effects.
Stripes: colored striped backgrounds.
The generated images can be saved as PNG (to respect, for example, transparency) or as JPEG so that it takes up less space and is more compatible. We choose.
How to generate unique, random and custom funds
The truth is that using this program is very simple, so we will not have problems to generate our own funds. Once the program is installed, the first thing we will do is open it and we will find a window similar to the following:
The truth is that the interface is not very well maintained. Although all the options are well placed and we will not have problems using the tools, we miss a little more careful design.
At the top we will be able to see the different image styles. We must select the one we want to create, since according to each one of them the options on the left will change.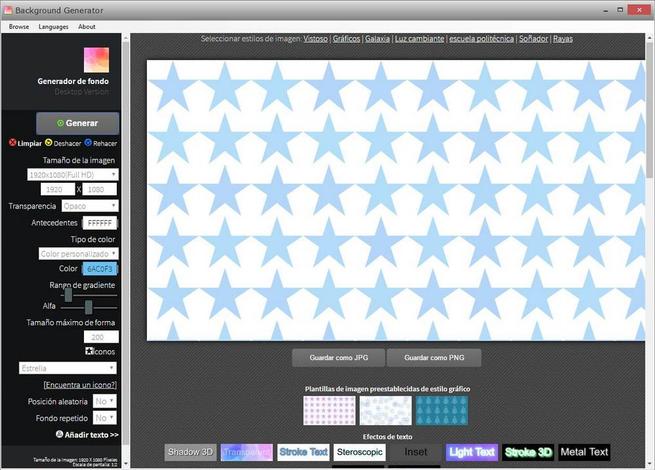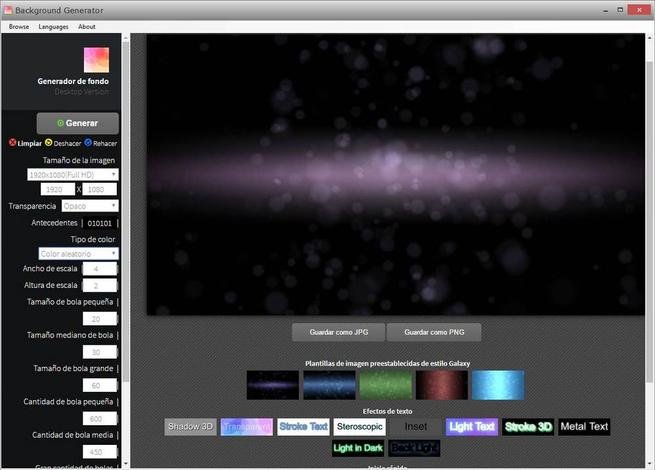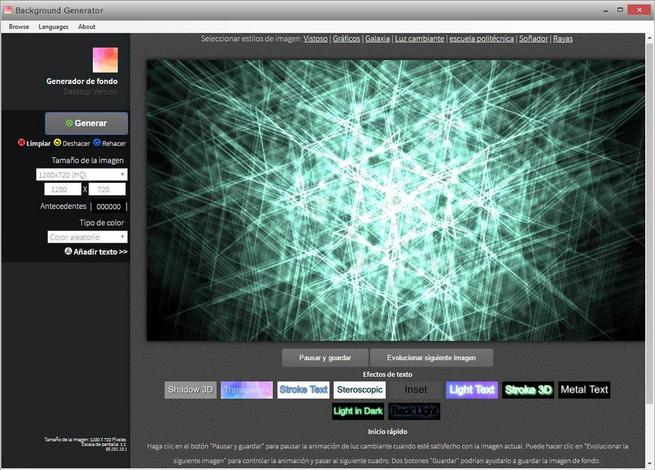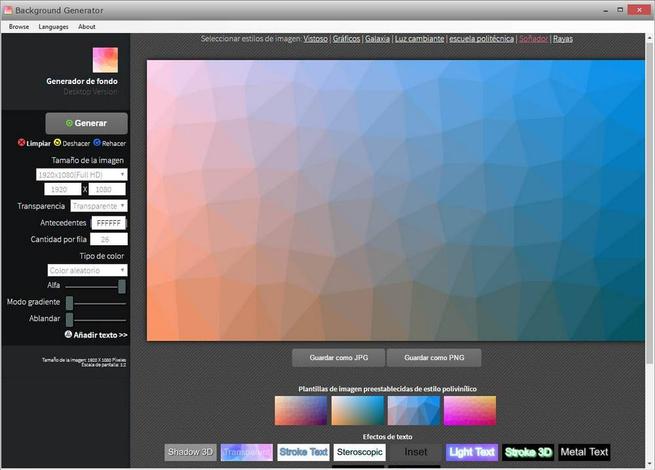 Once the image style has been chosen, on the left we can find a series of options. The first one we will see will be the image size. We can choose any of the predefined sizes, or we can set the exact size we want.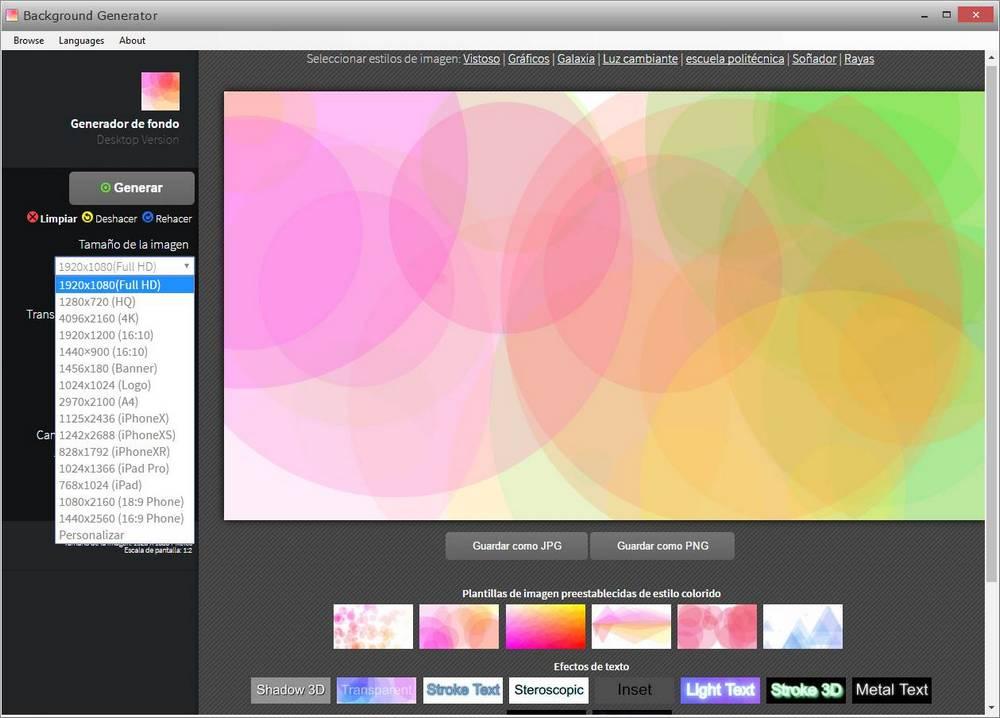 We will also be able to choose the transparency, the type of background color that we want to generate, and then specific parameters for each of the styles. For example, icons, random algorithm variables, maximum shape sizes, and much more.
When we have the background options ready, we will only have to click on the «Generate» button. A randomly generated background will automatically appear. If we don't like it, we can press the button again to generate a new background.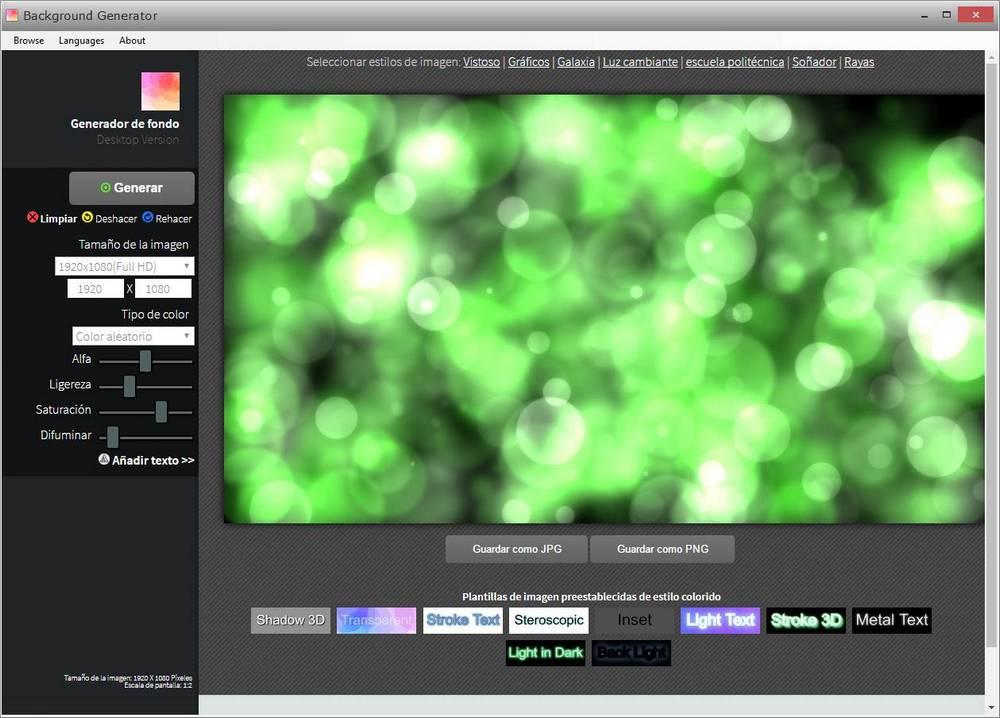 When we find the perfect background, we can use the save as PNG or JPEG buttons to save the background. With it already saved we can choose, or use it as a wallpaper or import it into any other project in other programs, for example, in Photoshop. As the funds generated are free and random, we will not have rights or plagiarism problems.
Add text
Before saving the background, if we want, we can add a text to it. Below the generated image we can find different text effects that we can add to the image in question. If we select one of them we will be able to see in the list of parameters on the left some new sections with other parameters.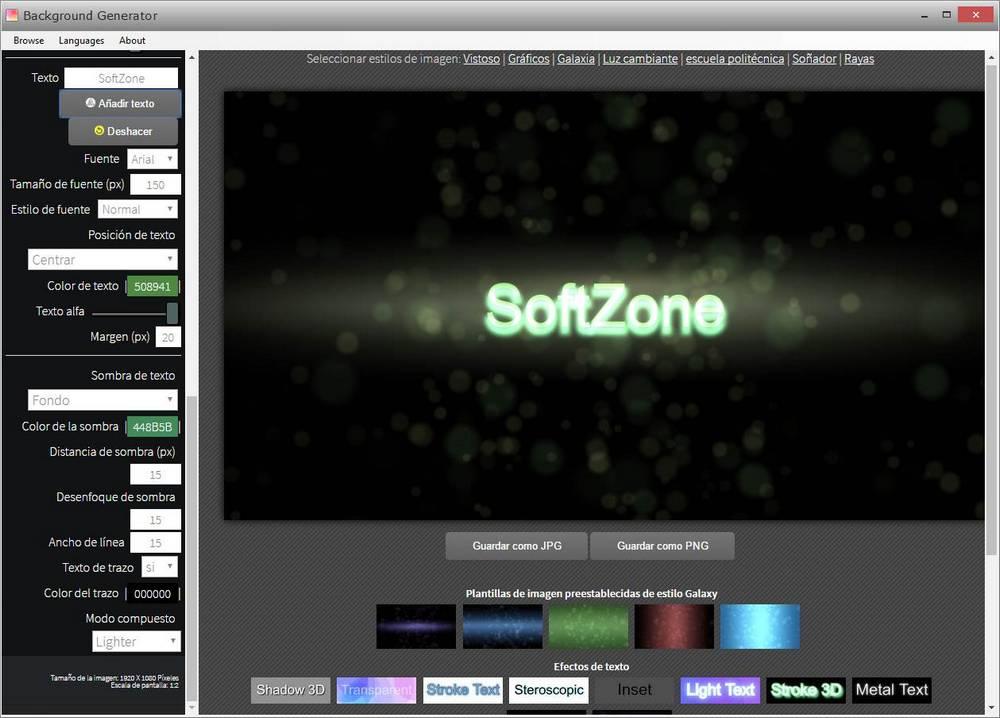 We can customize the text as we want. For each style we can change the font, size, position, style, margins … whatever we want. And if we don't like how the text is next to the image, we can always generate a new background again.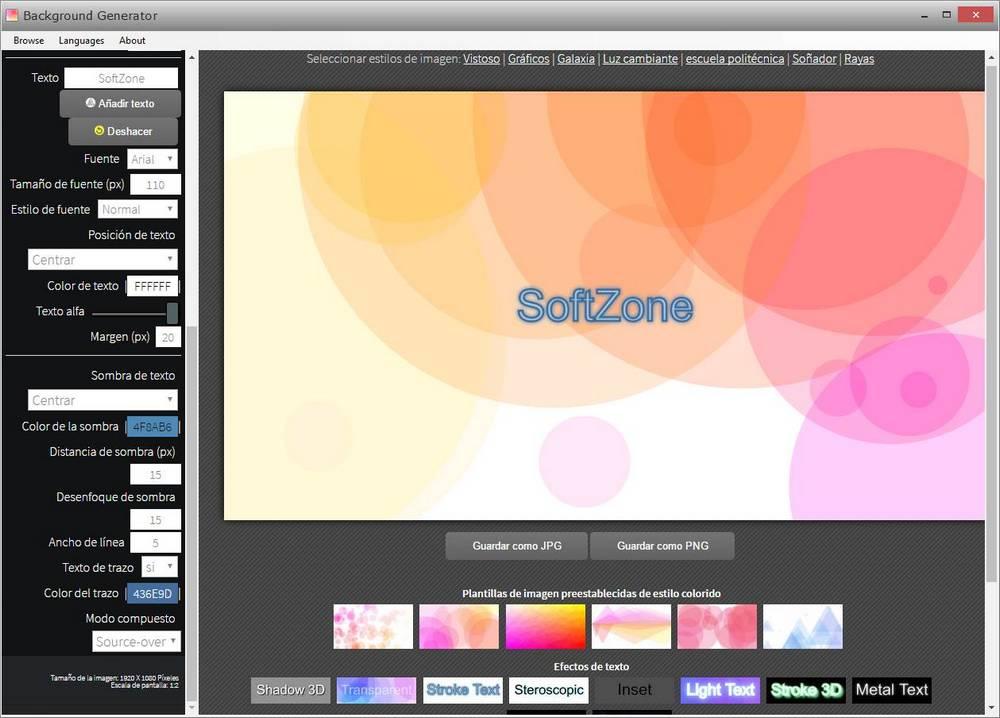 Download
This program is completely free, and we can download it to our computer from the following link . It is important to note that it is only available for Windows systems, so neither from macOS nor from Linux we can use this wallpaper generator.
We can download a normal version of this program, which we must install in Windows in order to use it, or opt for the portable version. Neither has ads or tries to install any type of unwanted software on our PC. It is a 100% reliable program, and it perfectly fulfills its purpose.
If we prefer, we can also use its web version, which is available here .
Alternatives to Background Generator
In addition to this simple program to generate random wallpapers, we are also going to find other alternatives on the net that will allow us to give our desktop a unique touch.
Wallpaper Engine
Wallpaper Engine is one of the best-known Windows customization programs that we can find that allows us to use animated backgrounds on the Windows desktop. This program is compatible with a great variety of animated backgrounds, including 3D and 2D animations, which we can add manually to the program or download from its own «store». We can also place web pages, videos and even applications as wallpaper.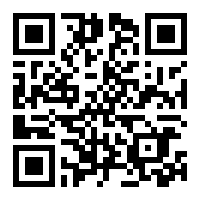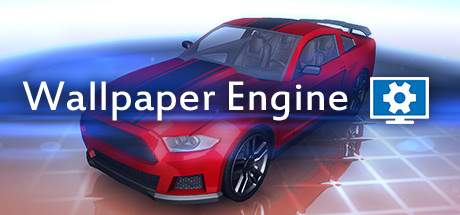 Developer: Wallpaper Engine Team
RainWallpaper
Another program similar to the previous one whose main purpose is to allow us to create fully customizable animated wallpapers updated in real time. We can configure animations, videos, websites, clocks and much more as Windows wallpaper. Its programming highlights its low consumption of RAM and CPU, so it will not slow down the PC when using its animated backgrounds.