software
Cortana what is it, what is it for and what are the best tricks to take advantage of it?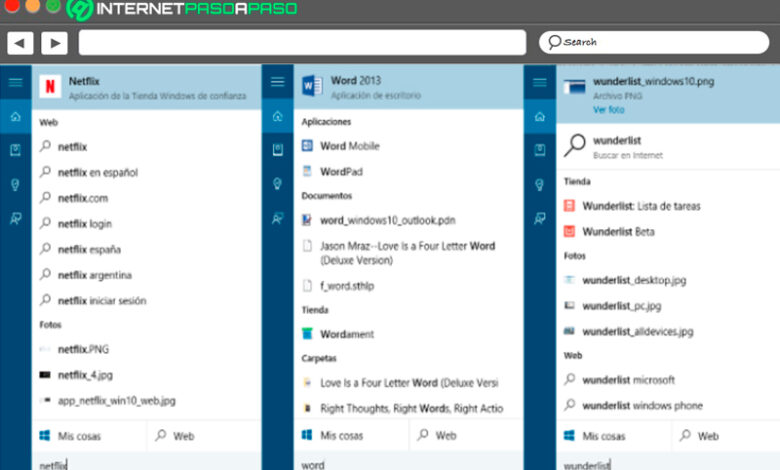 Voice assistants were created primarily for mobile devices as a feature that would solve the inconvenience of having to type on a small screen . In addition, to facilitate the use of them when walking on the street or driving a car . In this way, the Windows operating system has added this function to your system.
Therefore, Cortana works the same as the Siri voice assistant , but this time for Windows, so said voice assistant can be used to receive updates on the weather, to set reminders such as purchases, search for files, surf the Internet, send email, among many other functions that users can perform from their computer with this voice tool.
One of the best features of this function in Win10  is that it has the ability to perform tasks without being asked, thanks to the fact that it adopts your habits, tastes and needs . In accordance with all this, here we are going to teach you a little more about What is Cortana, what is it for and how can you start to get the most out of it? To do this, follow in detail everything that we will teach you next in the post.
What is Cortana and what is this Windows 10 tool for?
Cortana has become the Windows virtual assistant, which will help you access each of your interests, favorite places, emails, among others in a very easy way and without having to use your hands to do so, you simply have to use voice command .
Therefore, just talking to Cortana will be enough to interact with the assistant, it will help you remember important dates and tasks. One of the advantages of Cortana is that it feeds on each of your Internet searches, as well as all the information you provide, and then offers news that is of interest to you.
One of the functions that most attracts the attention of this new assistant for Windows 10 is the ability it has to respond to the call of your voice, where you simply have to use the command "Hey cortana". To be able to access this function, all you need is to click on the Cortana button located on the taskbar right next to the search bar.   When entering this function, you only have to activate the microphone to be able to use the voice command to ask the assistant for anything.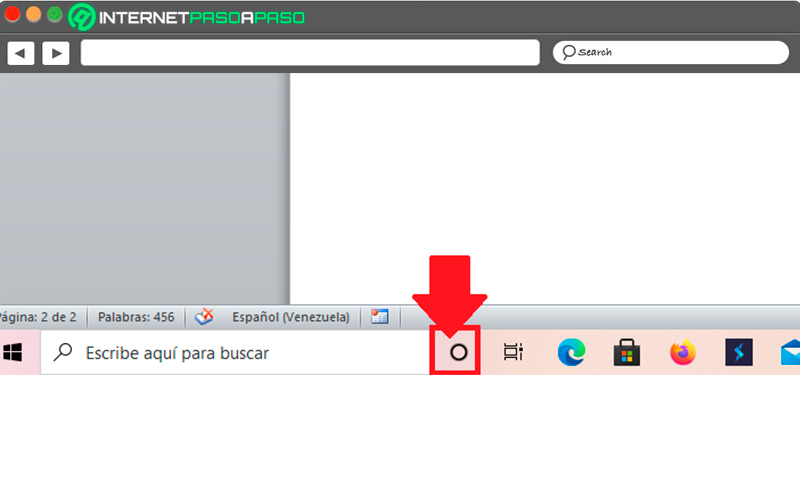 What are the main advantages and disadvantages of using Cortana in Windows 10?
Without a doubt, being able to count on Cortana in Windows will offer you a series of benefits that you can take advantage of to carry out certain types of activities. Keep in mind that previously the voice assistant was only available for smartphones, but nowadays thanks to technological advances in Microsoft's operating system, Win10 users can start to use it.
In this way, here we show you the main advantages and disadvantages of this function:
Advantage
You can ask for all the information you want and the assistant will look for it on the Internet in order to provide a safe and reliable result . Therefore, you only have to ask for the information you want and in a matter of seconds you will get an answer. Any voice assistant is capable of performing all kinds of voice searches.
It will allow you to control the agenda and calendar from the assistant, for this you just have to say that you want me to add an event or personal appointment so that later it will remind you on the indicated date.
It gives you the option of using it as a timer, for this you can program a certain duration time and the assistant will notify you when that time  elapses.  In this way it provides you with different reminders at all times. This has made Cortana a perfect tool to set cooking times for your recipes while you are working on the computer.
If you like to listen to music while working on your computer, then you can ask Cortana to put your favorite music list, it will play directly on Cortana's speaker.
It also gives you the possibility of establishing connections with other devices and is capable of connecting to all kinds of electrical appliances and technological devices in your home so that you can have control over them.
It allows you to control your computer almost 100% with your voice, so you will not have to make any other physical effort to carry out different types of activities.
Disadvantages
Despite all this, it is very important to bear in mind that not everything that Cortana achieves or offers is positive .
That is why here we are going to show you some of the inconveniences that using this intelligent voice assistant can cause so that you can take them into account:
One of the most frequent drawbacks in Cortana or any other voice assistant is that the speakers constantly hear everything that is spoken in them, either recording or storing all conversations on their servers.
Keep in mind that to be able to use a voice assistant like Cortana, it is necessary to enter personal accounts, so private information of all kinds is offered . This can undoubtedly become a problem for many users, especially those who take care of their privacy . That is why Cortana is one of the tools to disable when the user seeks 100% privacy on their Windows computer .
Cortana Features and Functions What can I do with the new Windows 10 Assistant?
Today there are many users who still do not know what are all the functions and features that they can count on when using Cortana, this has been one of the main reasons why many users still do not use this voice assistant on Win10.
But the truth of all this is that it has very outstanding features and functions like the ones we are going to show you below:
Use it as a calculator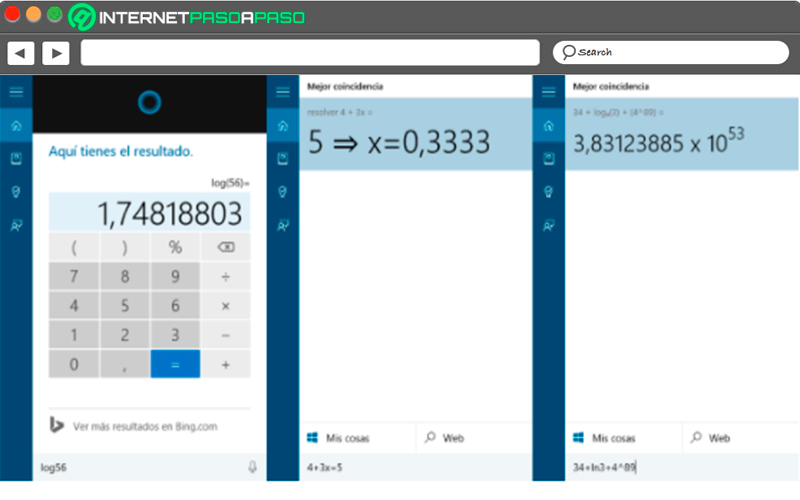 When you are working on a computer it is possible that for some reason there is the need to use a calculator, in this case Cortana as a calculator is practically unbeatable, since it offers you any type of calculation in an easy and fast way. You just have to press the start button and there start writing the mathematical problems you want to solve, said solution will appear after a few seconds on the screen.
One of its main advantages is that you can apply what are the associative properties, parentheses, expressions such as sqrt (), exp (), log (), all this will allow you to be able to pose relatively complex problems and in the same way obtain their solutions quickly. It also allows you to solve simple and complex equations . You have the opportunity to start web searches and get guaranteed and reliable answers, so in this regard it is considered one of the best alternatives.
Use as a reminder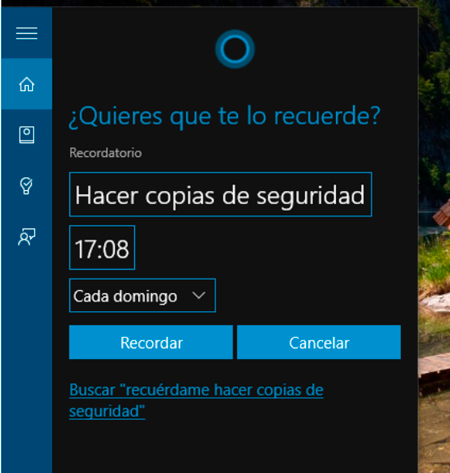 Reminders are another of the most outstanding functions of the Windows voice assistant, this is one of the features designed to offer users scheduled reminders with a time and date.
Some of the cases in which this function could be used would be the following:
Remind me to buy bread when I go to the supermarket next time.
Remind me to charge juan for all the money he's owed me the next time I talk to him.
Remind me to exercise every day at 6:00 PM.
These are just some of the examples where you can make use of this wizard feature. However, it must be borne in mind that for the location alerts to work it is necessary that these alerts be synchronized with Windows Phone , Windows 10 Mobile, and the Cortana app on Android and iOS, this will be what allows Cortana to detect your exact location.
It should also be borne in mind that this assistant can hardly give an exact location, since it basically works with a margin of error of tens of kilometers . In the case of time and date alerts, greater accuracy can be achieved in the notice. One of the easiest ways to create a reminder is to say with your voice to Cortana "Remind me [the activity you want me to remember you]".
Then you will be shown a message where you can choose the date and time or the person with whom you want to remember us. At this point you just have to select the time and date on which you want the reminder to be activated. To these reminders you also have the opportunity to add a certain periodicity, which means that it reminds you of something throughout the week, be it one day or every day and the time for the notice .
In the case of reminders assigned to people, they work integrated with applications such as email, in this way if Cortana is asked to remember something the next time you talk to someone, that reminder will appear when you start writing an email for that person . Finally, you also have the opportunity to consult and edit the list of reminders already created, even those that have already been completed and discarded. To see all this you must access the "Reminder" button in the assistant's sidebar.
Check the calendar and add new events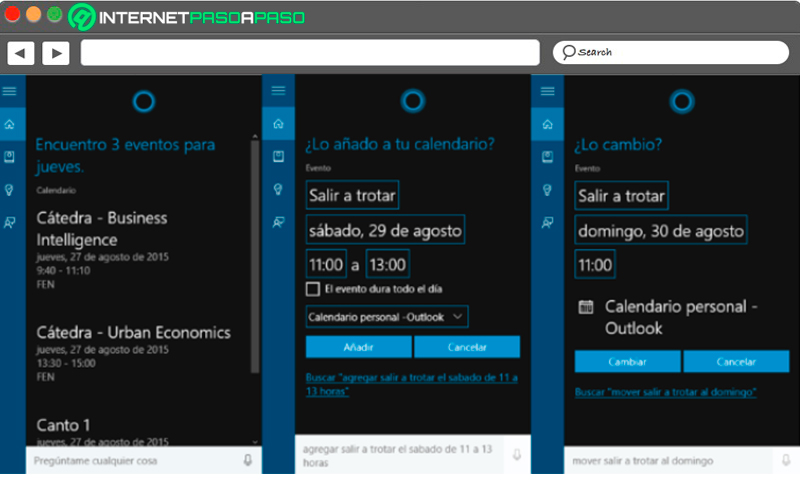 Another function that can be carried out with the assistant is to use a command to indicate some action to Cortana, in this case you can use commands such as the following:
What do I have to do for this weekend?
What do I have to do for today?
Show my next event?
What activities do I have for next week or this week?
You can ask these types of questions when you have previously scheduled events and want to remember what activities you have pending or what you should do next.
You can also add new events and use specific date and time commands:
Add event go to the beach all weekend.
Add to the calendar going out to exercise on Monday at 8 AM.
Add the calendar to the business meeting on Tuesday at 10 AM.
Add to the calendar watch the soccer game Spain – England on Friday at 9 PM.
In the case that you add two events that automatically coincide, the assistant will notify you so that you can take the corresponding measures . It also allows you to adjust details such as the day and time, in case some of your schedules have been modified.
Finally, you can also configure the wizard to show you the agenda and the most important events as a kind of daily summary page. To do this you simply have to open the Cortana notebook in the sidebar and then select "Meetings and reminders" and then mark as "Activated" all the options that appear within the section.
Play music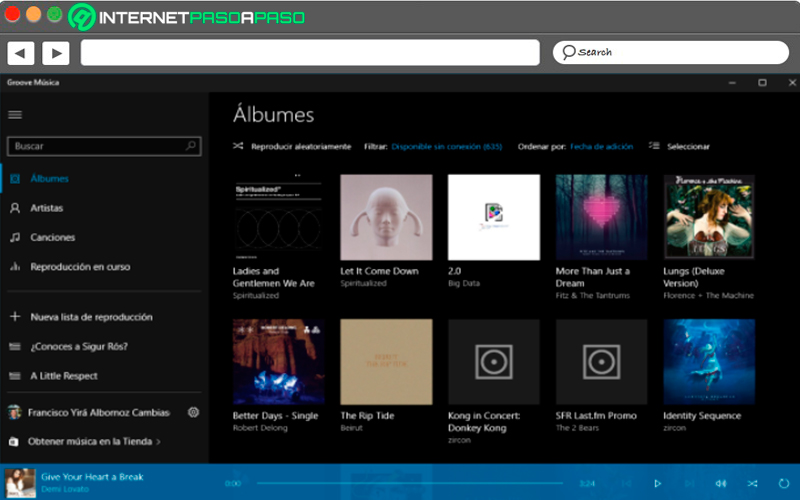 This wizard has the ability to Integrate with Groove Music, allowing you to quickly play your favorite song lists , artist albums, music by genre, and even the entire collection in shuffle mode .
To do this, you simply have to apply commands such as the following:
Play the list of the 25 most listened to, keep in mind that there must be a folder with that name.
Play my music.
Play the Drag Me Down album.
Put on any song.
With this type of command you can activate the music that you have stored on your computer. Keep in mind that these commands can be entered either through voice or text .
Make inquiries of all kinds of financial information and currencies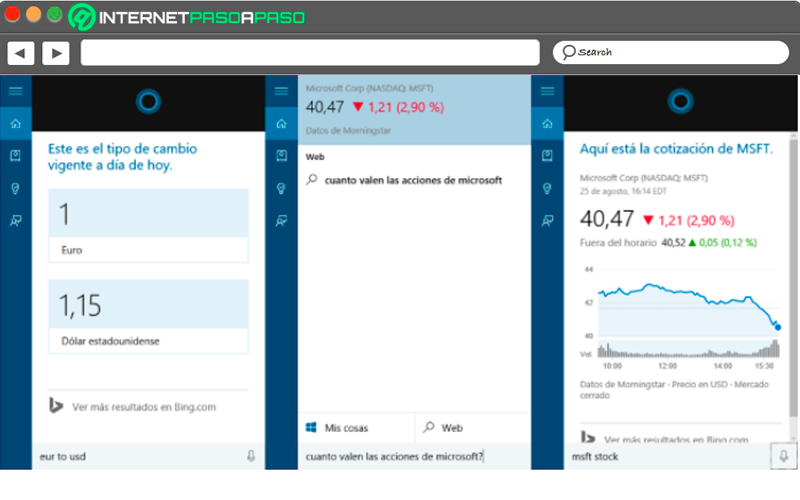 This is another of the most outstanding features of the Windows 10 Voice assistant .
So you will have the opportunity to use voice and text commands that allow you to make different queries such as the following:
Dollar to euro.
How much do Microsoft shares cost?
BTC to Euros.
Convert 500 euros into yuan.
Each of the answers to these queries will appear instantly after writing them, keep in mind that you must add these commands and press the "Enter" key to see the information in detail. You also have the opportunity to define a watchlist of stocks and exchanges in the world .
In this case, you just have to go to the "Cortana Notebook" and then "Finance" and then activate the finance card and add all the stocks or exchanges you want to track. Keep in mind that the daily variations of the bags will appear every day .
Unit conversion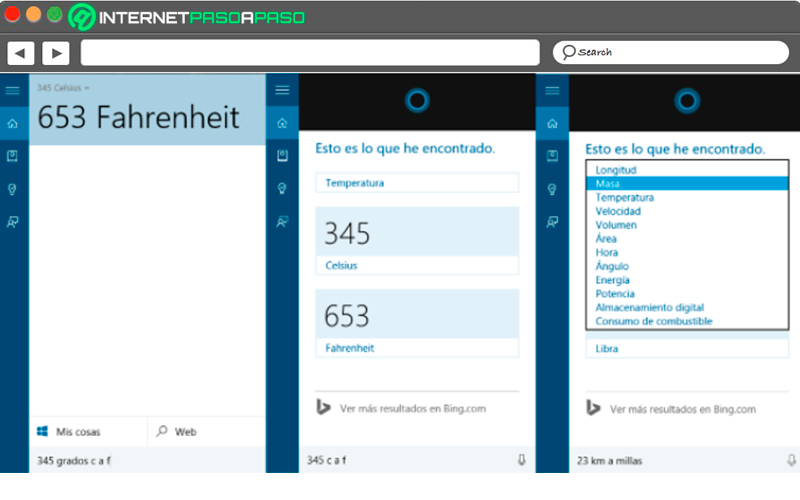 With Cortana you will also have the opportunity to have a support to convert a large number of units instantly .
To do this, you simply have to write commands similar to those that we are going to teach you below:
Convert 23 km to miles.
50 degrees C to F
20 centuries to nanoseconds.
100 calories to joules.
At the time of writing these queries, you should immediately generate the answer to it, but by pressing "Enter" you will get a much more detailed description that allows you to modify the numbers or units and in the same way select and copy said results.
News Tracking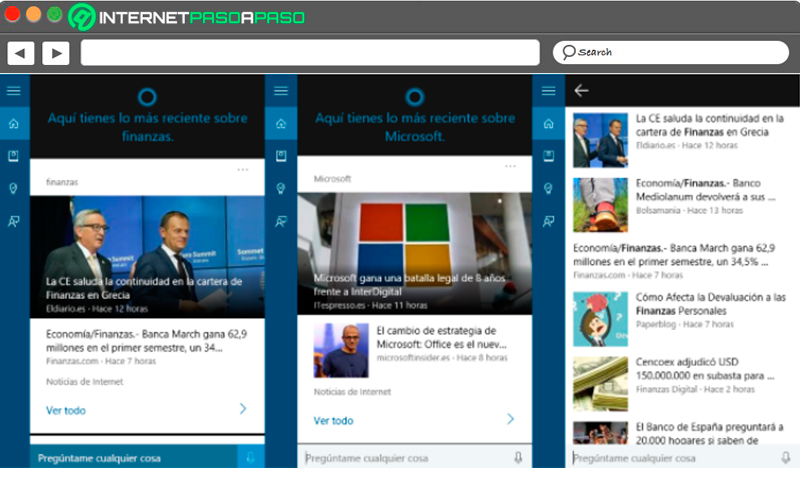 In this case, the assistant has an integration with Bing News, where through it you can follow news on a specific topic or access the news that you consider most relevant according to your geographical location. In the same way, it offers you a daily summary section where you can get the highlights in the last 24 hours.
To activate this function, you will need to carry out these steps:
The first thing you should do is go to the "Cortana Notebook" located in the left sidebar.
Then select the "News" section.
Here you must activate the "News" section.
And finally, you must add all the topics of interest to which you want to follow up.
After this Cortana will  begin to teach you the most important news of each of the topics you have selected, within the "Daily Summary" section, a way to stay informed thanks to the Win10 wizard.
Find new apps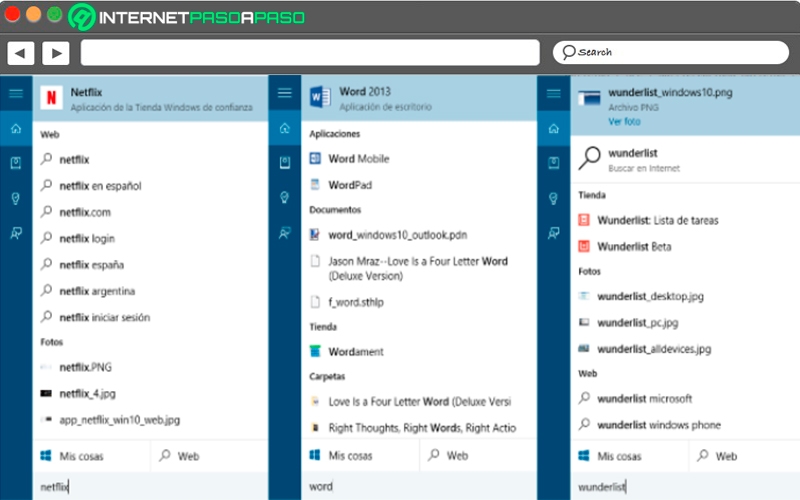 Another feature of this intelligent voice assistant is that it allows you to start applications quickly, so you will not have to look for it in the list of all applications, for this you just have to type the name of the app in Cortana and press "Enter" . The results are usually displayed immediately, so you may not have to type the full name of the app for it to ap