software
Control your pc remotely with these alternatives to teamviewer
One of the great advantages that the Internet offers us is the possibility of remotely controlling our computer. One of the most popular third-party applications to perform this operation is TeamViewer, but it is still the only valid option, since there are great alternatives like the ones we will see below.
TeamViewer, a benchmark for remote PC control
Without a doubt, it is one of the most popular and used remote control programs . Thanks to this application we can connect remotely to our PC from another computer. It has functions for sharing and controlling desktops, online meetings, video conferencing, transferring files between computers, as well as the ability to access another computer running TeamViewer with a web browser. In addition, it has a quality certificate in accordance with ISO 9001 and is multiplatform, so that it can be used on Windows computers, Mac OS, Linux and even Android mobiles.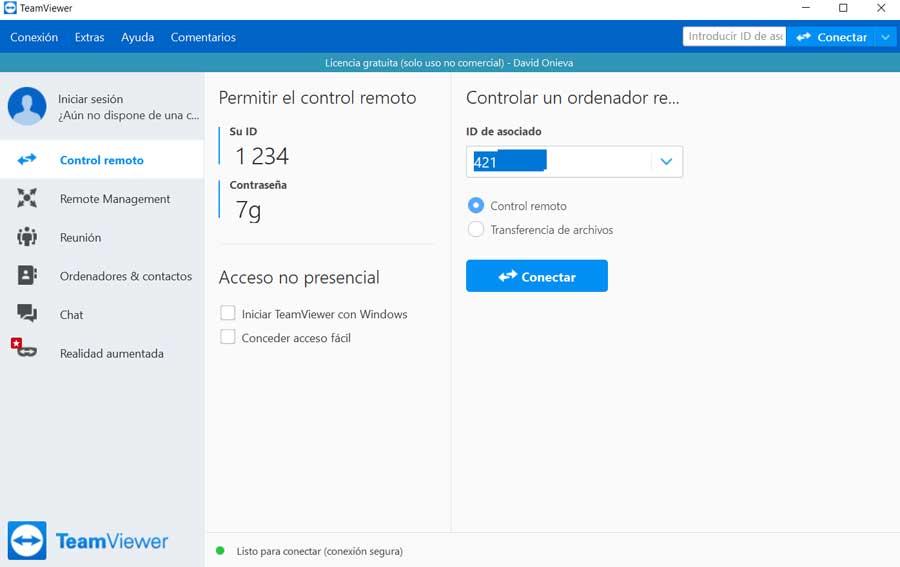 But TeamViewer is by no means a perfect program, and it has some disadvantages, since it is not possible to do any type of hardware maintenance, nor to format the other PC. It can also cause connection problems that can cause the Internet to drop if the remote connection drops and we will not be able to connect more than two computers.
Best alternatives to Teamviewer
Today we are going to see what programs can be very useful as alternatives to TeamViewer to control our computer remotely.
Ammyy Admin, remotely control a desktop without opening ports
With this application it is possible to remotely connect a desktop to an Internet server, being able to manage our computer from another PC. Ammyy Admin is a tool that we can use both as a remote client and as a server and has a very simple mechanism, without the need to open ports. It has a system to control both the mouse and the keyboard, establish permissions to view our screen and initiate file transfers.
Ammyy Admin has a free version, which we can download from its website for non-commercial use and with which we can use it for a maximum of 15 hours on a monthly basis. It also has three payment methods. The "Starter v3" version ($ 33.90) is suitable for business use and has an unlimited number of simultaneous sessions. The "Premium v3" version ($ 66.90) has a higher bandwidth connection with less load on the routers. Finally, the "Corporate v3″ version ($ 99.90) has all the advantages of the previous ones and also allows unlimited sessions.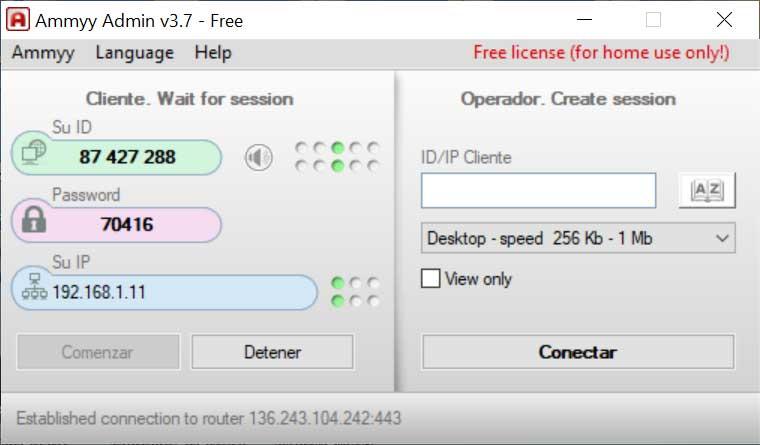 SupRemo, controls the PC remotely with the highest security
This program will allow us to control a computer remotely without having to configure the router or the firewall, everything is produced easily and without the need for installation. It has AES-256 bits encryption for greater security and privacy of our remote connection. It also allows multiple users to connect from the same computer, as well as configure it for unattended remote access. In addition, it integrates a tool for transferring files and folders in both directions.
SupRemo is a free application for non-commercial purposes, which we can download from the developer's page . For commercial purposes, it has a "Business" plan , for a quarterly or annual payment of 59 and 178 euros respectively with up to 3 simultaneous connections. It also has a "Solo" plan , for a simultaneous connection, which can be purchased quarterly or annually for 33 and 98 euros respectively.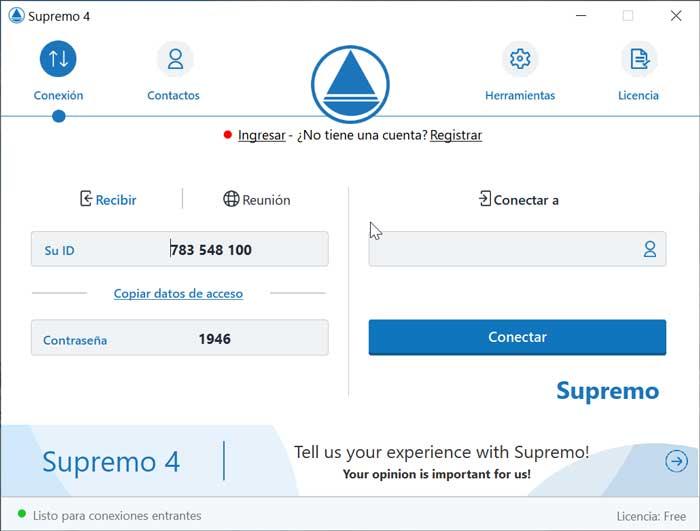 Real VNC, remotely connect via VNC server
It is a great alternative to TeamViewer, since we can remotely connect to our computer from anywhere. For this, it consists of a server and a client application for the VNC Protocol (Virtual Network Computing Protocol), which can be executed in full screen, in windowed mode or use different resolutions. It also allows you to set an access password on the server to be able to connect safely
Real VNC has a free version for private use that we can download from its website . In addition, it has two payment options. The "Professional" plan valid for individual users and for companies has a cost of 3 euros per remote device per month. It also has an "Enterprise" plan , aimed at large organizations that can be purchased for 4.09 euros per month per remote device.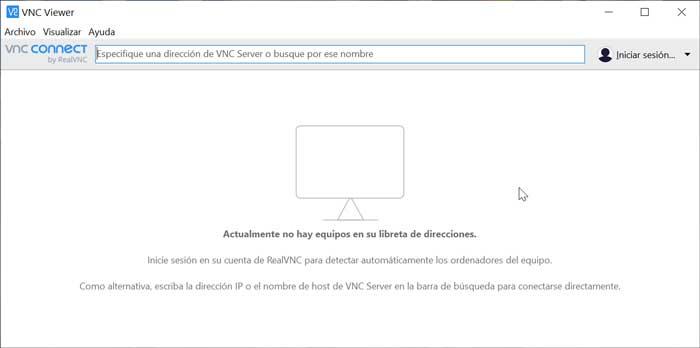 Zoho Assist, remote connection via web
With this program it is possible to connect our computer remotely in a simple and uncomplicated way, so that it can be used by all types of users, positioning itself as a good alternative to TeamViewer. It will not be necessary to install any application on our computer since it allows remote connection via the web. It allows file transfer of up to 2 GB and has SSL / TLS protocol through AES 256-bit certificate. In addition, it allows you to schedule remote assistance sessions and print from your computer remotely to a local printer.
Zoho Assist has a free version for individual and commercial use, just by accessing its website . It also has different pricing plans. With remote assistance, it has "Standard", "Professional" and "Business" plans with an annual cost of 8, 13 and 21 euros per month respectively, with annual billing. The "Standard" plan allows a simultaneous connection, 4 simultaneous sessions in the "Professional" plan and up to 6 simultaneous connections in the "Business" plan. If you want unattended access, you have a "Standard" and "Professional" plan for 8 and 13 euros per month with annual billing.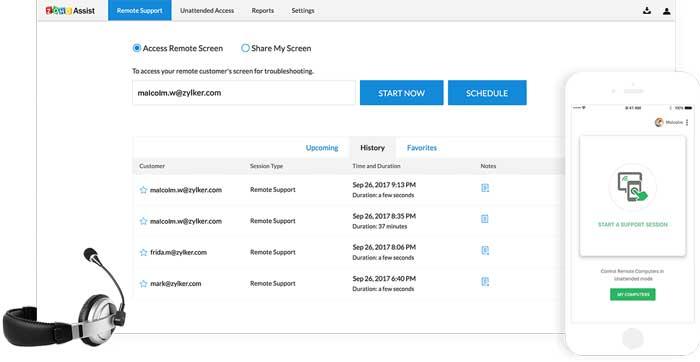 AnyDesk, secure connections up to 60 FPS
It is a software quite similar to TeamViewer so it becomes a great alternative to connect remotely to any computer or device, without the need to open ports or configure the firewall. It is a very light tool, which allows secure connections (TLS 1.2 and RSA 2048) for all types of platforms. In addition, it allows broadcasting up to 60 FPS, as well as efficient use of the network and low latency.
AnyDesk is free to download for personal use. For commercial use, it has different price plans, such as the "Lite" version , for a device for 8.49 euros per month. It also has a "Professional" version that allows one or more simultaneous sessions for 16.99 euros per month. Finally, it has the «Power» plan , with which you can carry out unlimited simultaneous sessions on several devices for 41.99 euros per month.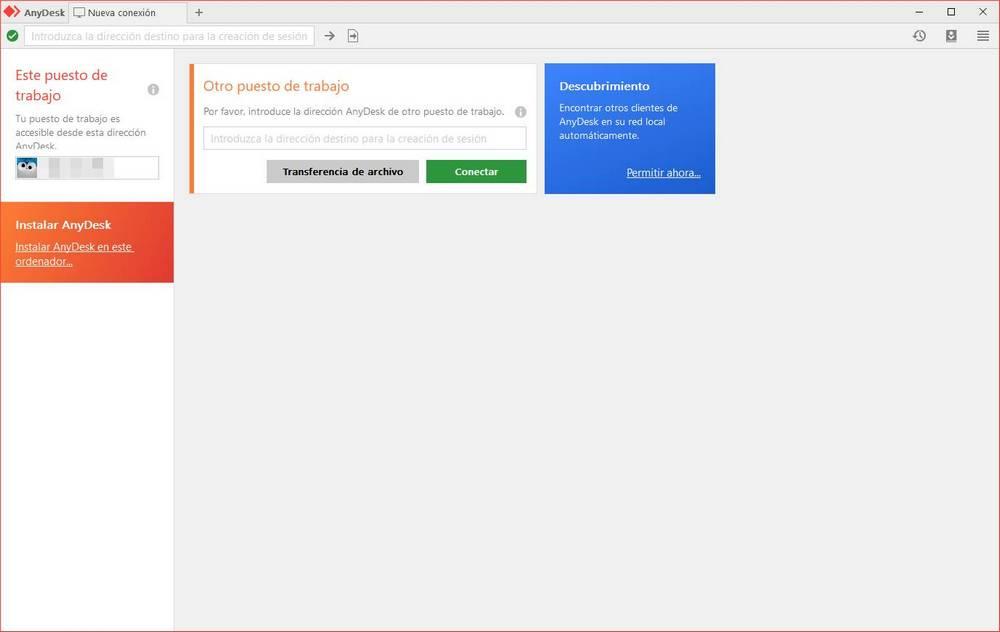 UltraVNC, remote connections via VNC Protocol
The UltraVNC application is characterized by being free and open source, making it a great alternative to Teamviewer. With this program we will be able to make remote connections thanks to the fact that it has a server and a client through the VNC Protocol, which allows a fast file transmission, as well as several authentication methods. This software allows the use of the mouse and keyboard to control another computer remotely, making the connection through the TCP / IP protocol .
UltraVNC is cross-platform so it is compatible with different operating systems such as Windows, Linux and Mac OS. It can be downloaded for free from their website .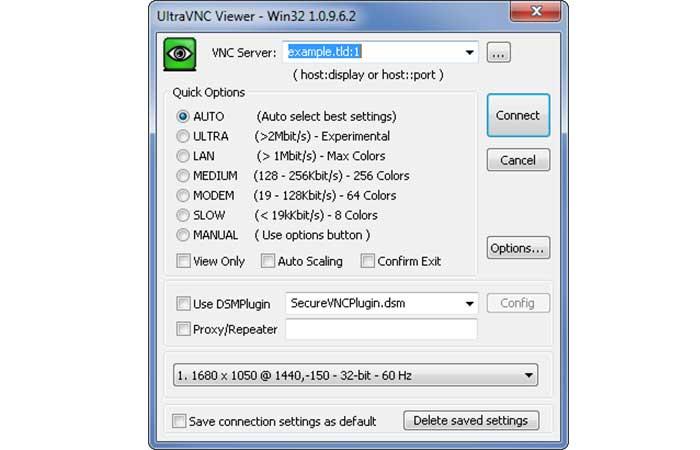 Splashtop, remotely control up to five devices
It is software that allows remote control of up to five devices in a local network environment. You have secure TLS connections through AES-256-bit encryption, which stand out for their stability and good performance, so we can access our computer remotely and work with it or exchange files. All you need to do is install an application that has the server on one side and the client on the other, without the need to configure ports or the firewall.
Splashtop has a "Personal" plan  that is free for personal and non-commercial use within a local home network, and can be downloaded from its official website . If we want to access work and home computers remotely or access more than 5 computers, "Splashtop Business Access Pro" can be purchased  from $ 8.25 per month.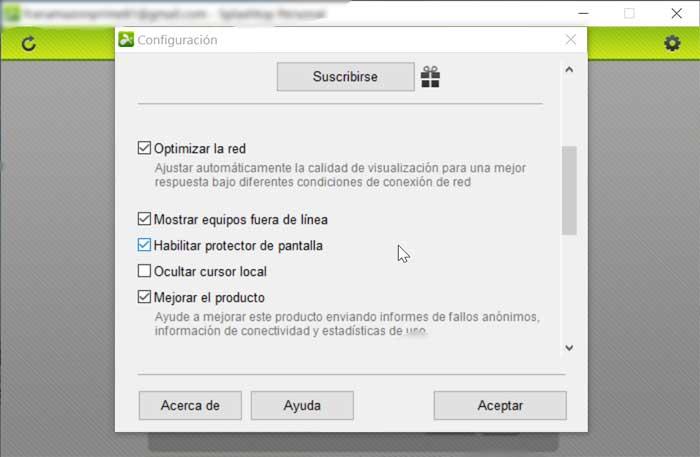 Mikogo, remote control for secure online meetings
It is a software application to control our computer remotely, being ideal for secure online meetings, presentations and remote support, allowing up to 25 users to connect simultaneously . Mikogo is compatible with Windows, Mac OS, Linux, as well as Android and iOS mobile devices. This program allows the possibility of recording sessions and using interactive whiteboards. It has the AES-256 bits certificate for a secure data transmission.
Mikogo allows the download of a free 14-day trial version for private users from its website. It has a "Professional" plan that allows one organizer and 25 participants per session for a price of 15 euros per month with annual billing.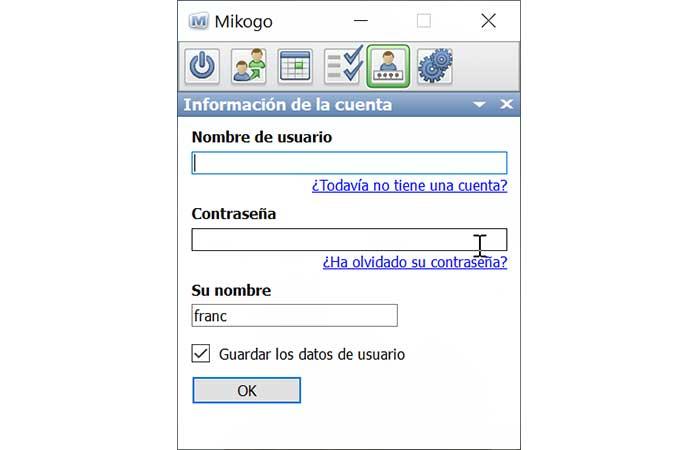 TightVNC, share both screen and files remotely
This simple program includes remote desktop functions so it will give us the ability to share both screens and files remotely. It is not necessary to install any client and server as it can be used with any browser that supports HTML5 . In this way, it is connected both within your own local network and from anywhere, so it becomes a very valid alternative to TeamViewer.
TightVNC is a free and open source application that can be downloaded from the developer's official website .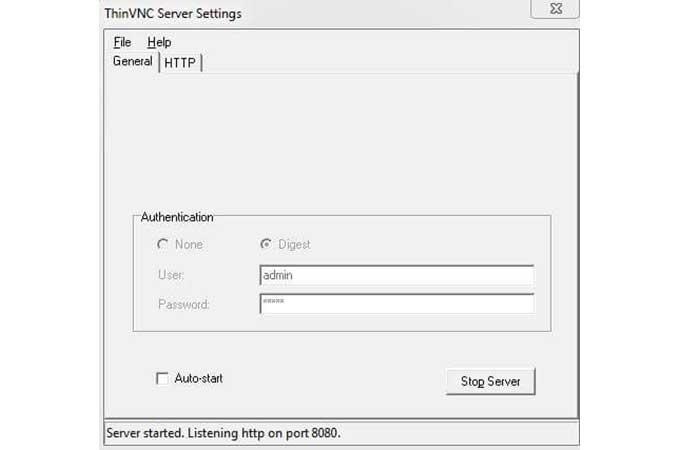 AeroAdmin, ideal for all types of users
We are going to talk about a program that has a great advantage over other similar utilities, such as the fact that it runs without the need to install or configure it. In addition, it has a really easy to understand and use interface, so it can be used by even the most inexperienced users. Once the remote connection is established, the desktop of the PC to which it is linked appears as a separate window, which will allow us to control the system without any type of connection.
We can download AeroAdmin from this link .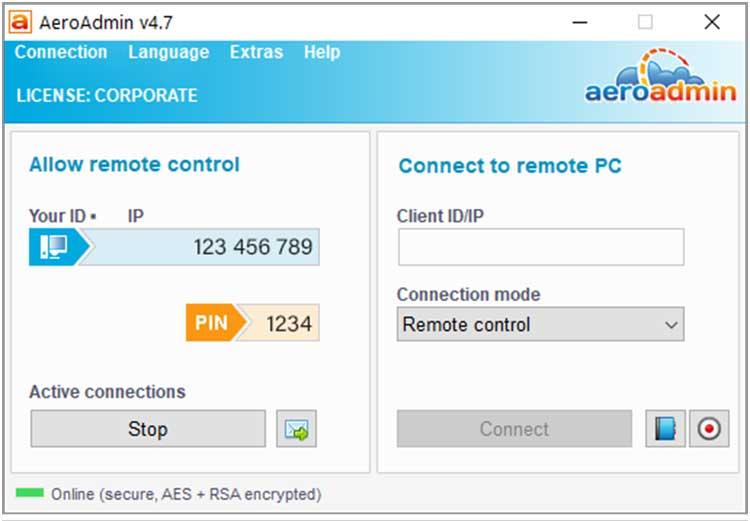 Chrome remote desktop, control a computer from the browser
This tool created by Google allows us to remotely control our computer as long as we have Chrome installed on it. Thanks to this application it is possible to connect to our computer from anywhere, either from another computer or from a mobile phone. Everything works through our Google account, as well as a PIN as an extra security measure, being possible to be used on Windows and Mac OS computers.
To use the remote desktop Chrome will only need to access the web tool so free .